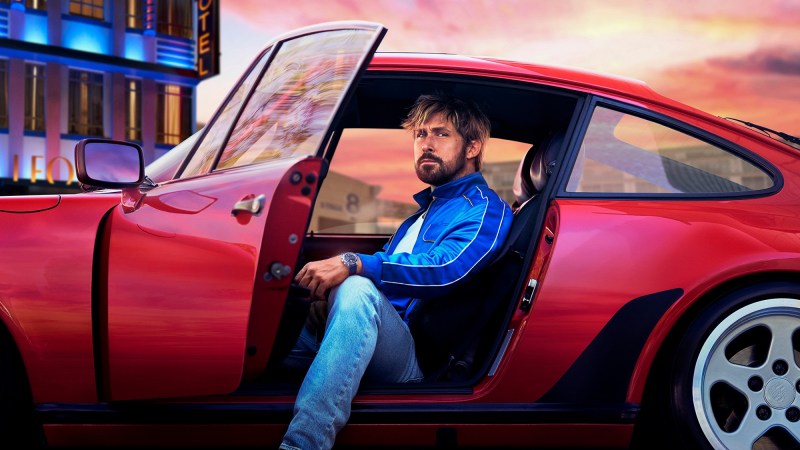 In the world of luxury watchmaking, Tag Heuer watches stand as an emblem of precision, innovation, and timeless elegance. The iconic brand continues to capture the hearts of watch enthusiasts with its exquisite collection of timepieces. From the sleek Carrera Chronograph to the adventurous Aquaracer Professional 300 and the technologically advanced Connected Calibre E4, Tag Heuer consistently redefines the standards of Swiss horology.
These watches embody both heritage and innovation, ensuring that each piece is not just a timekeeping instrument, but a work of art and engineering excellence. Join us on a journey through several timepieces from the brand in which tradition meets innovation and luxury meets functionality. We'll delve into the best Tag Heuer watches you can acquire right now, exploring a mix of iconic models that showcase the brand's commitment to crafting masterpieces that adorn the wrists of discerning gentlemen worldwide.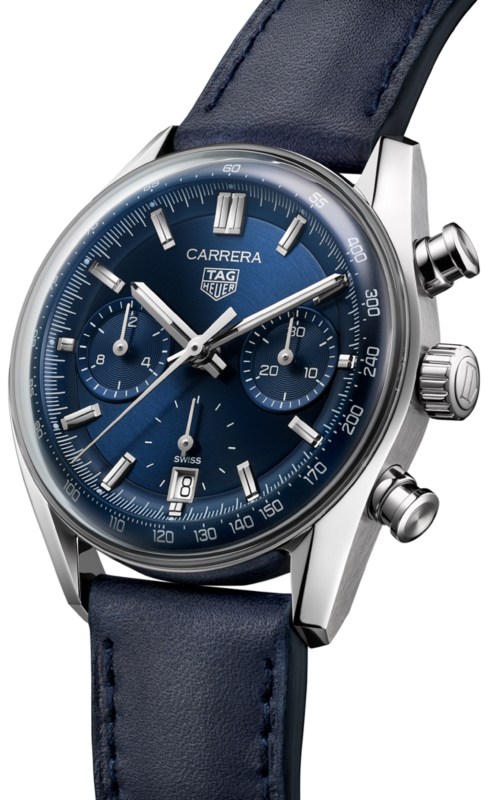 Tag Heuer Carrera Chronograph
When it comes to the pinnacle of precision and elegance in watchmaking, the Tag Heuer Carrera Chronograph stands as a true masterpiece. With its remarkable design and flawless performance, this well-known timepiece never ceases to enthrall watch enthusiasts.
The Tag Heuer Carrera Chronograph showcases unparalleled precision through its advanced Calibre TH20-00 movement. The Carrera Chronograph's vibrant navy blue-on-blue look adds a touch of sophistication to any wrist, making it a versatile companion for formal occasions and everyday adventures.
Crafted with the utmost attention to detail, the Carrera Chronograph exudes a perfect blend of sportiness and luxury. Its sleek design is complemented by the iconic Carrera aesthetic, which has been a hallmark of Tag Heuer's heritage for years. With its intricate details and robust construction, this timepiece is a true representation of Tag Heuer's dedication to excellence. Whether you're a watch collector or an individual with a taste for the finest things in life, this timepiece is sure to leave a lasting impression.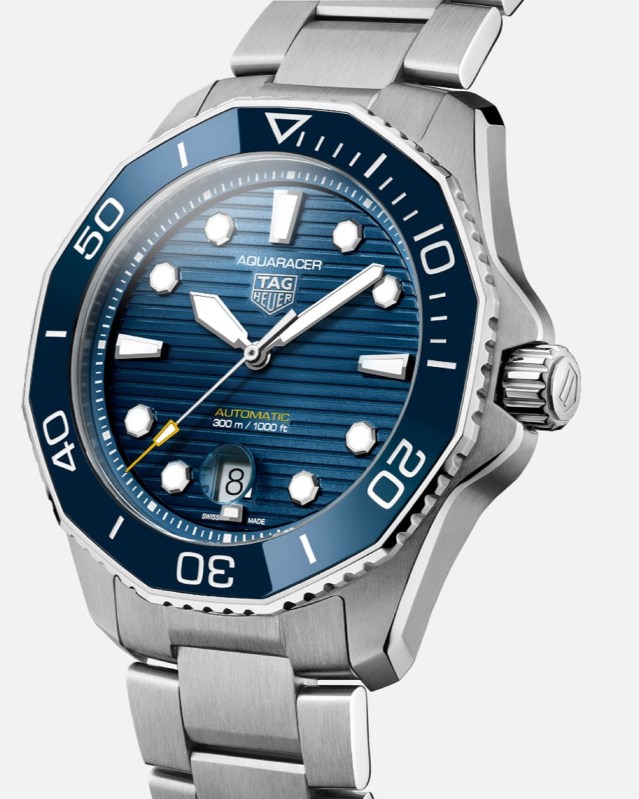 Tag Heuer Aquaracer Professional 300
When it comes to combining style with durability, the Tag Heuer Aquaracer Professional 300 watch takes the spotlight. The Tag Heuer Aquaracer Professional 300 watch is an embodiment of rugged elegance. Boasting a stainless steel case and bracelet, this piece is designed to withstand the elements while adding a touch of class to your wrist. The 43 mm size strikes a perfect balance between boldness and wearability, making it suitable for cocktails at your friend's wedding or the Bachelor party beforehand.
As with several Tag Heuer watches, it's water resistant up to an impressive 300 meters. Whether you're exploring the depths of the ocean or enjoying a refreshing swim, this watch is ready to accompany you on aquatic adventures. The unidirectional rotating bezel not only adds a sporty flair but also enhances the watch's functionality, allowing you to track elapsed time effortlessly.
The heart of the Tag Heuer Aquaracer Professional 300 is the reliable Calibre 5 movement. This automatic movement not only ensures accurate timekeeping but also eliminates the need for batteries. This watch features luminescent markers and hands, ensuring visibility even in low-light conditions; this adds both practicality and a touch of intrigue to the watch's design, making it a true companion for day and night. With its robust style, dive-ready features, and precision movement, this Tag Heuer watch is more than just a timekeeping instrument — it's a companion for life's explorations.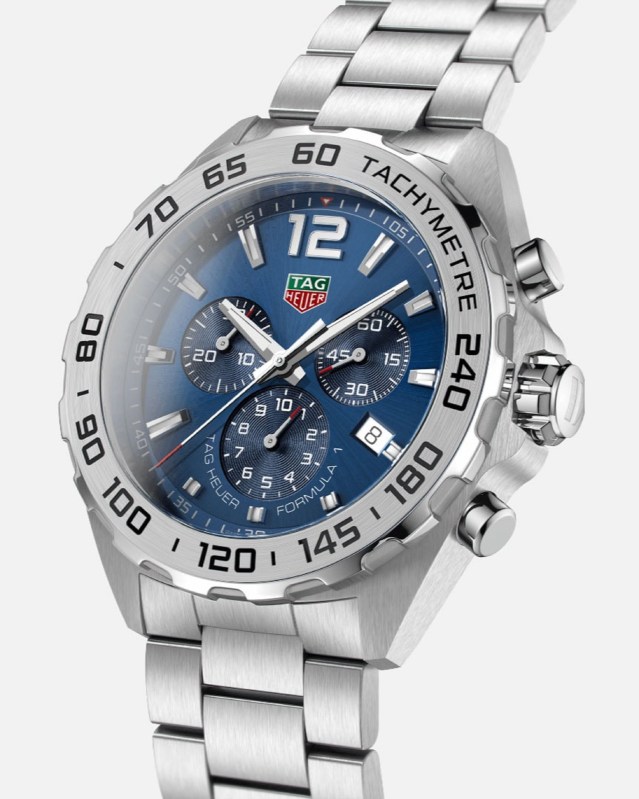 Tag Heuer Formula 1
Tag Heuer watches are synonymous with Formula 1, so it's no surprise it's got an entire series for the sport's biggest fans. The Tag Heuer Formula 1 43 mm Quartz Chronograph is a watch that effortlessly combines style, performance, and reliability. With its sleek and sporty design, this timepiece is a perfect companion for both everyday wear at the office and active mountain biking weekends. Crafted to withstand the rigors of daily life, this watch has gained praise for its remarkable reliability and sturdiness, making it suitable for all types of schedules.
One standout aspect is its impressive value for money, offering a blend of quality and affordability, while the quartz chronograph movement ensures accurate timekeeping and precise timing functionality. The sunray dial features chronograph subdials, providing a practical tool for measuring elapsed time with ease and the sapphire crystal with anti-reflective coating that ensures excellent visibility while enhancing the watch's durability.
Designed to be a versatile companion, the Tag Heuer Formula 1 Quartz Chronograph is water resistant up to 100 meters, making it suitable for a range of activities. The stainless steel bracelet not only complements the watch's aesthetics but also ensures a secure and comfortable fit on the wrist.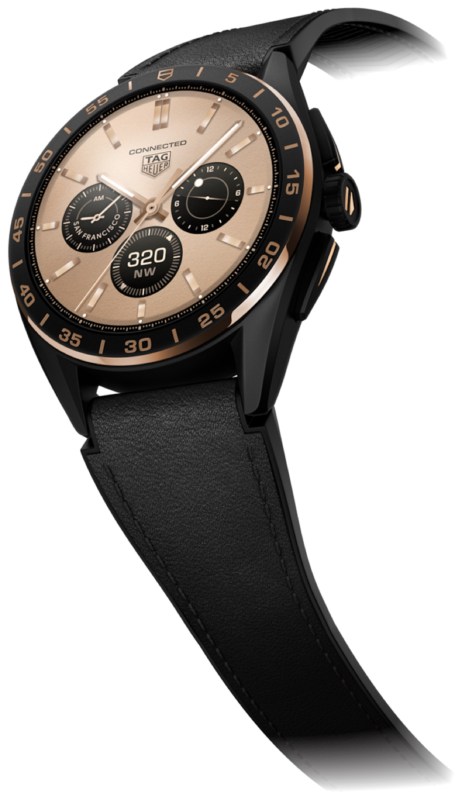 Tag Heuer Connected Calibre E4
Tag Heuer watches are not usually known for being superior in digital technology but that's all changed with the Tag Heuer Connected Calibre E4 smartwatch. This bad boy doesn't just tell the time — it's a 45 mm powerhouse crafted from tough black DLC-coated grade 2 titanium that's as light as a feather. You'll be rocking a customizable watch face, nifty sports apps, and a touch of rose gold elegance on a modern chronograph-inspired case. It has thrown in a sleek black calfskin leather and rubber strap, locked in place with a titanium folding clasp, so comfort and durability are never compromised.
But here's where it gets even cooler — the 1.39-inch AMOLED display is like staring into the future, and with Wear OS by Google, this watch becomes your tech-savvy sidekick. It buddies up with Android and iOS devices, making sure you're always connected. And don't let its good looks fool you — this watch packs a punch with heart rate monitor, compass navigation, a microphone, and more. Splash it, dive it, you're good up to 50 meters in water. Battery worries? Nah, not with this one. It's got a full day of life in it, and just 1.5 hours of charging gets you back in action.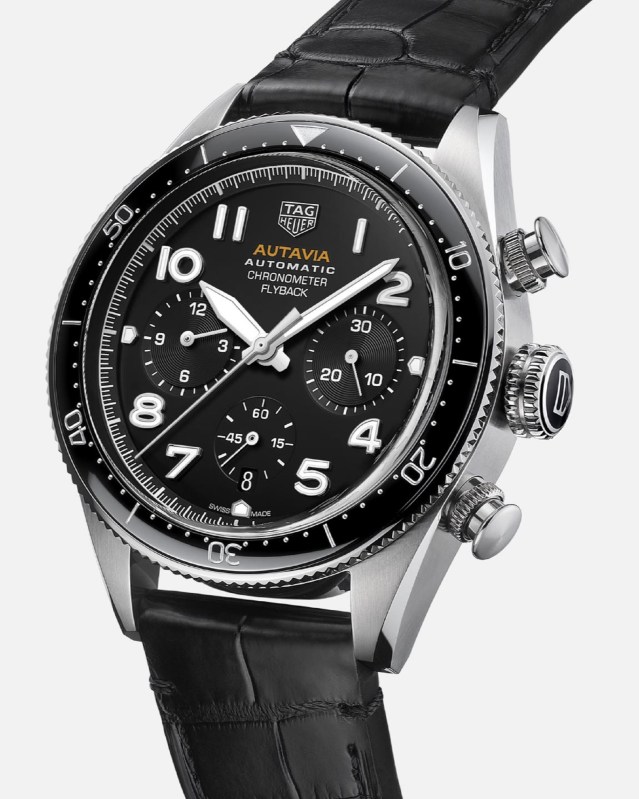 Tag Heuer Autavia Chronometer Flyback
The Tag Heuer Autavia Chronometer Flyback is a timepiece that's not just a watch, but a piece of history. It captures the essence of vintage pilot designs with a contemporary twist. This steel automatic chronograph timepiece showcases a distinctive color palette, breaking away from convention. The combination of a black ceramic bezel and a silver dial adorned with white Super-Luminova creates a stunning contrast, ensuring exceptional legibility in any situation.
The watch is powered by the Calibre Heuer 02 COSC Flyback movement, known for its precision and performance. Its meticulous craftsmanship is revealed through a transparent case back, allowing enthusiasts to admire the intricate inner workings. The design is a perfect blend of vintage charm and modern technology, making it a must-have for watch enthusiasts and car enthusiasts alike.
With a 42 mm diameter and a slim bidirectional bezel, this watch offers unique dial features that capture attention, while the overall design is executed with precision. Under the hood, you'll find the Calibre Heuer 02 movement, boasting an impressive 80-hour power reserve. This ensures that your watch will keep ticking even during your busiest days. The watch's aesthetics are matched by its comfortable fit, making it a joy to wear all day long.
To complement its bold aesthetics, the watch is adorned with a black alligator strap secured by a DLC pin buckle. With water resistance up to 100 meters, this Tag Heuer watch is not only stylish but also reliable for various occasions. Its functionality goes beyond telling time, featuring hours, minutes, seconds, and various chronograph counters.
Editors' Recommendations