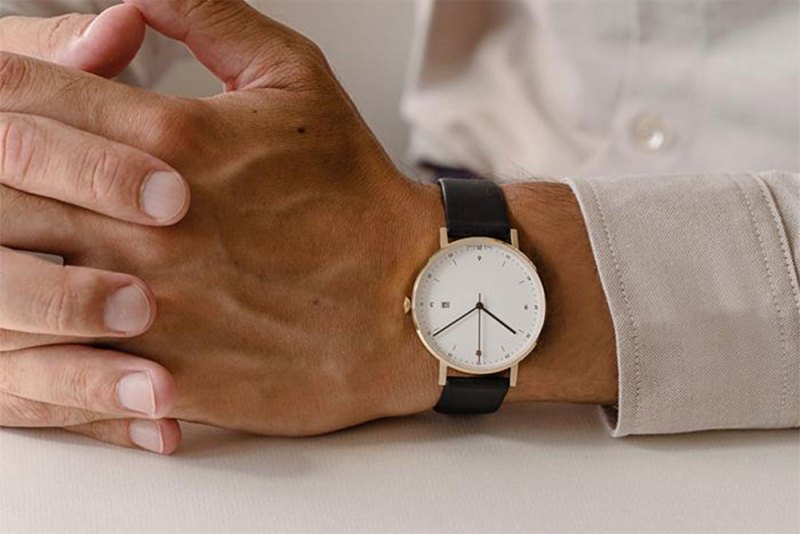 Though men's watches do tend toward the flashy and expensive, not all timepieces are astronomically priced. There are plenty of time-telling gizmos that are both well-made and affordable, and these days, you can give a great watch as a gift at just about any price.
While we've previously focused on more expensive watches (check out our guide for the best men's watch gift), we're taking it one step further now with our guide to the absolute best men's watches under $200. Some of these picks fall into more vintage silhouettes, while others are more modern, but the one thing they all have in common is that they won't break the bank.
Skagen Aaren Kulor Green Silicone 41mm Watch

Watchmaker Skagen dedicates its sleek, minimalist watches to the colorful coastlines of Denmark, quite literally: Skagen City is a nice beach town there. We love this crisp green colorway because it conveys the bright feel a watch of this nature should invoke, yet it doesn't come off as tacky or cheap. It's hard to nail down colorful timepieces. Fortunately, Skagen's got the formula down pat. Made with aluminum case material and a silicone strap.
Seiko 5 Automatic Stainless Steel Watch

Tried and true, Seiko never wavers from its identity in the watch world. The Seiko 5 is one of the more sport-inspired options from the company. At 37mm in size, and with a stainless steel case and bracelet and 100m water resistance, this watch is worth every penny.
Nixon Porter Bracelet Watch 40mm

A not-so-in-your-face gold watch, Nixon's Porter uses brushed metal to complement its elegant rose gold color. An inky black backdrop sharpens Porter's three-arm quartz movement and adds a level of elegance to your outfit pairings.
Bulova Tonneau Shaped Dress Watch

In watch speak, "tonneau" (French for "barrel") indicates a semi-rectangular shape and bowed sides. This Bulova dress watch comes in a nice, subtle tonneau shape. It keeps the timepiece slim while also offering something entirely distinct from other designs. Crafted with a rose gold case and a brown leather strap, this is a great addition to your growing watch collection.
Hugo Boss Stand Leather Strap Watch 42mm

Reflective of Hugo Boss' minimalist style, this leather strap watch with a brushed finish promises to keep a strong presence in your wardrobe for years to come. It's got a mineral crystal face, a stainless steel case, and an ionic plate leather strap. We also like the subtle replacement of the mark at the 10th hour with the word "ten."
G-Shock Mineral
GBD800UC-5

If you want specs, a G-Shock can always be a solid timepiece to turn to. With a three-axis accelerometer, a multi-timer, memory up to 200 lap records, and accessibility with the G-Shock Connected app, adventurers and sports enthusiasts, this is for you.
MVMT Legacy Slim Mirage 42mm

MVMT recently released a new collection of Legacy timepieces, and we especially like the minimal slim version best. Designed with a bronze-brushed stainless steel case, a gray dial, and a black leather strap, the Legacy is a go-to for wearing all your best fits, no matter if they're formal or casual. The strap is also interchangeable, so adding a new bracelet is always in the cards.
Swatch Skinpole Watch

Though Swatch has a variety of well-priced timepieces in its collection, we're especially fond of the brand's thoroughly modern Skinpole watch. It's got a ribbed band that's a little bit '80s and a futuristic face that's a little bit Tomorrowland to satisfy fellas that like a tech look.
Editors' Recommendations