It's been nearly two decades since Ford last raced in Formula 1. But with Drive to Survive and Formula 1 set to have three races in the United States for the 2023 schedule, the American brand thinks now is a good time as any to announce its return to the most prestigious racing series in the world. Earlier this month, Ford officially announced that it would partner with Oracle Red Bull Racing and Scuderia AlphaTauri to provide both teams with hybrid power units. Ford will also be helping the teams with technical and strategic support starting for the 2026 season and running until "at least" 2030.
While we won't see anything concrete about the partnership between Ford and Red Bull Racing anytime soon, the partnership will officially begin in 2023. At the moment, we know that Ford will be working with Red Bull Powertrains to help develop a 350-kW hybrid power unit that will become a part of the new technical regulations for the 2026 F1 season. Ford will also be helping Red Bull Powertrains with its combustion engine, which will be required to run on sustainable fuels.
"Ford's return to Formula 1 with Red Bull Racing is all about where we are going as a company — increasingly electric, software-defined, modern vehicles and experiences," said Ford CEO Jim Farley. "F1 will be an incredibly cost-effective platform to innovate, share ideas and technologies, and engage with tens of millions of new customers."
As a Formula 1 fan, it's exciting to see an American automaker return to the sport. There was a lot of hoopla about General Motors and Andretti Global attempting to get an F1 bid with Cadillac, but existing teams have reportedly voiced a lot of pushback to a new team joining the F1 grid. It seems like Ford found an easier route to return to the world of Formula 1 at a great time with increased interest from American racing fans. Either way, Ford returns to Formula 1.
The partnership is also a good way for Ford to develop and engineer future electric powertrains and components for its road vehicles. The brand is investing $50 billion into electrification and recently split the company into two major divisions – Ford Blue for its internal combustion engine vehicles and Ford Model e for its EVs. Motorsports have always been a way for automakers to develop and test automotive components for future road-going vehicles. With Ford looking to come out with more EVs and focus on electrified vehicles, it makes plenty of sense for the brand to get involved with F1 as the racing series looks to expand on its hybrid race cars.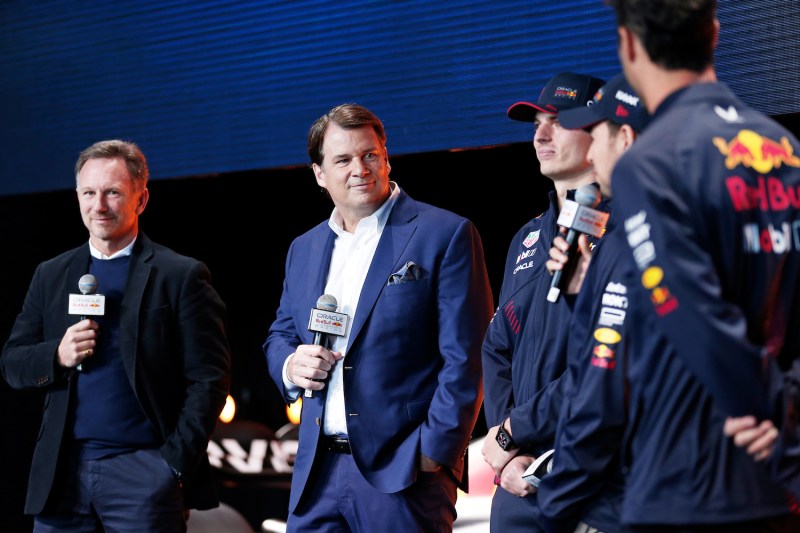 "It's fantastic to be welcoming Ford back into Formula 1 through this partnership," said Christian Horner, Oracle Red Bull Racing Team Principal and CEO. "As an independent engine manufacturer, to have the ability to benefit from an OEM's experience like Ford put us in a good stead against the competition."
Specifics on the partnership are sure to come out closer to the 2026 season. Plus, the announcement was made at the same time Red Bull showcased their new livery for the 2023 season, which totally doesn't look like last year's livery in any way, in New York City. We're sure it's a hard topic to discuss when "HONDA" is plastered on the back of the 2023 car. But, as far as Formula 1 news for American racing fans, seeing Ford in F1 is certainly exciting.
Editors' Recommendations