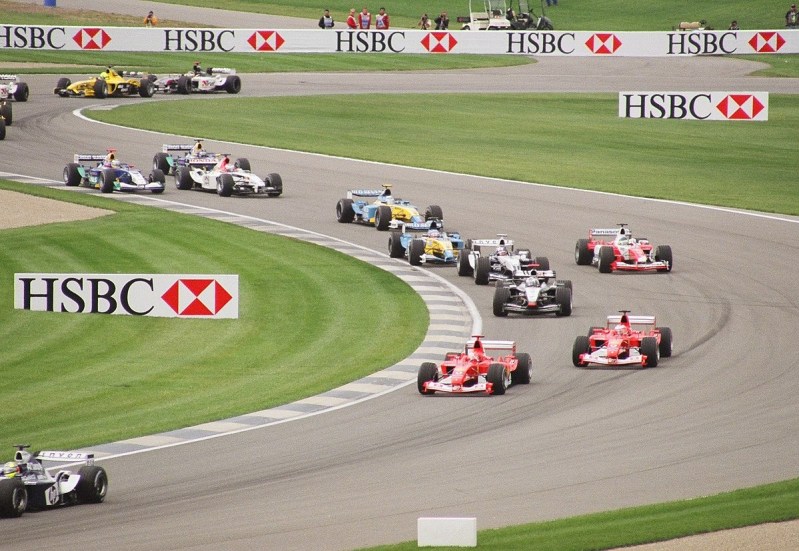 Automobile racing continues to play a large role in the automotive industry. Automakers use modern car racing as a way to boast about racing wins, competing in specific series, and their sponsorships. Beyond being a place for automakers and brands to show off, modern racing is impressive for all the tech and engineering involved. Car racing has evolved to be so much more than just watching fast cars drive around a track and seeing the best drivers compete against one another, so we have put together this list of all the major types of auto racing you can watch on TV and even participate in.
Car racing is a global phenomenon, with races being held worldwide at a series of historic race tracks. You'll find everything from iconic 24-hour races to quarter-mile drag races on this list.
Unfortunately, many series aren't readily available to watch in the US. For car enthusiasts in America, though, you can find NASCAR, drag racing, and Global Rallycross (GRC) readily available on TV. Thanks to new subscription plans, like F1 TV, you can also expand your access to different racing series for an affordable monthly fee. If you're looking into racing, there are a few series that you can even compete in.
Whether you're looking for a new car series to keep up with or something to take up some time until the weather gets warm, here are eight major types of amateur and professional car racing.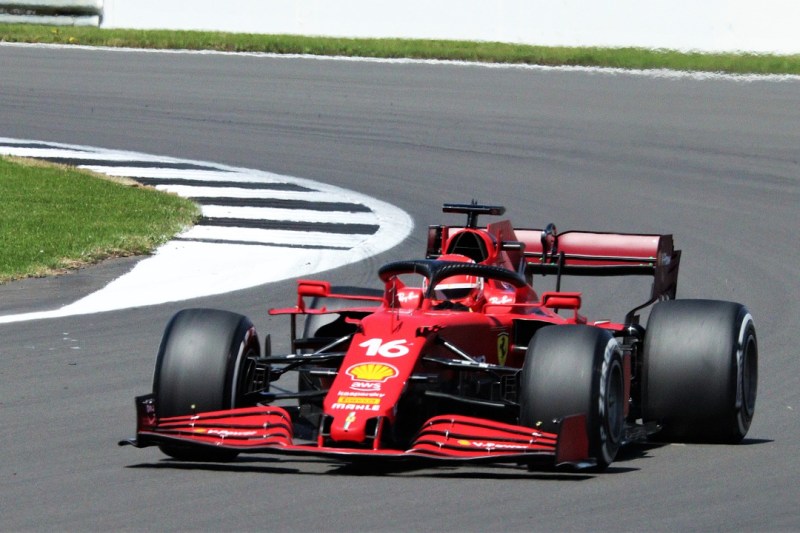 Open-wheel
Open-wheel racing, or formula racing, is the pinnacle of four-wheeled motorsport. Only the most skilled drivers in the world can compete at this level, which is important considering the cars on the track are worth millions of dollars (Ferrari alone spent over $400 million on their F1 team in 2019).
The category is divided into two main types: Formula 1 (or F1) and its derivatives and IndyCar, the "American Version" of F1. The vehicles in these classes share many similarities, including an open, single-driver cockpit, exposed wheels (hence the term "open-wheel"), and a mid-engine layout. They aren't identical, though, so let's dig into the details below.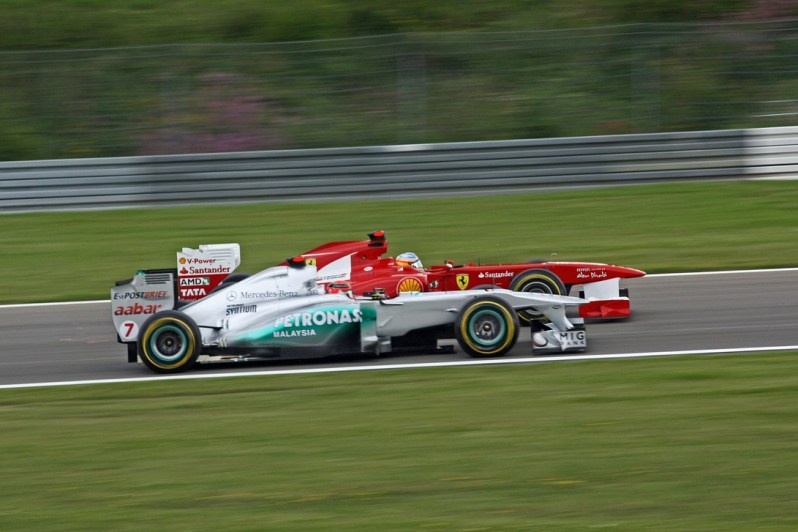 Formula 1 Racing
Formula 1 is the world's most storied and prestigious automotive racing series. It's come a long way since its first race way back in 1950, and a modern F1 car is one of the most technologically advanced automobiles on the planet.
All vehicles have a hybrid powertrain consisting of a 1.6-liter turbocharged V6 engine and a battery-powered electric motor. These systems allow a modern F1 to crank out around 1,000 horsepower when used in tandem. The chassis of F1 cars may appear similar, but unlike their IndyCar cousins, each manufacturer engineers their own aerodynamics within the framework of the series' rules and requirements to generate the maximum possible downforce.
This emphasis on aerodynamics and downforce is one of the major differences between F1 and Indy, as the outrageous downforce of an F1 car allows it to whip through the corners of a racetrack at unimaginable speeds.
Speaking of corners, Formula 1 takes place on many road and street circuits, emphasizing shorter straightaways and more challenging and frequent turns. As a result, F1 cars generally accelerate and corner faster than IndyCars, although IndyCars reach much higher speeds. F1 races are mostly staged on relatively short circuits worldwide and bounce between a long list of infamous locations from Monte Carlo to Shanghai.
Variations of F1 racing include Formula 2, Formula 3, and Formula E. F2 and F3 are often considered the proving grounds in which F1 drivers show what they're made of before moving to the big leagues. Both F2 and F3 drivers share identical vehicles to level the playing field and reduce the overall cost of entry. These cars are equipped with turbocharged internal combustion engines, producing 620 hp and 380 hp, respectively. Formula E, on the other hand..
Formula E
Formula E is one of the newer open-top racing series but has quickly become a competitive series that's enjoyable to watch. Unlike most other racing series in the world, Formula E is where all-electric race cars go head-to-head. The racing series has come a long way since it first came out and is unlike anything else in the realm of open-top racing. While Formula E has a similar overall layout to Formula One with practice sessions, qualifying, and the actual race, a few nuances separate the two.
First, there are the cars. They all look similar because they share the same bodywork. Formula E race cars also share the same battery packs and chassis. Teams are responsible for their own powertrain components. This is done to keep racing as tight as possible. Unlike other racing series, Formula E happens on one jam-packed day. The shakedown, practice sessions, qualifying, Super Pole shoot-out, and E-Prix (race) occur on the same day. There are a few double-headers where some events are stretched over two days.
Then, you get into the actual racing. Practice sessions are pretty normal, but qualifying is where things get interesting. Drivers are divided into four groups based on reverse championship standings. In group qualifying, each driver has one make-it-or-break-it lap to set their quickest time. The six fastest drivers from the qualifying group advance to the Super Pole shoot-out, where they have one chance to set a quick lap time to see how the top six on the grid lineup for the race. Each race lasts for 45 minutes, plus an additional lap once the timer runs out.
There are a few interesting things that happen during the race. There's Attack Mode, which drivers can unlock by driving through an Attack Mode Activation Zone. It costs some time initially but results in a gain of power for a short period. Another boost in power can come from Fanboost. It allows fans to vote for their favorite driver. The drivers with the most votes get an additional short power boost. Drivers can decide when they want to use the extra power they receive from Fanboost, adding to the strategic aspect of Formula E. Reports indicate that teams spent around $12 million to run a two-car team in Formula E in 2018-2019.
Formula E will be going through some changes for the 2023 season. For one, the cars themselves are changing, as Gen3 cars will be used in the upcoming season. These cars look like ornate origami shapes and now tip the scales at just under 1,700 pounds, as they've lost over 300 pounds compared to last year's cars. The EVs also make more power, as they're rated at 469 hp instead of 335 hp.
The racing series also considers having a mandatory stop for the vehicles to charge during a race. Formula E hasn't officially announced how the pit stops will work, but they're coming back and could see teams utilize rapid-charging systems. So, don't expect to see the pit stops where drivers change into a second car like they did in the first few seasons.
Other changes you can expect from Formula E include new manufacturers like McLaren and Maserati, the discontinuation of Fanboost, and new cities and tracks.
IndyCar
As stated above, IndyCar is often considered the "American version" of Formula 1, but the cars, rules, and racetracks differ greatly.
For instance, IndyCar races take place on F1-style road courses and speedways (aka oval tracks) throughout the season. IndyCar races are also much longer than F1 courses, regularly covering approximately 500 miles per race, whereas F1 races only last about 190 miles.
The cost of IndyCar racing is also much lower, with the average team spending $10 million or less per season compared to F1's current cap of $140 million, but this is set to change to $135 million in 2023 until 2025. This "low-cost" alternative is made possible thanks to the differences between the two series.
For instance, every IndyCar on the track shares the same chassis and aerodynamics package, designed and sold by a third-party supplier rather than being developed in-house at an outrageous expense. The same goes for the engines of IndyCar vehicles, which are all 2.2-liter twin-turbo V6s engineered and sold by either Honda or Chevrolet (each team gets to choose its engine supplier). Yet, this could change with the engines becoming more hybrid-focused from 2024 onwards.
These engines don't put down quite the power of the current F1 hybrid powerplant, although, at 700+ horsepower, they're still more than any mere mortal can handle competently. Although the engines are rated at lower outputs, IndyCar races reach much higher speeds than their F1 counterparts. In fact, the winner's average speed for the 2021 Indy 500 in Indianapolis was a record-breaking 190 mph!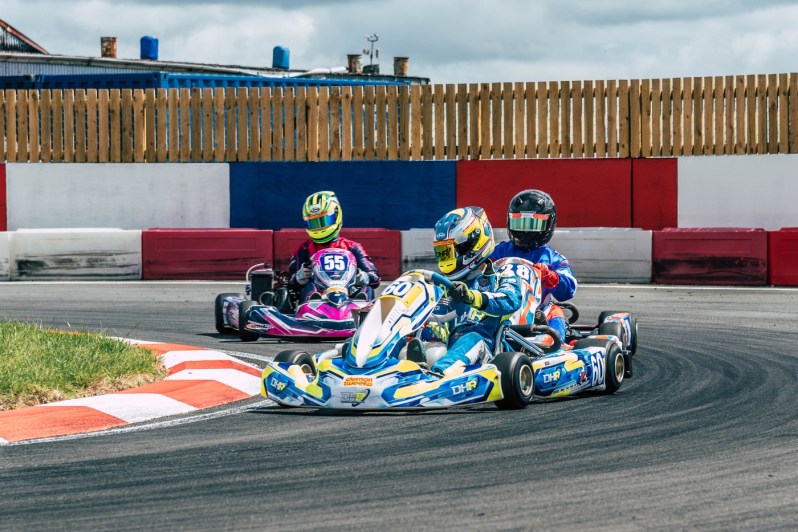 Other types of open-wheeled racing
People can watch a few amateur open-wheel series, like Formula 1000. These vehicles race in Sports Car Club of America's (SCCA) FB series and are powered by 1,000cc motorcycle engines. The SCCA also handles Formula 3 and Formula 4 races in the US. Lastly, there's Karting, where racers go around short courses in ultra-light, incredibly powerful, and specialized karts.
You might want to look elsewhere if you want to get into open-wheel racing. Karting is the only affordable type of open-wheel racing and the jumping-off point for most professional drivers.
F1 and IndyCar drivers are some of the best drivers on the planet, and, for the most part, they all started with karting as young children. Additionally, getting into F1 and IndyCar takes hundreds of millions of dollars in sponsorships. Drivers that may be the best in the world can lose their seats if they don't bring enough money to the table.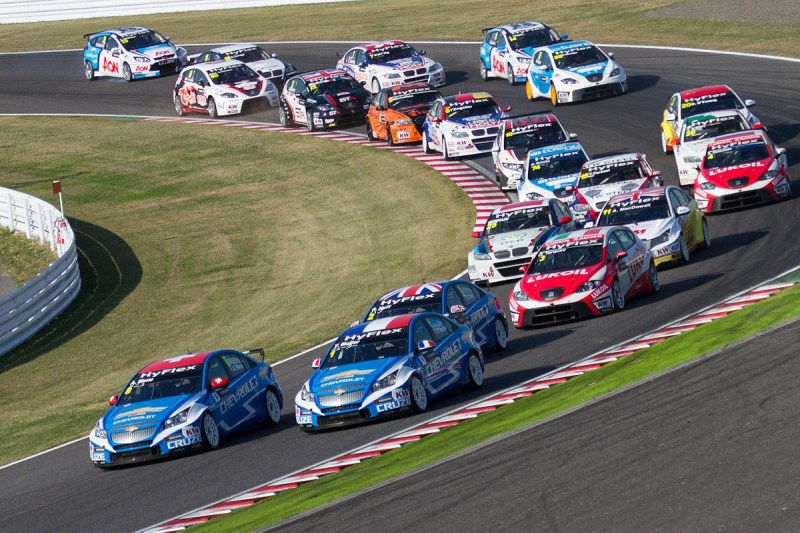 What are the different types of cars used during racing? — Race cars and races
Racing is a thrilling sport showcasing automobiles' prowess in various competitive environments. Different types of cars are purpose-built to excel in specific racing disciplines, each designed to deliver optimal performance in their respective arenas.
The range of racing cars is diverse and fascinating, as you now know. From Formula 1, Indy cars, sports cars, endurance racers, and stock cars seen in NASCAR to off-road vehicles for rally and Dakar racing and dragsters for straight-line acceleration races, there is a car for every driver.
Each type of racing car boasts unique characteristics, design elements, and engineering innovations tailored to maximize speed, handling, and overall performance on the track. Below we have discussed a few of the types of cars used in racing and the races they are involved in.
Sports car
Sports car racing is a close second to open-wheel racing in a popularity contest. This series is probably the one racing series with the most easily recognizable vehicles, as most manufacturers compete at the GT (Grand Touring) level with cars that look a lot like their high-performance supercars. This series uses the Lamborghini Huracan, Ferrari 488, Chevrolet Corvette, Nissan GT-R, and Porsche 911 as race cars. This series is also home to the prototype class, non-production race cars with unique bodywork, high-performance engines, and wild designs.
In this series, races can last anywhere between 2.5 and 24 hours. Some of the 24-hour races are some of the more iconic ones in the world, including the 24 Hours at Daytona, 24 Hours of Nurburgring, and 24 Hours of Le Mans. Yes, these races really do last 24 hours and are a grueling test for both man and machine.
Automobile Club de L'Ouest (ACO) and the International Motor Sports Association (IMSA) are a few of the sanctioned organizations that regulate sports car racing. For the next section, we will use the ACO's class breakdowns to provide a better idea of how the ultra-fast prototype cars share the track with GT vehicles.
The GT class of race cars is split into two categories: LMGTE PRO and LMGTE AM. As their names would suggest, the LMGTE PRO series includes professional drivers, while amateur racers drive the LMGTE AM race cars. The prototype class is also broken into two categories: LMP1 and LMP2. LMP1 includes hybrids and non-electrified race cars, while LMP2 vehicles come with Gibson 4.2-liter V8 engines and weigh slightly more. Additionally, privateers can race in the LMP2 class, while the LMP1 category is strictly for professional drivers and manufacturers. Changes will be made in 2024, as the AOC will move to have GT3 race cars replace the current LMGTE race cars.
The SCCA's classes are slightly different, as the organization has two prototypes and one GT class for amateur racers. The P1 and P2 prototype classes allow for various vehicle designs, while the GT class includes modified "silhouette" replicas of series-produced sports cars.
Touring Car
Unfortunately, Touring Car racing is most popular in Germany, the United Kingdom, the Netherlands, and Australia. The vehicles raced in this series are based on road-going production vehicles that have been heavily modified. Unlike other race cars on this list, there's little that differentiates the vehicles, so there's plenty of hard competition between drivers.
Races for the Touring Car series vary from sprints (short distances) all the way to endurance (three hours or more). There is a variety of Touring Car series for enthusiasts to watch, including the Supercars Championship (SC), World Touring Car Cup (WTCC), British Touring Car Championship (BTCC), and Deutsche Tourenwagen Masters (DTM).
A lot of automakers compete in multiple Touring Car series with similar cars. Since each series has its own set of rules, race cars may have different performance and aerodynamic requirements. For the most part, touring cars produce roughly 600 horsepower and share the same overall design as their road-going counterparts.
Production Car
This racing series, also known as showroom stock in the US, is a more economical and easier way for enthusiasts to get into racing. In this series, very lightly modified or unmodified vehicles race against similarly outfitted cars. The production-based road cars in this series have strict restrictions on what kind of suspension, tires, wheels, aerodynamics, brakes, and performance vehicles they can be fitted with. This ensures vehicles are as similarly equipped as possible for racing to remain competitive. This series is available to professional drivers and amateurs alike.
Professional and gentleman racers can take advantage of the "one-make" series, where automakers have a range of vehicles that meet the necessary requirements straight from the factory. Unfortunately, many of these automaker-backed series are reserved for exotic car brands. A few of the more well-known series include Lamborghini Super Trofeo, Ferrari Challenge, and Porsche Supercup.
For amateur drivers, the SCAA and the National Auto Sport Association (NASA) have a few production car racing series to compete in. These series are categorized by vehicle age, engine displacement, vehicle weight, and modification level. For enthusiasts looking to go racing, this is the most popular style of amateur racing because of its ease of entry and cost-effectiveness.
Most production vehicles that race in a series must have a few safety items, like a harness, roll cage, and fire suppression system. Drivers must also wear racing shoes, gloves, a helmet, and a suit. If you want to enter your first race, here's what you can expect.
Stock car
You might be scratching your head, wondering what stock car racing is. You've probably heard of it as NASCAR, and it's been America's most popular racing series since it became a thing in 1948. The story of how NASCAR came to be is one that's worth knowing. Moonshine runners during the prohibition era made modifications to their vehicles to outrun the police while maintaining their "stock" appearance. A new racing series was born once moonshiners started to enter national races with their cars.
Things became official when a mechanic named William France formed the National Association for Stock Car Racing (NASCAR) in 1948, uniting the drivers in a single series.
While modern NASCAR vehicles wear massive sponsorships, funky paint schemes, and enormous numbers, they still resemble the stock cars they're based on. All NASCAR racing takes place on oval tracks, while all vehicles are built on a steel tube chassis, utilize a 5.8-liter V8 engine, and come with a four-speed manual transmission.
NASCAR's oval layout may not be as exciting as road racing courses, but there's plenty of action. The races can last up to 500 miles, the cars can hit speeds of 200 mph, and the race cars are inches apart from one another. This is a recipe for disaster, so NASCAR has several spectacular crashes.
Amateur stock car racing exists, but it's mostly a regional thing with shorter races and smaller oval tracks.
Rallying
Unlike other forms of car racing, rallying, or "stage" rallying, predominantly occurs on rough terrain like mud, sand, and dirt. Rallying also takes place throughout the year, so drivers must race in the snow and rain, which results in some exciting racing. There are a few paved sections, but those are predominantly ways to connect off-road portions.
Rallying also differs from other racing series because teams have to tackle timed sections where the passenger acts as a co-driver, giving the driver directions on an area. These directions are called "pace notes," and they're a shortened code that the co-driver reads aloud to the driver so they know what's coming up.
The most obvious series when talking about rallying is the World Rally Championship (WRC). Over the course of a year, WRX consists of 13 events that last three days each. Race cars in WRC are based on production cars but have been modified for maximum attack with highly modified 1.6-liter turbocharged four-cylinder engines, sequential manual transmissions, high-tech all-wheel-drive systems, and aggressive body kits. While rally cars may look small, they pack a massive punch with roughly 600 horsepower.
There are many different types of grassroots rallying enthusiasts can participate in, though you'll want a car that you won't mind getting dirty and beat up. The most common type of amateur rallying is Rallycross. Rallycross is essentially autocross on dirt terrain and can be done in practically any vehicle without any modification.
This racing series is offered nationwide; all you need is a helmet. The next step up is Rallysprint, a single-day event where racers cover a few small stages. To compete in Rallysprint, vehicles must be fitted with safety equipment, like a roll cage.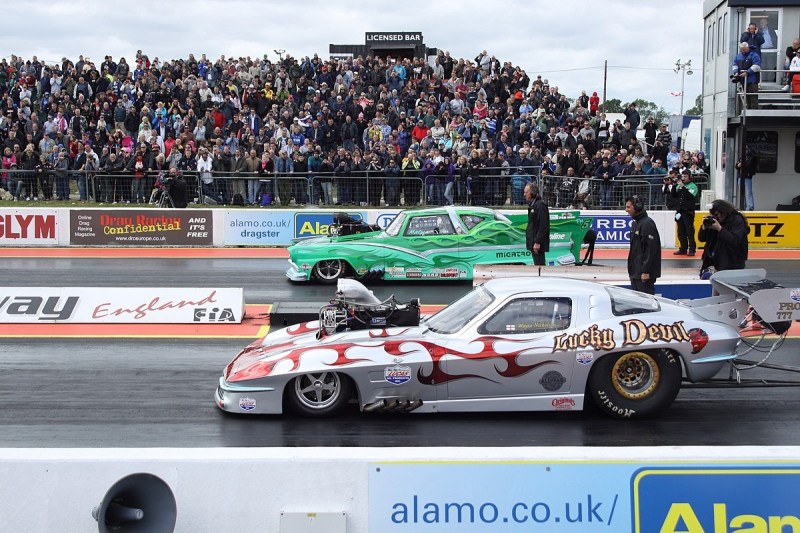 Drag
Drag racing is one of the oldest forms of motor racing. While things may not have been official, drivers have always raced against one another in short drag races between the lights. Drag racing may seem easy; rev the engine, wait for the light to turn green, then floor it, but modern drag racing is far more technical than that. Timing, aerodynamic drag, and grip are everything. Brakes and stopping power also play a major role, as cars are hitting insane speeds over short distances and need to come to a stop quickly.
For enthusiasts that want something easy to jump into, few car racing series are as simple as drag racing. Two or more vehicles lined up next to one another with an eight- or quarter-mile stretch of tarmac in front of the cars. A "tree," similar to a stoplight, signals the start of the race when it goes from red to a series of yellow lights before turning green. The car that crosses the line first is the winner. Crossing the starting line before the tree turns green results in a penalty while crossing one of the sidelines results in a disqualification or a canceled run.
In the US, the National Hot Rod Association (NHRA) is the largest body that governs drag racing. Multiple vehicle classes range from lightly modified production vehicles to dedicated dragsters with parachutes. If you're looking for the most exciting drag vehicles, you'll want to look at top fuel dragsters. These 25-foot-long vehicles are oddly shaped with tiny front tires and monstrous rear tires. The odd design helps them hit speeds of up to 330 mph in a matter of a few seconds.
Enthusiasts can take advantage of amateur drag racing events at a local drag strip. Events range from short weeknight sessions to competitions that last the entire weekend. Drag racing is one of the easier series for enthusiasts to participate in, as all that's really needed is a helmet. For owners of high-horsepower vehicles, going to a local drag strip is the safest and best way to see how fast their car really is.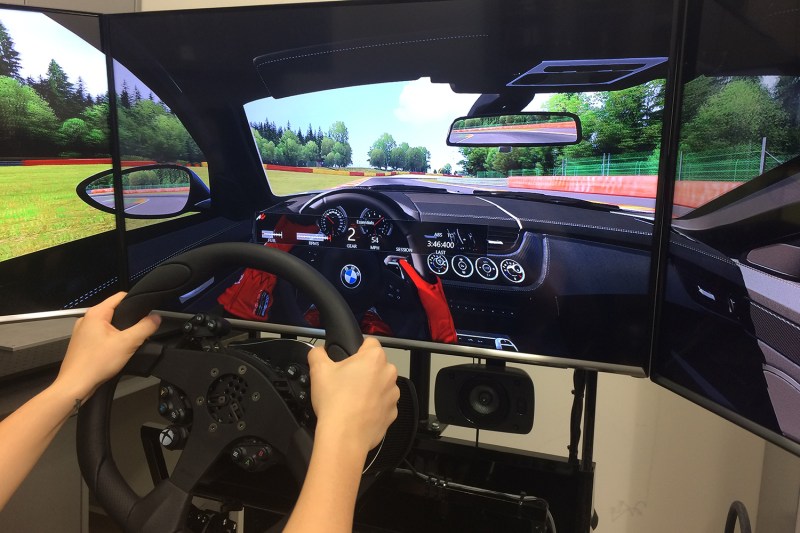 Simulation
This type of racing has become insanely popular during the COVID-19 pandemic, as enthusiasts and gamers alike can race virtual cars from the comfort of their homes. Simulation racing, or sim racing for short, is available to anyone – even young enthusiasts without a driver's license – with access to a computer, video game console, and steering wheel (ideally). Some may scoff at the idea of racing virtual cars, but real race car drivers regularly use simulators to learn tracks.
Modern sim racers account for things you'll have to interact with when behind the wheel of a real car, like damage, tire wear, fuel usage, suspension, grip, and weather. A few companies have gone above and beyond by making hardware that recreates motions and bumps that a driver would feel in a real car. High-end racing wheel manufacturers have also created direct replicas of real racing wheels that professional drivers use.
Out of all the types of car racing we've covered, sim racing is the most cost-effective and easiest to get into, but that doesn't mean it's a joke. Depending on which simulator you're using, racing is fierce, and you're likely to run into pros and amateurs that are serious competitors. Some simulators offer different types of series and the ability to race in multiple classes of vehicles, heightening its appeal.
For the ultimate racing simulation experience, you can even run your races through a VR headset like the Oculus Rift S or HP Reverb. Combined with a properly simulated cockpit, it's easy to forget you're still sitting still in the safety of your own home. The experience feels so authentic you'll need some getting used to, as we've seen more than a few people get sick to their stomach after rolling a simulated race car off a steep mountain pass…
Editors' Recommendations