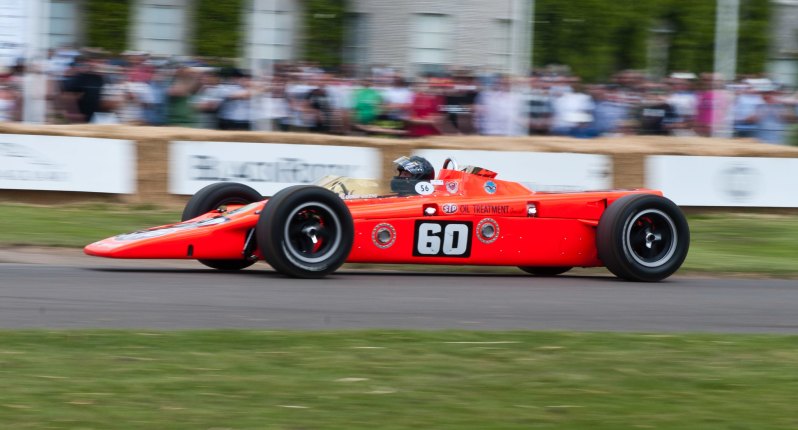 My first word on the subject of road racing is a disclaimer: Wheel-to-wheel competition is not "cheap" in any form, at least not compared to other hobbies like cycling, woodworking, and model-building. "Budget" racing, therefore, is not to be taken out of context. You can get involved in amateur racing without going bankrupt, but you must be prepared to become addicted and encounter a laundry list of unforeseen expenses. Still interested? Good. I'll outline how you can start road racing through my anecdotal (and still fresh) experience.

History
The decision to race was built on decades of dreaming — first at the helm of a six-horsepower go-kart and later at the wheel of a GT3-spec Ferrari Challenge car — but it wasn't until the end of 2016 that I took some essential first steps. To compete in a nationally sanctioned racing organization like the Sports Car Club of America (SCCA), you must apply for a novice competition license ($120) and complete a racing school program.
A quick look at some of the more popular schools like Skip Barber and Allen Berg makes you cringe; upwards of $5,000 for a three-day program?! As a journalist, I found a workaround: Lucas Oil School of Racing was a relatively new outfit and was open to a story in exchange for admission to a two-day program. After graduating, I was credentialed and credited for one of the three race weekends required for a full competition license. "Great," you're thinking, "but I'm not a journalist." That's why I'd recommend an SCCA racing school hosted by your region's club.
Like Lucas Oil, SCCA's two-day program prepares students for wheel-to-wheel competition with classroom and track time, culminating in a mock race. Unlike Lucas Oil (which is among the cheaper schools at approximately $2,000), SCCA's program is about $500. Now we're talking. You will need to track down your region's SCCA club website to find the next school session, but with most held on Friday and Saturday, you shouldn't need to take more than a day off work to complete it.
What to know
There's only one caveat regarding doing an SCCA race school: You must source your own vehicle. The benefit of the more expensive schools is that they provide and maintain a car for you to use during the program. Two reasons why that isn't a big deal, though:
After the program, you'd need your own race car too, you know, race.
If you're using your car during the road school program, you'll be more in sync with it when the real competition begins.
Alternatively, you can rent a race car from a private party or company, but rentals can be even more expensive than schools ($2,000-$3,000 or more per day). When you think you're ready to choose a car, you're really only prepared to pick a class. SCCA, NASA, and other racing organizations have several classifications to cover the gauntlet of vehicle types. You wouldn't want to drive a 70-horsepower VW Golf on the same track as an 800-hp Corvette. Generally, lower-output cars are cheaper, but that's just the tip of the iceberg. Do you like front-drive, rear-drive, or all-wheel drive cars? Do you want a street-legal model, or do you have the resources to tow your vehicle?
There are hundreds of refining questions to answer before you're ready to make a purchase, but here's a shortcut: find a car with high production numbers and ample spare parts. A good suggestion for a front-drive car would be the Volkswagen Golf Mk1 (model years 1975-84) or the Honda CR-X (1984-91). Check out the first or second-generation Mazda Miata (1990-2005) or the first-generation Mazda RX-7 (1979-86) for rear-drive. These vehicles are relatively affordable to purchase and maintain and are all eligible to compete in various classes (depending on modifications).

Here's how I found my racing soul mate
After settling on a first-generation Mazda Miata race car to compete in the Super Touring Light (STL) class, Dean Case and Jacob Brown (of Mazda Motorsport and Mazda North America, respectively) set to work finding a car. It was in the basement of Mazda's NA headquarters (while perusing decades of Mazda racing and production car history) that Dean introduced me to my future crew chief, Steve Lepper. Steve was an automotive industry veteran, working for Toyota as an engineer for 15 years before establishing his own shop, Gearhead's Garage.
Steve outlined two paths to finding the right Miata race car: I could either build my ideal vehicle from the bones of a stock model, or I could buy a race-prepped version (with an FIA-legal cage, harnesses, and other safety equipment). These two routes, buy vs. build, are true for anyone starting out. Eager to get into the driver's seat as quickly as possible, I chose to buy. Typically, the process of finding a suitable candidate takes time. Finding a car with extensive maintenance and service records — one with an excellent chance to be class-competitive — is a slog. Thankfully, Steve knew someone with a vehicle for sale within my $10,000-$12,000 budget.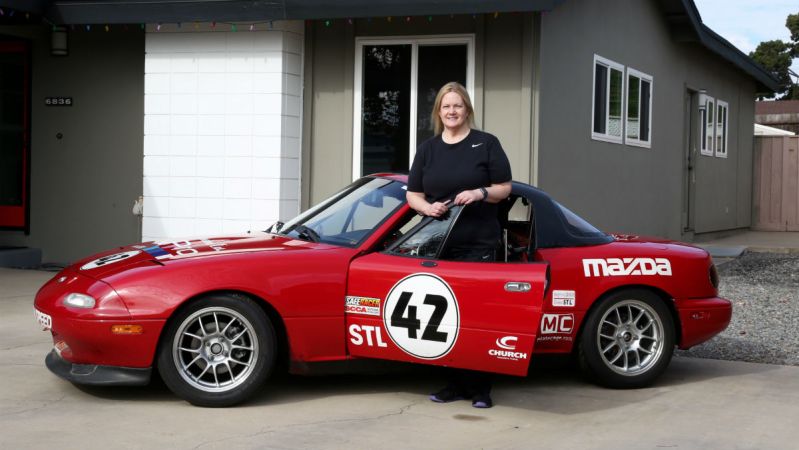 Kim Landry was the third owner of "Izzy," a 1996 Mazda Miata that had been built by a former Sports Car Club of America (SCCA) Runoff champion Phil Royale. Steve had personally serviced the car while it was in the care of the previous owner, so he knew this was a quality build. Kim had owned the vehicle for nearly three years, during which time the car had only been entered into autocross competitions twice.
Due to a shoulder injury, Kim hadn't been able to get back into the driver's seat for over two years. She was finally ready to let Izzy go. After some good-humored negotiation, we settled on a price: $11,000 for the car and a light-duty trailer. What I'd bought (and what you can expect to buy) for $10,000-$12,000 is not a class-winning car. Even on the affordable end of racing, front-of-the-pack race cars — those with extensive engine, tuning, and suspension work go for $20,000 or more. I chose a car I could modify as my skills improved, and I'd recommend the same for anyone starting out. I
If you blow your budget on a precision-built vehicle but don't yet have the talent to drive it at the limit, you gain nothing from the extra money spent. And don't forget about maintenance costs. I couldn't. My car had been sitting for over two years, meaning it would need a new battery, fluids, tires, and updated safety equipment. I spent $2,000 on parts and labor in the first month of ownership alone. And here's where I'll bring up the concept of sponsorship.
Sponsorships
You might assume only professional racers, or at least class-winning drivers, can attract sponsors, but that's just not true. Any business that wants to increase visibility — especially those in the automotive industry — can benefit from sponsorship. That doesn't mean you should start pitching every mom-and-pop shop in town. Think first about the common consumables for a race car: tires, brakes, and fluids. These will be your biggest expenses throughout the season, so if you can find a supplier to sponsor your car in exchange for free or discounted parts, that's a huge win.
If you strike out with suppliers or need more cash for race fees, etc., then look to other businesses. Additionally, you'll need a shop if you can't or lack the time to service your car yourself. That shop can also become a sponsor, as one did in my case. Gearhead's Garage and I worked out a deal to apply prominent decals to my car in exchange for a 50-percent labor rate. With all the work being done to my Miata, a half-price rate saved me hundreds of dollars. Steve and I also reached an agreement about storage — another monthly expense that can add up quickly.
Here's a bare-bones breakdown of the costs associated with an eight-race season
These are all estimated costs and were calculated at the time of writing. They are likely to have risen in 2023, and the cost will also depend on where you choose to stay and the type of road racing car you use.
Tires: $800 (per three race weekends)
Oil: $50 (per two race weekends)
Gas: $100 (per race weekend; for race car only)
Brakes: $350 for pads and rotors (per four race weekends)
Vehicle storage: $200 (per month)
Hotels: $200 (per race weekend)
Food: $80 (per race weekend)
Total = $9,276 per season for eight race weekends (with hotels)
Nearly $10,000 per season seems daunting, but remember that several things can cut that number down sponsorships, camping at the track, and deal-hunting, to name a few. Also, remember you're racing on a budget, so skip the luxuries, and you should be fine. In my own experience, it took two months and about $2,500 in parts and labor (car and trailer combined) from the time of vehicle purchase to race readiness. At long last, I was finally prepared for a regional competition … or so I thought. In part two of this feature, I'll give you an idea of what to expect from your first race weekend. Yet, that's not all; you also need to know what to avoid.

What to avoid
Now that you know more about race car driving and how to get into the sport on a budget, I thought giving you a few tips on what you should avoid would be a good idea. Have a look below to learn the mistakes race car drivers shouldn't make if you want this sport to be worthwhile.
Forgetting to walk the track: Numerous people forget that one of the most vital things to do before a race is to walk the track. If you don't walk the track alone or with friends) you risk missing hidden dips, obstacles, bumps, and other inconveniences that could affect your racing or lead to damages and potential injuries. Even if you have walked a track before, do it again, as things can change, and you don't want to ever be caught off guard.
Equipping the wrong tires: If you equip the wrong tires for your road racing car, you risk blowing out a tire, not having enough grip, or taking corners incorrectly because you have bad handling because you can't control the vehicle, thanks to your tires. That's why I repeatedly tell new road racing drivers that it's best to ensure you have the right tires before you spend hours fine-tuning your camber, ride height, droop, and suspension because none of that will matter when it comes to your lap times.
Going too hard too fast: I know you're excited about beginning your foray into road racing, but it is within your best interests not to go too hard too fast. What I mean by this is, don't hammer the accelerator, make necessarily sharp turns, brake hard, or drive aggressively when it isn't needed. If there's one thing my road racing course taught me, it's that driving too aggressively too quickly is a surefire way to cause damage to your car and miss learning opportunities. So go slower, be more cautious, and learn the track and your vehicle, and you'll develop a driving style that matches you.
Should you keep these tips in mind, you'll have a better chance of a successful first (or second) race, and remember it's OK to make mistakes on the track; just avoid risky behavior and learn from what you did wrong.
Editors' Recommendations