The tone of your first race weekend will be set by the obstacles you'll face (most of them unforeseen), by the small victories along the way, and by those who support you. Above all else, it is your own attitude that makes or breaks the experience.
(Before we get started: If you're considering amateur road racing, be sure to read our guide to entering the sport on a budget.)
With a novice competition license, most racing organizations will restrict the type of events you can enter to regional bids. In my case, SCCA's Cal Club only allowed novice drivers to enter non-Majors, non-Super Tour races, which left just four events on the 2018 calendar, all at Buttonwillow Raceway Park in Buttonwillow, California (about two hours north of Los Angeles).
I had only driven Buttonwillow once, two years prior during a media event. At the time, we were allowed just three laps of the track in a 526-horsepower Ford Mustang GT350. My recollection of the course configuration was vague at best, and my Mazda Miata was on the opposite end of the performance spectrum from the GT350. I needed practice. Fortunately, Speed Ventures was hosting a track day at Buttonwillow two weeks before my race.
Track days are excellent ways to become acquainted with your car, test suspension, and drivetrain setups, and the track. Depending on where you are in the country, there are likely a number of independent organizations that host track days throughout the year. Even if you know your local tracks like the back of your hand, practice before a race is highly recommended.
After handing over $170, I was allowed four 20-minute sessions at Buttonwillow. As this was my first time behind the wheel of my new car, I needed to test its grip limits, visibility, and braking threshold. Thankfully, one of the two upcoming races would follow the same course configuration.
As a final benefit, I was able to break in my full kit of race gear: helmet ($500), balaclava ($40), Hans device ($600), suit ($350), shoes ($100), nomex underwear ($300), and gloves ($80). These expensive pieces of safety equipment are requirements for racing and take some time to feel natural. For one, looking around the cabin when strapped into a Hans device is a pain.

Two weeks came and went in a flash. Steve of Gearhead's Garage had spent that time making small adjustments to the Miata based on my feedback from the track day. My girlfriend – bless her – helped shop for groceries for the weekend. I spent the early part of the week packing our air mattress, tarp, blankets, cookware, and all other essentials for camping. I wasn't prepared to spend $200 per night for a hotel, especially when the nearest one to the track was 45 minutes away. Thankfully, Nissan supplied a 2018 Armada that would double as tow vehicle and domicile.
Friday before the first race was spent flying home from France. A media trip had ended only the day before, and my 22-hour slog back to California would put me on the ground only six hours before I'd have to leave for the track. By the time I got home, loaded up the Armada, took a shower, and crawled into bed, it was midnight. Just two hours later, my alarm went off. "This can't be real," I thought as I slid into a ball at the foot of my bed. It took a full five minutes to collect myself and 30 more to get out the door.
Though I'm not the most experienced when it comes to towing a vehicle, the Armada couldn't have been a more ideal companion. With a tow rating of 8,500 pounds, my car and trailer's combined 3,000 pounds barely registered with the full-size SUV.
If you don't have access to a tow vehicle and trailer, you can race a street legal vehicle. The downside to this approach, however, is significant. To be street-legal, cars must maintain some factory equipment like interior trim, emissions equipment, and other heavy bits that reduce your car's competitiveness on track. Additionally, if something awful happens to your car during a race (you hit a wall, the engine blows, etc.), you're stuck at a race track with no way home.
Jittery from all the coffee, I entered Buttonwillow Raceway just before registration opened at 6:30 a.m. After handing over my SCCA log book (detailing the car's entire competition history) and novice permit, I signed a liability waiver and was given an orange wristband, denoting my group. Next stop was an annual tech and gear inspection.
A volunteer inspector whipped out a sheet with a long list of requirement for competition and set to work analyzing my Miata. Roll cage, harnesses, seat, mirrors, engine bay, brakes, suspension, exhaust, tires — everything needed to adhere to the rules for my specific racing class (Super Touring Light/STL). Fifteen minutes later, the inspector was satisfied that my car was up to code.
Steve, my girlfriend, and I staked out a spot on the west end of the track and began unpacking. An hour later, it was time for my first practice session. Saturday's race would be staged on the east side of the track, while Sunday's race would cover the full circuit. Clad in my racing gear, I squeezed into the drivers seat and set out for a few laps.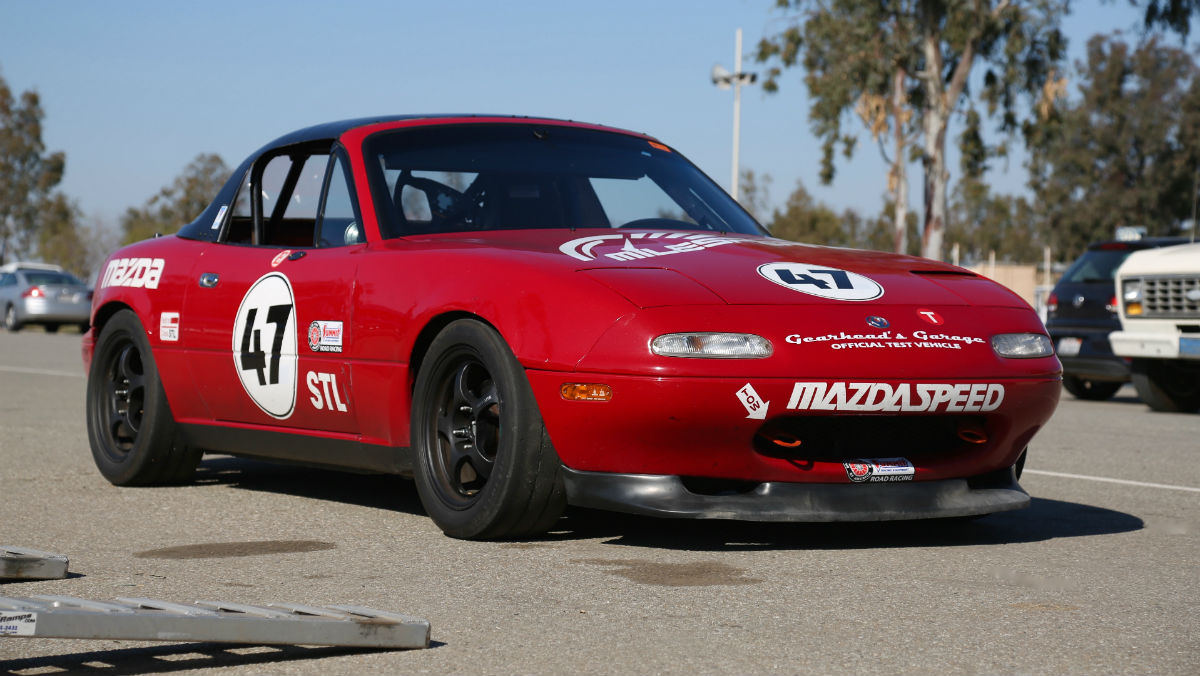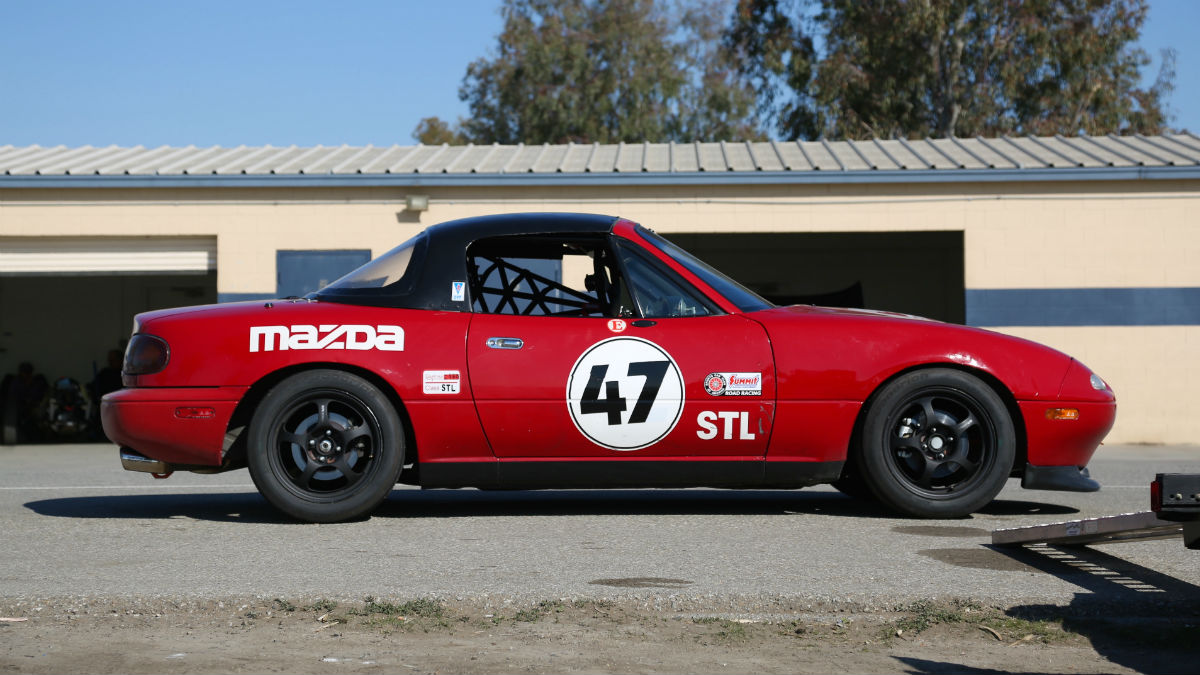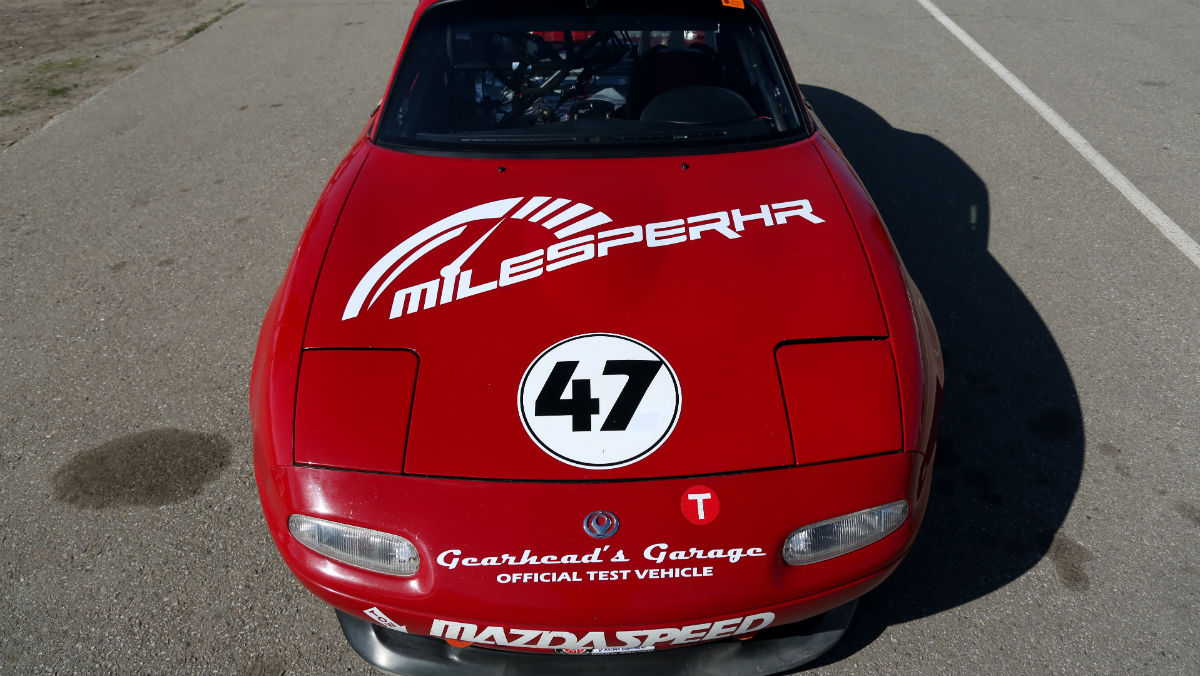 All was going well until my fifth tour of the course. After pushing a bit wide on the previous left-hander, I missed the apex for the next right. Straining to recover the apex (first mistake), my still-cold tires gave up the grip. Before I had time to correct, the backend had swung around and I was in the dirt. No harm done, but I hadn't been quick enough to engage the clutch, so the car had stalled. Triggering the ignition, nothing happened. Seven more times I attempted to start the car, but by now the starter wasn't responding. We'd experienced issues with the ECU's ignition timing before, but never to this extent.
Embarrassed, I was forced to ask the help of a tow vehicle. Covered in dust, my car was paraded back to the campsite. Steve immediately set to work on the car. I had two hours until my qualifying session. If I couldn't set a timed lap, I wouldn't be able to race either day. Before long, Steve diagnosed that the ECU wasn't communicating and the starter motor had failed. A starter we could do without, but the ECU was essential. An hour and a half went by without a resolution. Steve was tracing wires and checking fuses as fast as he could, but nothing worked. Finally, 15 minutes before qualifying, he'd restarted the ECU.
With no time to waste, we enlisted the help of neighboring racers and crew to push-start the Miata. Though I'd had positive experiences with fellow track day drivers, I didn't know what to expect of them in a more competitive environment. These folks were more helpful and humble than I could have possibly imagined. Without a moment's hesitation, four volunteers propelled the car to a required speed. In second gear, I dumped the clutch and felt instant relief as my car snapped to life.
Immediately, I flipped a U-turn and headed for the grid. Last in line, I made it just before the cars rolled onto the circuit. Now more in tune with the course layout and my own inputs, I put down a dozen solid laps. After pitting, I headed over to the timing and scoring booth to see the results. "Your transponder wasn't reporting data," an official stated. "We couldn't record a lap." Slack-jawed, I feared the worst: I wouldn't be able to race. "Don't worry," he said, noticing my expression. "That just means you have to start the race at the back."
Irked, but more so relieved that I'd be able to compete, I walked back to the campsite for lunch. Once there, my two heroes helped restore confidence and prepare me for the race ahead. Before long, it was time to jump back in the car. Without a functioning starter, we were forced to leave the car running from qualifying until the race. No big deal … or so we thought.
From the back of the pack, I picked my way past three Pro-7 cars and one STL car over the course of 22 laps. The car felt great as I began hitting corner apexes consistently. Then the engine cut out. At first it was only for a brief delay, but the intervals without power grew longer. I glanced at the fuel gauge: empty. All that time spent between qualifying and the race with the car running had sapped our fuel margin. Incredulous of my bad luck, I coasted into the grid and had to be towed back to the campsite once more. I hadn't finished the race.

Once again, I assumed I would be excluded from Sunday's race. Once again, however, I had squeaked by. Since I'd completed 22 of 30 laps and therefore more than half of the race, I wasn't charged with a DNF. Sure, I ended up dead last, but I was permitted to race the next day.
That night I had a choice: either dwell on my misfortune or look to the next day with optimism. Despite the difficulty, I chose to be positive. Exhausted — physically and emotionally — I crawled onto the air mattress (which fit perfectly within the back of the Armada) and immediately passed out.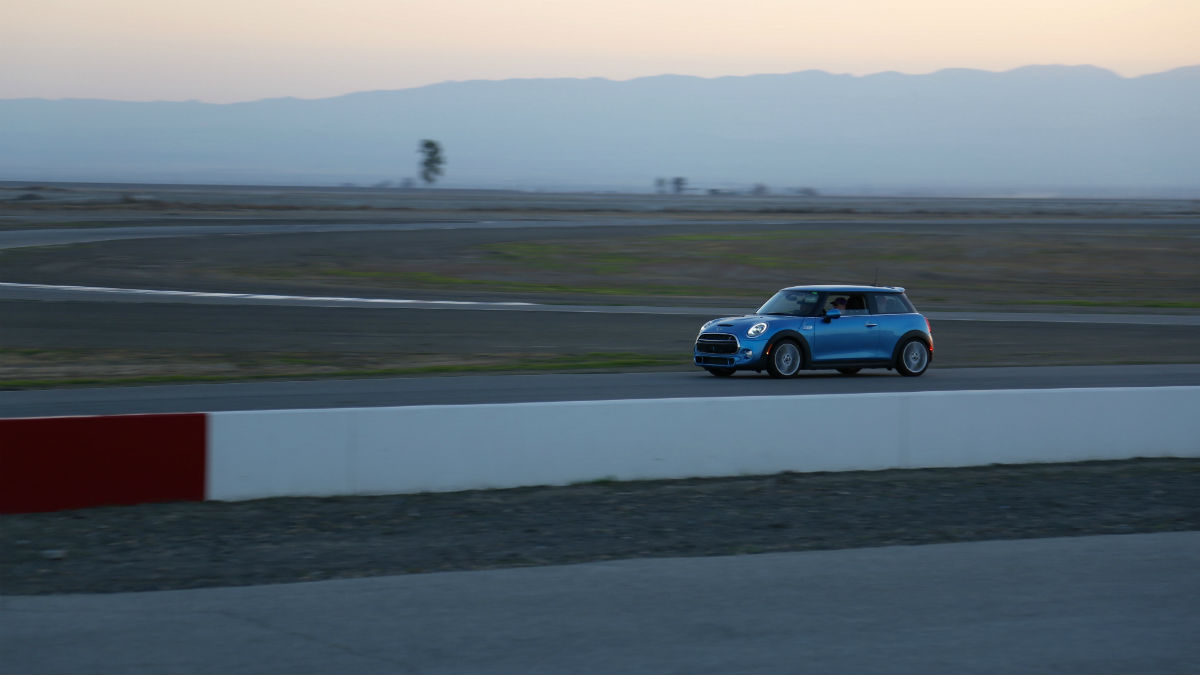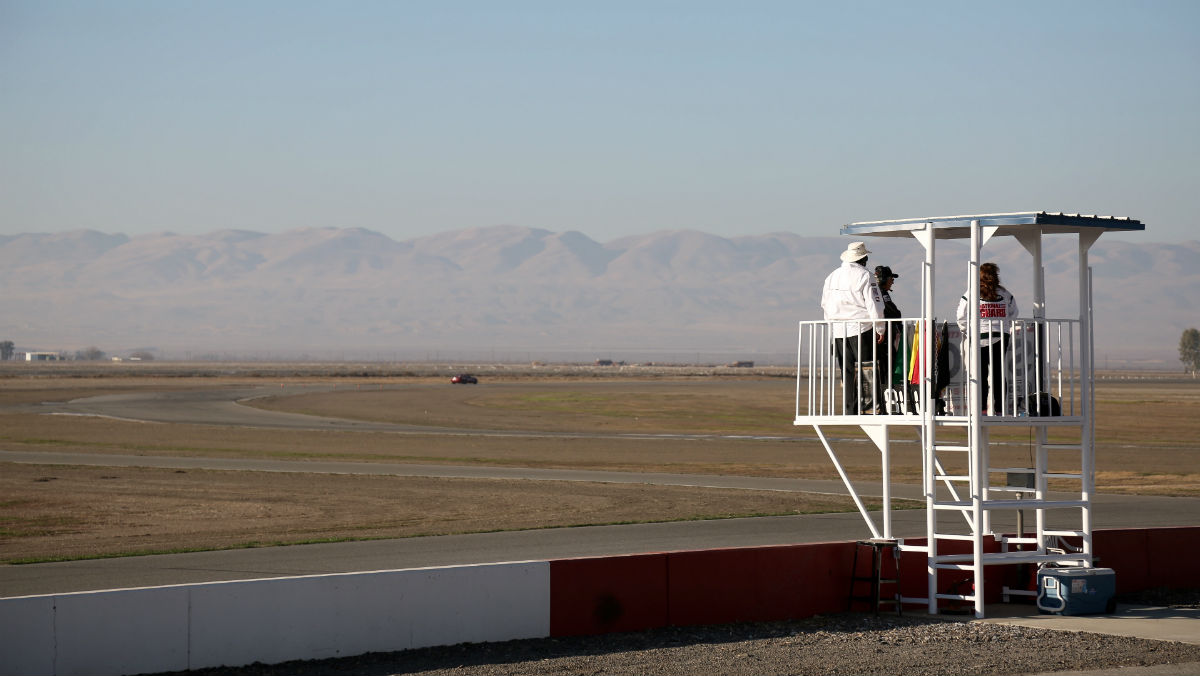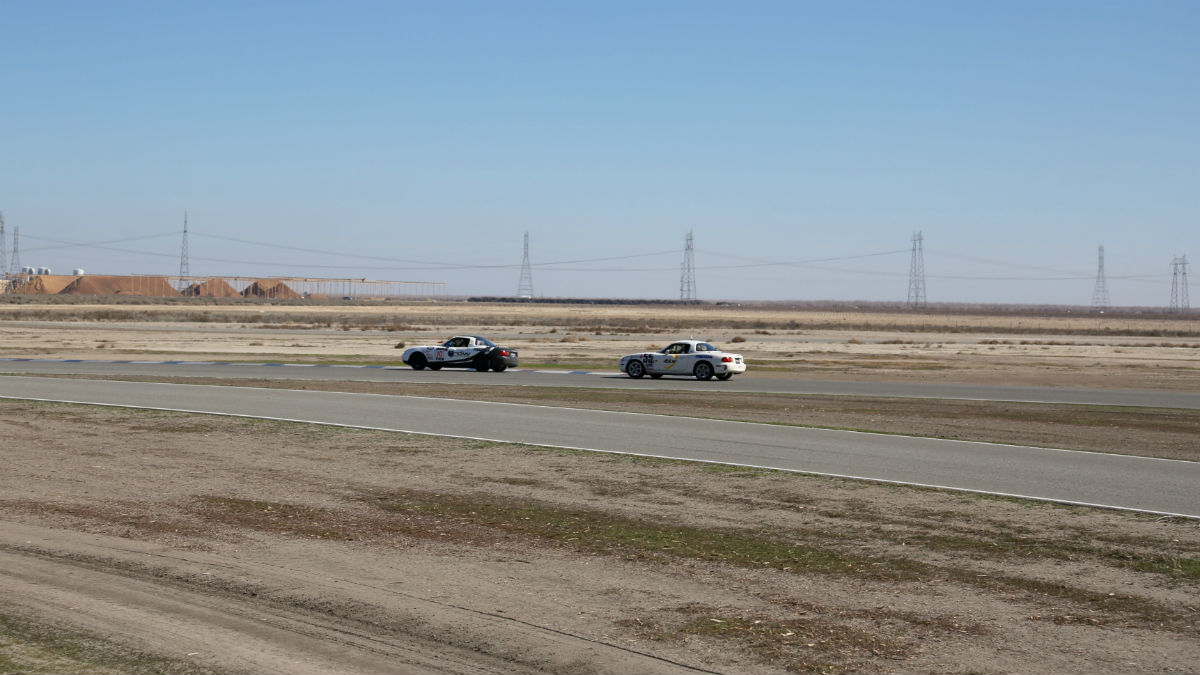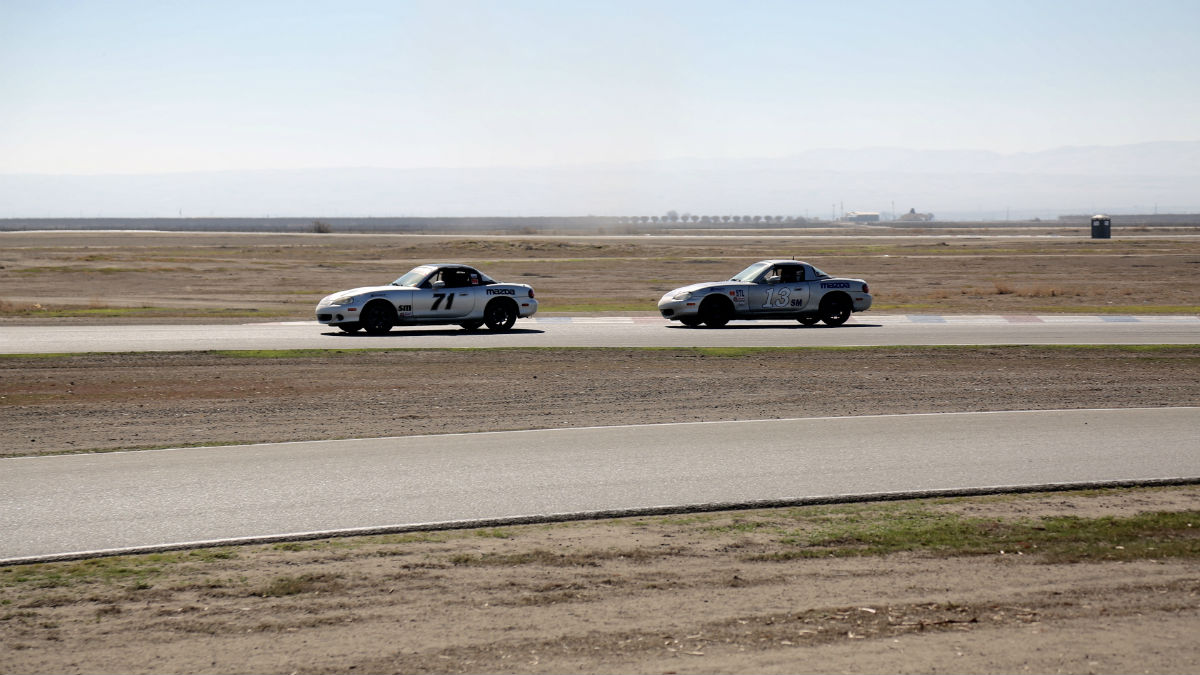 The sun rose, and with it, the first challenge of the day. Now very cold, the Miata would need to be push-started once more. This time, our team of volunteers wasn't enough to get the car rumbling. We needed more momentum. Our friend the tow truck would once again save the day. Pulled to about 20 mph, I dropped the clutch in fourth gear and was greeted by the sweet sound of four firing cylinders.
Today, the schedule was abbreviated to one 20-minute qualifying session, and one 30-minute race. With plenty of gas in the tank, I set out for qualifying. Now running the full course, I quickly felt confident behind the wheel. By my estimation, I was putting down more than a few competitive lap times.
Session over, I made the trot out to timing and scoring. "Still nothing from your transponder," they frowned. I couldn't believe it. In a panic, I rushed back to Steve to report the issue. Steve spent the next hour sorting through the transponder's wiring until he found the problem. "Let's make sure this works," he said. With the official's permission, we ran a "hard lap" through pit lane to assure transmission. Unfortunately, I'd still have to start the second race at the caboose.
Maybe it was the full night's rest, maybe it was the support of my team, or maybe it was stubborn refusal to acknowledge the facts — whatever the cause, I felt good about the race ahead.
For the final time that weekend, I clambered into the driver's seat and headed for the grid. The safety car led the pack around the course before pitting on the final turn. Turning back onto the main straight, I held 5,000 rpms in third gear, waiting for the green flag. Spotting it a moment later, I mashed the throttle and trailed the field by the end of the straight. Spotting an opening on the inside edge of turn one, I darted into the gap and squeezed past two cars. By turn three, I'd passed another RX-7. From there, I settled into position and focused on clean, consistent laps.
On lap 11, I spotted my next victim – a Honda CRX that was clearly making more power, but struggling with insufficient grip. After showing him my nose for three turns, I made the pass on an off-camber downhill called Phil Hill. Though I was only able to pursue (not pass) one more car for the remainder of the race, I felt proud of my performance.
After pitting, I shared high-fives and smiles with my crew, celebrating the simple victory of finishing the race. On the loudspeaker, it was announced that the Group 3 award ceremony would begin momentarily. Thankful for the SCCA community, I decided to cheer on the race winners.
Then something remarkable happened: my name was called. "Third place: Miles Branman." Frozen, it took a gentle shove from my girlfriend to start the walk towards the podium. I was handed a wood plaque and ushered onto the stage. Looking out, there were maybe 20 people in the crowd. Weensy audience or not, I felt invincible.
And so, my first race weekend was nothing short of a roller coaster. Though the particular obstacles and victories I encountered may not match your own experience, one thing is certain: there will be trials, but a positive outlook can transform any circumstance for the better. You're only racing for the fun of it – right? Try not to forget it.
In part one of this feature, I walk you through everything you need to know to start road racing.
All photos by Miles Branman, unless otherwise noted.
Editors' Recommendations