Long weekends, summer Fridays, weddings, family reunions, school vacations, camping — did somebody say road trip? It seems like there's a reason to travel just about every other weekend. Mow the lawn? Who has time?! Hire the neighbor's kid to do it, throw some clothes in a bag, and get outta town for a few days. Here are our top picks for travel clothing and menswear essentials that not only pack easily, but they'll also get you through most scrapes, moving from a casual day at the office, a highway, or airport to the trail, B&B, or in-law's guest room with ease.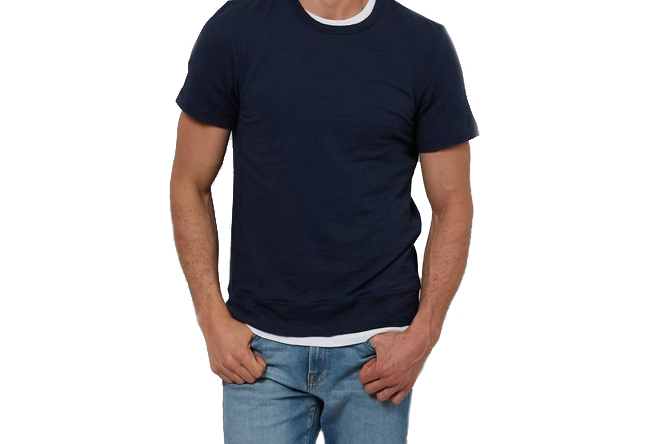 Get your hands on just one of these amazingly soft Jason Scott T-shirts and you'll want one for every day in every color. Made from a butter-soft French Terry, this tee offers a little more structure than most, incorporating Modal, Pima cotton, and spandex. Of course, it's made in Peru, where creating perfect cotton knits is an artisanal affair. A basic navy tee like this is dressy enough to get you through most summer occasions, all while staying laid-back and comfortable.
Tasc Carrollton Long Sleeve Shirt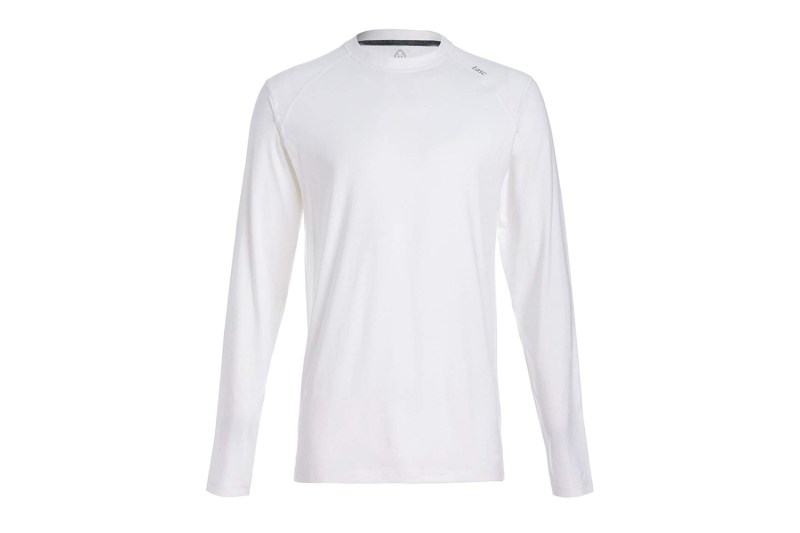 For a little extra sun protection (UPF 50+) during the day or to ward off an early summer night's chill, grab one of these tees made from sustainable bamboo. It's breathable and offers natural anti-odor protection (so you can get away with packing less over the weekend). It's super soft and has a modern raglan-sleeve for a clean, relaxed fit.
Stio CFS Shirt
Sometimes a collar is required, whether it's a restaurant, in the office, or on the river. Stio's CFS offers four-way stretch, UPF 50+ protection, and an oversized sun collar. Two snap pockets keep things handy and secure, while a button-hole works to keep track of sunglasses or a headphone cord. The fabric also dries quickly so if you do end up in the drink, you'll be high and dry by supper.
Orvis Curious Traveler Sport Coat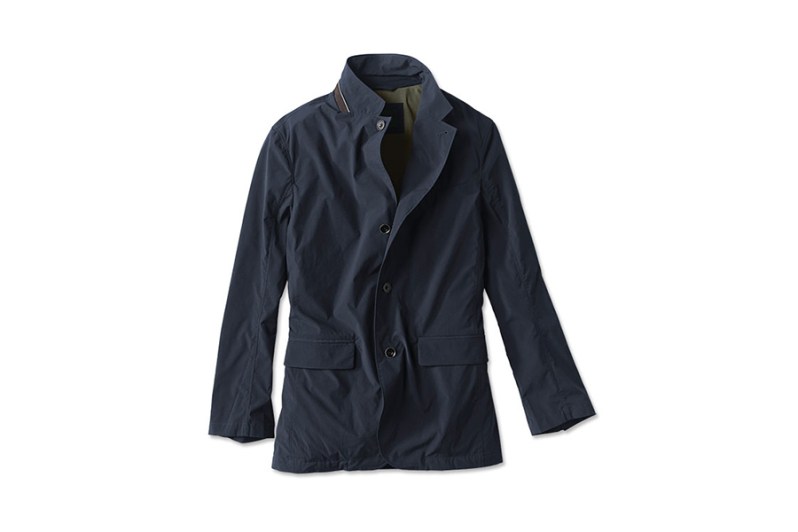 Orvis's three-button sportcoat will not only get you through that quick Friday morning client meeting, but it'll also keep you warm in an overly-air-conditioned restaurant, function as a handy layering piece in a summer shower, and might even get you through a wedding. It's got plenty of pockets to keep track of passports, boarding passes, phones, and all of that. It's stretchy so you can keep on the move easily. It's also mesh-lined and features underarm grommets for breathability and coolness.
Monfrère Greyson Skinny Jeans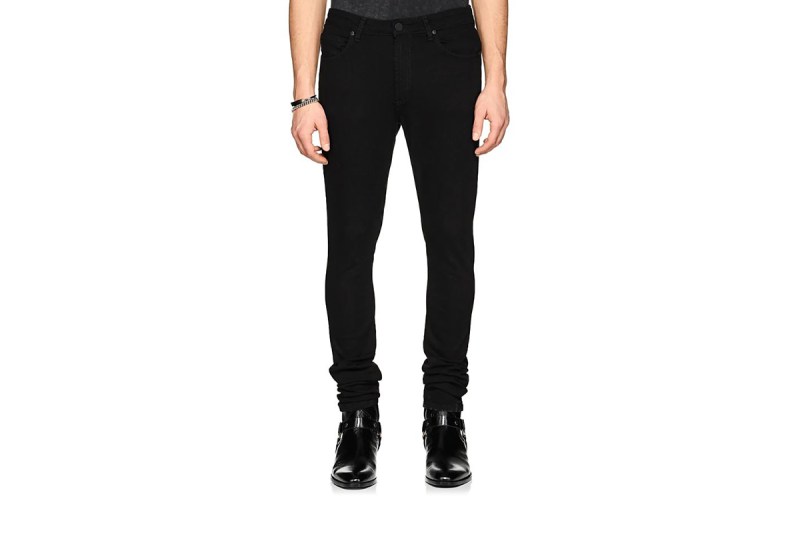 OK, we're just gonna say it. Skinny jeans may not be for everybody, and this pair is … damn skinny. However, if you've got the style (and the legs) to pull these off, they fit like your favorite pair of yoga pants and feel just as comfortable. They're made from a super stretch Japanese cotton-blend denim perfect for everything from tight airplane seats to playing with the kids to struttin' your stuff on the dance floor. We like this severe black for travel, because they'd look great in just about any situation. Pair up with a smoking jacket for a classy look.
686 Anything Multi Cargo Pant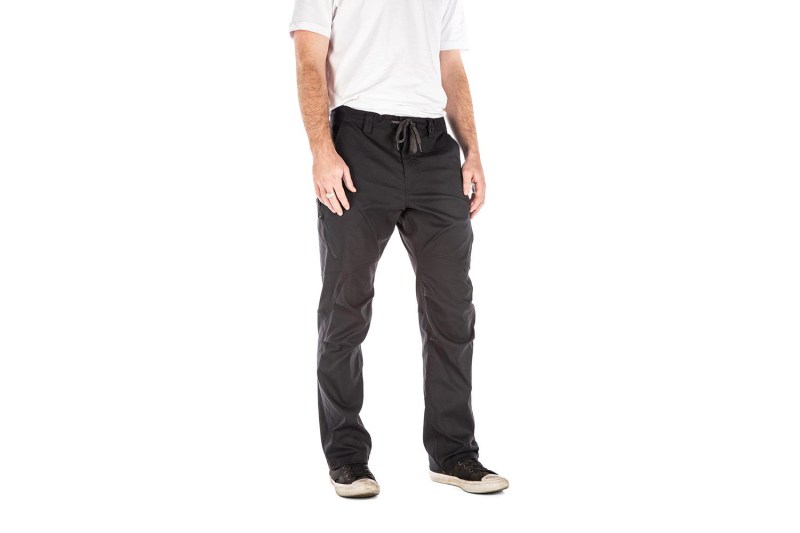 We never thought we'd say "cargo pants" again without an eye roll. Here's the exception. The brand 686's update to the classic features a comfortable, modern fit with about a bazillion carefully integrated pockets. They're great looking for the casual office, then do double-time when you head out the door, with places to stash money, passport, mobile phone, etc. — there's even an RFID pocket to keep credit cards safe. The drawstring can be pulled either inside or outside the pants for a cleaner or a sportier look (and you won't have to pack a belt). They're also ergonomically designed, with gussets in the crotch and knees for maximum movement. Author's note: I got caught in a summer rainstorm in these pants, and the DWR coating behaved beautifully. My legs never got wet and the pants were dry in no time flat.
United by Blue Anywhere Short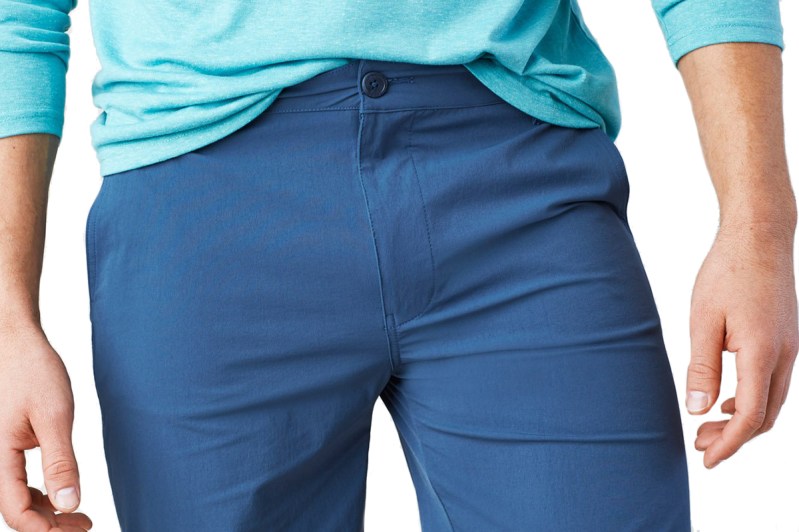 Depending on the weekend, you may want a pair of shorts that do double-duty. The Anywhere short is made from a stretchy, moisture-wicking fabric and a zipper-fly and closure so they'll work for a quick swim, bike ride or hike, but still look awesome during cocktail time or dinner.
Carhartt Base Force Tech Boxer Brief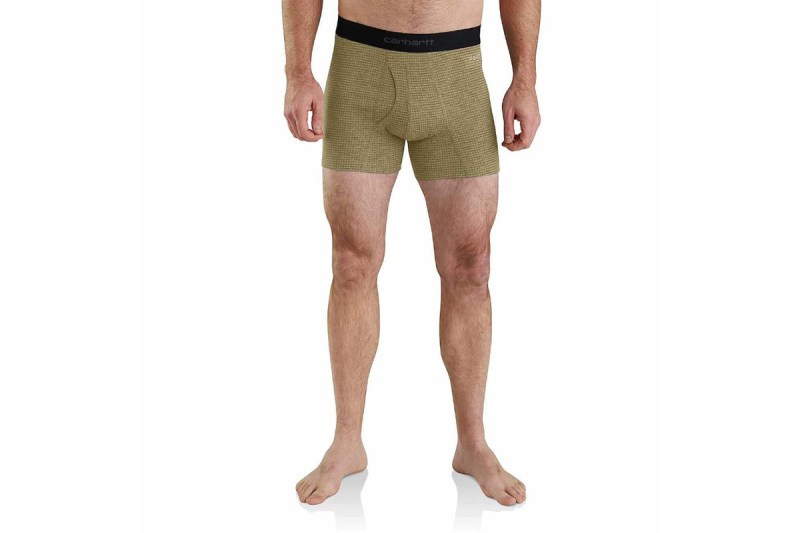 Working hard or hardly working? These Carhartt briefs offer sweat-wicking tech fibers to keep you dry all weekend long. They're super flexible and fight odor (we won't tell anyone if you have to wear them an extra day). They're also available in an 8-inch length if you prefer a little more coverage.
Altra Cayd Shoe
Built on the premise that most shoe companies try to hammer a square peg (the way our feet and toes are really shaped) into a triangular hole (the way most shoes are shaped), Altra makes shoes that actually fit human beings' feet. Try a pair on and hear your toes breath a sigh of relief. Altra incorporated all the learning from its groundbreaking running and hiking shoes into this casual style — perfect for the office, but also transitioning nicely into an active weekend.
Eagle Creek Migrate Duffel 40L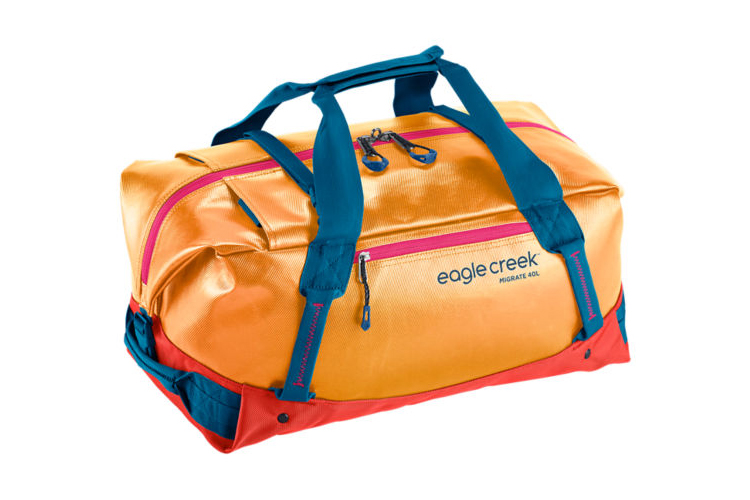 Just the right size for a weekend away, the Eagle Creek Migrate series also comes in 60- or 90-liter sizes, even 110- and 130-liter wheeled versions if you're a heavy packer. It also comes in blue, red, or basic black, but we love this easy-to-spot "Sahara Yellow" for the baggage carousel. The duffel is lightweight and, for its simplicity, offers a ton of options: unlock the side buckles to convert into a tote and expand storage. Stowable backpack straps can be popped into place for times when you need your hands to be free. Good for the planet, the duffel's water repellent coating was developed by harvesting windshield plastics from landfills in Asia, adding functionality while upcycling. (See author's editor's note above. Yeah, that happened, and this bag's water repellency performed in a stellar fashion). Pack the Migrate most efficiently with Eagle Creek's packing cubes, keeping clean clothes separate from dirty ones, and wet things away from dry.
Alder New York Skincare Travel Set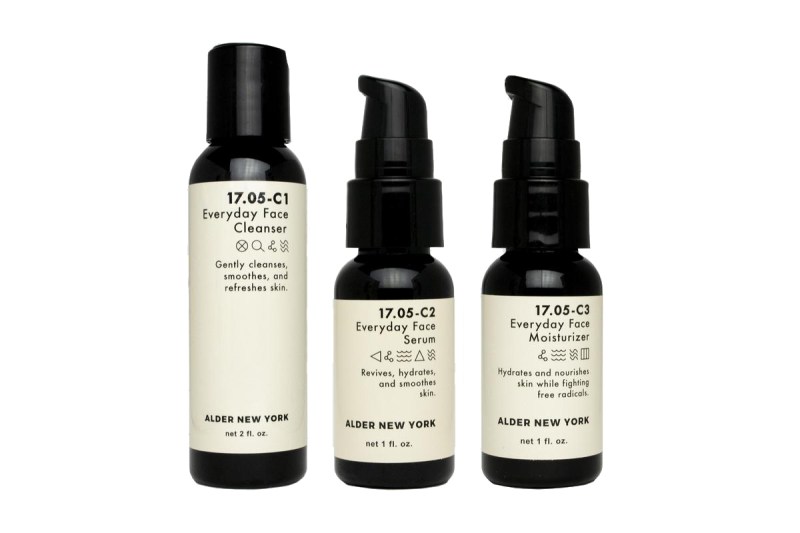 Just because you're headed away for the weekend there's no reason to skip skincare. Alder's TSA-compliant, three-step vegan skincare system will keep you looking fresh and hydrated. Everyday Cleanser features glycolic acid for its gentle exfoliating properties, Everyday Serum enriches and balances the skin, and Everyday Face Moisturizer hydrates and protects. Make a "spa weekend" out of it and grab one a single-shot Clarifying Face Mask, which will purify skin with bentonite clay and charcoal while zinc oxide and sulfur mud control oil and calm the skin.
Dakine Groomer Small Travel Kit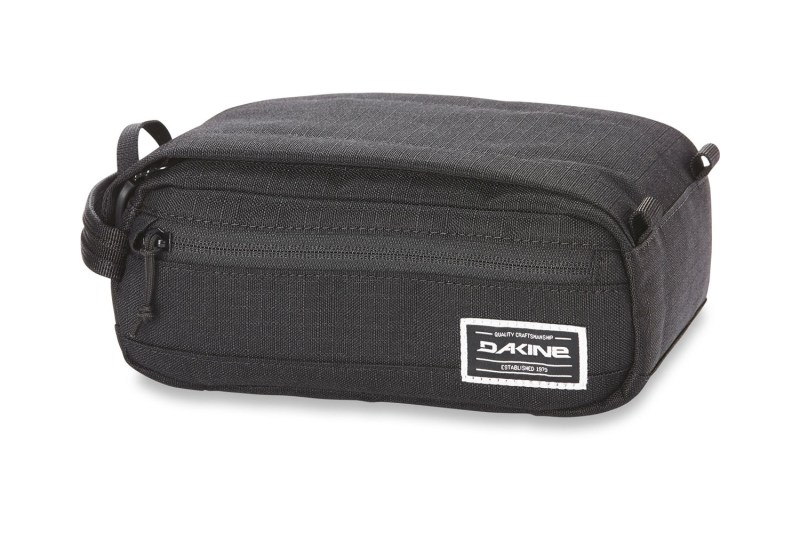 Available in small, medium, or large sizes, this dopp kit is perfect to hold a weekend's worth of essentials. The top has special straps to keep a toothbrush and razor handy, and there's an exterior pocket to keep easy access products separate. Of course, the kit also features Dakine's hardwearing fabric, built to last through mountaintop or surf-side adventures.
If you'd like more options, check out our favorite travel clothing brands.
Editors' Recommendations