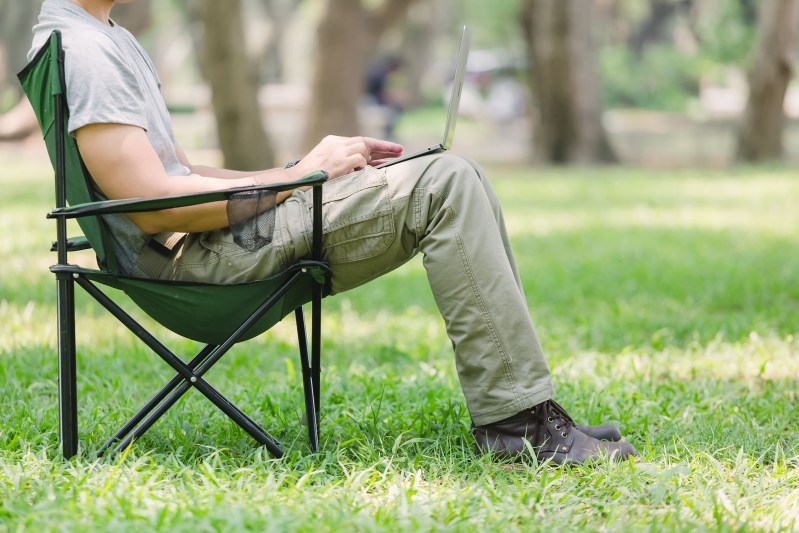 Cargo pants have made a strong comeback and are now considered in again after so many years. Unlike before, they're now just as wearable and fashionable as your favorite jeans under $100. The tough, outdoorsy pants for men notable for their military origin are making a name for themselves in the fashion world. Hence, men's cargos are the best bet for the next spot in your wardrobe rotation.
Regardless of what plans you might have these days, men's cargo pants are the perfect travel pants for hiking, exploring, and everything in between. Amazon Fashion has you covered with some of our best menswear essentials. Looking for something to pair these cargo pants with? We've also rounded up the best flannel shirts and belts for men.
Related Guides
Amazon Essentials Slim-Fit Stretch Cargo Pants
Where better to go than the reliable, stylish line of Amazon Essentials basics? In this case, you'll find the most stylish men's cargo pants featuring a slim and highly wearable silhouette.
Carhartt Men's Relaxed Fit Washed Twill Dungaree Pant
These cargo pants have a great relaxed fit, so they're not too tight or baggy. The pockets aren't too bulky either, so they maintain the function of cargo pants while also staying tapered. You can find the perfect fit without having to head to the tailor, as they also come in a wide variety of sizes, making these men's cargo pants perfect for the guys who hate to shop.
CQR Men's Ripstop Work Pants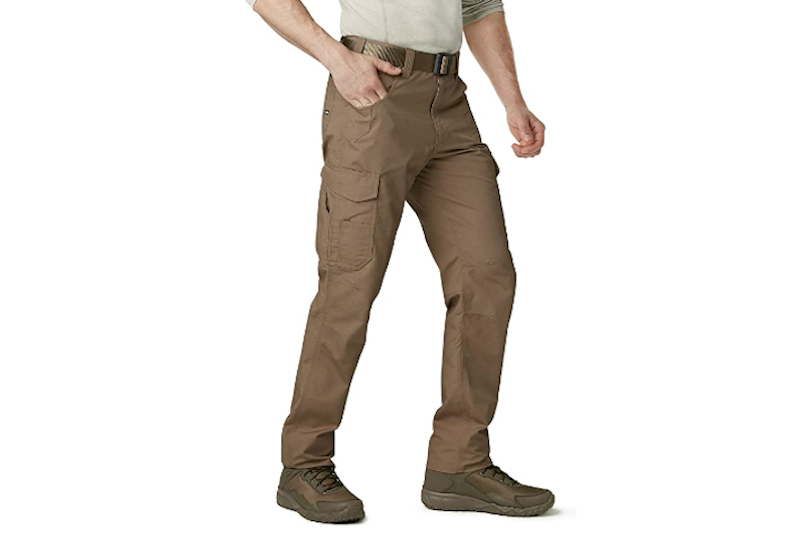 These pants come in 29 colors, which is kind of insane and amazing. On top of that, the fabric is coated and treated to easily repel dirt, water, and rips. Also, there are 12 pockets with Velcro straps that you can get in and out of easily, basically making these the best cargo pants for men.
Dickies Men's Regular Stretch Twill Cargo Pant

If you love true black pants, these are the cargo pants for you. They're made with fade- and wrinkle-resistant fabric for enhanced durability.
Goodthreads Men's Slim-Fit Comfort Stretch Ripstop Cargo Pant

These pants are the perfect combination of trousers and cargo pants. They're lightweight, breathable, and stretchable, making them the pants you're going to want to wear every day. If there are perfect men's cargo pants, we think these are the ones.
G-Star Raw Men's Rovic Zip 3D Tapered Pants

Swap out your jeans for these military-inspired cargo pants. The deep green color is practically neutral, making them ideal for wearing with everything and anything in your closet.
Lee Men's Performance Series Extreme Comfort Cargo Pant
There's a reason why these are called "extreme comfort" cargo pants. With a flexible waistband and extreme stretch throughout, you'll practically be able to do yoga in these bad boys.
Match Men's Athletic-Fit Cargo Pants

With deep pockets, these are the best cargo pants for men. If you're traveling or participating in any outdoor adventure where you don't want to carry an additional bag, the deep pockets will easily hold all of your essentials.
Mocoly Men's Hiking Cargo Pants 

These are the ultimate outdoorsman cargo pants. They have an elastic waistband, zipper pockets, extreme stretch, and bottom cuffs that cinch with a bungee cord so you don't trip over yourself. On top of that, they're woven with UPF50+ fabric that will help protect you from the sun.
Wrangler Authentics Men's Classic Twill Relaxed Fit Cargo Pant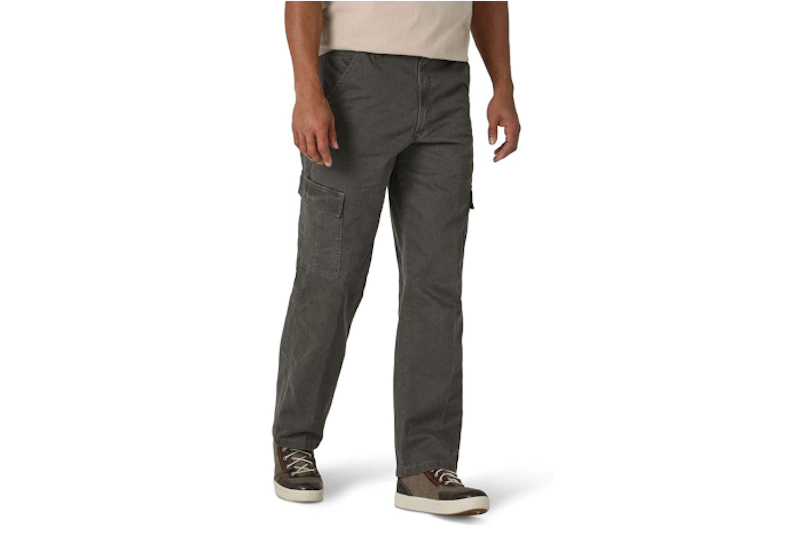 These classic men's cargo pants are comfortable and functional, perfect for everyday wear. The extra pockets ensure you always have enough room for your wallet, mask, and any other necessities you need to tote around.
Puli Men's Loose Cargo Sweatpants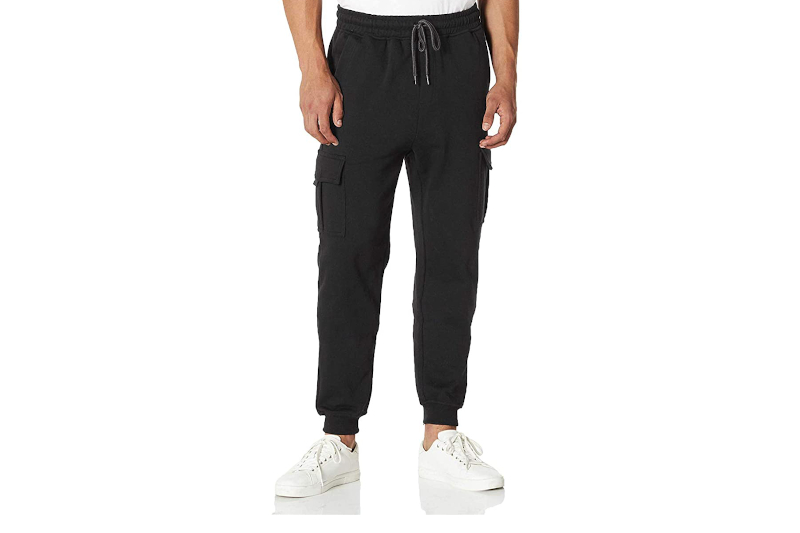 You'll never have to sacrifice comfort for function when you're wearing a pair of cargo pants. Your favorite pair of Sunday sweats get a major upgrade with extra pockets, perfect for bringing extra snacks to the couch.
Is it OK To Wear Cargo Pants?
If you've found yourself scrolling through pages of men's pants, you've most likely stumbled upon a pair of cargo pants that you've been drawn to. And if you're not in a workforce that typically wears cargo pants, you're probably asking yourself the question, "Is it OK to wear men's cargo pants?"  And the answer is yes.
While you might associate men's cargo pants with military-style or '90s boy bands, they're back and extremely stylish. Most styles these days are more tailored than they used to be. On men's cargo pants, you can find anywhere from two to five pockets that are great for stashing away your essentials.
Some men might opt to carry their essentials in a small bag or stuffed into one pocket, and many rely on their significant other to hold their items. With cargo pants, you have the flexibility of having all of your essentials on your body. Think about it: You can have dedicated pockets for your mask, wallet, and sunglasses, with room to spare. Who wouldn't want to rock a pair of cargo pants?
Are Cargo Pants in Style?
Yes! Cargo pants have been having a major comeback in the last couple of years, and we're here for it. While you might think back to cargo pants that were popular in the '90s thanks to Justin Timberlake and his boy band, nowadays, the popular cut is more tailored and stylish.
Editors' Recommendations