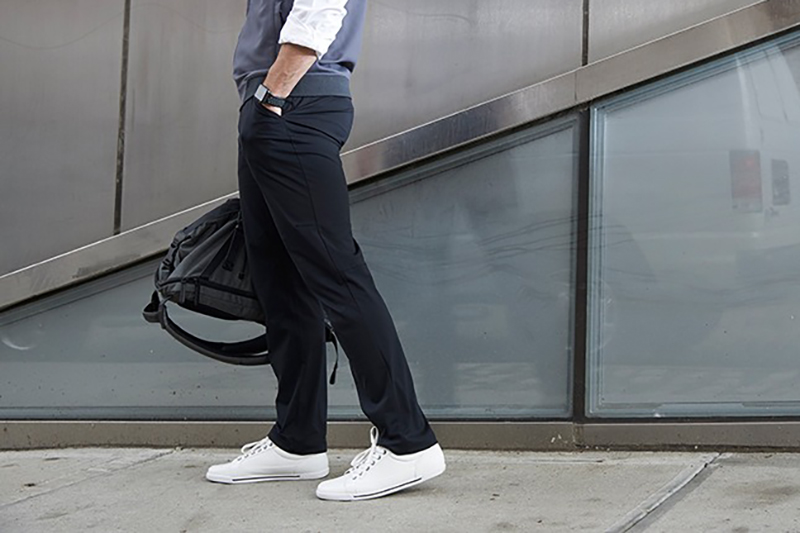 When you think about the finer things in life, what comes to mind? Maybe it's those morning walks with your significant other or sipping a fresh cup of coffee? Or what about hearing the swish of a basketball go through a net? Yes, those are all up there. But for us, we also believe wearing a great pair of pants belongs on such a list.
Finding a trusted pair of pants takes time. To begin, you have to know your style and what look you are aiming for. But most importantly, you have to take into account their quality — their fabric, their cut, and their style. Then, you have to make sure they fit — this is perhaps the toughest battle of them all. Fortunately, we've always had an eye for great trousers. Here's a timely list of pants to buy right now for the summer.
Travel Pants
These are the do-everything go-anywhere pants that ensure supreme ease of movement without sacrificing their look. Whether you're working at the office, taking a flight to another city, or riding a bike, your travel pants will come in handy.
Mugsy Jeans Brushed Twill
Mugsy's super stretchy and soft cotton blend twill just gets better with age. The denim brand's new Weekender collection features a nice range of colors and even a couple of drawstring options if you don't want to move too far away from those sweats.
Vuori Meta Pant
Breathable and tailor-fitted, Vuori offers an excellent choice in their Meta Pant. This is an everyday 5-pocket pant with 4-way stretch — they've even got an anti-odor topical treatment.
Dockers Men's Slim Fit Workday Flex Pants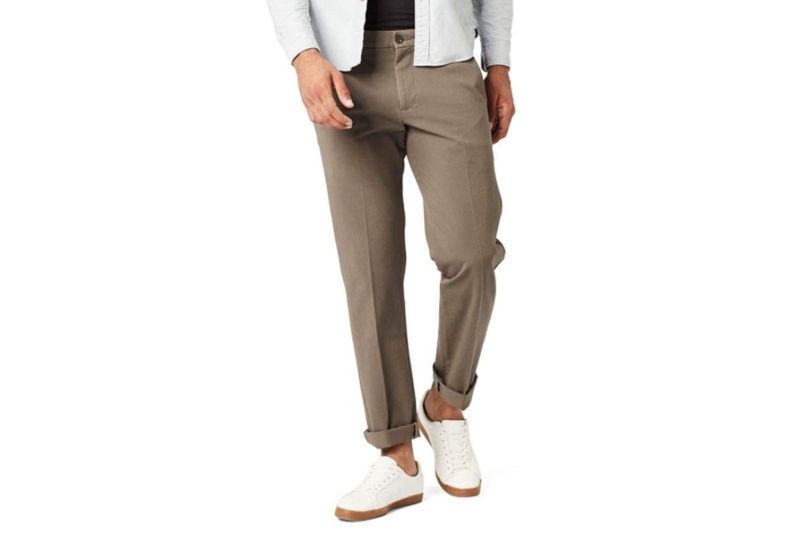 Dockers are hands-down one of the best bang-for-your-buck clothing brands out there. Their Workday Flex pants offer a tapered, modern touch on the classic work pants they've churned out for more than 30 years.
Sweatpants
The truth is, we know you can't get out of them — and neither can we. Sweatpants are probably the single most comfortable thing in a man's closet. From those rainy days spent gaming on the couch to those afternoons on the court, these are sweats that won't make you overheat.
Richer Poorer Recycled Sweatpants Mirage Wash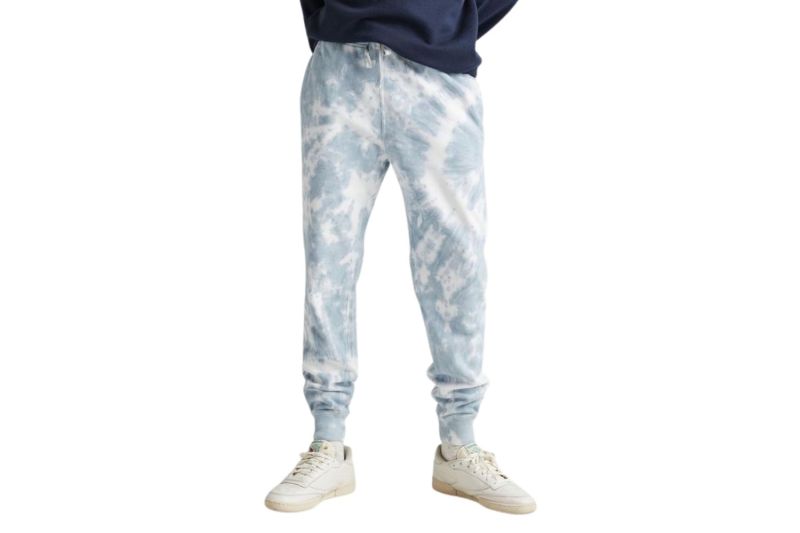 Made with 60% cotton and 40% recycled polyester, Richer Poorer offers some of the best classic-fitting sweats out on the market. This mirage wash is colorway is captured through a hand-dying technique — making each pair unique in design from one another. Each pair of these sweats also saves about 40 plastic bottles from landfills.
Champion Men's Closed Bottom Light Weight Jersey Jogger
Champion is the king of iconic sportswear. These lightweight sweats are as comfortable as your go-to jersey tee and are great for workouts. And for less than $30? It's a no-brainer.
Joggers
There's a fine line between sweats and joggers. We take the stance that if a pair of woven pants has an elastic cuff at the bottom, that makes them a jogger. Knit pants with a drawstring? Still sweats, even if they're cashmere.
Gap Slim Canvas Joggers
Affordable, durable, and great stretch, these Gap Canvas Joggers are a solid go-to.
Rag & Bone Miramar Joggers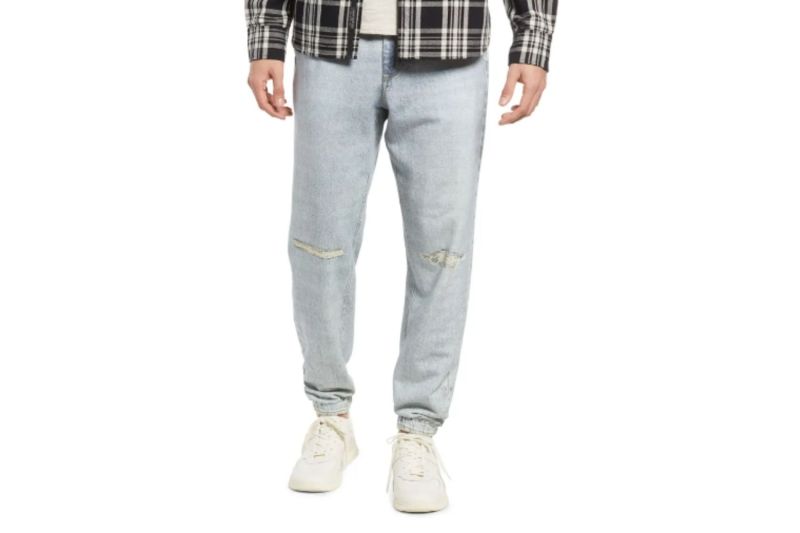 If you ever wondered if you can wear joggers to the bar, here's the answer. Rag & Bone offers a relaxed fit, ultrasoft cotton terry jogger that resembles a classic pair of ripped denim.
Jeans
It's probably a given that the next best thing in your wardrobe is going to be a great pair of broken-in jeans. You'll want a clean, dark-washed pair to dress up with a crisp button-down, as well as a light-washed pair to go with your timeless white tee. We've got a more in-depth selection of jeans and denim brands for you here, but below are a couple to round out your trouser wardrobe.
Nudie Jeans Steady Eddie II Jeans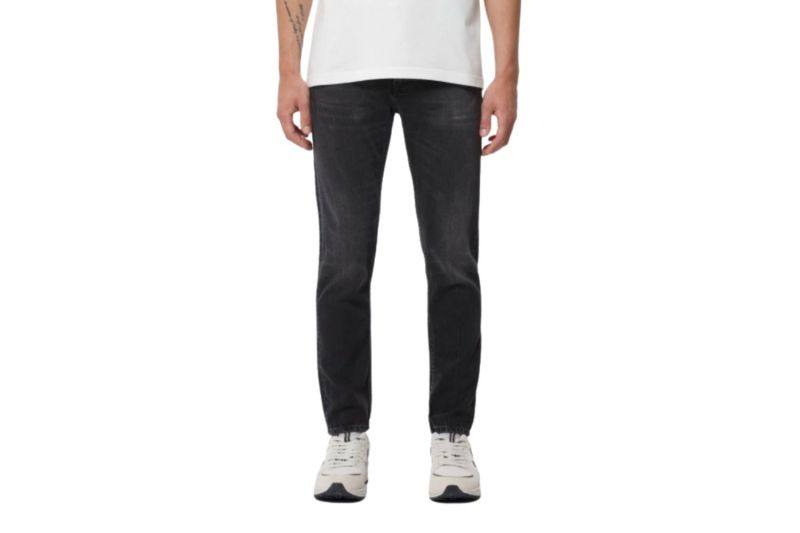 Nudie Jeans' Steady Eddie is a bestseller for a reason. They've got an amazing tapered fit, and are made with 100% organic cotton. And if you look closely, you'll see they feature antique silver trims.
Todd Snyder Stretch Jean Bleachout Wash
Leave it to Todd Snyder to create the perfectly faded summer blue jean. Details such as antique copper rivets, chain stitching on the coin pocket, and a suede-embossed patch on the back highlight how much love and attention TS gives to their denim.
Trousers
As much as we are big supporters of owning your own tuxedo, black tie affairs are pretty few and far between these days. Since most affairs are "black tie optional," we suggest owning one great pair of terribly formal black or charcoal trousers that can easily be mixed and matched.
Pierre Pleated Cuffed Dress Pants
Yes, pleated. And the clean, self-fabric belt looks finished and elegant.
Haggar Men's Work-to-Weekend Pleat-Front Pant
Haggar's pleat-front pant guarantees you won't ever feel guilty again about putting hard hours on your pants. They're supremely durable and affordable.
Read more: Best Dress Pants for Men
Chinos
There are those of us who live in these pants. The chino or khaki has its roots in military uniforms, but they really busted into the mainstream with 1950s casual suburban Dads who suddenly had weekend leisure time. By the 1990s casual Fridays brought them into the office, and they're now the uniform for a new American workforce. We wouldn't blame you for wearing these almost every day of the week.
Save Khakis Standard Twill Chino
S.K.U. is the crème de la crème of the khakis universe. Their minimalistic approach to design and unerring eye for color projects a level of art directed realness.
Goodfellow Hennepin Chino Pants
Getting khakis at a low price is nothing to laugh at these days. Grab multiple colors of these on your next cruise through Target.
Linen Pants
What fabric reminds people of summer more than linen? Flowing, cooling, and dangerously soft, there's nothing better when you want a pant that avoids heat at all costs.
Old Navy Slim Built-In Flex Linen-Blend Pant
Your textbook natural white linen pant. Old Navy's got you covered — and for 25% off we might add.
Hugo Boss Linen Pant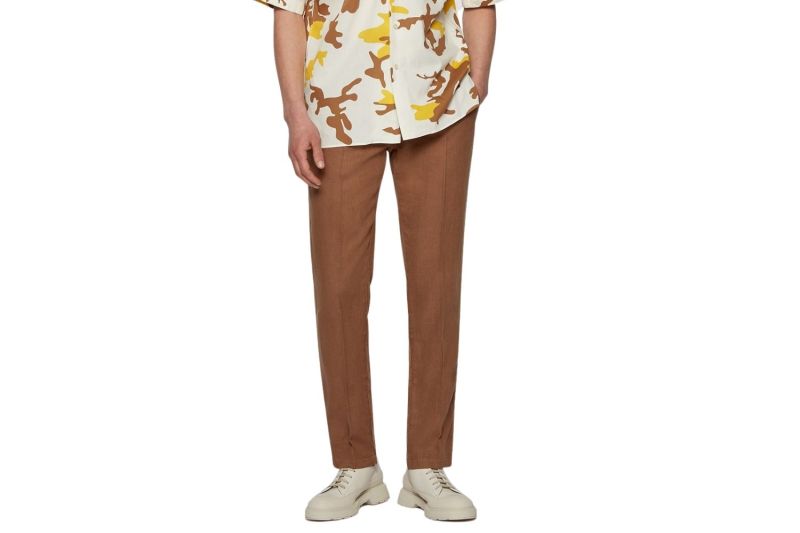 Tastefully garment-dyed to create a rich dark beige, Hugo Boss offers these chinos in a simple regular fit. We see a lot of vacation energy surrounding these.
Editors' Recommendations