When hiking and backpacking in the outdoors you're going to want performance clothing designed for active adventures. I'm talking about gear specifically designed for keeping you comfortable outside. What's so special about outdoor clothing? For one, the fabric. These garments are made from lightweight, breathable, and quick-drying materials like nylon, merino wool, and polyester. You won't find any cotton here, folks!
As the saying goes, cotton kills. Why? Because cotton dries slowly and doesn't insulate as well when wet. Pair this with the cooler temperatures of spring and fall and you've got the potential for hypothermia. But another great reason for these fabrics is that as we exercise we sweat. Synthetic materials dry quickly leaving you more comfortable and preventing some of the discomfort brought on by damp clothing. Does anyone really want to wear a sweaty tee shirt all day?
That being said, there are plenty of fashionable options from companies like Patagonia, Danner, Mountain Hardwear, and REI that'll both keep you feeling good and looking good. Read on to discover our picks for hiking menswear with the performance features you need for the outdoors and the style you're looking for around town.
Creating a Layering System
One word you're bound to hear a lot when thinking about dressing for the outdoors is layers. Consider two scenarios:
1) You set out on a cool morning with a tee shirt and a super warm down jacket to protect against those colder morning temperatures. As you are hiking you warm up, but it's still a little too chilly to shed the puffy jacket. You end up sweating through your cotton tee shirt until finally you ditch the big jacket but are now damp for the rest of the day.
2) You wear a short sleeve shirt made from synthetic materials, a full zip fleece, and a puffy down jacket. Before you begin hiking you shed the puffy knowing that you'll warm up when you start moving (Be Bold, Start Cold!). Soon enough, it's warmed up, so you unzip your fleece to vent some heat, and then eventually you shed it, too. Because you've regulated your temperature you haven't sweat that much and because your base layer is made from synthetic material, it dried quickly, leaving you comfortable for the rest of the day.
This is the beauty of layering. When you reach the windy peak you've been hiking toward or stop for some lunch in the shade, you can put on some of those previously shed layers to finely tune your temperature for maximum comfort.
The Best Hiking Pants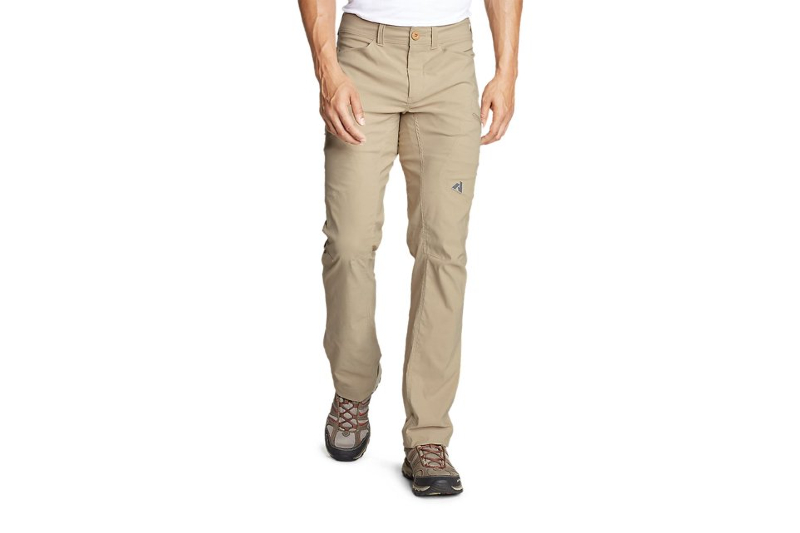 We've got you covered with pants that'll look good both on and off the trail. This list of the 10 best hiking pants for men is a great place to start. If you're looking for something a little more sporty, consider going with stylish joggers. And if your travel plans are going to take you far afield, check out these great pants designed for travel.
But to give you an idea of what you're looking for, these Eddie Bauer Pants fit the bill. They're made from a mix of synthetic fabrics (nylon and spandex) which will dry quickly and move as you do. DWR, or Durable Water Repellent, will help keep you dry in precipitation. And their slim, athletic fit means you'll be able to move through trail, brush, and rock scrambles without getting your pants hung up on things.
The Best Pair of Boots or Trail Runners
Many of us associate hiking with boots. Naturally. But these days guys are opting for trail runners instead. They're lighter, more breathable, and often more comfortable than boots. Altra makes great trail runners with wider toe boxes. The Lone Peak 6 would be a great option. We put together a whole post on trail running for beginners.
That said, sometimes we want the ankle support and the waterproofness of a solid boot. Thankfully, boots have gotten lighter, more breathable, and more comfortable over the years. There are many great brands out there, though one of our favorite brands here at The Manual is Danner. Made in Portland, Oregon, Danner produces high-quality boots that last.
These boots are engineered to be lighter weight and more comfortable out of the box than other boots. Try them for yourself and see.
Of course, our feet are only going to be as comfortable as our socks. Socks that you're going to be wearing for hours on end have to check off more than a few boxes, and it helps if comfort and a durable build are a top priority. The REI Merino Wool Hiking Socks meet those crucial criteria handily, But we have plenty more socks for the trail you might want to consider.
The Best Boxer Briefs to Keep You Cool on the Trail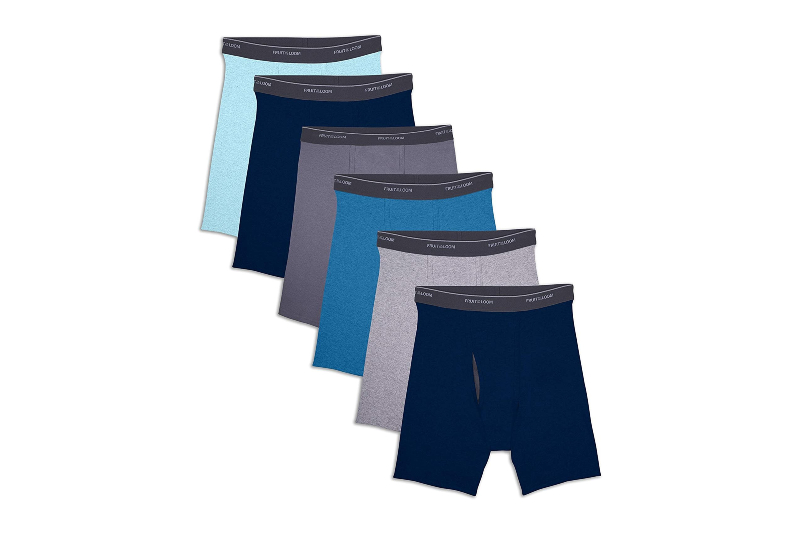 Listen, under the sun, you're bound to get hot. But you can minimize the potential for overheating with some seriously breathable boxer briefs designed for ease of movement in hot weather.
The Best Hiking Sunglasses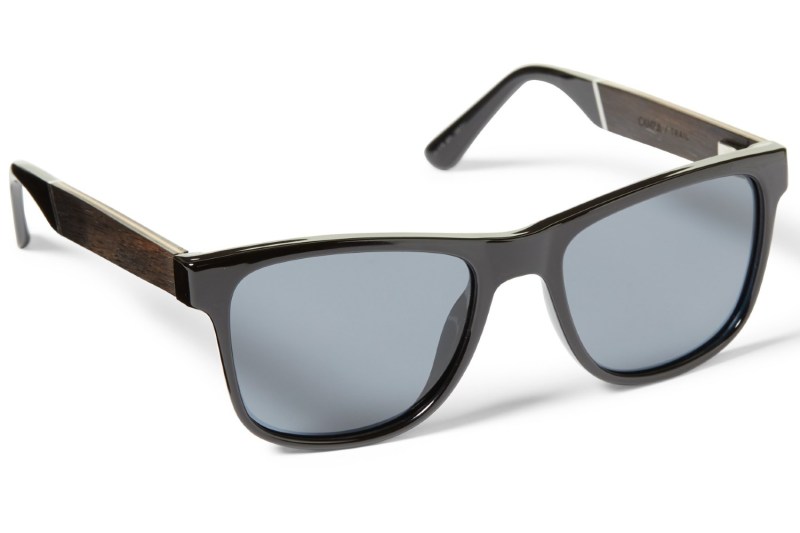 These polarized sunglasses from CAMP have impact-resistant lenses and are made from nylon to reduce the amount of plastic going into the world. Plus, they look good enough to wear in town no matter the season.
The Best Backpack for Hiking

The jam-packed Peak Design Everyday Backpack is a fan favorite for a reason, daring to go where backpacks haven't gone before. In this case, that means it's made with durable MagLatch hardware, weatherproof zippers, and FlexFold dividers to customize your packing setup. If it seems like they've thought of everything, believe us, they really have. Size and features vary widely on backpacks though, so check out our full list of backpacks for any adventure.
The Best Hat for Hiking

Grab and go with this simple, subtly stylish hat, made by a brand that knows a thing or two about outfitting people for the great outdoors. You'll shield your face from the sun, and you'll have successfully purchased a hat you can wear with anything, even when not hiking.
Hopefully, this has been a helpful review of some of the crucial pieces of clothing to wear hiking. Remember, avoid cotton, find a layering system that works for you, and keep your feet comfortable with the right shoe for the adventure. You'll not only look like a pro on the trail, you'll feel like one, too.
Editors' Recommendations