Though the brand has been around since 1965, truth be told, until three weeks ago, I had never heard of the watchmaker Armitron. In the past two weeks, however, only two days have gone by that I have not worn at least one Armitron watch. I recently became the proud owner of not one, not seven, but three of these fine chronometers, you see. You too could soon own multiple Armitron watches and without having to forgo ownership of other fine things, either. For indeed Armitron watches look great and work like, well, clockwork, yet they are some of the most affordable (well-made) chronometers on the market today.
Related:
Every Armitron watch, whether it was designed to be used on a backwoods trek or to serve as the grace note to your evening ensemble, was created first and foremost to be a reliable chronometer. You can count on a chronometer from Armitron to keep reliable time and, if it boasts other functions, to give you an accurate read on your altitude, elapsed time via stopwatch, or whether the barometric pressure is rising or falling.
There are dozens of different Armitron watches for sale, for both men and women and for all manner of occasion and use; today I'm only going to focus on three, however. Why? Because these are the three I own and wear myself.
Armitron Adventure AD/1011 Black
This watch is a bit larger than most of the timepieces to which I am accustomed, yet it also boasts about five times the functionality of most watches in my collection. That will likely be true for you, too, unless most of your wristwatches double as portable weather stations. The AD/1011 features a barometer, an altimeter, detailed date information, and a stopwatch. It also has several programmable alarms and tracks the time in several world cities. It's (of course) impact- and water-resistant (down to 165 feet, FYI), and it has a durable "Soft Touch" resin strap.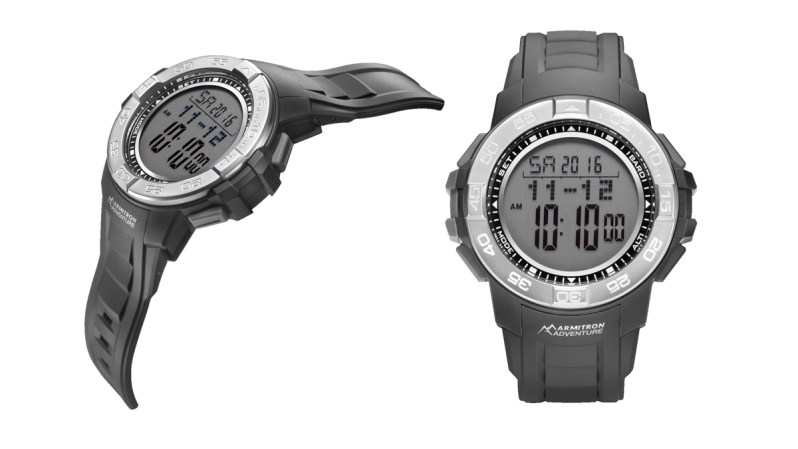 This is, in short, the right watch for the hiker or mountaineer who wants to know the time, the elevation, and who wants to know about likely changes in the weather. And to know what time it is in London. And to remember that appointment/date/birthday. And so forth. How much will you pay for this capable multifunction tool? Less than a hundred bucks. MSRP for the Armitron Adventure AD/10011 is $95, in fact.
Armitron Stainless Steel Gold
The technical name of this watch is the Armitron 20/5217WTGPBK watch. So you can see why I went with a less technical, more descriptive title. The case of this handsome semi-dress men's watch measures 42 millimeters across and has a bright gold tone. The body is made from stainless steel, which keeps the price down while providing plenty of protection for the Japanese-made movement within. That movement keeps multiple hands turning about on the main dial and the three sub dials, all of which help you keep track of the time, date, and day of the week.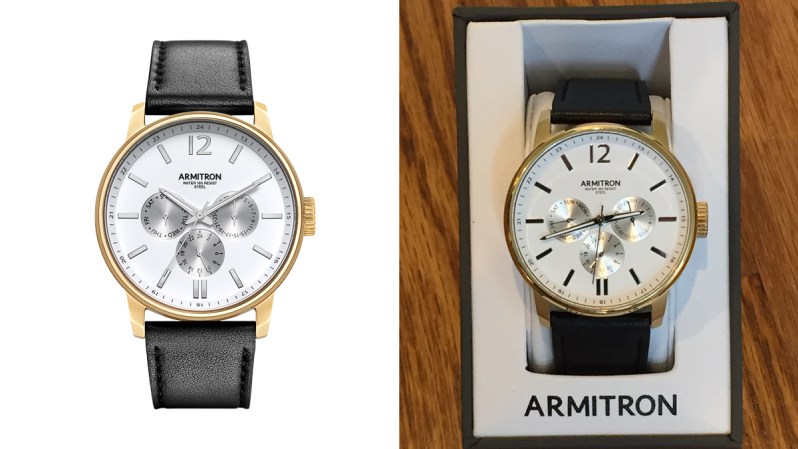 This "gold" watch features a genuine leather band and can dress up a pair of jeans and a sweatshirt, blend well with slacks and a button down, or balance a coat and tie. And it does all that with a price tag of just $85.
Armitron Adventure Analog Watch
This watch, the Armitron Adventure AD/1003IVSVBN, immediately became my everyday go-to timepiece. Its large hour and minute hands (crafted from stainless steel and with strikingly Washington Monument-shaped white panels set into them) are easy to read at a glance, as are the three miniature dials set around the off-white face of the watch. These dials use bright orange hands and display the date, the day of the week, and keep you apprised of where you are in the 24 hour cycle. That's useful for anyone who regularly confuses, say, 10:34 a.m. with 10:34 p.m.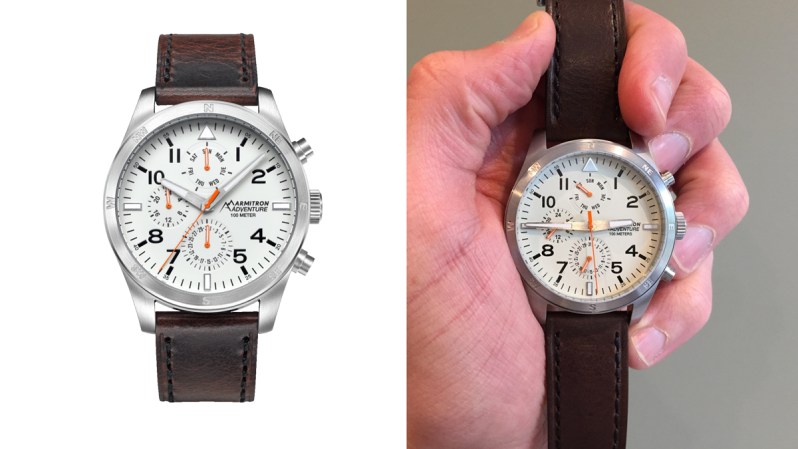 The AD/1003IVSVBN (if I have any real complaint about Armitron watches, it's their long, clunky alphanumeric titles and the lack of any easy and catchy name, like, I dunno… The Wanderer or some such thing) has a ruggedly handsome brown leather band and compass lettering (N, SE, NW, e.g.) etched into the case surrounding the face. It's a good-looking, functional watch that won't break the bank at just $125.
Editors' Recommendations