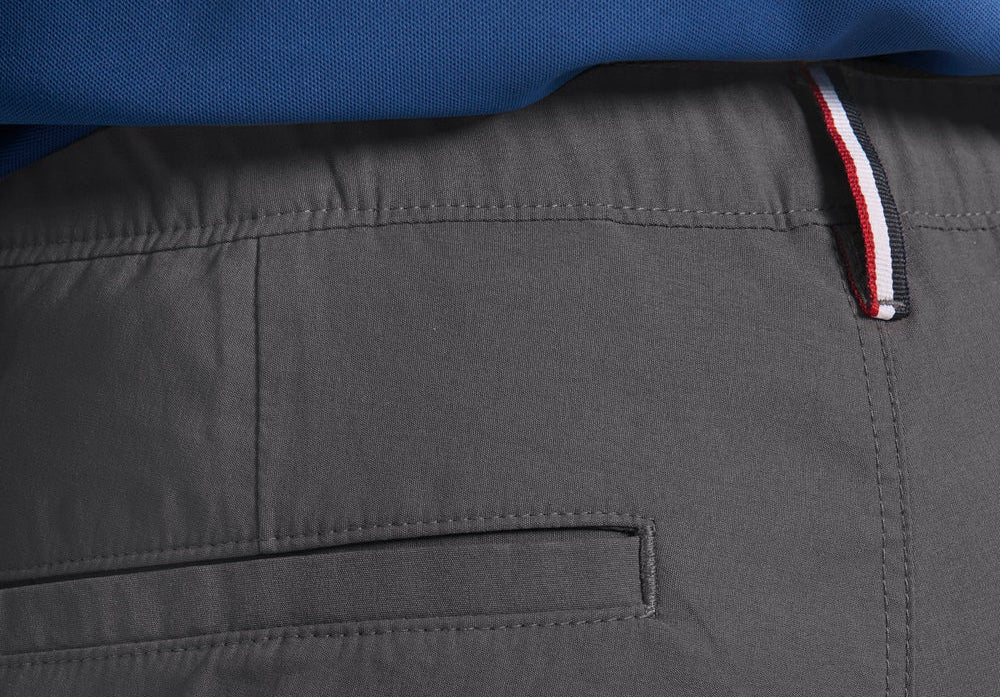 Like many men, I want multi-purpose pants. Not cargo pants (please, never cargo pants), but something that goes with just any shirt or coat and is comfortable enough to wear anywhere. Ben Sherman might have threaded that needle for me.
As someone who travels often for work, I must have pants that:
Travel well

. I need pants that are comfortable if I'm sitting on a plane for hours and pants that are easy to de-wrinkle with an iron or steamer I have in a hotel room.

Are comfortable

. I don't want to feel like my pants are wearing me, you know?

They look professional but are also casual

. Comfort is essential, but so is looking good when you're in a meeting.

Go with everything

. I might wear a polo, then a button-down – and I need pants that pair well with a cardigan or light jacket.

Pack well

. I'm a carry-on-only guy, so I don't want bulky clothing.
The Ben Sherman 24/7 Motion Stretch Slim Chino checks every box.
What we like about the Ben Sherman 24/7 Motion Stretch Slim Chino
Wrinkle resistant

. Going from a plane trip right into a meeting and not looking like a slouch is so lovely. But even if you don't travel, you won't pick up wrinkles with these pants. And that matters.

Slim but stretchy

. If you like a slim-fit pair of pants but don't want to stand all day, the Ben Sherman 24/7 Motion Stretch Slim Chino is a great choice. They have a slim silhouette when you're standing, and enough give to be comfy when sitting.

They look great

. Ben Sherman nailed it with these pants. They're comfy – I can't hammer that home enough – but they look incredible, too.

The pants pair with almost everything

. My preference? The Ben Sherman cardigan and a button-down. Casual, confident, and cool. You can't go wrong. Pair it with any coat you like, even a sports coat – though that wouldn't be my first option.

You can wear any shoes you want and look great. You can swap between some tennis shoes, business casual loafers, and dress shoes with these pants. I pair them with Clae Bradley Apple sneakers often.
Tons of sizing options are available

. There are 23 different sizing options. Amazing.
Consider this before buying these Ben Sherman pants
They have an elastic bit in the rear of the waistband

. This helps with comfort, of course. That said, if you're looking for a perfectly tailored look, you should get tailored pants. These are the best off-the-shelf pants I've tried but they don't look tailored.

The seat is a bit roomy

. No way to dance around this, so I'll say it: If you have a flat butt, these pants may not look great on you. This does mean they have extra room in the hips, though, which I'm a big fan of. It makes getting into the pockets less cumbersome.

They only come in four colors

. Green, navy, sand, and gray. I'd like to see black make an appearance, and I think white may be a hit, too.
Should you buy the Ben Sherman 24/7 Motion Stretch Slim Chino?
You should. Buy several pairs. They are my new favorite everyday pants, and I think they could be yours, too.
I've tested and trialed pants from various brands available at stores like Nordstrom, and these Ben Sherman pants are the best I've ever worn. After testing them for weeks while traveling and otherwise living my routine day-to-day life, these are the pants I keep pulling out of my closet when it's not time for jeans or sweats (or outerwear for snowboarding).
Editors' Recommendations