When you were a child, your parents likely bought you a pajama set featuring your favorite superhero or cartoon characters. As you grew older, you ditched those pajamas for boxers or sleeping in the buff. Once you've made it and established yourself as a successful man in the world, the pajama set makes its return to signal that you have arrived.
Of course, you could just buy any old kind of men's sleepwear to go under your robe while you putter around your apartment — or you could don this luxurious pajama set from Paul Jays to wear while wandering your estate, drinking coffee, and pondering your next great move to grow your empire. I tried out the Geo Print Long Set, and from the moment I put it on, my reasons for taking it off numbered zero. Here is an honest review of this luxurious set, the Porsche of men's pajamas.
The look
I know what you're thinking: I'm wearing these in the house, so why do I care what they look like? Trust me, it matters more than you think. Whether you're wearing them for yourself or your partner has to watch you walk around in them, this classy set is easy on the eyes.
The Geo Print sports a deep brown color with hints of orange and copper, giving it an old-time feel that brings class and tradition to your sleepwear. The pattern would look just as good on a sweater or button-up as it does on these pajamas.
One downside has to do with the linen fabric. Like anything made of linen, wrinkles happen easily, so these pajamas can start to look wrinkled and worn quickly. The good thing is that when you're drinking coffee in the kitchen or when you're deep in slumber, the wrinkles won't bother you.
The fit
I am 6 foot, 5 inches tall, and weigh in at 260 pounds. With my long limbs and barrel chest, it's common that sleeves are too short and that buttons pull across the chest. Lucky for me, Paul Jays knows the value of a good fit; the x-large size fits me like a glove.
The shoulder seams sit perfectly on the curve of my shoulders, and the sleeves fall perfectly at my wrist bones. The pants feature a drawstring that can leave room for a wider waist or cinch up for a smaller waist if needed, and they fall on the ankles how they're supposed to. The fit is as expected, which is an easy plus for the brand.
Fair warning: Follow the wash instructions. The downside of a perfect fit is that any shrinking of the garment or ballooning of the wearer can cause them to become ill-fitting.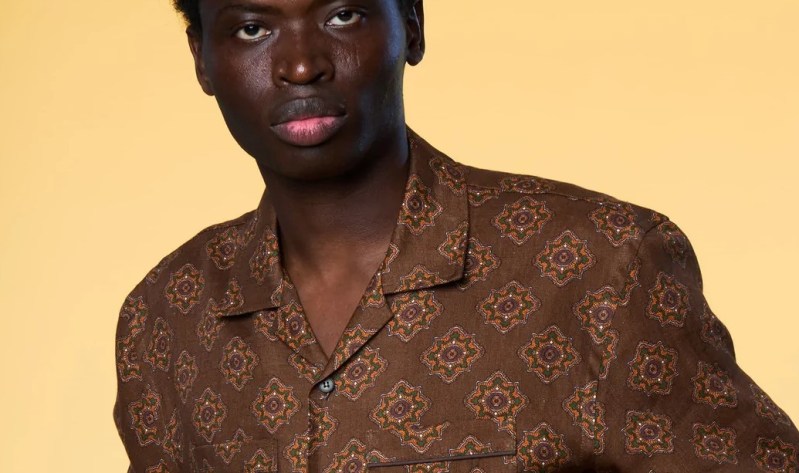 The feel
They look classy and fit great, but let's face it — these are pajamas, and how they feel is really the most crucial aspect. I can confidently say that they feel lovely. You won't melt into the pajamas like butter as you would with silk or velvet, but the 100% Portuguese linen breathes so well you may forget that you're wearing anything.
The natural fibers of the Geo Print hug you while allowing freedom of movement, making these pajamas perfect for lounging around the house or sitting on the balcony overlooking the lake, forest, or ocean views.
You've arrived and are looking for a way to elevate your lifestyle at home; a new pair of Paul Jays Long Sets will put you in the lap of luxury (or, more accurately, put your lap in luxury) and keep you feeling like royalty, both in bed and out.
Editors' Recommendations