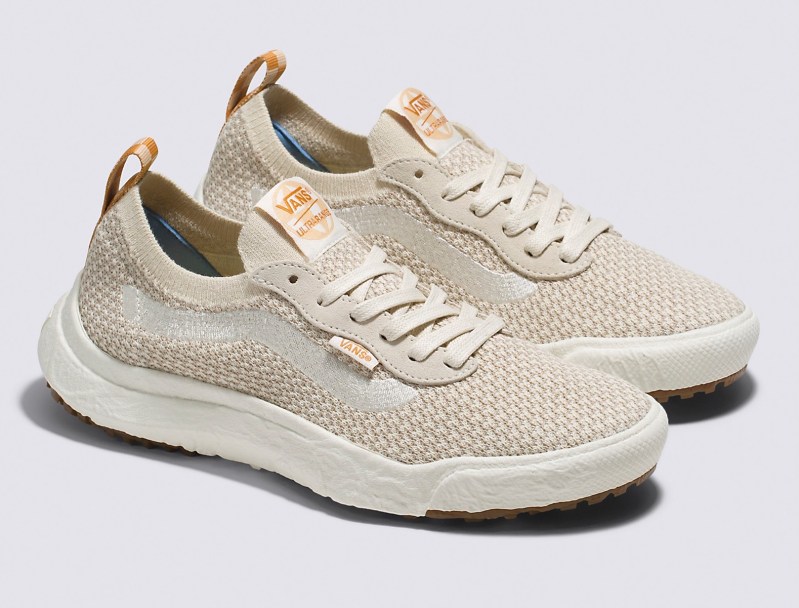 Known for its streetwear and skate shoes, Vans may not be the first name you think of when you consider hiking shoes. But after testing a few of the most recently released hiking shoes from Vans, we're starting to think you might want to give Vans stronger consideration next time you want a new pair of hiking shoes – especially if you want to transition seamlessly into the concrete jungle after a hike.
We recently tested Vans's UltraRange lineup: the UltraRange Exo, UltraRange Exo Hi, and the UltraRange VR3 sneaker. After hiking through various terrain to see where Vans hikers are best – and who they're best for – it's clear to us that Vans' reputation as a durable shoe for everyday wear is translating to the mountains, too.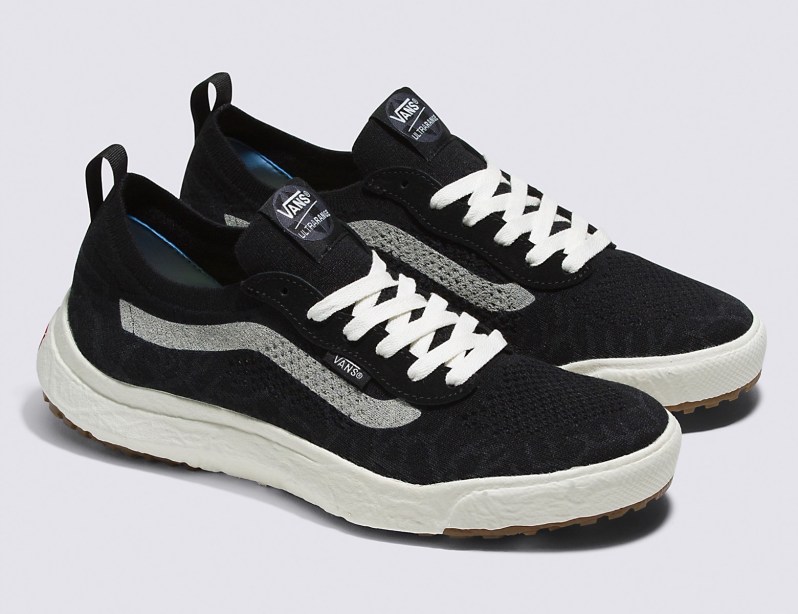 What Vans says about its Vans UltraRange shoes
From Vans:
Vans UltraRange VR3
A new addition to the Vans Family, the UltraRange VR3 is another small step towards a larger goal of producing more sustainable footwear. This season we have re-thought, re-engineered and rebuilt every little bit of the UltraRange to make it more sustainable. This includes a molded EcoCush midsole, a lightweight construction, an EcoWaffle rubber outsole, and a breathable upper. The upper is designed to reduce waste in production compared to Vans' traditional cut and sew uppers. The UltraRange VR3 is the manifestation of an idea: that it is not where we are going, but how we get there. In order to reduce the overall footprint of Vans, our team has set ambitious sustainability goals. Big or small, all of our efforts add up to positive change. VR3 is the Vans commitment to sourcing 100% of our top 4 CO2 impact materials (cotton, leather, rubber and polyester) from Regenerative, Responsibly Sourced Renewable, and/or Recycled sources by 2030.
Vans UltraRange Exo
Always ready for the unexpected. We believe adventure begins when things go sideways, so we developed a shoe that would not only stand up to the journey, but keep you comfortable in the most uncomfortable of situations. Armed with a co-molded UltraCush midsole, updated RapidWeld detailing, a lightweight, die-cut rubber outsole, and a breathable Old Skool-inspired upper, this is the UltraRange — evolved. The UltraRange EXO is made with sturdy textile and synthetic uppers.
Vans UltraRange Exo Hi
You are Made for the Elements. These are your Vans. For Summer 2023, Vans is excited to offer for the first time a brand-new proposition that further extends the versatility of MTE footwear through our UltraRange family: Warm Weather MTE. Replacing the insulation used in our Cold Weather MTE footwear with a thermoregulating, breathable mesh ventilation package that pulls heat off your foot and out to the surface of the shoe to dry, the UltraRange EXO Hi GORE-TEX WW MTE-2 offers the versatility you need to enhance all your warm weather adventures. Paired with a proprietary warm weather-specific All-Trac rubber compound for traction and GORE-TEX's Invisible Fit waterproof technology for moisture management, this high-top style is truly in a class of its own.
Vans UltraRange shoes: Fit and performance
Vans hiking shoes fit true to size and as expected. No sizing up or down is necessary.
The UltraRange Exo and UltraRange Exo Hi are similar, but it would be wrong to think the "Hi" is simply a high-top version of the low-top Exo. The Exo Hi is more rugged, with stability features to keep your foot steady on rough terrain.
The UltraRange Exo and VR3 are more similar, in my view. The VR3 is like a casual running shoe, while the Exo is more akin to a skate shoe, which Vans is already great at.
Vans UltraRange Exo Hi
All of the Vans shoes we tested are surprisingly comfortable. We expected the UltraRange Evo Hi to be comfortable – most high-top hiking shoes offer a lot of cushioning underfoot – but it might be the most comfortable high-top hiker we've worn.
We attribute this to the UltraCush EVA midsole and All-Trac MTE-2 outsole. You'd typically feel foot fatigue after traversing tree roots and uneven terrain for a few miles. We didn't experience that with the Ultralight Exo Hi. It's almost like wearing one of those ultra-cushioned running shoes. After a few miles, your legs might feel it more than your feet. Stay hydrated.
The breathable upper is subjective, but it works. My feet get hot no matter which shoes I wear, so I'm not the best candidate to review this feature. The best I can offer is that I didn't overheat. My feet were hot but not fatigued. Net-win.
GORE-TEX is a sensational addition by Vans here. I accidentally dropped my foot into a puddle I didn't see on a trail. The UltraRange Exo Hi didn't even blink – my feet were dry, and the shoes looked great. This is good because even though they look like hiking shoes, you can wear them casually without looking like "that guy."
Vans UltraRange Exo
Strip away GORE-TEX and the stability of a high-top, and you get the UltraRange Exo. Vans might be positioning this shoe as a hiking shoe, but it should be your new everyday sneaker.
The UltraRange Exo looks like a Vans shoe, comes in 11 colorways (the Exo Hi only comes in one), and is the most versatile shoe we tested. I can't recommend this for serious hikes, but if you stay on the trail and keep it relatively low-key, there's no reason you can't hike in these.
Vans kept the UltraCush midsole but opted for its more familiar and iconic waffle lug outsole. The outsole provides a bit less cushion for the trail but a lot more versatility on the pavement. It's also extremely light, making it all-day comfortable.
We're big fans of the wider toe box Vans offers on these shoes, and the heel lock feature keeps your foot in place nicely. The UltraRange Exo looks like the iconic Vans Old Skool shoe from a distance; only when you're up close do you see the material is lighter weight, and there's some added protection from moisture at the toe box.
Vans UltraRange VR3
Vans went for high breathability and ultra cushion with the UltraRange VR3, which works.
The upper is a leap forward for Vans, which opted for a more sustainable manufacturing process. The company isn't saying if the materials used for the UltraRange VR3 upper are sustainably sourced, but the company is pledging a commitment to sourcing materials from companies that source responsibly.
That step forward in sustainability results in a shoe that makes you want to take steps forward on the trail. Like the UltraRange Exo, the UltraRange VR3 isn't meant for deep-woods trekking (again, go with the UltraRange Exo Hi for these adventures), and we suggest wearing it when all-day light hiking is on the agenda. The VR3 is also a real-world shoe that looks great on pavement and is well suited to a more active lifestyle.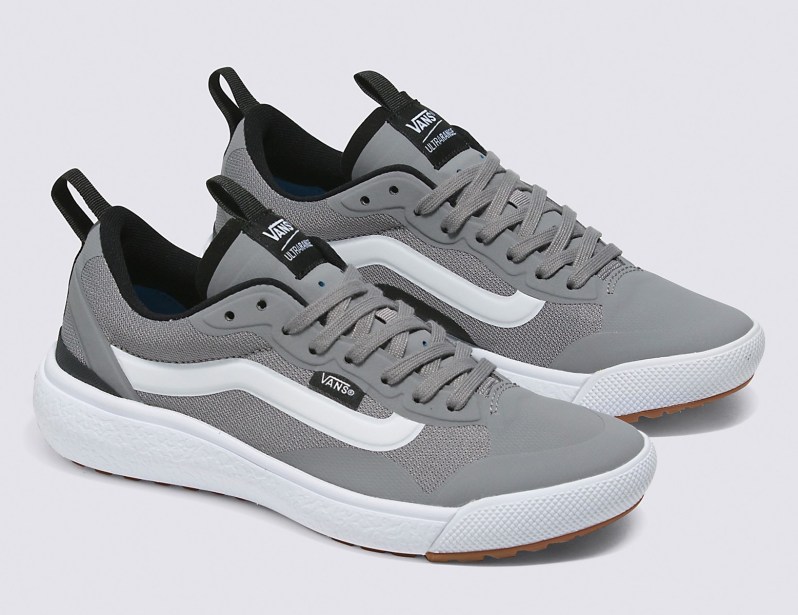 Should you buy Vans UltraRange hiking shoes?
You have three options: a true hiking boot, a casual shoe that translates to almost any situation, and a sporty runner that's as adept at running trails as it is errands.
The UltraRange Exo Hi is a great option if you want a hiking boot. It's much more comfortable than other hiking boots we've tested, and it has all the necessary bells and whistles you'll want in a true hiking boot. It's stable, sturdy, and comfortable.
The UltraRange Exo is a casual shoe that won't let you down when life takes you off the beaten path. We appreciate the flexibility this shoe provides for all-day wear. It's not one we'd take on a serious hike, but it's probably the shoe most people should consider.
The UltraRange VR3 is sportier than the UltraRange Exo, and just as adept on or off-road. The UltraRange Exo stands apart on the trail thanks to its support features, but both are adept trekkers. The VR3 is great for those with a sportier wardrobe; if you find yourself gravitating to running shoes for everyday wear, buy the VR3.
Let's also be honest with ourselves: wearing Vans is cool. That iconic Vans swoop down the side is a good indication you've made a good choice. We were dubious of Vans' UltraRange, but after wearing them everywhere we went for a few weeks, those concerns vanished.
Vans didn't just create great hiking shoes; it developed footwear meant to go everywhere and be the right shoe in any moment you're in. Don't overlook the UltraRange Exo Hi, UltraRange Exo, and UltraRange VR3.
Editors' Recommendations