If you want to step up your footwear game, look no further than the collaboration between two powerhouse brands, Vuori and Clae. This limited edition shoe collab combines dedication to quality and sustainability with the brands' reputation for cutting-edge design; the resulting collection is a game-changer for luxury footwear.
Eco-consciousness is at the heart of the Clae x Vuori collab
At the heart of this collection is the commitment to being environmentally conscious, as the shoes are not only trendy and modern but also eco-friendly. The materials used are vegan, and Vuori and Clae have gone the extra mile to ensure the collection's carbon neutrality. This aligns with their larger mission of promoting sustainable practices in the fashion industry.
The Clae Malone Lite x Vuori shoe is based (not surprisingly, given the name) on Clae's Malone sneaker. Retailing for $160, the casual sneakers feature a round-toed silhouette, a two-toned look, and front laces and off-white rubber outsoles. Inspired by a coastal lifestyle, the collection features three distinct colorways — white, off-white, and black — that effortlessly blend with various personal preferences. From a casual day out to a stylish evening affair, these sneakers have got you covered.
The Clae Malone Lite x Vuori shoe has a premium microsuede upper as well as a 100% recycled mesh and liner. (The mesh fabric is made from plastic bottles.)
In short? The shoes look cool, with a timeless, retro kind of design in the same vein as your favorite Stan Smith's, and you can also feel good about your impact on the environment when you wear them.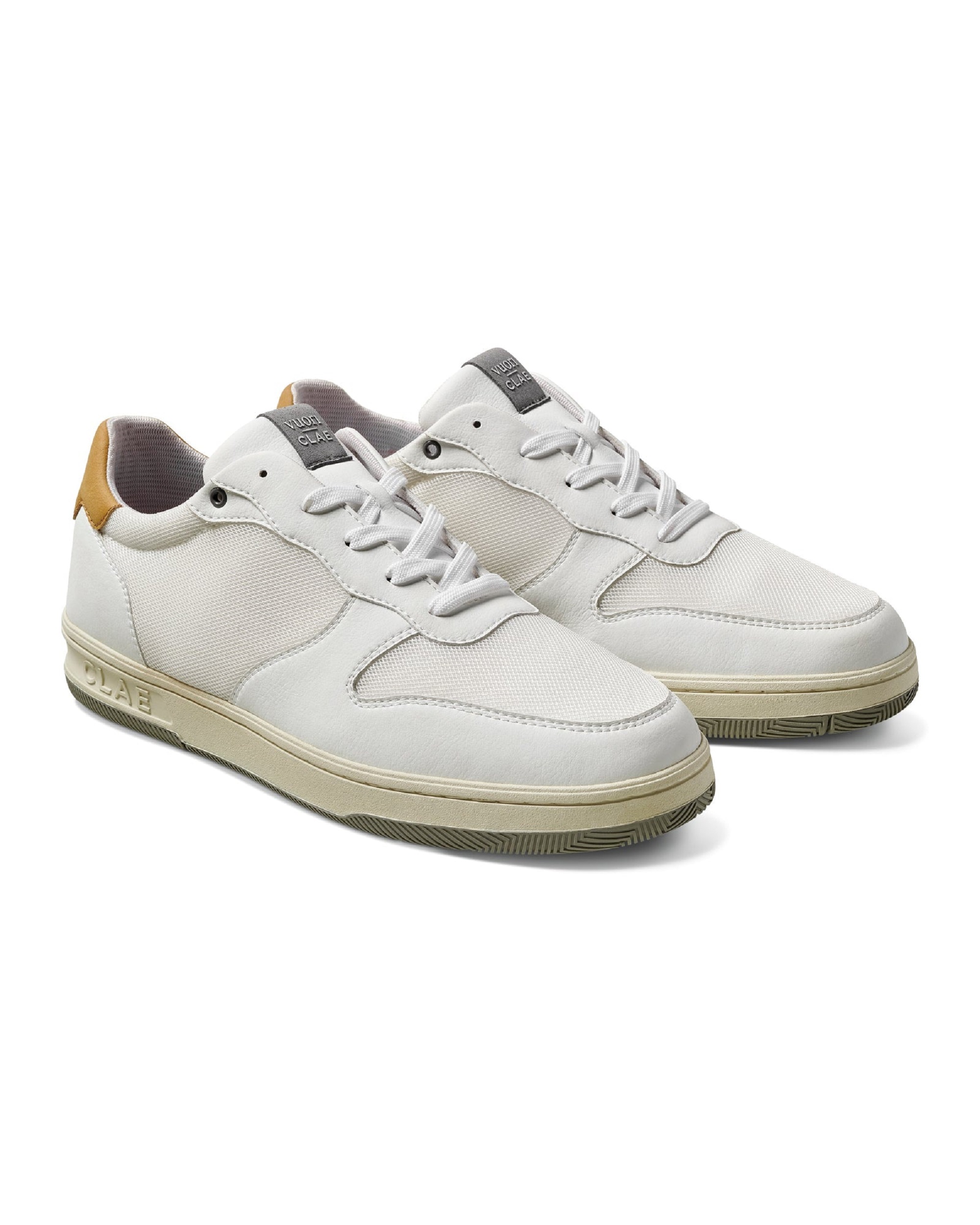 The Clae x Vuori partnership is crafted with inclusivity
Let's address the obvious topic at hand. In a world that increasingly values the deconstruction of societal expectations, the Clae x Vuori partnership moves forward. These shoes have been crafted with inclusivity in mind, erasing the boundaries that have traditionally defined footwear as "for men" or "for women." Individuals with a keen sense of fashion, regardless of their gender, can confidently sport these gender-neutral shoes.
The collection's versatility is another feather in its cap. Whether you're heading to a business meeting, exploring the city, or simply lounging with friends, the Clae Malone Lite x Vuori shoes effortlessly adapt to your lifestyle. This adaptability is a hallmark of both brands – Vuori's performance-driven apparel and Clae's footwear that seamlessly marries design and practicality. As a limited edition collaboration, these shoes allow you to stand out from the crowd while embracing a sense of refined luxury.
Editors' Recommendations