Clae, the Los Angeles-based footwear brand, has recently unveiled its latest innovation that caters to both luxury and sustainability enthusiasts. The Apple Collection by Clae introduces a line of exquisite vegan sneakers that redefine the concept of eco-friendly fashion. Drawing inspiration from the name, the collection employs apple leather as a primary material, delivering a stunning range of shoes that are not only stylish but also align with ethical choices.
The Appleskin at the heart of Clae's new range is nothing short of a game-changer in the world of vegan shoe production. Appleskin is an eco-friendly material crafted from discarded apple waste sourced from the juice industry. This sustainable approach repurposes agricultural byproducts and offers a cruelty-free alternative to traditional leather.
The process involves blending apple waste with synthetic materials, and what sets this material apart is its significant environmental impact. By incorporating apple waste, Clae reduces the consumption of traditional polyurethane (PU) materials by an impressive 50%, contributing to the preservation of natural resources and minimizing waste. This reduction in PU consumption is a remarkable step toward more sustainable fashion practices. (Plus, you get to tell people that your shoes are made with apples, which is so much better than pumpkin-spice anything this fall.)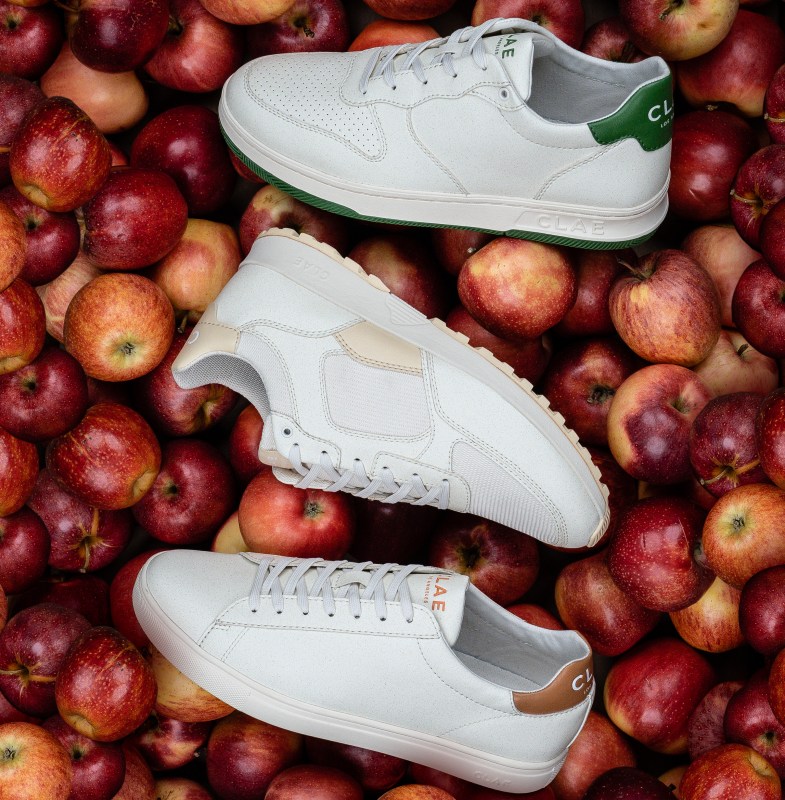 Clae's new Apple Collection uses sustainable Appleskin
One exemplary model from the Apple Collection is the Bradley Apple, available in off-white and triple black. It's a versatile shoe that can be worn with jeans at a Saturday barbecue or with a pair of khaki trousers and a polo for a more dressed-up Sunday brunch. This sneaker showcases the seamless blend of Clae's signature design aesthetics with the eco-friendly attributes of Appleskin. The sneaker's clean lines, versatile color scheme, and attention to detail make it a statement piece for any wardrobe.
The Joshua Apple sneaker from Clae, which also comes in off-white or triple black exemplifies the brand's commitment to innovative and sustainable design. It's a sportier style, working well with sweatpants while pumping iron at the gym or for a walk in the park. On top of using Appleskin, this sneaker incorporates various certified recycled elements, including GRS-certified recycled mesh, laces, and foam insoles. The shoe also boasts GOTS certification, further underscoring its environmentally friendly attributes.
Also available is the Malone Apple, a chunkier sneaker boasting a Premium Court (PC) outsole comprising 30% natural rubber, and the Ellington Apple, a much dressier shoe quite similar in style to a loafer.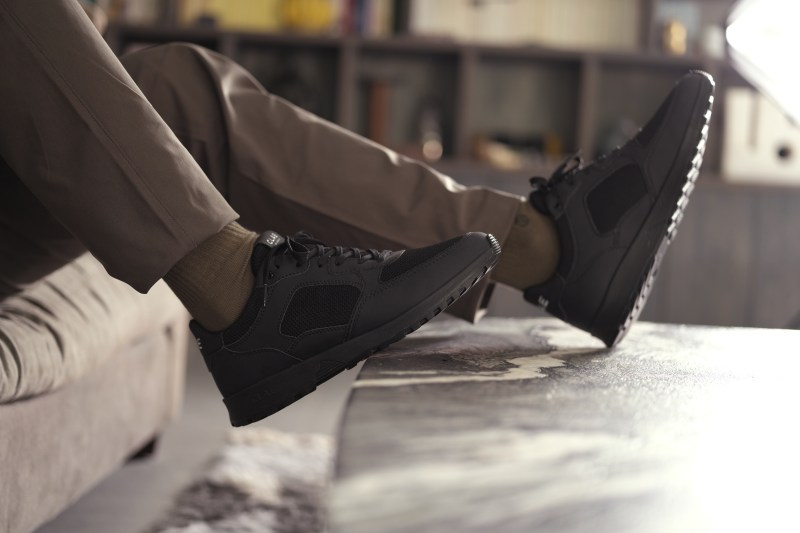 The new Apple Collection aligns with Clae's eco-friendly values
Manufactured at MABEL's facility near Florence, Italy, the Apple Collection aligns with Clae's dedication to quality and sustainability. The brand's commitment goes beyond just creating cool shoes; they are striving for certifications that underline their commitment to responsible practices. In the coming year, Clae's Apple Collection aims to achieve the OEKO-TEX and GRS certifications, further solidifying its position as a leader in eco-conscious fashion.
Editors' Recommendations