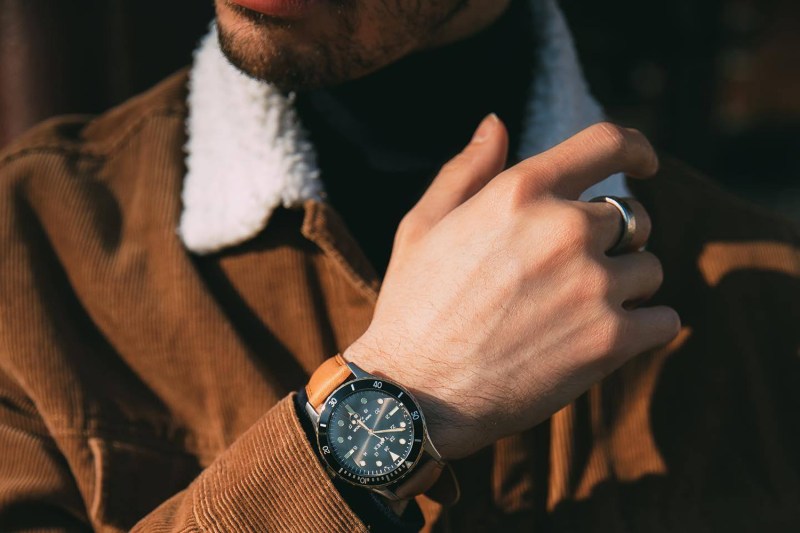 Timex has come a long way from its roots in 1854 Connecticut as the Waterbury Clock Company. Fast forward to the mid-20th century, and the company's iconic "takes a licking and keeps on ticking" slogan guaranteed the watch's place in post-war culture, establishing it as the watch of choice for an Eisenhower-era Everyman. Like so many modern brands, Timex is now part of a European holding company, with licensing deals and multinational manufacturing. The good news is that, with a renewed focus on product and a design director with a zeal for the company archives, Timex is now churning out collectible pieces that won't put a hole in your budget.
From smartwatches to reissues to collaborations with designers and artists, you're sure to find a Timex that works for your life. You know we have strong opinions about the best watches, so here are a few that keep us happy time after Timex.
Related Guides
Metropolitan R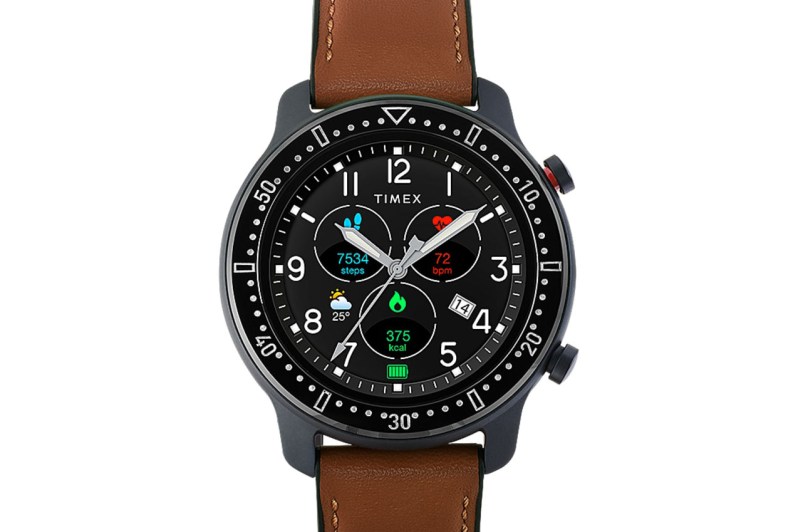 Speaking of smartwatches, the Timex Metropolitan R offers a customizable AMOLED display, allowing tracking of activity and sleep for all your inner Ironman fitness goals, including GPS and a heart-rate sensor, all packaged in a handsome black metal case (with a Gorilla Glass lens) and a brown rubber leather-look strap. It handles your vital fitness tracking needs with all that tech incorporated into a great-looking watch.
Giorgio Galli S1 Automatic

If you're a modern but elegant kind of guy who prefers that cutting-edge design be tempered with a bit of common sense, the Giorgio Galli S1 is your Timex. For the past 20 years, Milan-based Giorgio Galli has been the brand's design director. To celebrate his commitment to the brand's timeless beauty, quality, and incredible value, Timex debuted the Giorgio Galli S1 Automatic, the start of a series conceived by the design master. Its classic face can be found in silver or blue, with a round synthetic ruby set just above the 6 o'clock position. A soft, synthetic rubber band completes the clean, modern look.
Timex x PAC-MAN T80
Want to play a game, Dr. Falken? Whether you are crushing it in a Final Fantasy, Mario Golf, or Legend of Zelda game, you can get back to the arcade with the Timex x PAC-MAN T80 digital watch. The stainless-steel gold, black, or silver-toned watch features truly a-maze-ing details, including a classic T80 stopwatch and date display. The most fun part, though, is that the watch plays the theme song at the touch of a button. It also comes in a distinctive themed storage case.
Timex Standard x Peanuts Featuring Snoopy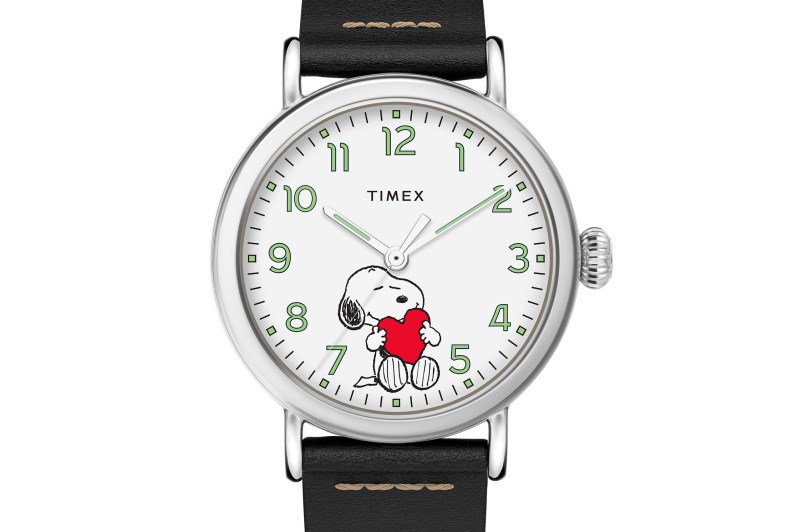 Good grief, Charlie Brown. You know life's too short to take seriously, and during these dog days, we all feel like we need a little humor — and a big hug — in our lives to bring things back into balance. One of several styles in the Peanuts x Timex collab that we particularly like is this Timex Standard with a Snoopy Valentine's Day theme — and a message that lasts all year long. The refined case features an indigo light-up dial and a leather strap.
Q Timex Reissue Digital LCA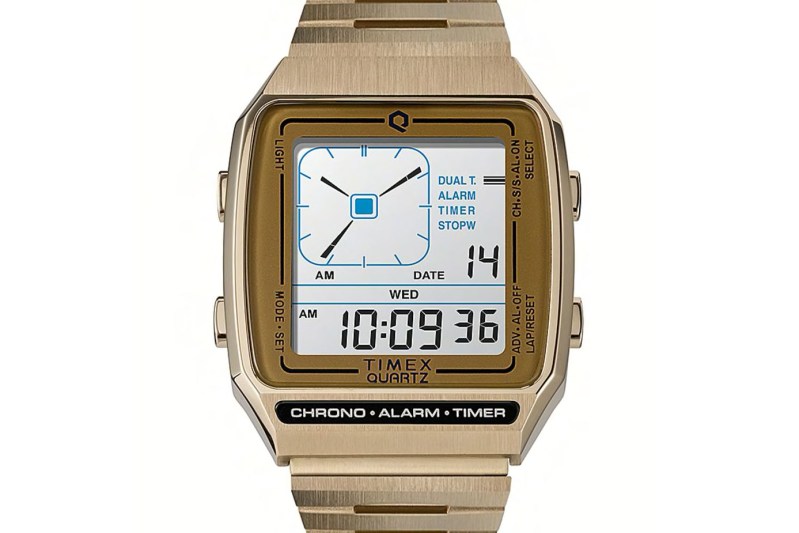 With its distinctively 1980s aesthetic, the Q Timex Reissue Digital LCA represents the predecessor to today's smartwatches. Offering both digital and analog time, as well as the date, this liquid crystal extrovert is a chronograph, alarm, and timer in one. While we really like the C-3PO glam of the gold-tone stainless-steel case, it's also available in a brushed-steel finish. It's an oddly elegant yet quirky watch to wear with suits, and it imbues any weekend outfit with a little retro polish.
Q Timex Marmont 1975 Reissue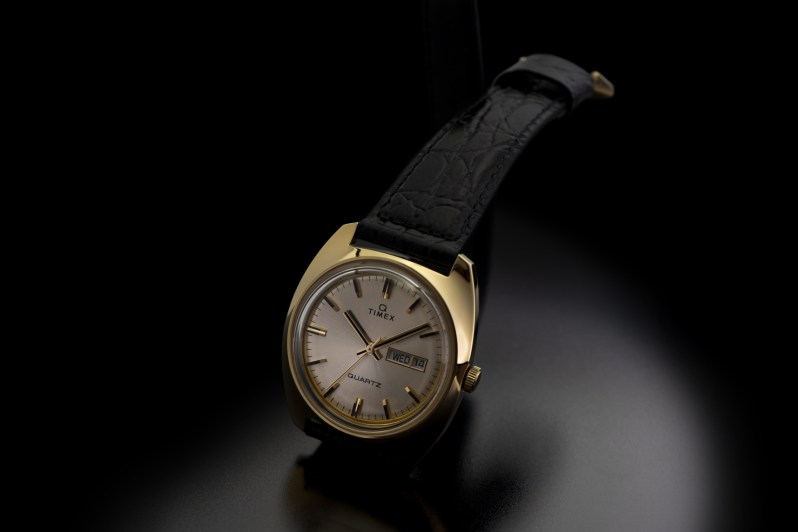 The year 1975 was an interesting one. It brought Margaret Thatcher to 10 Downing Street, saw the end of the Vietnam War and the founding of Microsoft, and was a time when Hollywood's Chateau Marmont was at the height of its — well — depths of debauchery as the place where stars of stage and screen mingled with rock 'n' roll musicians and revelers of all types. The Q Timex Marmont 1975 Reissue was inspired by the glamor and mystery of Hollywood, but we can't help but think it's got a bit of the dark, sexy charm of aviator sunglasses, short shorts, and shirts unbuttoned to the navel. If vintage with a subversive thrill is your style, The Marmont is for you. It's got reliable quartz technology packaged in a gold-tone, rounded-edge case with a faux-croc leather strap.
Marlin Automatic California Dial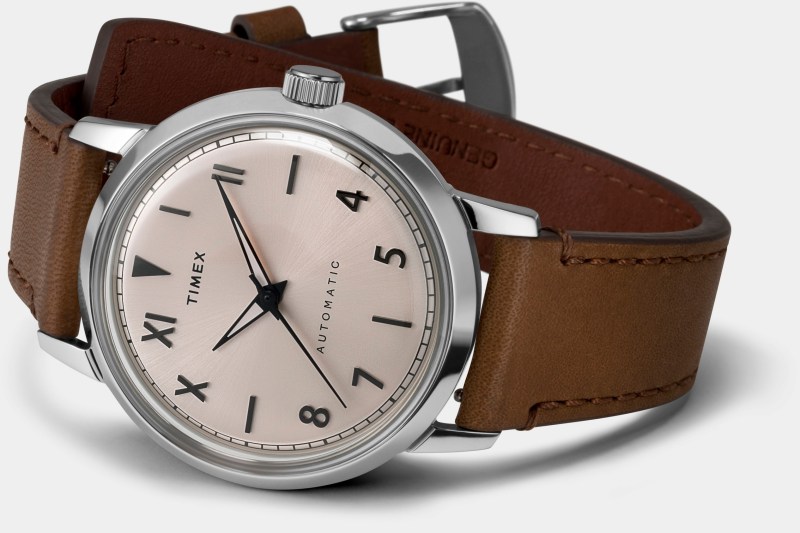 Maybe 1960s California dreamin' is a little more of your aesthetic touchstone. Timex's Marlin Automatic California Dial features an iconic dial treatment (originally designed in the 1930s), with Roman numerals on the upper half and Arabic on the lower. The simple, classic case design and top-stitched leather band seem to evoke leisurely strolls through Muir Woods, discussing politics with Joan Didion or jamming with Sergio Mendes. The clean lines make a perfect match with office-casual jeans and khakis, lending just the right air of carefree sophistication.
M79 Automatic
Okay, so you really wanted that Rolex, but between the mortgage, student loan payments, and a car payment, that's just not in the cards right now. The Timex M79 Automatic has a similar tough-as-nails feel, featuring a stainless-steel case, stainless-steel woven bracelet, and a rotating bezel. Prefer quartz to automatic movement? Timex offers a similar diver-inspired battery-powered look with the red and blue dial.
Timex x Brain Dead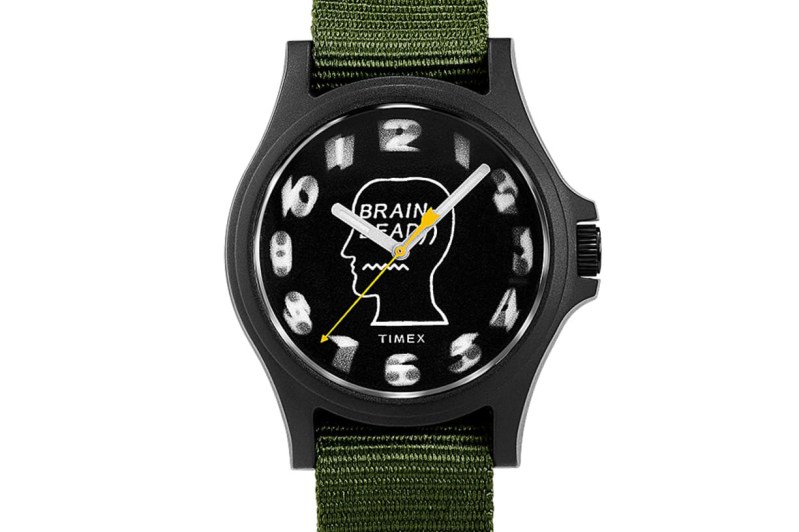 Pray for the best, but prepare for the Whitney? A great field watch should be part of any collector's cache, but if you're the kind of guy who thinks camo is office casual and Art Basel is a hero's journey, then the Timex x Brain Dead is your new timepiece. A collaboration with the Los Angeles-based artist collective, the case is made from sturdy black resin, shipping with classic olive green and a bright yellow fabric strap. That's where the similarity to a classic field watch ends, though, as blurry numbers make you question your aesthetic focus while artsy graphics occupy the watch's face and back.
Editors' Recommendations