Scandinavians seem to have cornered the market on beautiful, minimalist design. In the last year alone, Iceland debuted the "5-million-star" Aurora Bubble Lodge, Denmark launched the charming "Parkipelago" project, and Norway opened a Blade Runner-esque underwater restaurant. Now, Norway has put their considerable design savvy to the test yet again with what is likely the world's most beautiful public bathroom.
Popping into public restrooms is rarely a trip highlight for most travelers. We'd venture to say it can be downright traumatic (see also: the toilet scene from Trainspotting). But, Norway is angling to change that perception with a series of rest areas that feature some of the most beautiful roadside designs we've ever seen.
Ureddplassen, the first rest area in the series, is located along the country's official Scenic Route Helgelandskysten in Gildeskål. The cross-country route runs along 269 miles (433 kilometers) of pristine natural beauty, connecting Holm to Godøystraumen. In addition to the stunning terrestrial scenery, the area is a popular spot for watching the sunset in summer and the Northern Lights in winter.
The toilet house is crafted from poured concrete allowing for a simple, organic, wave-like form that feels like a natural part of the landscape. Frosted, floor-to-ceiling windows reveal a warmly lit interior that elicits a soft, beautiful glow against the backdrop of snow-covered fjords. Behind the bathroom is an amphitheater with relaxed seating and, beyond that, steps leading to the shores of the Norwegian Sea. It's all ideally situated for stargazing, especially given the area's near-zero light pollution.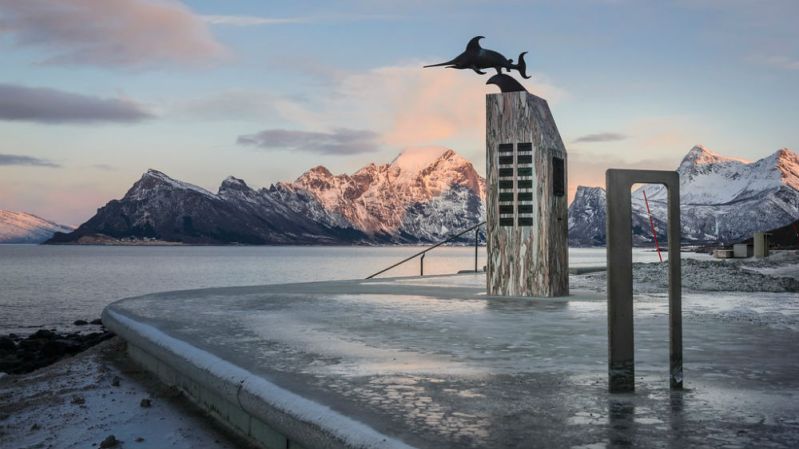 The newly revamped site was also built to encompass an existing war memorial dedicated to the Norwegian submarine "Uredd." The sunken vessel's name inspired the rest area's moniker Ureddplassen, which is Norwegian for "a fearless place." Oslo-based architects Dan Zohar and Marit Justine Haugen designed the one-of-a-kind space. The nearly USD $2 million budget might seem steep for a rest area, but can you really put a price on what's sure to be the most blissful poop of your life in the mountains?
The rest area's opening is the first in a new initiative that will include five such areas along the Norwegian Scenic Routes Lofoten, Andøya, Helgelandskysten, Hardangervidda, and Ryfylke.
Editors' Recommendations