We can all agree that stargazing, Iceland, and sleeping outdoors are three superbly awesome experiences. One hotel east of Reykjavik has combined all three in an entirely new and unique way that, as far as we know, has never been done before. Iceland's Aurora Bubble Lodge is billed as a "5-million-star hotel" and rightfully so.
The "hotel" consists of inflatable bubbles that are equal parts igloo, beach ball, and tent. The freestanding spherical rooms feature a clear plastic shell that allows for unparalleled viewing of the surrounding woodland. Because of Iceland's dramatic seasons, the bubbles provide incredible aurora borealis viewing in the winter, and full-on daylight during the midnight sun in summer.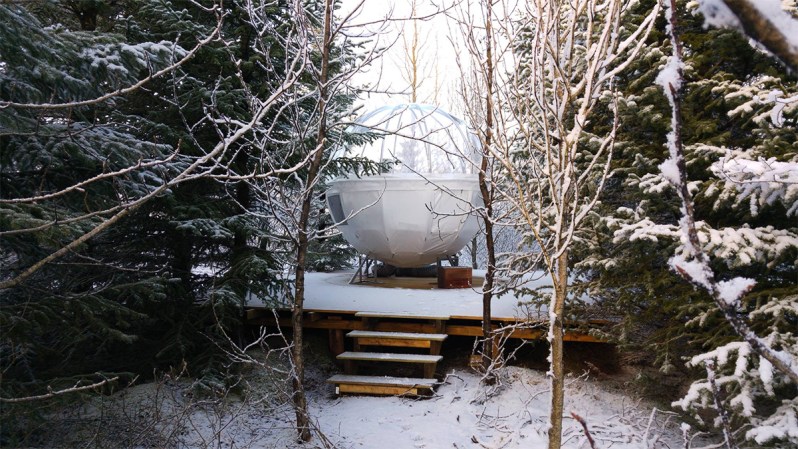 While sleeping in what amounts to a glorified beach ball might at first seem like it would be uncomfortable, the hotel is quick to put guests at ease. A whisper-silent ventilation system completely recirculates the air in each bubble up to seven times an hour. This ensures a constant flow of fresh oxygen and also eliminates condensation and humidity. A built-in heating element also maintains a constant ambient temperature even in winter.
Each of the five bubbles is designed to sleep two adults in a double bed, and some can accommodate extra children if need be. Beyond that, there's only about enough room for a night lamp and a couple of tiny suitcases. Two of the units are completely spherical with an aluminum frame and a round bed. In-room amenities are thin, save for a space heater and free coffee. A sleek and very Icelandic-styled outbuilding nearby houses essentials like a shower, toilet, and self-service kitchen.
The lodge is the innovation of native Icelander and self-described Aurora Borealis guru, Robert Sveinn Robertsson. In 2015, he was providing a customer with advice on a Northern Lights expedition. The customer remarked, half-kidding, that someone should create a clear-ceiling hotel to watch the lights. Soon after, Robertsson turned that suggestion into a reality.
The exact location of the hotel is kept secret from would-be guests until their booking is confirmed. However, their website notes that it's a little over an hour east of Reykjavik. Rates start around 29,000 Iceland Krona (approximately $275 USD), and there's currently a waiting list, so book early.
Photos Courtesy of Buuble.
Editors' Recommendations