As restaurants up the ante with evermore extreme dining experiences, it seems they could run out of new and unique avenues to explore. However, the designers of the soon-to-be-unveiled Under took a decidedly different approach altogether with a concept unlike any European restaurant before: they're going underwater.
The semi-submerged restaurant will extend more than 15 feet below the waters of the North Sea in southern Norway. Upon entering the futuristic, tunnel-like structure, visitors will pass a cloakroom, then an upscale Champagne bar. Venturing farther down, diners will be seated at one of two long, communal tables or several smaller intimate dining tables — all positioned near a panoramic, 36-foot tall acrylic viewing window.
Under won't be the world's first underwater restaurant as similar eateries exist in Maldives and Dubai. However, it will be the first in Europe and — at roughly 6,500 square feet —— the world's largest, with three levels and a 100-guest seating capacity.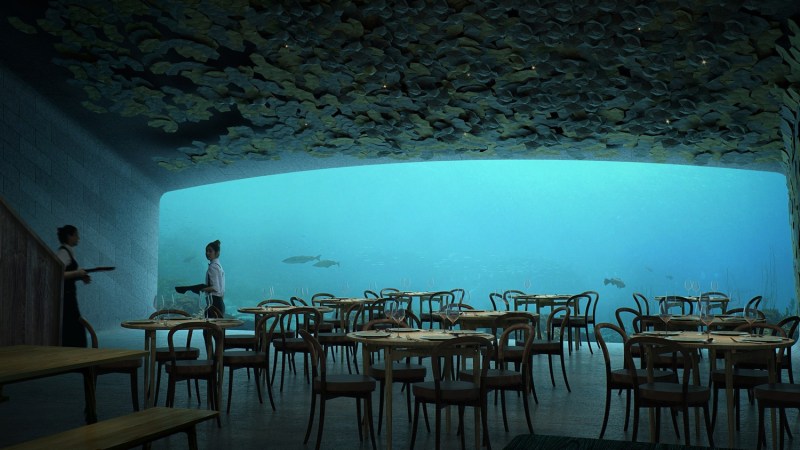 The design of the underwater restaurant is spearheaded by Snøhetta. The Oslo-based architectural firm has long been renowned for ambitious projects around the world, including Egypt's Bibliotheca Alexandrina and the Norwegian National Opera & Ballet.
The team's latest creation pulls inspiration from, of all places, a periscope. From the outside, the industrial design borders on Brutalism; a stark concrete monolith jutting from the sea like a half-sunk container ship. Lead architect Rune Grasdal noted of the design that "[o]ne of the benefits … is how it links nature and land, and how you can come safe from the land and in a very dramatic way go down through this concrete tube to the nature at sea level, and experience what normally is not experienced."
The submarine concept could well have served as the home of Jared Leto's villainous character in Blade Runner 2049. Inside, the wood-clad dining space is set around a singular viewing window with thoughtful lighting to inspire a more organic feel. Grasdal underscored that the success of the layout hinges on restaurant guests feeling secure, but not claustrophobic.
The firm's innovative approach to Under has made the restaurant's integration into the natural marine environment a top priority. The rough concrete construction, for example, will encourage mussels to cling to the exterior shell. As thousands of invertebrates gather on the artificial reef, they will collectively clean and purify the water, thus attracting additional marine life. Additionally, when the restaurant is not in operation, the structure will serve as an aquatic research center for biologists.
With construction beginning in February 2018, the completion of Under is anticipated for spring of 2019. You may want to make your reservations soon after, however. We imagine the waitlist is going to fill up fast.
Editors' Recommendations