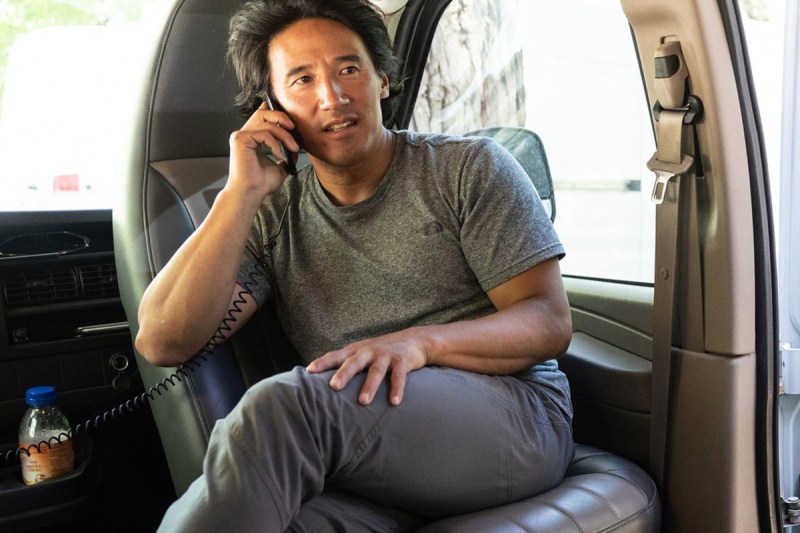 First things first: if by chance you haven't seen the film Free Solo, stop what you're doing right now and watch it.
Done? Okay.
Along with the breathtaking exploits and emotional highs and lows of the film, you might have noticed a quiet secondary character hovering in the background. We're talking about the big, boxy camper van with the tiny propane stove, the fold-out bed, and the wide-swinging side doors that gave a front porch feel to the intimate personal reflections that made Free Solo so much more than just an outdoor sports doc.
This van is the sometime home of legendary adventurer and storyteller Jimmy Chin, who co-directed the film and appears in it frequently. This summer, however, it could be yours.
The Deal
If you've stared at a Jimmy Chin photo and thought, "Damn, I wish that was me," this is the opportunity you've been waiting for. Renting Jimmy Chin's van lets you sample the lifestyle of a world-renowned adventurer.
This van has accompanied Chin through countless adventures, not least of which was serving as his home in Yosemite National Park while he filmed Alex Honnold free-climbing El Capitan.
…Sorry, was that a spoiler?
These days, Jimmy no longer lives the nomadic life full-time. Like the good citizen and environmental steward he is, he chose to share his van on vehicle-sharing platform Turo instead of just letting it sit idle in his driveway.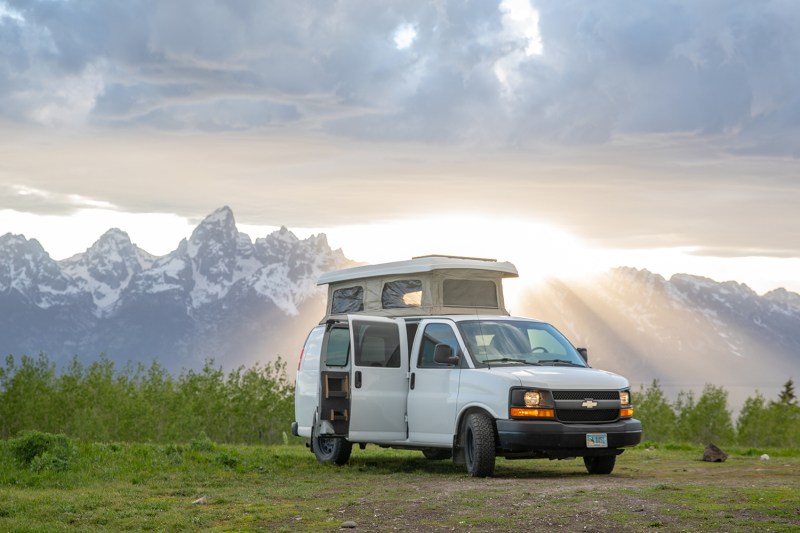 Turo is a nifty company built to equip travelers and adventure seekers (like we know you are) with vehicles they can live in between daring exploits. It's like the AirBnb of #vanlife. They offer a wide selection of over 850 adventure mobiles like VW Westfalias, Vanagons, camping-ready Chrysler Town and Countrys, and more. (They also offer tents, camping gear, and other adventure necessities.)
"My van has taken me on climbing and skiing trips all around North America. I can't wait to hear about the kinds of adventures people experience in it this summer." – Jimmy Chin
What will Jimmy Chin be doing while you're living in his van? Most likely voyaging to some of the world's most challenging environments, documenting incredible stories, being generally awesome — standard Jimmy Chin procedure.
The Van
If you followed our initial advisory to watch Free Solo, you'll know that this is no ordinary van. This 2012 Chevrolet Express is equipped with all-wheel drive, making quick work of backcountry roads and two-tracks that lead to remote destinations, as well as a pop-top camper with a double bed, automatic transmission, and a decent 15 mpg fuel system.
The cab features two swivel captain's chairs, allowing you to pilot your journey in comfort and style. The interior is spacious enough to keep you comfortable in the often punishing conditions of road life, and has been retrofitted by an outdoor adventure expert to the needs of life on the road, feature a propane stove for cooking, a fold-down double bed, and a solar power system with roof-mounted panels.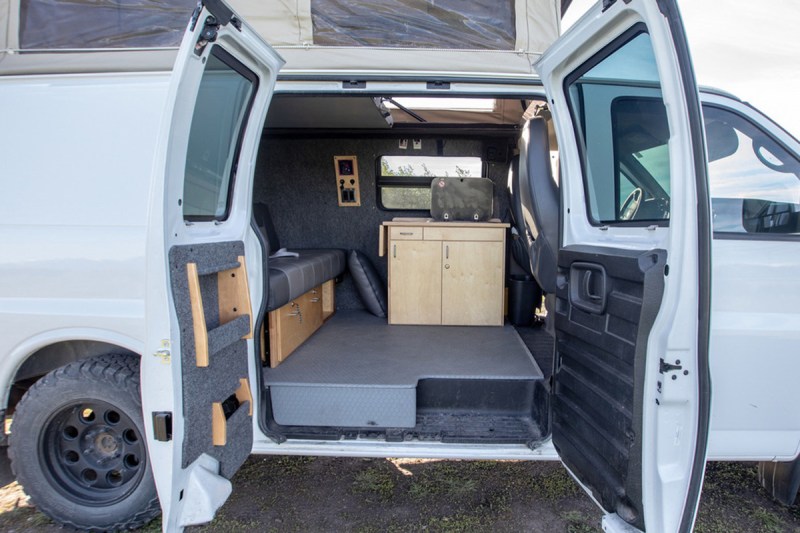 The aesthetic isn't bad, either — the upholstery features a deep gray-on-pale-gray color scheme, while the cabinetry offers a pleasing contrast in blonde maple. (Hey, this stuff matters when you're going to be living in your van.) The back end offers plenty of cargo space for stashing camping and climbing gear, mountain bikes, or a surfboard or two.
"The flexibility of van life is perfect for adventure. When you're living out of your van, climbing and hiking wherever you want, there's no rush. It's a simple life. I did it for a long time, and I'd do it all over again. Since I can't live that life full-time anymore, at least someone else can have a taste of it in my van." – Jimmy Chin
And while the stereo is broken (Jimmy is sorry about that), the van comes with a history of good vibes collected through years of world-renowned exploits. We can only imagine the inspiration waiting to be soaked up. It's unquestionably the perfect vehicle for experiencing the wild and chasing down a great adventure.
The Details
The van is located in Jackson Hole, Wyoming, where Jimmy spends much of the year. To rent it, you'll have to travel to this nature lover's paradise. (Sorry about that?)
"Taking time to travel for sports like climbing and surfing is the perfect way to reconnect with nature, to be with your family, and to just exist outside. It's also a lot of work and money to maintain the vehicles you need for that lifestyle year-round. Booking someone else's on Turo makes a lot of sense. It's more sustainable, more affordable, and a cool way to find that perfect car or van to fit the adventure. [I'm] pretty stoked to give others the opportunity to tool around in my van." – Jimmy Chin
It's available through the Turo app at $250 per night with 200 miles per day included. But heads up, this vehicle's availability window is short. Right now, the van is only listed through the end of August. If you don't snatch it up, you'll have to wait until after Jimmy's next on-the-road adventure. Don't sit on this one, folks.
Editors' Recommendations