Caldera House, nestled at the base of the southernmost flank of The Teton Mountain Range, is the newest luxury ski lodge to open at Teton Village in Jackson Hole, Wyoming. With $100,000,000 invested in the project and some big names behind it, Caldera House is destined to be Jackson Hole's most sought after ski-in-ski-out, luxury ski lodge accommodation.
"We deliberately tried to provide not just a great place to stay, but a world-class restaurant, lounge, bar, and retail experience — all available without stepping foot outside of the building," said Caldera House owner Wesley Edens.
And not going outside might come in handy if one of the Teton's infamous blizzards happens to strike without warning during your stay.
Read on for a first-look gallery of this stunning ski lodge with common areas and two luxe suites designed by Commune Design out of LA, and just try to contain your envy.
All images courtesy Caldera House.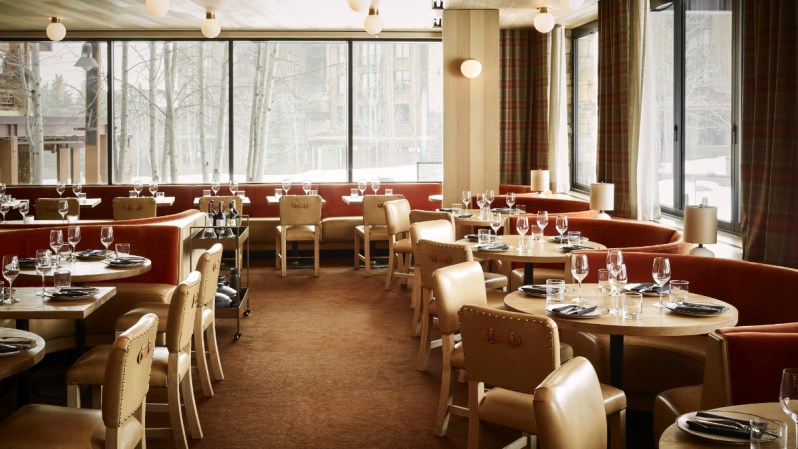 Caldera House's Old Yellowstone Garage restaurant sports throwback style with burnt orange crescent booth and bank seating, tan leather-upholstered chairs, and a distinctly 1950s French mountain restaurant feel.
Yellowstone Garage's bar is clad in copper with the same tacking complementing the stools. Sidle up to this pretty penny for a Manhattan cocktail apres ski.
Caldera House definitely didn't skimp on style when it came to the design of the alpine club and ski locker room.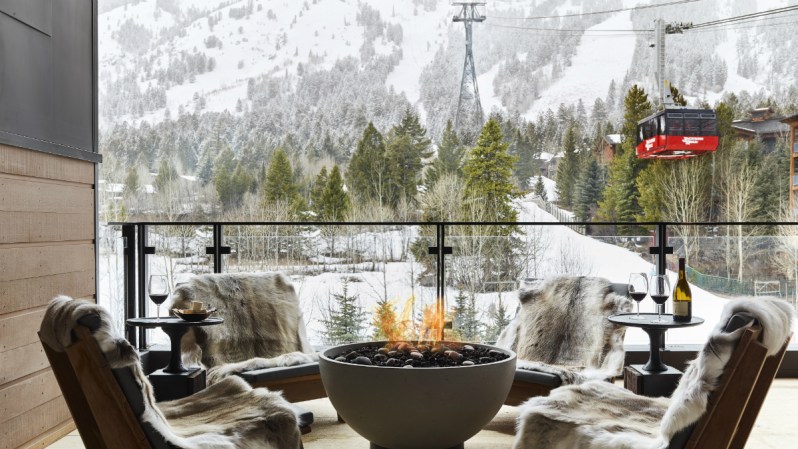 Each of the eight suites (yes, only eight) features floor-to-ceiling windows, mudrooms, laundry rooms, and balconies with Solus fire pits and gas grills. Patios are also equipped with in-floor heating for year-round use.
All suites have their own living rooms and kitchens, along with bedrooms in two- and four-room configurations.
European style elements meet the American West in this rustic-but-refined bathroom.
Bedrooms feature large windows and luxury linens.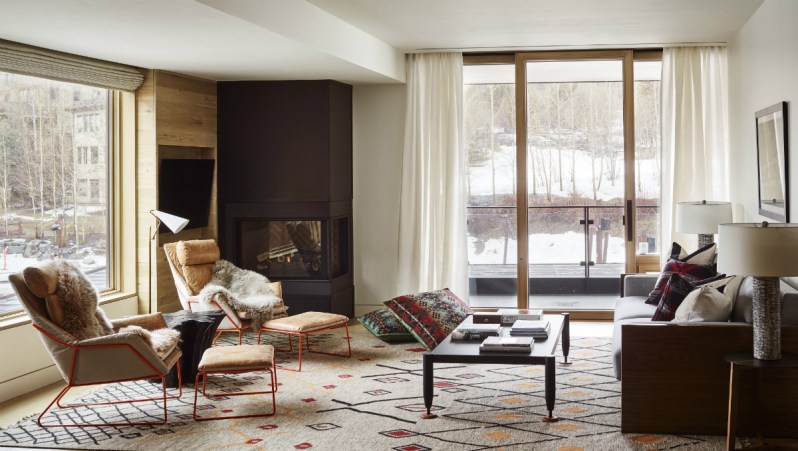 This particular suite's living room has taken on a retro-modern design sense with wire-framed chairs and a corner fireplace.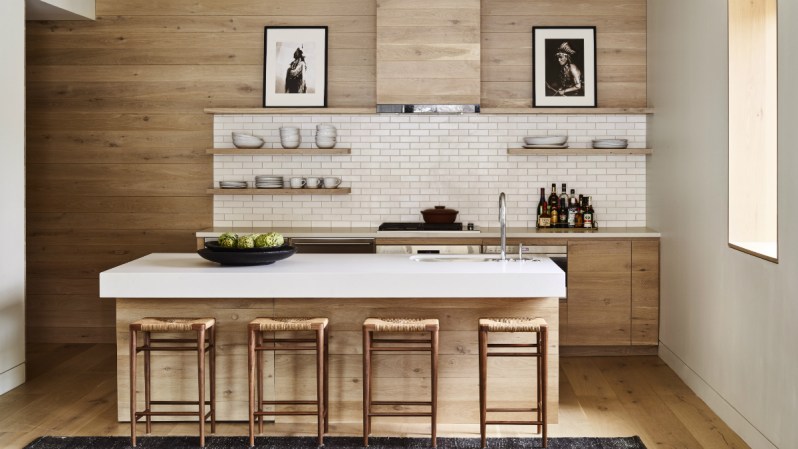 A simple, wood-paneled kitchen pays homage to the bare-bones aesthetic of the American frontier.
Prints, plaids, and furs provide warmth and coziness.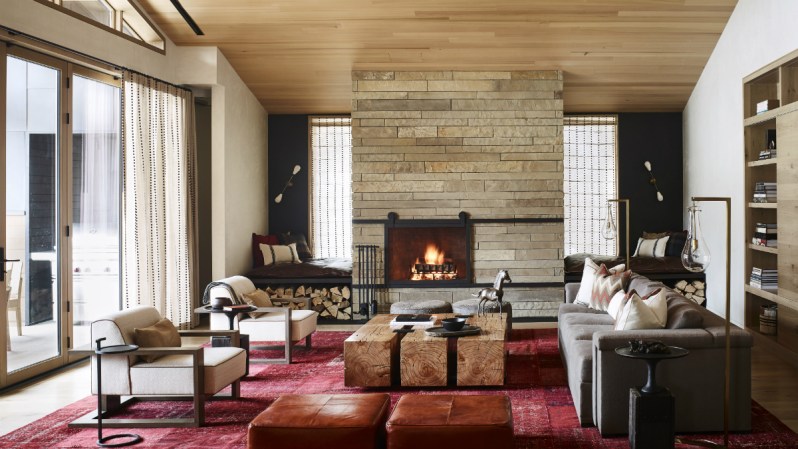 A huge fireplace and giant windows create the perfect combination of heat and light in this suite's living area.
Who can say no to a tin tub?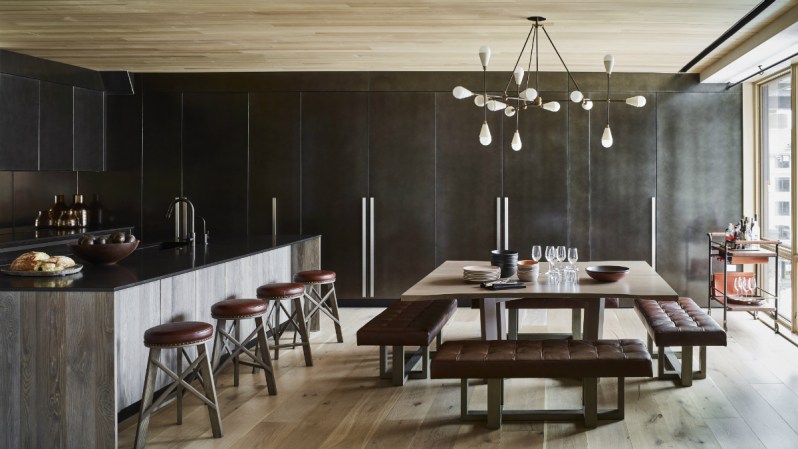 This kitchen's black cabinet walls, offset by the lighter wood floor, are reminiscent of the birch, pine, and silver maple forests of the surrounding areas.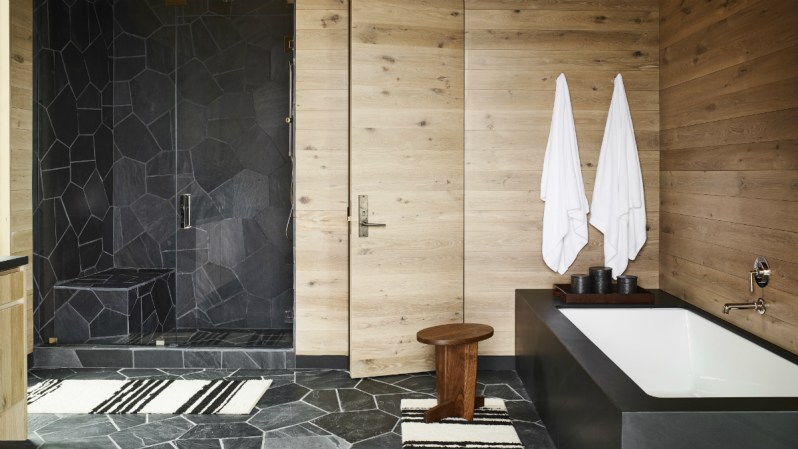 Hexagonal tile is old news as evident by this abstract-tiled bathroom.
Low ceilings and even lower seating give this kitchen a hominess that is polished a bit by the marble-sided kitchen island.
Cream and calm define this space — a play on the grasses and prairies of Wyoming and the Yellowstone Caldera influenced the styling of this suite's living room.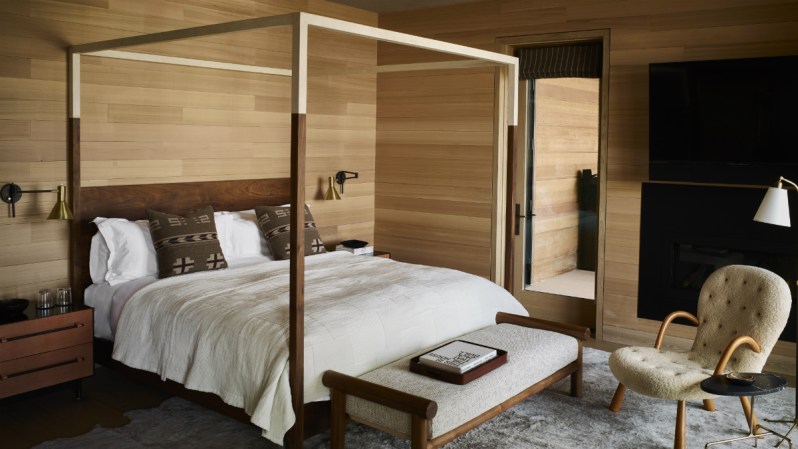 This is the American West's answer to the classic European four-post bed.
This is the kind of hotel bathtub that makes you grateful you're not paying the water bill.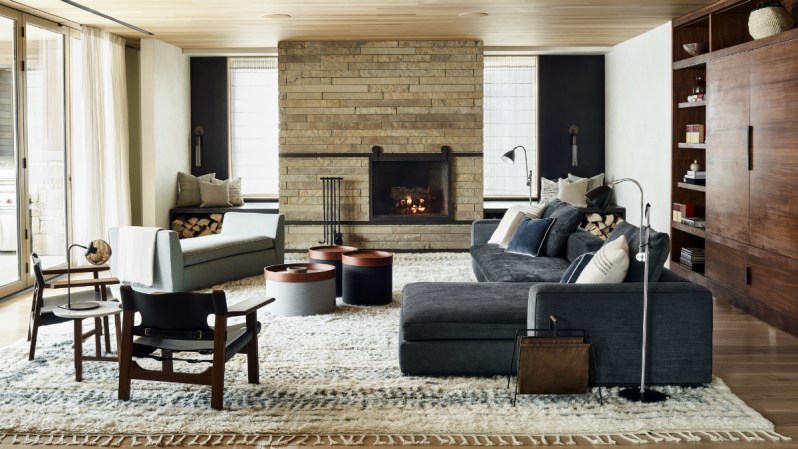 Kick off your ski boots and relax on the navy sectional by the fire in this suite.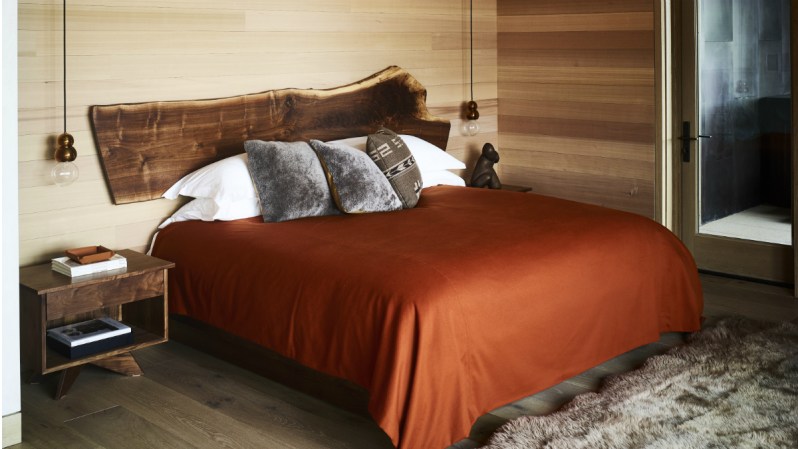 This bedroom has a very "rustic camp" vibe.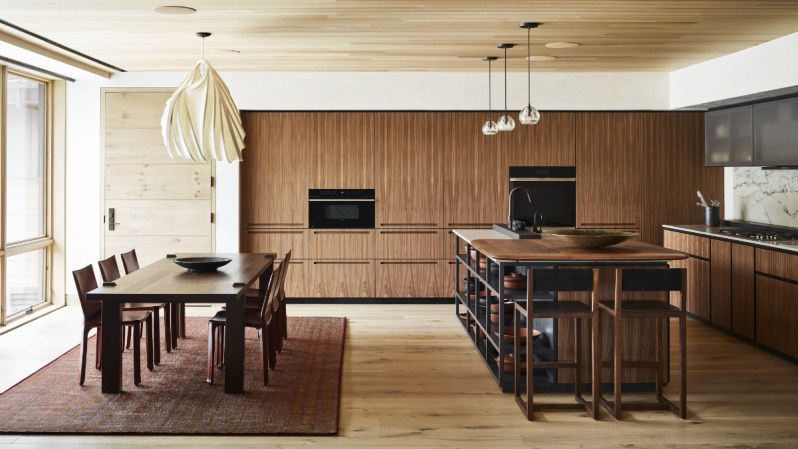 Simple, refined, and full of light. For the person who can still manage to cook a meal after a full day on the slopes.
For more information on Caldera House or to book yourself a stay, check out their official website.
For other great ski lodges and winter sport-focused resorts, check out our guide to the best high-altitude hotels here.
Editors' Recommendations