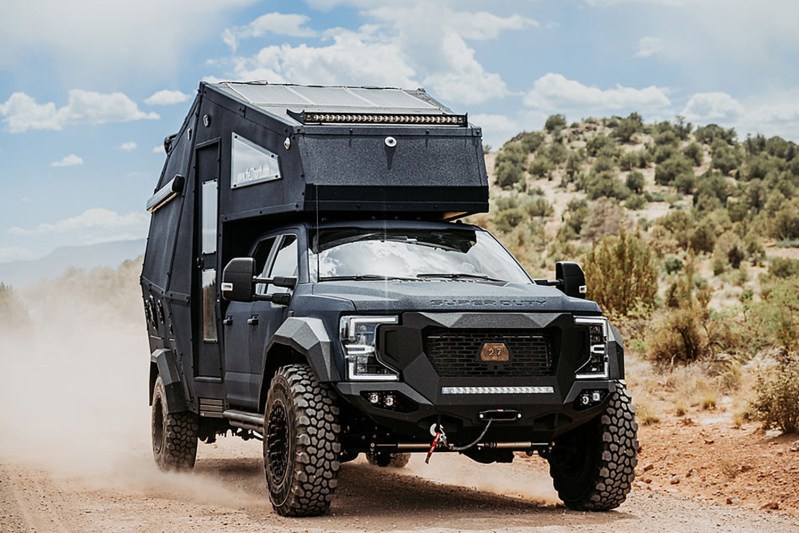 Camper vans and lightweight travel trailers are cool and all, but most are built for comfort, easy towing, and leisurely road trips. They aren't fit for venturing off pavement. So, when you're looking to get far, far off the beaten path, you need a rugged rig that's built to go just about anywhere. You need a rig like 27North's ridiculously overbuilt F550 Ascender overlander pickup truck camper.
As the name implies, every 27North F550 Ascender starts life as a Ford F550 Crew Cab. Straight off the showroom floor, it's already a very capable pickup with a 6.7-liter Power Stroke V-8 diesel mated to a 10-speed TorqShift auto transmission. The commercial-grade combination is good for 475 horsepower and a whopping 1,050 ft-lbs of torque — perfect for towing just about anything or ripping stumps out of your backyard on the weekends.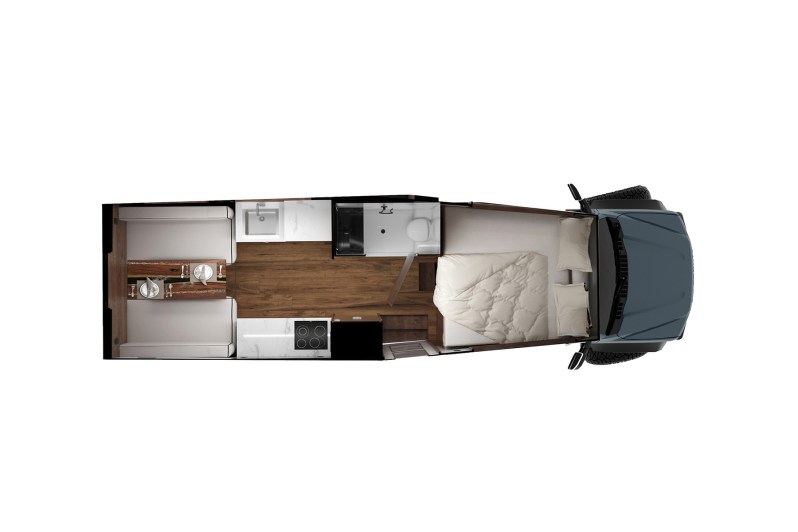 It's a great starting point, but, as with all of 27North's over-the-top overlander camper builds, the Missouri-based customizer saw fit to seriously up the ante. It swapped the stock pickup bed for an integrated truck camper shell. On the outside, the design is a study in hard-angled 3D geometry. It's a look that's rugged, futuristic, and (not to get too technical, but …) totally badass.
Inside is a surprisingly swanky, yacht-inspired cabin that feels more like a luxury studio apartment than an ultra-rugged, go-anywhere overlander rig. Genuine leather, solid wood, and stainless steel abound. There's a roomy entertainment/living area with a leather dinette that converts to a bed. The adjacent kitchenette is fully kitted out with a sizable refrigerator and a twin-burner induction cooktop. True to its luxury roots, the sleeping quarters center around a king-sized bed (yes, really) that overhangs the pickup's cab. Large windows line every wall for panoramic views of whatever amazing off-grid location you're spending the night in.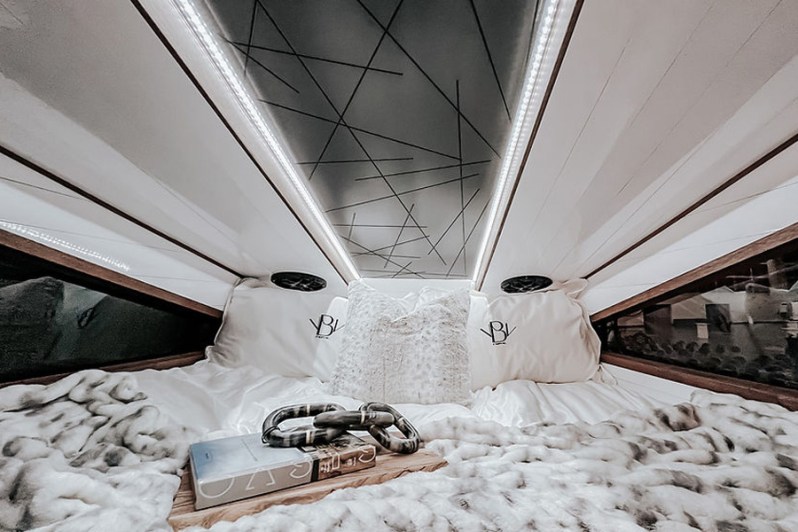 This truck camper is outfitted with a boatload of tech and convenience features, too. There's a full climate control system with air-conditioning and hydronic heating to keep the inside at the perfect ambient temperature, even while dry camping in the wild. It's all powered by a beefy battery bank that recharges off of roof-mounted solar panels, allowing you to stay comfortably off-grid for as long as the sun is shining. Plus, a massive 150-gallon fuel tank supports the longest of long-distance expeditions without pit stops.
This one-of-a-kind overlander truck is a limited edition of just one — for now. Pricing has yet to be announced, but, as the saying goes, "If you have to ask …" Interested buyers are invited to contact 27North directly. You might want to reach for your wallet (and your dad's wallet and your best friend's wallet, too), though, because the company's extreme camper builds never come cheap. The last Ascender the company released debuted at the 2022 LA Auto Show for a cool $1.2 million. But you could always sell your house to afford it. So there's that.
Editors' Recommendations