When it comes to necessary gear for guys, a flask is right up there next to a good pocket knife and beard balm. Without a flask, you risk not having your favorite alcohol with you when you need it (such as at dry weddings, the movie theater, et cetera).
When it comes to what goes in that flask, we're going to bet that 99 percent of the time you're putting something straight in there. Straight bourbon, straight rye, straight Scotch, straight … you get the point. That is a near perfect way to do things, but we've got two words for you that we think will make what you put in your flask even better: flask cocktails.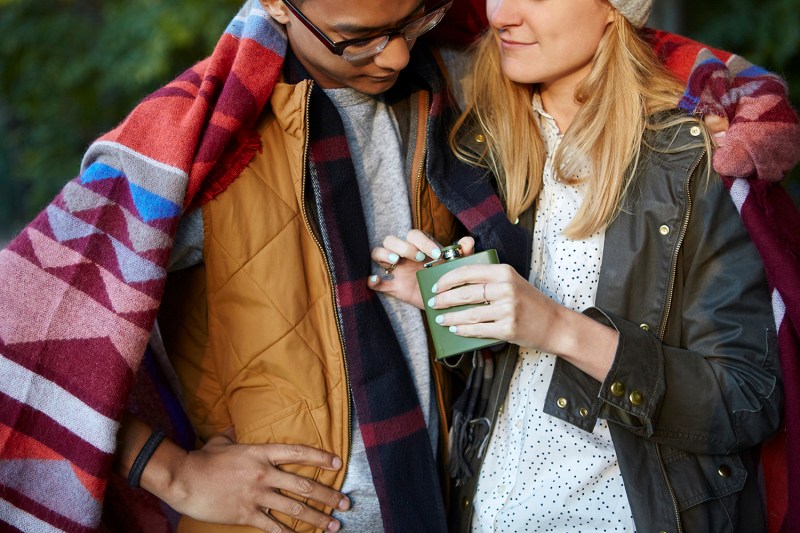 We're not saying there's anything wrong with filling a flask with whiskey and going on a hike, but think about how much better it could be when filling it with something like a Manhattan or an Old Fashioned? Or, if you're feeling particularly like an International Man of Mystery, a Vesper?
"The idea is portable deliciousness," says Mark Stoddard, Hendrick's Gin brand ambassador. You can just bring whiskey, but you can also bring so much more by only expending a little extra effort.
The Best Flasks for Cocktails
There are a few things to keep in mind, though, when making a flask cocktail. First, you need to think about the kind of flask you're going to use.
Further Reading
Metal flasks are the most common, but plastic, glass, and wooden flasks all are possibilities as well. Each type of flask will have its own pros and cons. Metal, for example, might react with certain ingredients (like citrus, which we'll get to soon). Plastic, unless it's high quality, might leak toxins into whatever you've put in it. Glass is beautiful but, you know, glass, and if you're making your way up a thousand feet of hardscrabble trails, you might not want to risk losing your liquid if you slip.
For each of them, Reyka Vodka brand ambassador Trevor Schneider says, you also have to think about where you are and where you're going. Temperature and elevation are both important to remember before filling your flask, as they could affect the flask which could, in turn, affect the liquid inside.
The Best Cocktails for Flasks
Next, think about ingredients. Stoddard says to keep it simple and spirit-forward. That way, not only are you getting more bang for your buck, but you're not risking opening your flask five miles into the forest and finding out that your drink is ruined. The last thing any of us want is to find ourselves miles from the closest bar with nothing to drink.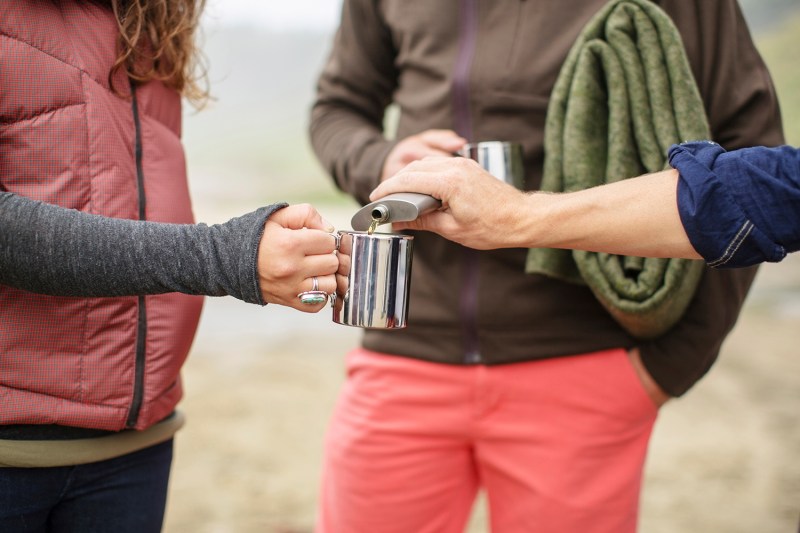 "If you use fresh ingredients, the clock starts ticking immediately," he said.
Next, you need to think about the occasion that you're using the flask. Are you going on a hike with your buddies? Camping with your girlfriend? Going to your favorite band's final show? These different types of events can, sometimes, lead to different types of cocktails.
With a flask cocktail, you're not going to see it or smell it before you drink it, so you need to have a drink that will deliver a kick, yet also be smooth and balanced.
Finally, and perhaps most importantly, you've got to think about the flavor. You want something balanced, says Monkey Shoulder brand ambassador Vance Henderson. With a flask cocktail, you're not going to see it or smell it before you drink it, so you need to have a drink that will deliver a kick, yet also be smooth and balanced. This gets back to keeping it to cocktails that are spirit-forward. With many classic drinks, like the Rusty Nail or the Manhattan, you're accomplishing all of this and not having to worry about sourcing fresh ingredients that might spoil over the course of a hike.
So there you have it. To build the perfect flask cocktail, you need to keep in mind the flask, the types of ingredients, the occasion, and the flavor.
To get you started, here are three spirit-forward flask cocktails that that'll turn your next hike up to eleven. For each of these, we recommend using a funnel to get the liquid into the flask.
Flask Cocktail Recipes
Vesper
3 oz Hendricks Gin
1 oz Reyka Vodka
.5 oz Lillet
Maple Manhattan
.75 oz sweet red vermouth
Modified Rusty Nail Version A
Modified Rusty Nail Version B
1 part Glenfiddich 12
1 part Drambuie
1 part Manzanilla Sherry
Article first published on April 25, 2017.
Editors' Recommendations