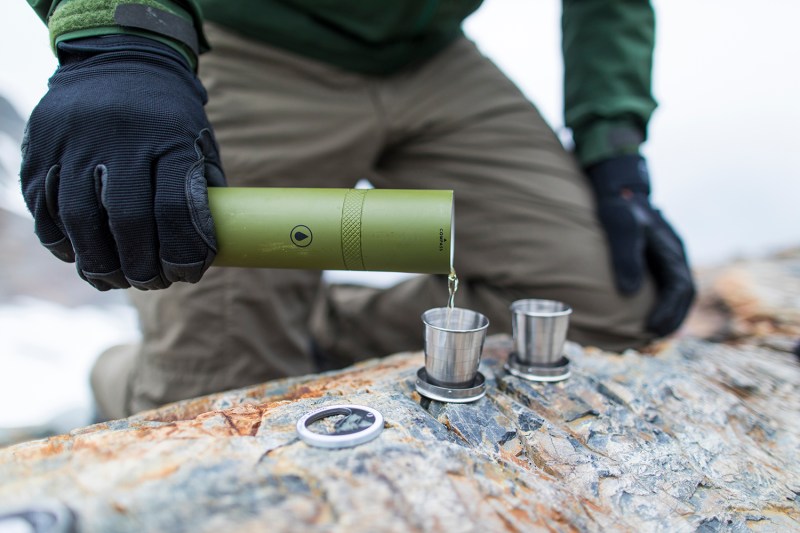 Camping and booze go hand in hand. How else are you supposed to entertain yourself if you don't have cell service and Netflix at your disposal? As much as we consider a six-pack of your favorite IPA beer to be a camping essential, lugging it into the far reaches of the backcountry when you're already lugging your backpacking or camping tent and essential gear is not so easy.
Fortunately, modern hip flasks have been around since at least the early 18th century, providing a means for the nobles of the time to discreetly sip their libations anywhere they chose. Today, you can pick up a flask in every size and design imaginable, from titanium and stainless steel containers to next-gen thermoplastic polyurethane.
Carrying a flask helps you avoid carrying the weight of a heavy glass jar or handful of bottles and keeps the drinks flowing even when you're miles from the closest bar. If you're making some fun and easy camp cocktails, you'll definitely need somewhere to keep them cool and refreshing. Here are the best camping flasks for your most adventurous trips.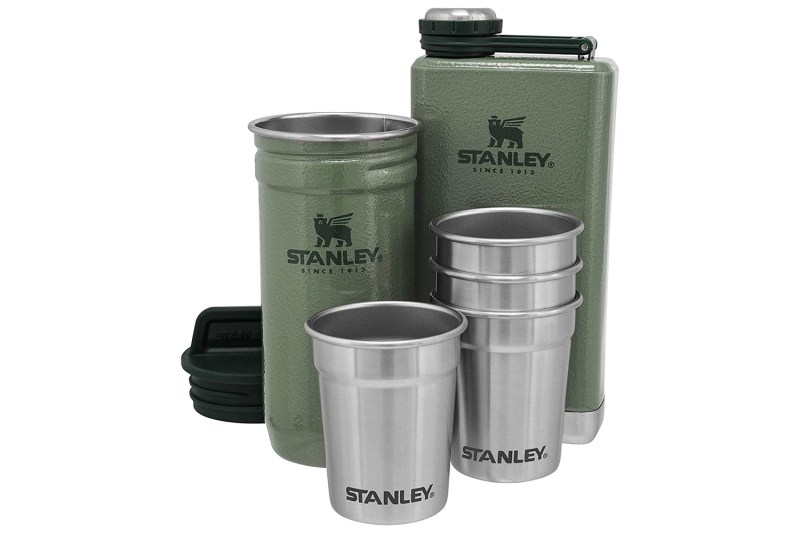 Stanley Shot Glass and Flask Set
There's always a great time to break out drinks for friends, and you can step it up a notch with this complete pocket-sized party starter. This kit comes with portable travel shot glasses, a liquor flask, and a carry case using stainless steel to withstand all adventures. Plus, an integrated lanyard means no more losing your flask's cap. Toast to adventure wherever you are with this travel/camp flask kit.
VSSL Insulated Flask + Speaker
Flasks are pretty a low-tech product by design. However, if you like your camping gear with a dose of high style and luxury, VSSL has you covered. Its flagship camping flask features a rugged, 304 stainless steel construction with double-walled vacuum insulation. But what truly sets it apart from every other we've tested is the integrated Bluetooth speaker, so you can seriously keep the party going even in the backcountry. It's also easy to clean, and a built-in locking carabiner top ensures you'll never lose your favorite tipple on the trail.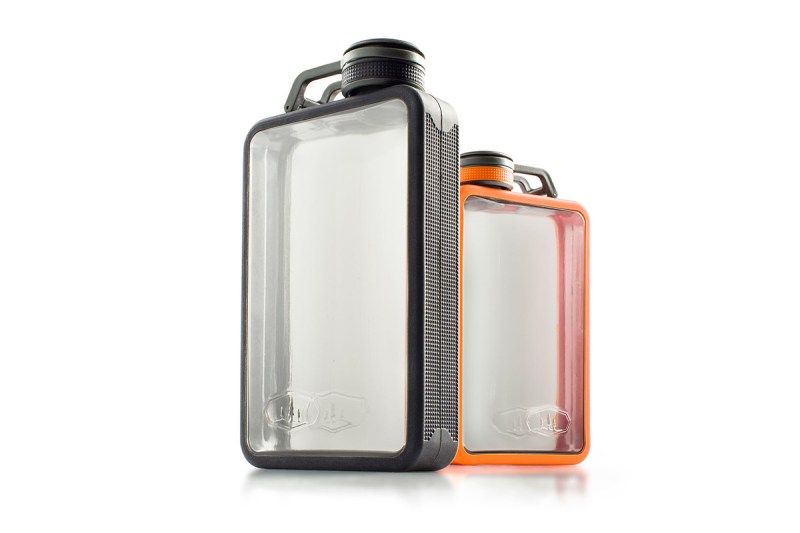 GSI Outdoors Boulder Flask
This clear case may look fragile, but the Boulder Flask from GSI Outdoors is completely shatter-resistant. The silicone grip keeps it from slipping (especially helpful if your hands are wet or sweaty), and the top remains connected to the body, so you'll never lose it. This camp flask weighs just four ounces and, depending on which size you choose, can hold six or 10 ounces of your favorite adult beverage.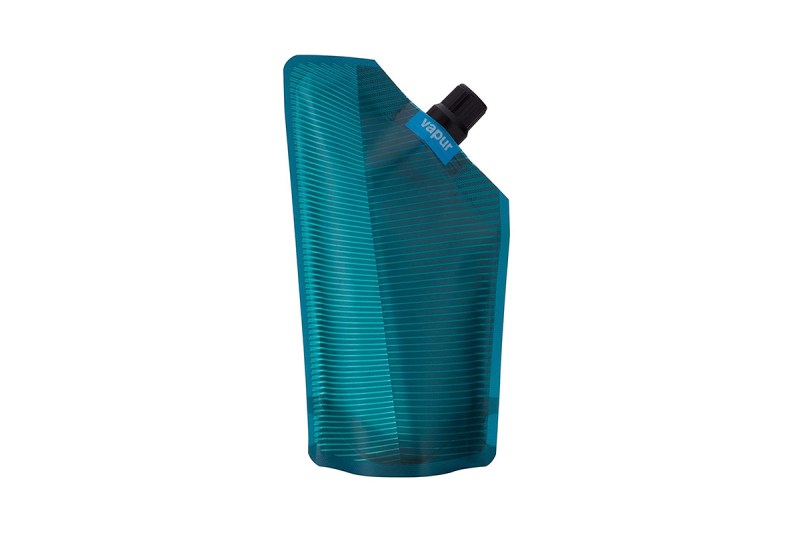 Vapur After Hours Flask
The After Hours' low-profile design, available in either teal or black, is as flexible as it is simple. The BPA-free flask lets you discreetly tuck up to 10 ounces of fluid in your bag or pocket while on the go. When you're done, quickly run it through the dishwasher. The bundled pourer and freezer-safe components only make it that much more enticing.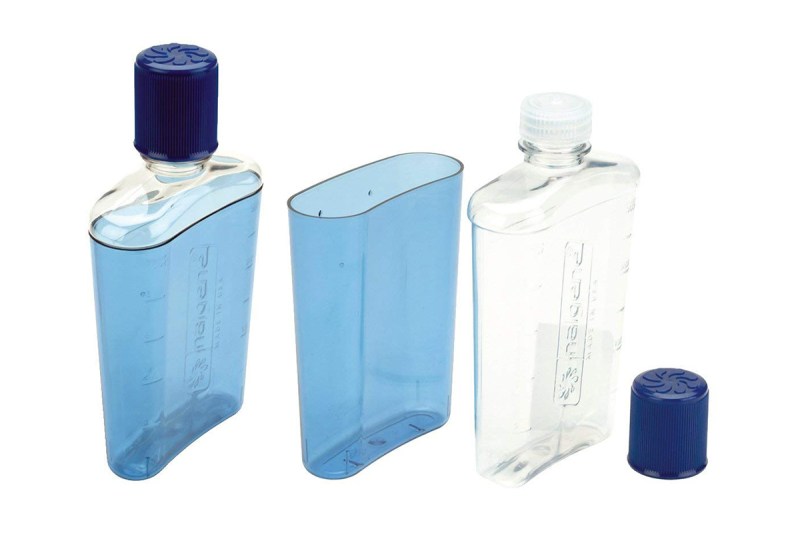 Nalgene Flask
Nalgene is a long-standing cornerstone when it comes to the best water bottles and other portable containers. The company's aptly named Nalgene Flask features a one-ounce cap and a rugged insulation sleeve, allowing you to stow 12 ounces of your favorite liquid within an assortment of colorful designs that pair well with any pack. And if you drop the sleeve, it weighs a mere 1.86 ounces.
Hydro Flask Rocks Cup
So, you've carried your booze with you all this way — now what? You make a cocktail, of course. While the 10-ounce Rocks glass from Hydro Flask is neither compact nor lightweight, it is one of the best tumblers on the market. The brand's crazy-good insulation technology will keep your favorite campfire-side concoction nice and cold.
Platypus PlatyPreserve Portable Wine Bottle
We've focused on personal-size flasks thus far, but if you're stockpiling larger amounts for your next wilderness trip, then this affordable option from Platypus is the way to go. It conveniently holds 27 ounces, which is enough room for an entire wine bottle, but we imagine your favorite spirit will fit as well.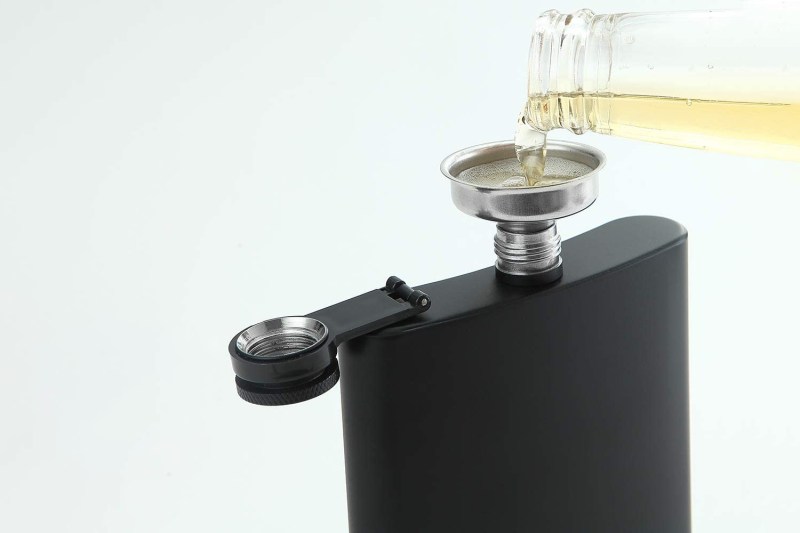 YWQ Hip Flask
This sleek matte flask comes with a funnel for easy pouring. It can hold up to eight ounces of liquid and is made of stainless steel. If you're looking for something dead-simple and tasteful, this is the perfect camp flask for you.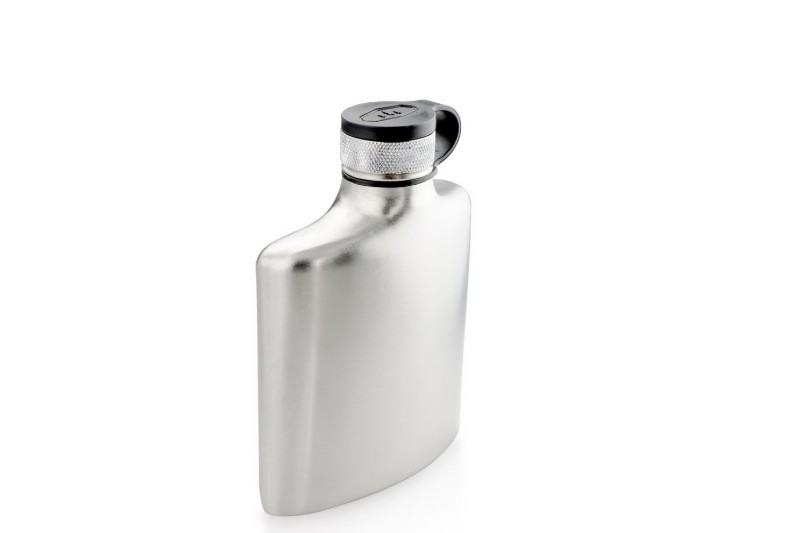 GSI Outdoors Glacier Stainless Hip Flask
You can't beat this classic modern flask for the quality, design, and price. Made with 18/8 stainless steel, this camping flask features a curved design that fits perfectly in your back pocket. The wide-mouth opening means you can take a big swig of your booze of choice without having to coax it out of the bottle. The attached knurled cap makes it easy to twist on and off, even if you're wearing gloves, and you never have to worry about misplacing the cap. It's the perfect companion around the campfire, at the top of the mountain, or in your back pocket at all times.
FAQ about camping flasks
What alcohol is best for a flask?
The primary function of a flask is to hold some type of liquid comfortably, close to your body. "What type of liquid?" you may ask. Well, any type of liquid, really. You could use your flask to hold wine, water, juice, a sports drink, coconut water, soda, etc. But why would you do that, when you could keep liquor in it instead? Traditionally, a neat brown spirit is held in a camping flask — think bourbon, rum, whisky, even your best añejo tequila. Remember, you'll be drinking this at or above room temperature, so gin or vodka may be excessively harsh when imbibed from a flask.
Who makes the best flask?
The best flask should be comfortable to wear and should have a cap that seals tightly. There are many companies that make a good camping flask or a good wine flask. We think it's smart to stick with one of the well-known outdoor brands for your first flask. GSI, Snow Peak, Platypus, and Hydro Flask are all well-established in the outdoor world. Products from these companies are thoroughly tested and reliable. Chances are, you're already familiar with these brands, as you've seen them while galivanting through your favorite outdoor gear store looking for a new camping air mattress, winter camping gear, or the fishing gear you'll need on your next trip.
Can I carry a flask in public?
Short answer: For the most part, no.
Longer answer: It depends. Flasks are considered "open containers." If the local laws (for where you plan to carry) allow for public open containers, then yes, flasks are most likely allowed there, too. If the local laws don't allow for public open containers, then it's probably illegal to carry a flask in there. As with most things with opaque legality, it's best to do your research beforehand.
Editors' Recommendations