From the days of flying in your Sunday best to wearing those velour tracksuits on the flight, plane attire has changed a lot over the years. Picking out what to wear these days could mean wearing your pajamas or choosing your favorite outfit to go out in right out when you land.
But there are some definite don'ts when it comes to your wardrobe for the flight, no matter what. If you aren't sure what to wear on a plane for your next trip, before you leave for the airport, check out these helpful tidbits from various travel experts.
The footwear
Travel advisor and product manager at Businessclass.com Adeel Khan has the details for what to wear while flying, and it starts with what you put on your feet. Or shouldn't put on your feet.
No tight shoes

Please, no flip-flops

No bare feet
You know you will have to take your shoes off, yet there are always people who wear the most complicated lace-up shoes that take forever to undo. Khan knows this "can cause delays during security and can also make you uncomfortable during the flight."
CEO of RatePunk Justin Albertynas says to stick to "lightweight, comfortable shoes" so your legs aren't any more tired from all that walking through the airports. Yet, don't go too far the other way, as Albertynas' no-go's for footwear include "at the top of my list for men is flip-flops followed by sandals and Birkenstocks."
And please, please, no bare feet. You don't want to know what's on the airport floor, but if your feet are prone to being somewhat smelly, wearing socks is also a courtesy to those around you.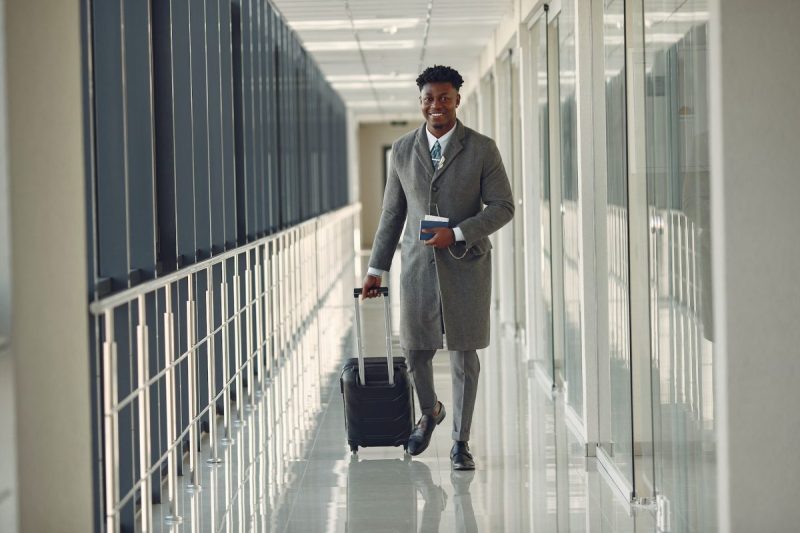 The accessories to skip
No accessories with metal

Put the cologne down

Take out the contacts
Everyone agrees that keeping your accessories to a minimum while traveling is best. BIPOC entrepreneur and the director and travel advisor at Nepal Hiking Team Balaram Thapa thinks "wearing expensive items or excessive jewelry can attract unwanted attention."
Khan wants you to "avoid clothing with metal accents" so you don't set the metal detector off. It also holds up the line if you have to take off a bunch of accessories, then again, while everyone has to wait for you to put it all back on. Pack it away in your bag or leave it at home.
Travel expert at Asaptickets Mercedes Zack wisely points out certain accessories are "more likely to get you flagged by the TSA," so it's best to skip as many accessories as possible anyway.
Thapa had another great point with accessories, reminding you to "avoid strong perfumes or colognes." Khan agrees it's "best to avoid anything that might be overwhelming." If you don't want to smell a strong cologne the whole flight, don't do that to someone else.
Something else you might not think of in the moment is how dry your eyes could get if you have in contacts. For the flight, keep the contacts in the case. Zach's tip is to "consider bringing a pair of glasses along instead if you plan on working on your computer or reading while on the plane."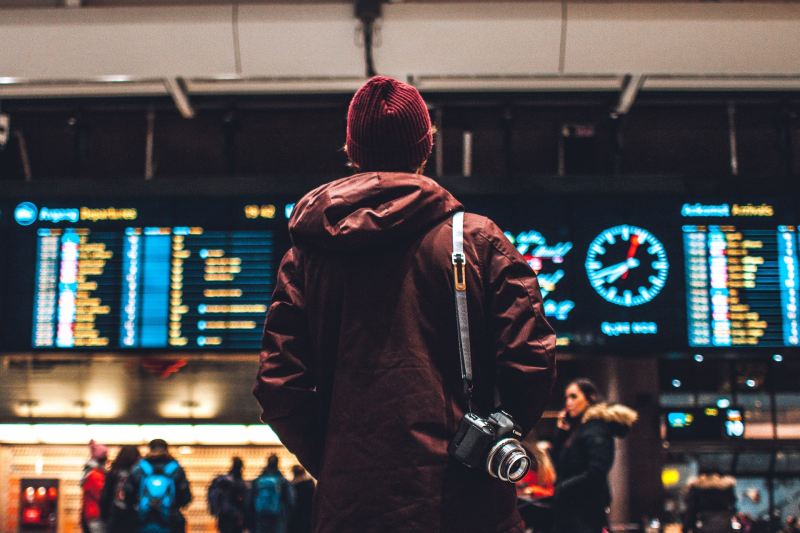 The outfit itself
No tight or restrictive clothing

Keep the offensive logos packed away

No shorts

Nothing that wrinkles easily
Whether your flight is quick or hours long, you want to be able to sit in your seat without constantly messing with your clothing. According to Thapa, pick a "breathable fabric that will allow you the flexibility to move around." Zack agrees, opting to avoid "anything tight, such as skinny jeans or slim-fit jackets."
Another item to never wear is shorts. Just wear pants and leave the shorts for when you get to your destination. Dean of International Education at Endicott College Warren Jaferian states, "Airplane seats are rarely if ever cleaned, so from a purely hygienic perspective, avoid direct contact with unclean surfaces."
Skip offensive clothing — for obvious reasons — but you also never know what TSA is going to flag someone for. But as Thapa points out, these kinds of items could "create unease for fellow passengers," so save your offensive graphic tee for the night out with the guys.
If you're going somewhere as soon as you land, make sure you wear fabrics that won't wrinkle up from sitting for so long. If you don't know if you'll have a steamer where you're going, leave those items at home.
A don't that's a do
Don't be afraid to wear layers
You never know if that plane is going to be freezing, or if the air won't work and you know you can't avoid sweating. Wear a few lightweight layers so you can adjust to whatever conditions you'll be sitting in.
Khan knows having layering options "allows for flexibility and comfort." Zach says layering is also a good idea to "save up some space in your luggage." Every little bit helps when you have to pack for vacation.
After you pick out your clothes, do a simple sweep of these hard passes to make sure you aren't making a travel outfit blunder. Do it for yourself, too. You need to think about possible flight delays or layovers, where you could be sitting in those clothes for longer than you originally planned. We know flying in general gives people enough stress, so help yourself out by knowing what not to wear on a plane to have one less thing to worry about.
Editors' Recommendations