With the average price of flights on the rise and many airlines charging more for perks that used to be included in your ticket price (hello, window seat), you might long for the good ole days when fliers were pampered with little extras like, say, dinner on a domestic flight. While those times are likely gone for good, there are still plenty of free or low-cost benefits out there for air travelers that the airlines don't always tell you about—and most of them are available even if you're not in the airline's frequent flyer program.
Read on if you want to be let in on a few secret airline perks that you can take advantage of next time you travel.

Fee-free family seating
If you're traveling with children, chances are you'd like to sit together, which can cost you a pretty penny on airlines that charge for seat selection, considering that aisle and window seating is usually more expensive than middle seats. Alaska, American, and Frontier airlines all guarantee adjacent seats for a child aged 13 or under and an accompanying adult at no additional cost for all fare types, as long as certain conditions, such as being on the same reservation, are met. The U.S. Dept. of Transportation recently submitted a legislative proposal to Congress to require all airlines to provide fee-free family seating.

Meals if your flight is delayed or canceled
If a flight cancellation or delay results in you waiting three hours or more, 10 of the major U.S. carriers will provide you with a meal or meal cash/voucher. Alaska, Allegiant, American, Delta, Frontier, Hawaiian, JetBlue, Southwest, Spirit, and United airlines all provide this perk for longer delays. However, they might not announce it, so make sure to go to the service counter and ask for meal compensation if you qualify. All the airlines listed previously (except for Frontier) also provide complimentary hotel accommodations and transportation to and from the hotel for any passenger affected by an overnight delay or cancellation.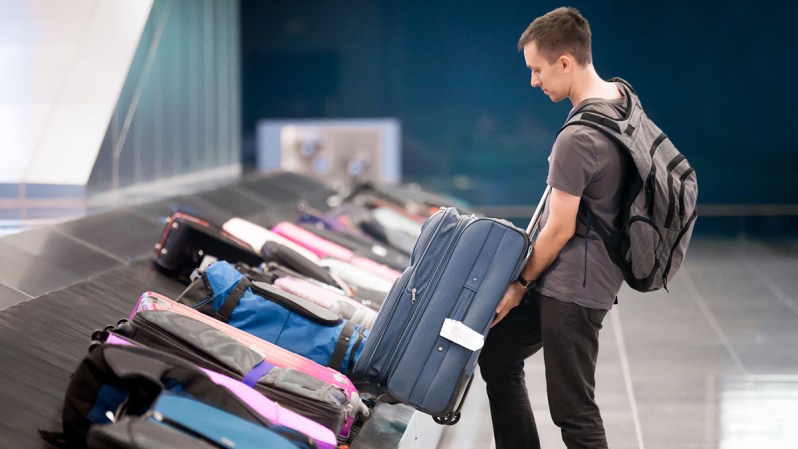 Benefits for bag delays
If you're waiting at the luggage carousel for more than 20 minutes after your flight arrives, both Delta and Alaska will offer you 2,500 miles to their loyalty programs as compensation. Alaska also gives you the alternative of a $25 flight credit. Make sure to check the specific airline's policies for details and how to go about requesting your points or credit.
A sundae bar in the sky
You might not want to literally scream for ice cream on a plane, but if you're a member of United Airlines Polaris class, you won't have to. After a pandemic hiatus, the airline recently brought back its popular sundae cart for business-class passengers on certain international flights. The service comes to you on a roll-through cart from which you'll be served vanilla ice cream and allowed to select from several toppings.

Lounge access when you're flying the main cabin
If you've ever looked with longing at fellow travelers going into those cushy airline lounges reserved for high-level customers while you sit on an uncomfortable chair at your gate, there are ways you can gain access to the coveted lounge domains even if you're not an elite member of the airline's loyalty program or flying first class. Alaska, American, and United all sell day passes to their lounges at a cost of between $29 and $75. (Certain restrictions apply, so check with the airline in advance.) Or you can try LoungeBuddy, an airport lounge booking service that lets you purchase access to more than 280 airport lounges they partner with around the world, regardless of what class you're flying or if you have elite status or a lounge membership with the airline. Just download the app to see what lounges are available and how much a day pass will cost. Once you book, you'll get a barcode to scan for all-day lounge access.
Fun freebies — even in economy
While being in economy or the main cabin can make you feel like a second-class citizen compared to the business- and first-class folks, many airlines will still give you little extras for free — the catch is they often aren't automatically offered, and you might have to ask. Blankets, pillows, eye masks, coloring books for kids, extra snacks, and the full can of soda instead of what's poured into your glass are all little perks you'll likely be provided with if you request them and they're available. And, if you're on a longer international flight, you can also ask for an amenity kit that can offer travel needs such as toothbrushes, eye masks, and earplugs. No matter what you're looking for, just remember your chances are better of getting it if you smile and ask nicely.

Complimentary upgraded seating
Just like with hotels, you might be able to get better "accommodations"— or, in this case, seating— simply by asking if any free upgrades are available. Experts say your luck will be better on flights that are later in the day or on holidays, when business travelers aren't as plentiful. Even if you don't get put in business class, you may be able to get better seating— for example, in an exit row where there's more legroom— just by asking if anything's available when you check in or at the counter at your gate. This perk probably won't work if you're flying economy class, however, where "no upgrades" is usually spelled out on the ticketing agreement.
While there's an old saying, "you get what you pay for," when it comes to airlines, that's not always true — as long as you're in on a few secrets. And anything that makes flying more like the pampered experience it was in yesteryear will likely be a welcome part of your itinerary.
Editors' Recommendations