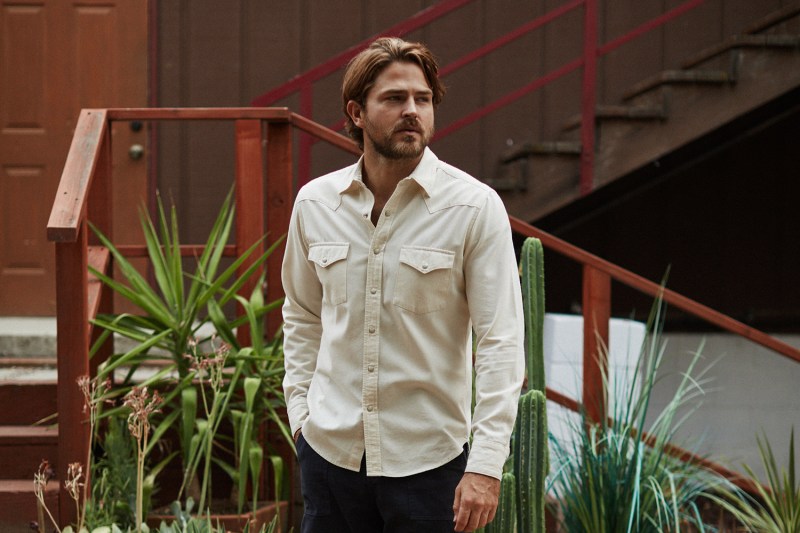 Led Zeppelin, Jerry Garcia, and Pink Floyd. The Allman Brothers and Lynyrd Skynyrd. A strolling George Harrison across the cover of The Beatles' Abbey Road. All these men, these bands, may be iconic to classic rock, but they have another thing in common: They were fans of and wore the classic Western shirt. It wasn't just rock; folk, blues, and many other genres' luminaries, over the course of a decade from the mid-'60s to the mid-'70s, were photographed wearing the classic American style. "If you go down all the genres of music," Nick Wetta, founder of West Major and maker of the best damn Western shirts in the world, tells The Manual, "you'll find guys wearing Western shirts."
Wetta, 31, is not a cowboy. Far from it — he's a self-described nerd who grew up in Arizona with no natural athleticism, but a passion for drum fills. His heroes were musicians, not horsemen, and to match their look, he'd pick through the racks of thrift-store pearl-snap shirts trying to find the perfect silhouette. "The fits were all over the place, and a lot for them were old and falling apart," he says. "But when I would find one that fit right, it was a grand slam." Economy was only one reason for his secondhand sources; another was that those old shirts in photos were neither made nor marketed anymore; instead, the modern iteration, with its blousey fit and boring plaids, was geared toward Midwestern farmers. "And that is awesome," he says. "[But] it felt like there weren't any Western brands for guys like me."
Related Guides
And so Wetta, a guy with zero sewing experience, decided to start his own.
Back then, Wetta was just another 20-something grinding it out in the Los Angeles TV production scene. As part of a tip-of-the-spear crew, he would shoot, cut, and market micro-pilots year 'round to studios in the hopes that they would be put into production. He was working at a manic pace in a field for which he had no real passion. Even so, his idea for a clothing brand might have stayed just that if it weren't for a college friend, in town to launch his own company, who helped put some of the pieces in place.
Most people know Steven Borrelli as the founder of Cuts Clothing, the surging men's t-shirt and basics company that has boomed over the past 12 months. Valued in the mid-eight figures despite not taking a dime of investment, Borrelli is a modern success story. But in 2016, when he crashed on Wetta's California couch, Borrelli was living in Washington with his parents, sacrificing the present for a future goal.
"No one wants to be in their 20s and living at home, starting a clothing brand," Borrelli tells The Manual. "That's something my pride had to get over.
"But the longer you do it, the more pride you have in what you're doing," he continues. "Every year you're doing it, you're investing your youth into the idea. You're not living in a cool apartment in a big city going to restaurants all the time with all your peers. You're giving all that up, which is a form of investment, which then makes you more about the idea."
It was there, in that California apartment, that Wetta floated his idea, and Borrelli, to his credit, told his old college pal the concept was a winner. But he did more than that: The Cuts progenitor helped Wetta find a pattern-maker and tour the fabric warehouses of the garment district. "He opened the door for me and got me started," Wetta says.
Borrelli would go on to launch Cuts in 2017, but for Wetta, the next few years were a blur. At first, he kept his day job, coming back nights to turn his attention to his nascent company. West Major was named from a combination of the heritages: "West" for the shirt's regional roots and "Major" like the musical scale, a nod to the artists that made it iconic. He even managed to learn how to sew, and to this day he continues to make all his prototypes. "They don't look that great," he says, "but they help me piece together ideas."
In 2018, Wetta launched a Kickstarter, and it raised a respectable $17,000 for his first shirt. "Friends and family," he says, laughing. But there were issues: "Probably a good half of those orders, guys literally couldn't bend their arms," he continues. He watched, mortified, as his inbox was inundated with men ripping through their sleeves. "My arms fit into the shirt fine. But I just didn't think about, well, what if you're a little bigger?"
For anyone other than Wetta, who still seems ashamed, it's a hilarious story, but it's illustrative of not only the care he takes but also in his trial-by-fire mindset, during which, in those early days, he says he made "every mistake possible." He remade many of that first batch, tanking any profit he would have earned, in an effort to make it right.
Fit was only one of many major issues that needed to be solved. Manufacturing was another, and he decided to have his cut and assembled in the U.S. — a nod to the style's roots, like "buying a samurai sword in Japan," he says. "It's the origin place of this product." Another issue was the fabric itself. Wetta fell in love with the vintage material of those high school thrift store shirts, a soft, thin blend of cotton and polyester that was comfortable and breathable even in the Arizona heat. "A huge piece of this business is the fabric," he says. "You can have whatever idea you want in your head, but the reality is, is there a fabric mill that makes that? And will they work with you?"
Despite these pitfalls and challenges, he never wavered. "I was really falling in love with making these shirts," he says. And like anything else one loves, no sacrifice was too great. So in 2019 he quit his lucrative career to devote more time to the growing company, figuring he could get a job bartending nights and pouring his days into the project. (He'd never tended bar, so he ended up as a barback, a significant demotion, but was undeterred.) He examined his living expenses — a small condo in Santa Monica shared with two others — and calculated the money he was wasting. So he moved home, back to Phoenix and in with his parents, arriving on his 30th birthday.
This is not one of those sappy stories where the protagonist is devoid of ego. There is no montage; every sacrifice Wetta made, he says, was a punch in the balls. Dating, social life, they were put on hold. Every effort, every dollar was put back in to his company. "You wake up some days, and you're just like, what the f— am I doing here."
But he was learning and refining and growing, as was his business. By the end of 2019, and despite living in his parents' figurative basement, Wetta was selling shirts every day. Sure, some men, when he examined their social media accounts or shipping labels, were cowboys and ranchers. But plenty more were in San Francisco and Austin and Los Angeles, working in tech and advertising and sales. "There's hundreds and hundreds of guys across the country now that have bought these shirts and wear them all the time," he says. "And I'm just starting."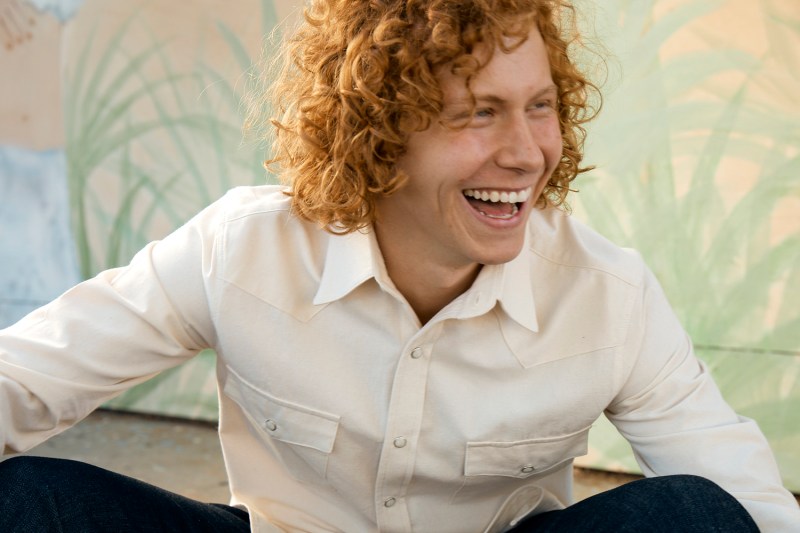 When you profile a founder, one of the earliest questions you ask, after age, name, and location, is the date of the founding of the company. Wetta and I have been talking for about an hour before I realize I haven't gotten the answer yet, not really. So I ask. "I don't know, to be honest. Maybe 2018? That's when I launched the Kickstarter," he says. "Sometimes I say 2017. Sometimes I say 2019.
"It's been so a part of my life," he continues, "it's hard to find a set date. It's just been this slow burn over the past four years. If you have a thought on what makes for a better story, I'm good with that."
It's one of the strangest answers I've ever received, a multiple-choice choose-your-own-adventure story. It's also one of the most satisfying answers I've ever gotten. Wetta is not coached or media-savvy. He just a guy that loves what he does, and when you're in that mindset, what are days and months beyond a flooding river pushing you toward your eventual goal? "This isn't a company I'm building to sell," he says. "I really love it. The goal is to build an iconic Western brand that lasts forever."
Borrelli, from his now vaunted position, believes the same: "If you just close your eyes, you think, OK, that's going to be a big brand someday."
Wetta mentions the seminal Western Shirts: An American Fashion , which he's long referenced for the history of his company's focus. Rather than at home on the ranch, the piece was crafted for country musicians and rodeo performers and dime-store novel covers, an entire attire imagined out of thin air. These styles were consumed by audiences who then demanded to wear the same clothing, and mass makers stepped in to re-create what the people thought cowboys actually wore — which, in a real cart-before-the-horse situation, was then adopted by the cowboys themselves. "I was talking to someone the other day, and they asked me if I felt like I was bastardizing Western shirts by not making it this hardcore cowboy thing," Wetta says. "It wouldn't exist without entertainment."
Editors' Recommendations