Every man's wardrobe should be packed with, well, the best men's shirts, period. Here's the scoop: T-shirts don't always have to be used as undershirts, and polos don't have to strictly be worn on the golf course. Nowadays, the type of shirt you wear can say a lot about your mood and style. If you're the type of guy who sticks to a strict uniform of T-shirt, jeans, and leather sneakers, it might suggest that you care about what you look like but still want to feel casual and aren't too concerned with trends.
Or maybe you're the kind of person who likes to look a bit sharper, so your go-to outfit might be a polo or oxford shirt with a sleek pair of pants. Either way, you should probably have a range of shirt styles in your wardrobe from top men's clothing brands for different occasions and when the mood strikes. To help you out, we rounded up some of the best shirts to keep you cool, stylish, and comfortable no matter what season.
The Flannel
If you hate wearing coats in the fall and winter, the flannel is probably your best option for a shirt. They make you look like you put a lot of thought and effort into your outfit while keeping you warm. The flannel will make you feel like you're still wrapped in a blanket on the couch. And who doesn't want that?
Relwen Blanket Plaid Flannel
Relwen makes its gear by blending vintage influences with modern, rugged functionality. This handsome blanket plaid flannel shirt is a perfect example of a new take on a classic, and we're all about it.
Portuguese Flannel Saint Patrick Flannel Shirt
With a name like Portuguese Flannel, it's no wonder that this brand makes one outstanding shirt. The rich pattern and color is easily wearable with everything from blue jeans to canvas work pants.
Filson Vintage Flannel Work Shirt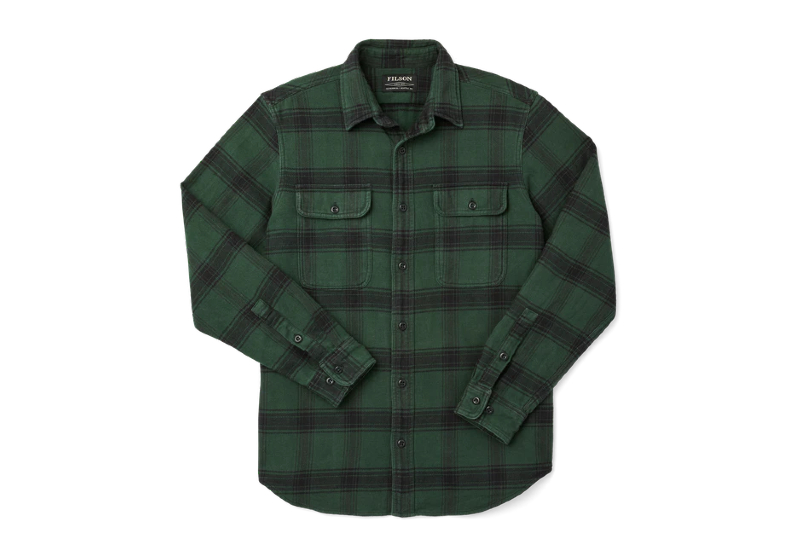 Filson's shirts and jackets really are the stuff of legend, and this vintage-style work shirt lives up to the brand's heritage admirably. Layer it on the coldest days imaginable.
5.11 Tactical Lester Flannel Shirt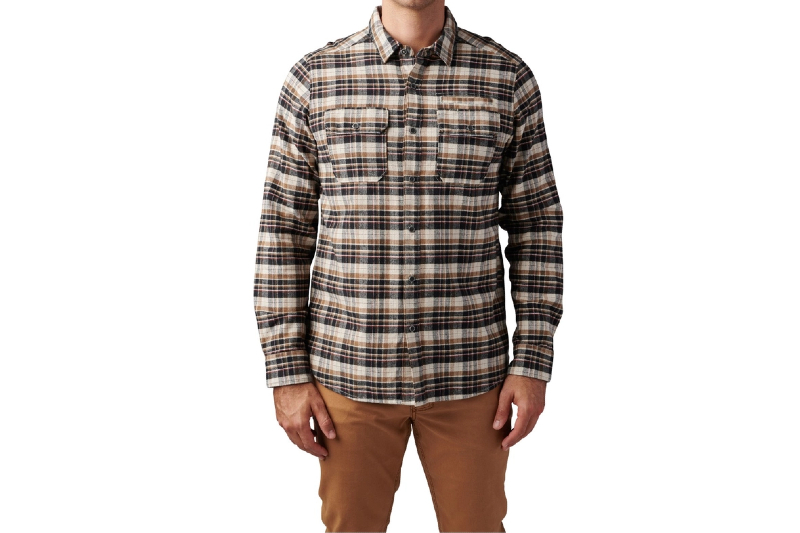 The flannel shirt gets a tactically minded upgrade, literally, in a rich cotton flannel chamois with an easy-to-wear snap-button design. Chest pockets for your everyday carry provide even more functionality.
Todd Snyder Brushed Flannel Buttondown Shirt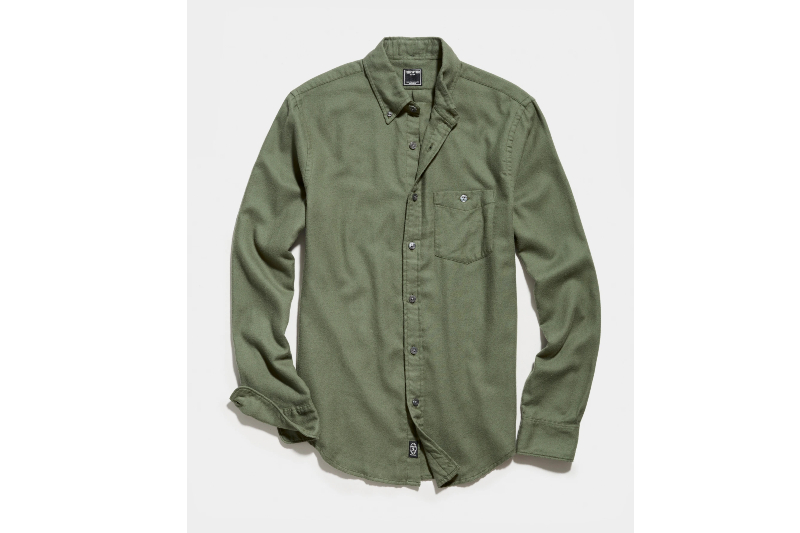 Todd Snyder's take on the flannel shirt is at once rugged and refined, available in an array of colors and ready for occasions both dressy and casual. Wear it with Todd Snyder selvedge denim for style that works at home or at the office.
Eddie Favorite Flannel Shirt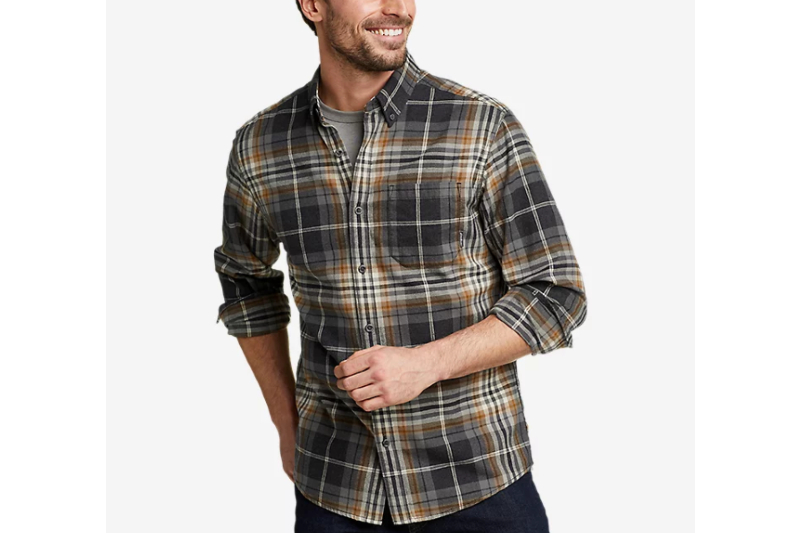 Eddie Bauer has long been a retailer with trusted roots in the outdoors, and the aptly named Favorite Flannel is a perfect example of what makes the brand such a staple. This has rugged appeal in spades for cold fall and winter nights.
Outerknown Lost Coast Moleskin Shirt
Made from 100% organic cotton moleskin, think of this like a lighter take on the flannel shirt, one that you can easily layer atop a henley for perfectly rugged style this season. The rich colorways and sustainable construction make the difference, too.
Marmot Anderson Lightweight Flannel Long-Sleeve Shirt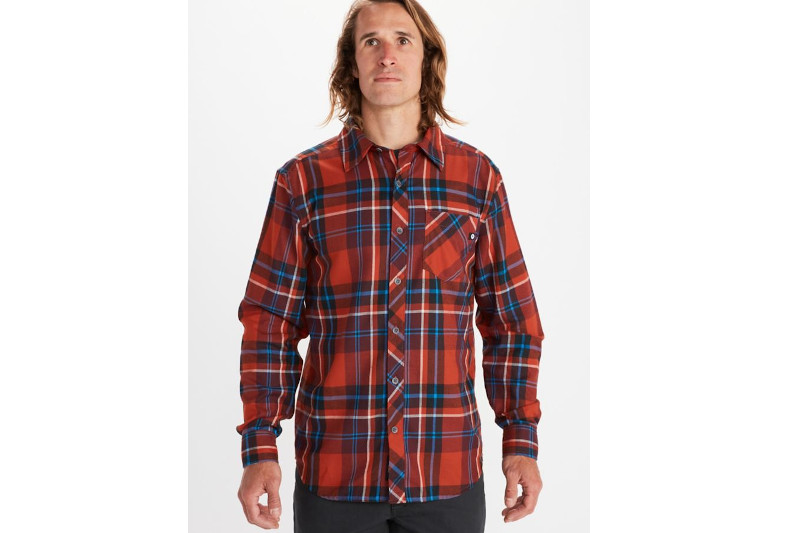 Marmot has created the ultimate flannel for all of your outdoor needs. It's lightweight, breathable, and made with UPF 50 to protect you from the sun's harmful rays.
Prana Wedgemont Flannel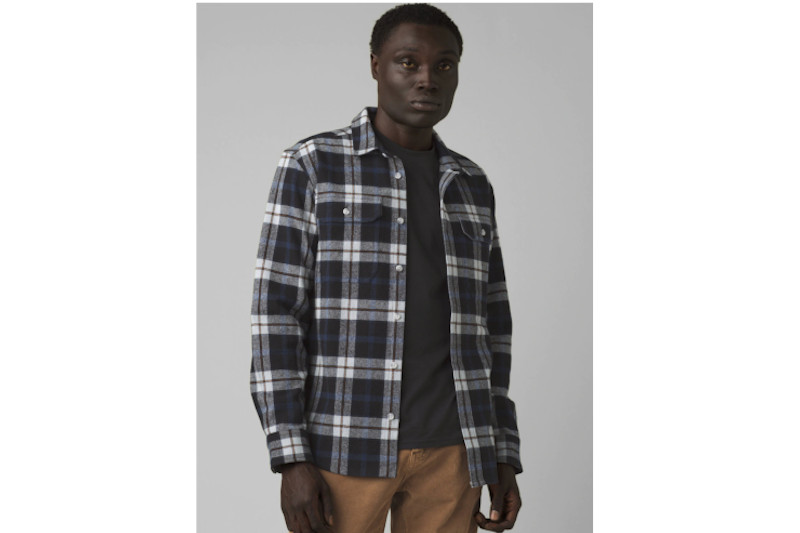 This is basically the best flannel shirt out there. Its heavyweight makes it great to wear on its own and even better opened up and layered over a T-shirt. If you're really cold, which you might never admit, it's thin enough to layer under a jacket so you won't freeze your you-know-what off. Bonus: There are deep dual chest pockets for stashing goodies.
Wrangler Authentics Men's Fleece Shirt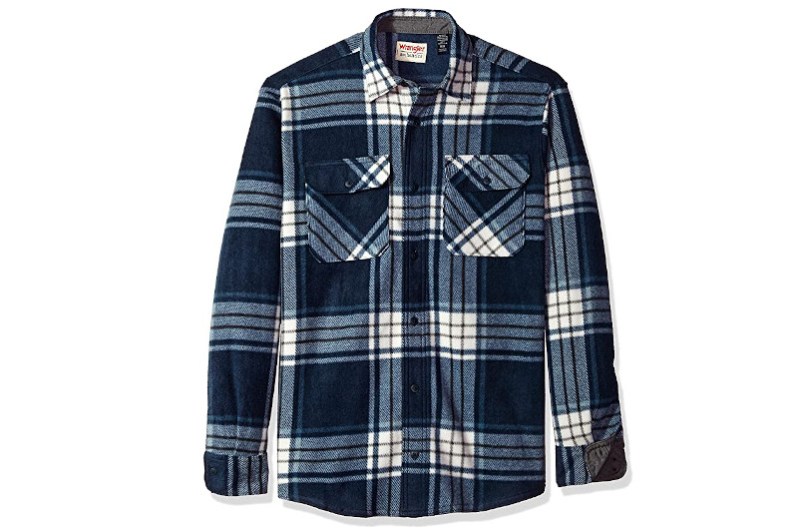 This is the perfect flannel shirt for outdoor activities. It has a blanket thickness that will keep you warm and cozy. It's also extremely well-made, so you'll have this flannel shirt in your closet for years.
The Long-Sleeved
Just as comfortable and versatile as your favorite T-shirt, the long-sleeved shirt provides extra warmth and coverage. A long-sleeved shirt is a perfect companion on chilly days when you need an extra layer under your fleece or jacket. If you're looking for both quality and comfort, below are the best long-sleeved shirts that will look great with your favorite pair of jeans.
HNLY LA Bourdain Henley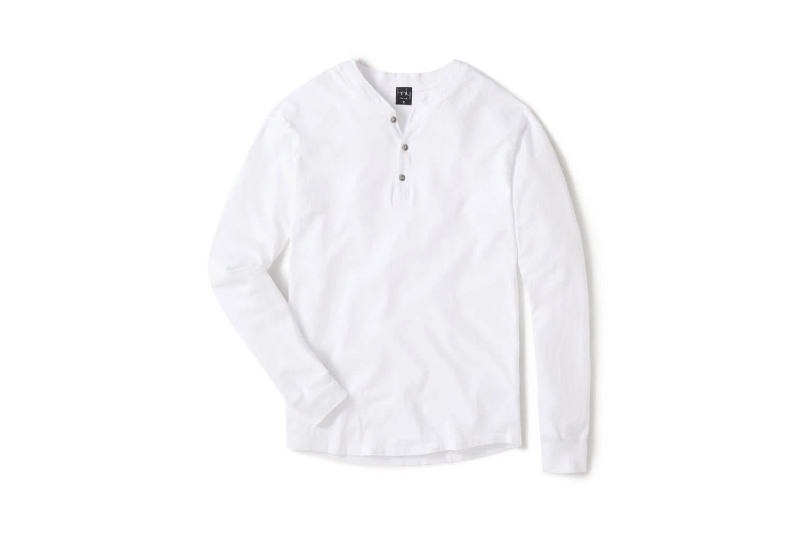 This long-sleeve henley, made from garment-dyed organic stretch cotton, is a perfect upgrade to your long-sleeve shirting rotation. It wears well with a blazer or a broken-in denim jacket.
Goodlife Supima Long-Sleeve Scallop Crew
If it's a soft, comfortable long-sleeve T-shirt you seek, the kind you can wear with anything, then Goodlife has you covered. The scallop hem is a nice touch that allows you to wear this tee on your own, too.
American Giant Heavyweight Long-Sleeve Pocket Tee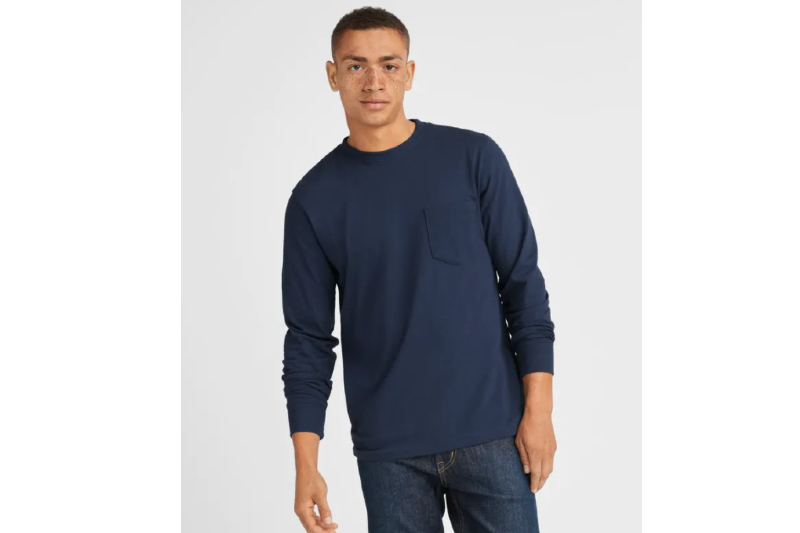 Chilly weather doesn't stand a chance, thanks to this rugged and durably built long-sleeve tee. It's made in Los Angeles from heavyweight jersey cotton for the ultimate in comfort and long-lasting style.
Dickie's Long Sleeve Heavyweight Crew Neck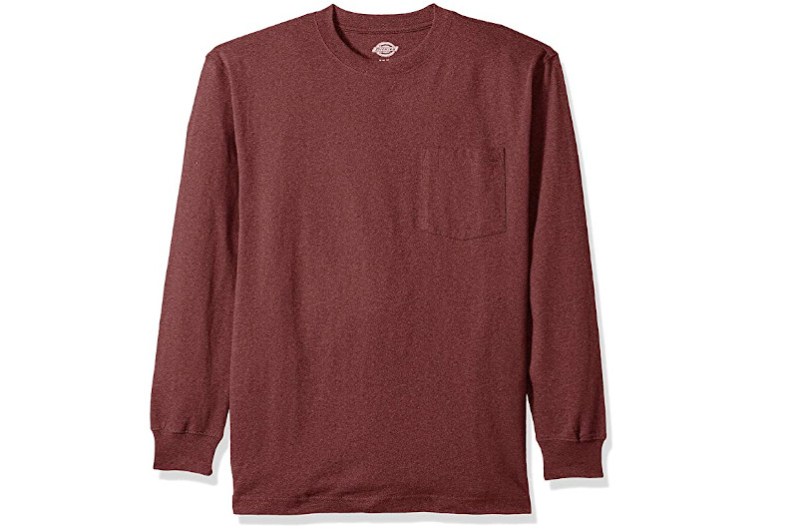 This favorite long-sleeved shirt is the perfect layer for fall and winter. It's super soft and has a lived-in feel straight out of the packaging.
The Oxford Shirt
An Oxford shirt is like a dress shirt, but different. In this style of shirt, the collar is typically buttoned-down to eliminate the problem of collars sticking out or hiding beneath a jacket's collar. An oxford shirt is extremely versatile and pairs well with the rest of your essential wardrobe. Roll up the sleeves and leave it untucked with dark denim for a night out on the town. If you want to dress it up, pair it with a tie and slacks, and you're ready for your next interview.
Everlane Standard Fit Performance Oxford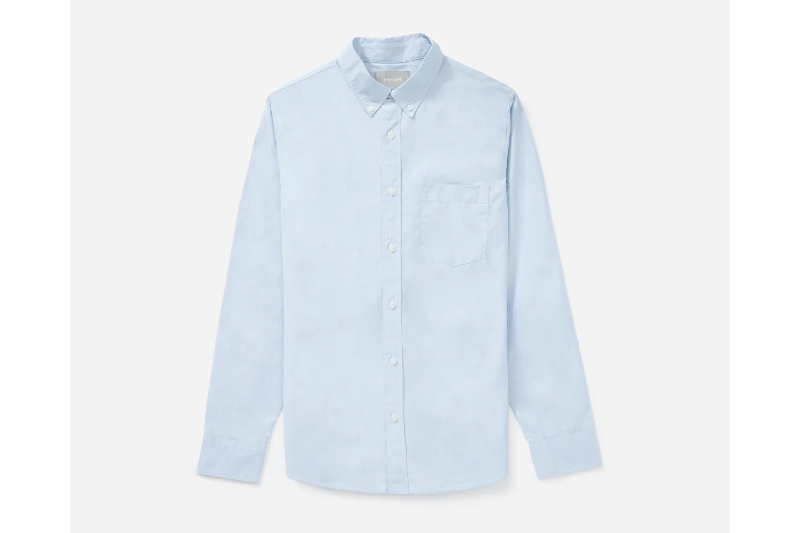 The Oxford shirt is a stone-cold style classic, wearable with everything from chinos to denim. Pair it with a V-neck sweater or a wool blazer on chilly days, or team it with a denim jacket come spring.
State and Liberty Stewart Solid Casual Buttondown Shirt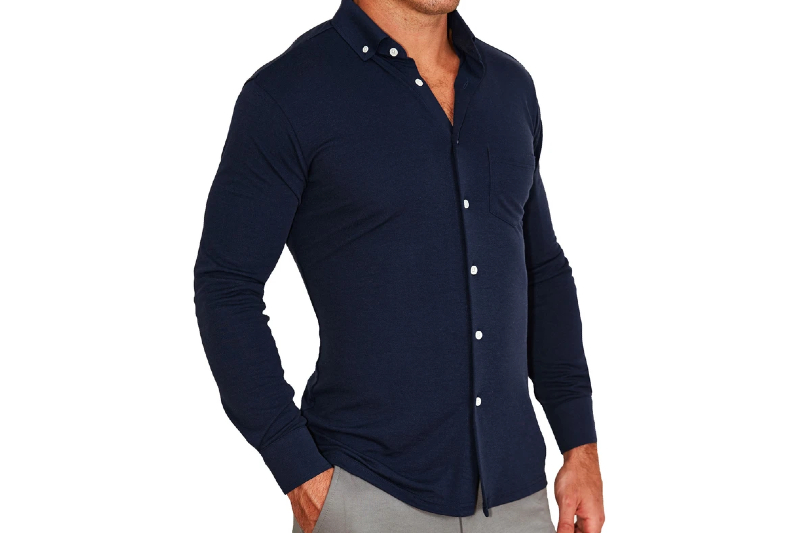 The Oxford shirt gets a performance-minded update here with comfortable stretch fabric and a cut that's perfect for athletic body types. Bonus points if you team it with the brand's athletic-fit dress trousers.
Taylor Stitch Jack Oxford Shirt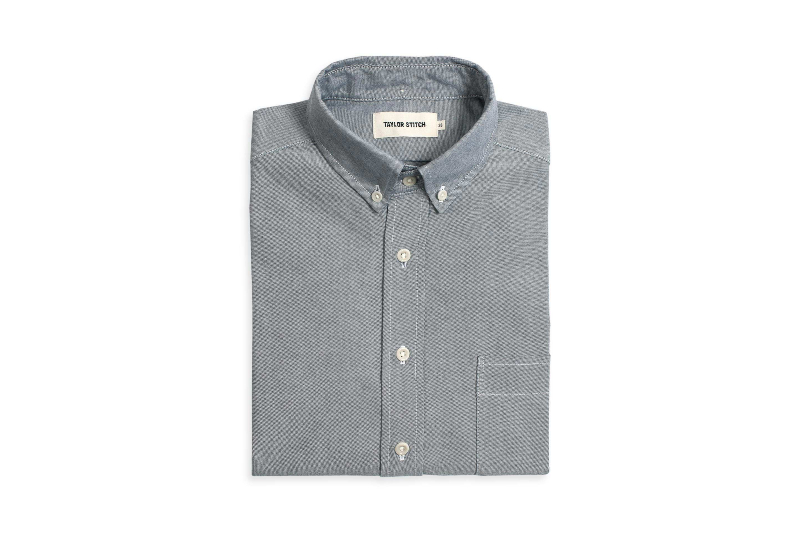 The Taylor Stitch brand was founded with a focus on great shirting, and this classic option from the San Francisco retailer is a winning pick-up. Pair it with Taylor Stitch chinos for go-anywhere style, any time of year.
Ball and Buck Hunters Shirt 2.0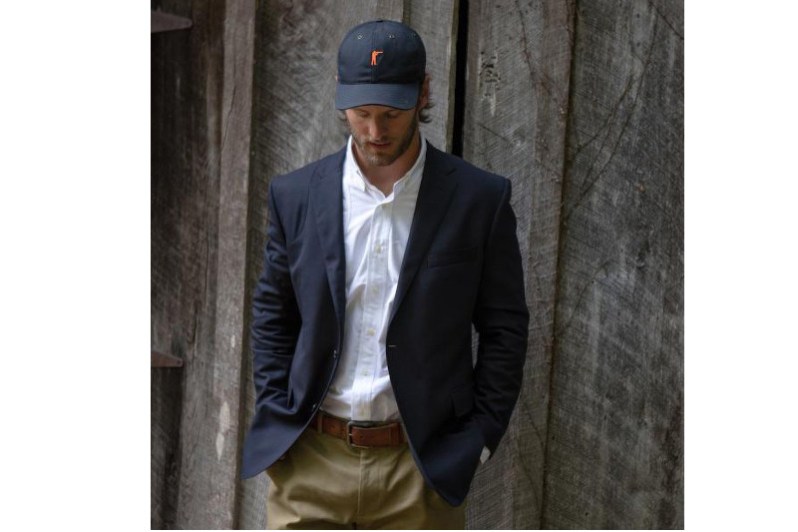 Crafted for hunters, this versatile shirt looks clean and crisp for appearances but is fully functional for when you hit the field. The shoulders and elbows are reinforced to prevent blowouts and damage under extreme stress.
Untuckit Wrinkle-Free Performance+ Parrino Shirt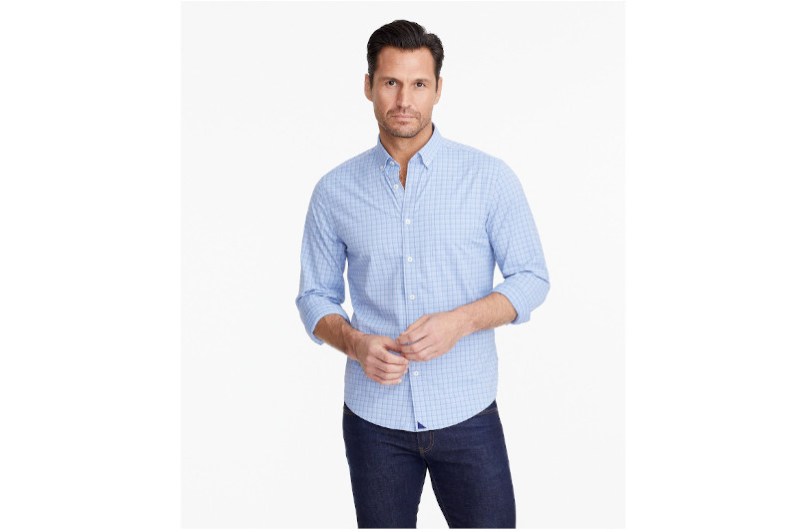 This is definitely one of the best shirts out there. With its moisture-wicking and wrinkle-fighting fabric, your shirt will stay crisp all day but still super soft and flexible. It's also machine washable, so you can start cutting back on your dry cleaning bill.
Buck Mason Perfect Oxford One Pocket Shirt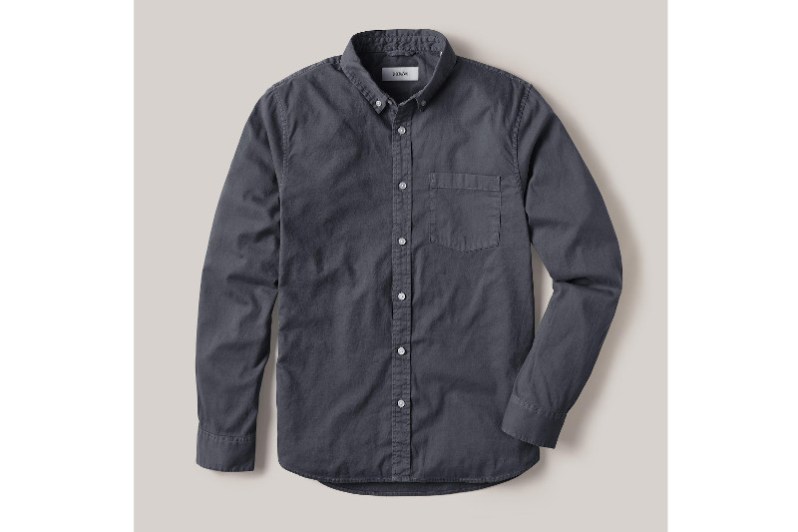 This is going to be the shirt that you grab for when a last-minute date pops up. You'll look cool, calm, and collected, even if you're nervous AF inside.
The T-Shirt
If you're the kind of guy who is big on comfort and style, your closet is probably filled with a lot of T-shirts of all different styles. It's an all-American style staple for good reason. Your daily uniform might look something like a T-shirt, jeans, and a fresh pair of white kicks, which is great for when you need to get ready in a pinch. T-shirts these days are far from basic. While a soft white V-neck is great, stripes and buttons can dress up the relaxed style instantly. Here are our favorites.
HNLY LA HNLY Tee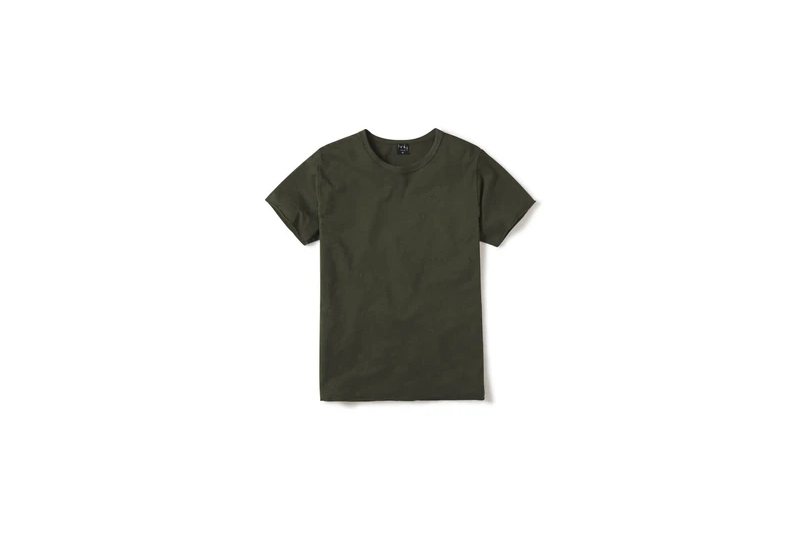 With rugged, vintage detailing and organic stretch cotton fabric, this tee is both comfortable and versatile enough to be worn on its own with black denim or underneath a classic trucker jacket.
Todd Snyder x Champion City Gym New York Tee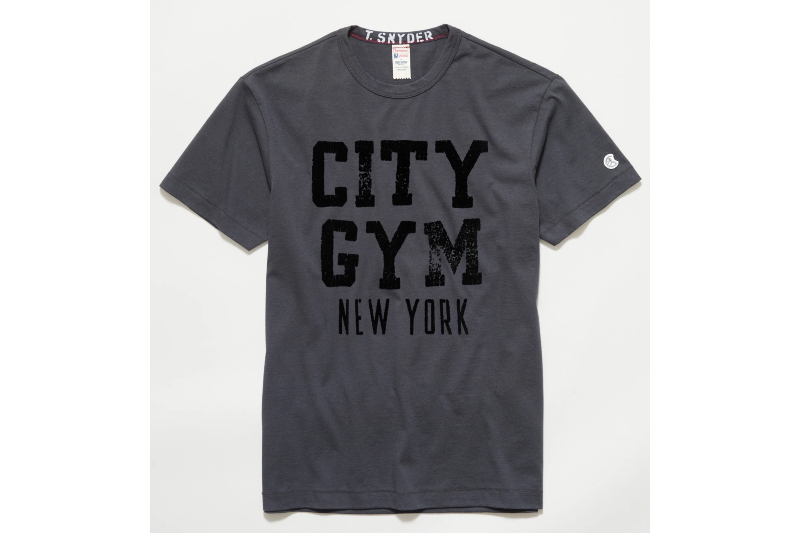 Todd Snyder's long-running partnership with Champion takes classic athletic staples and reworks them for the modern man. This tee is both ultra-soft and eye-catching, thanks to the throwback graphic design.
Spanx Sculpt Cotton V-Neck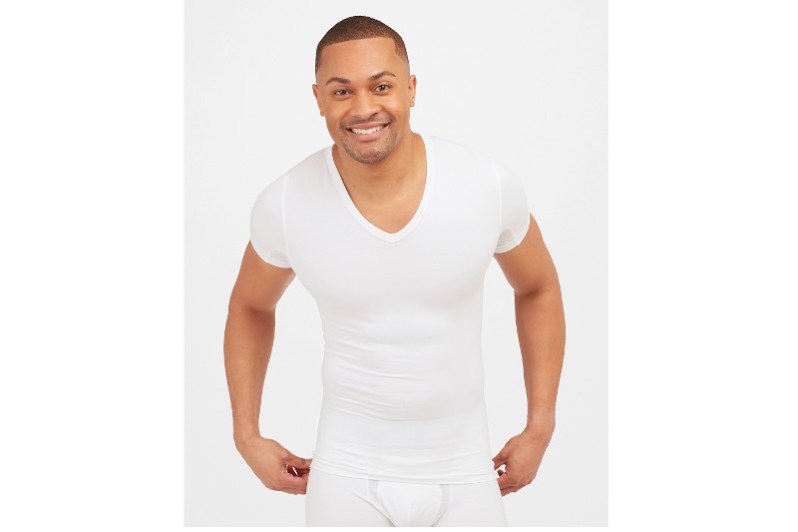 Say hello to your new favorite undershirt. This sculpting undershirt features medium compression that eliminates annoying bulk and firms up your body in all the right places. Made from performance fabric that is opaque (goodbye pesky chest hair), this style fits and feels incredible. The deep V-neck allows for the shirt to stay hidden with two buttons unbuttoned, and the fabric is sweat-wicking to keep you dry in high-pressure situations.
Banana Republic Authentic Supima Cotton V-Neck T-Shirt
You really can't go wrong with a basic black or navy V-neck T-shirt. These from Banana Republic are cut with extra room through the chest, arms, and waist, so they're not too fitted.
Nitagut Casual Henley T-Shirt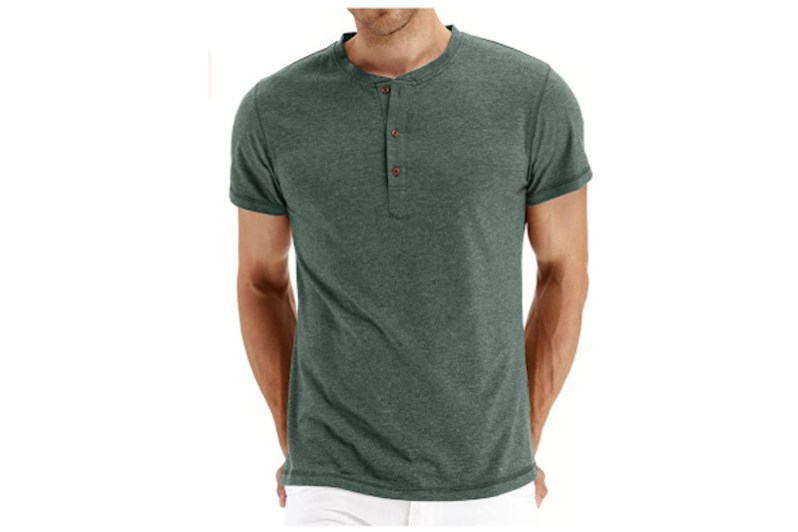 This henley T-shirt has three buttons so you can show off as much or as little skin as you want. The material is comfortable and not too thin or heavy, making this a perfect T-shirt for year-round wear.
George Men's Pocket T-Shirts, 6-Pack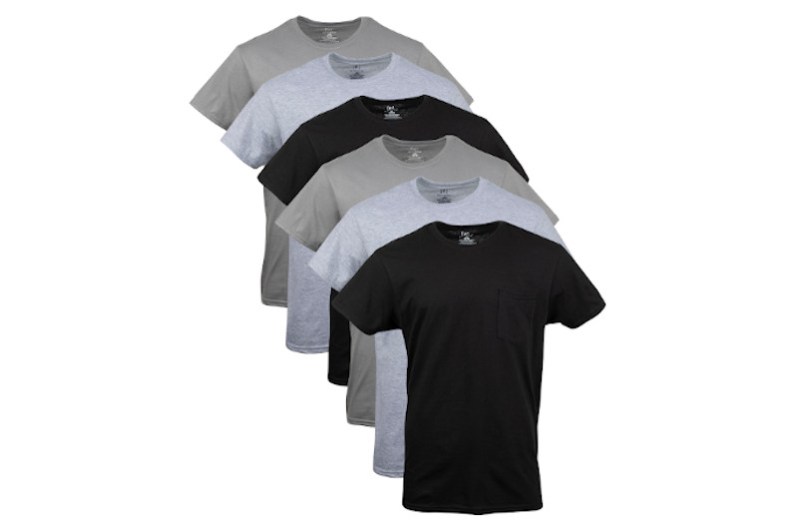 Don't knock these Walmart T-shirts until you try them. Not only do they deliver bang for your buck, but they're also moisture-wicking, super-soft, and tag-free for ultimate comfort. They make for great undershirts and are the perfect casual t-shirt for working from home or lounging on the couch.
The Polo
While the polo shirt is typically associated with frat boys and upper-class prep, it's also one of the greatest and most versatile shirts out there. What's great about most polo shirts is they are as comfortable as a t-shirt but can be accepted as business casual.
Rhoback Annapolis Long-Sleeve Polo
Long-sleeve polo shirts like this one are an underrated style move in the colder months or indeed, any time it gets chilly. Throw this one on to hit the links or to hit a patio bar.
Faherty Cloud Long-Sleeve Striped Polo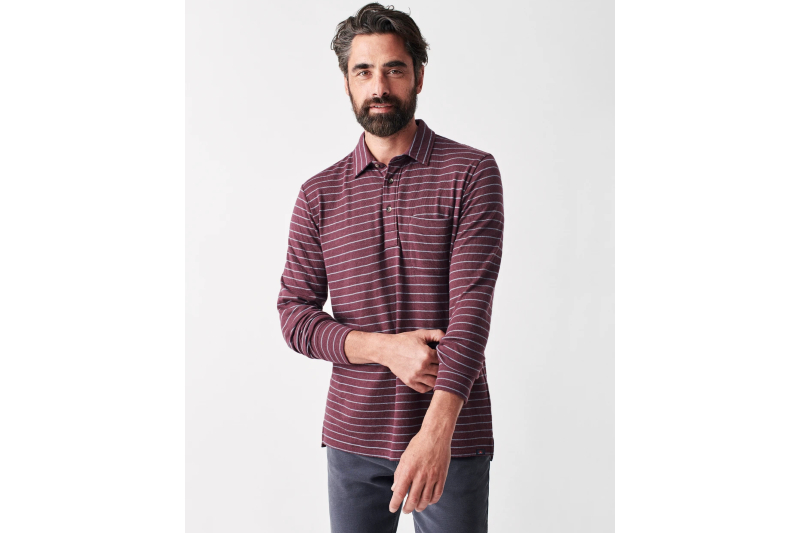 Soft fabric and standout style is the name of the game with this Faherty polo. The stripes are a nice touch, so feel free to wear this as upgraded house loungewear or even to the office with tailored chinos.
Huckberry 72-Hour Merino Polo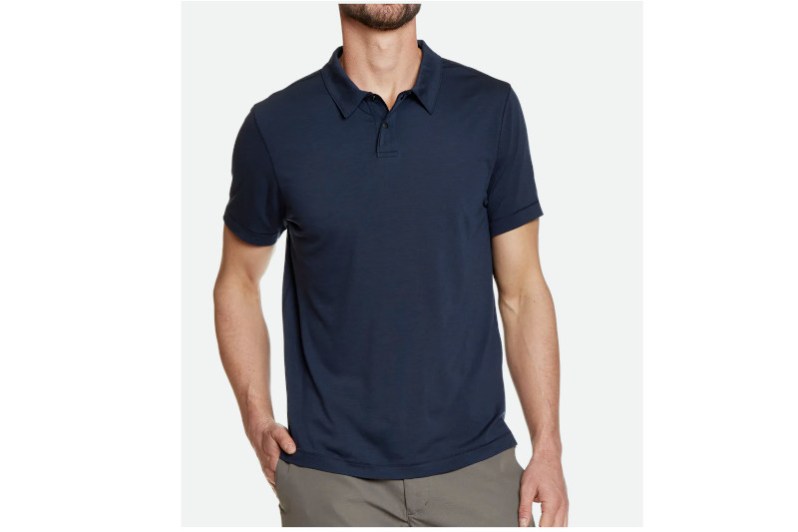 While we encourage you to shower once a day, this performance travel polo is built to be able to withstand 72 straight hours of wear without putting off any kind of odor. This will be the first shirt you grab when you're packing for a boys' trip.
Three Sixty Six Men's Dry Fit Long Sleeve Golf Shirt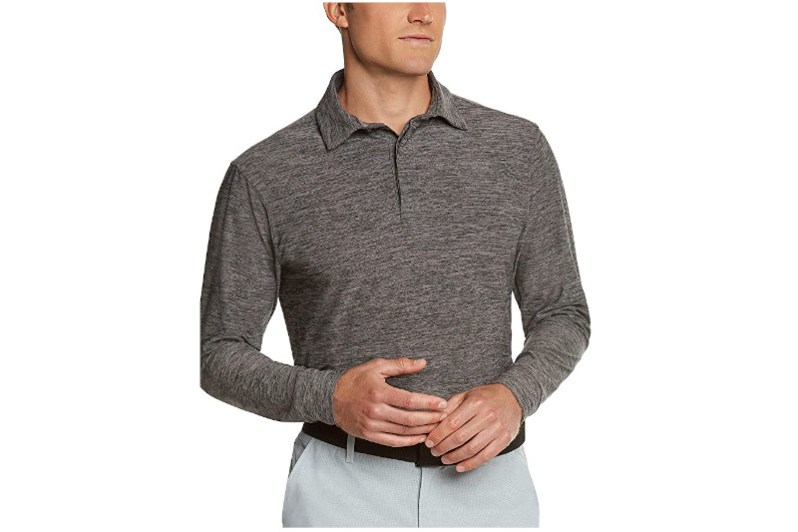 The ultimate golf shirt that you'll want to order in every color after wearing it once on the green. With swing-friendly fabric, it stretches both crosswise and lengthwise, allowing for maximum comfort every time you pick up your club. The fabric also features UPF 30 UV-protective technology, so you can protect yourself from the sun's harmful rays while playing a full 18 holes.
The Short-Sleeved Button-Down
Better known as the SSBD or Camp Shirt, this shirt definitely leans toward the hipster side of style. Commonly left untucked, the SSBD shirt is perfect for warmer temperatures when you want to show off your fun side but be a little more dressed up than your favorite graphic T-shirt. Plain color is nice, but what typically makes for a great SSBD is a fun and whimsical pattern.
United By Blue Organic Camp Shirt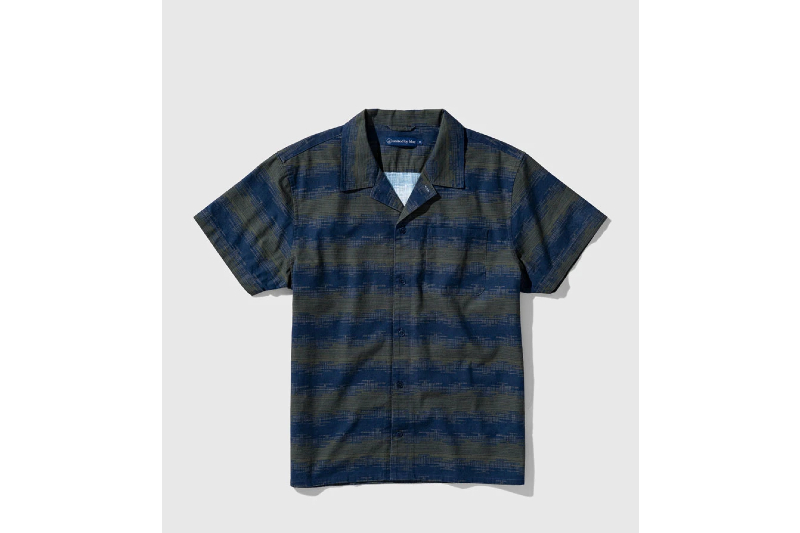 Style and sustainability are two things that United By Blue always does well, no doubt about it. This breezy camp collar shirt is a perfect pick for plenty of warm-weather getaways.
Robert Graham Jukebox Tunes Classic-Fit Short-Sleeve Shirt
This shirt was made for vacation. Even if you can't escape to the islands these days, the bold pattern and beachside vibes will instantly put you in vacation mode. All you need is a pina colada, and you're ready to relax.
Dockers Men's Short-Sleeve Button-Down Comfort Flex Shirt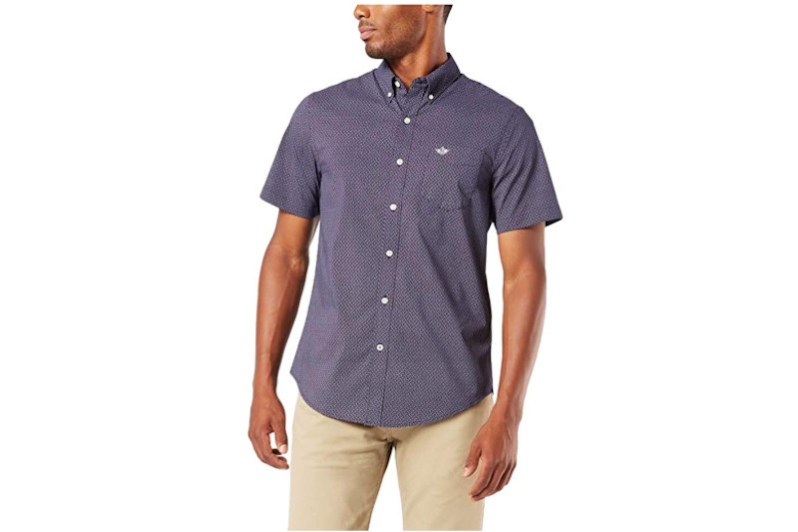 This shirt literally comes in 40 different colors and patterns, so if you can't find one that you like, I think it might be you, not us. This SSBD is machine washable and wrinkle-resistant, so you can grab it out of your suitcase and be ready for dinner in the blink of an eye.
The Fitness Shirt
When it comes to finding the best shirt for working out, you want to look for something that is lightweight, moisture-wicking, and breathable. You might be tempted to reach for an old graphic T-shirt before the gym, but if you choose a cotton shirt, you're going to be left overheating and drenched after a major heart-pumping session.
Ten Thousand Versatile Shirt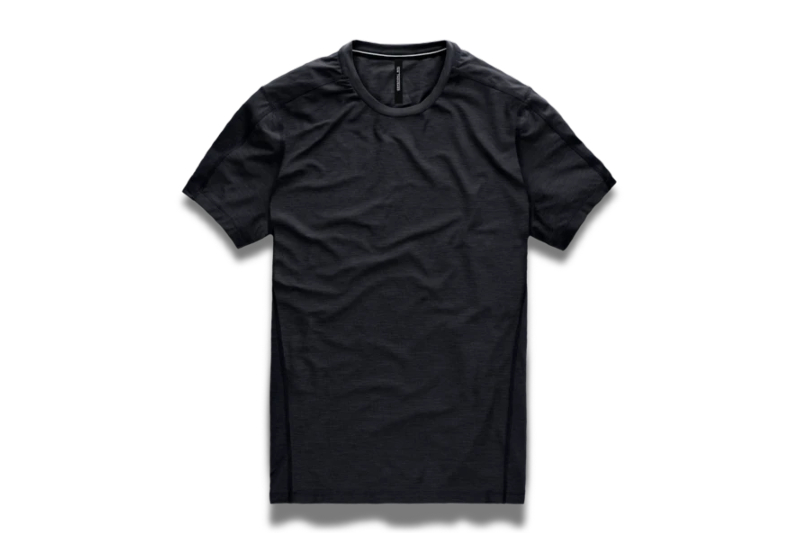 Ten Thousand designs its workout shirts with rigorous testing and durability top of mind. This workout shirt has been put through its paces plenty of times, so it can more than handle the demands of your next training session.
Mack Weldon Stealth Crew Neck T-Shirt
You might know Mack Weldon for the brand's famed polos and boxers or briefs, but its active gear is worth checking out if you need a new workout shirt. This top should prove highly breathable while wicking away moisture.
New Balance ASYM Baseball Henley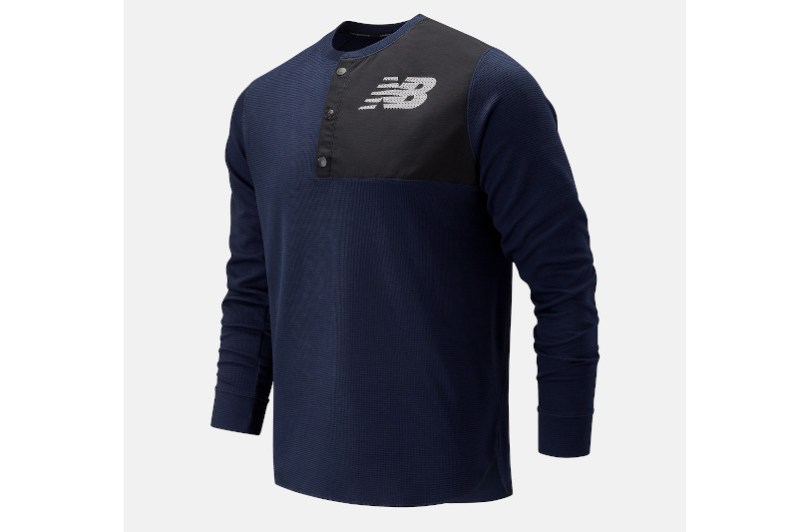 Workout in style. Loaded with fabric technology, this long-sleeved fitness top will keep you cool and dry with premium moisture-wicking and fast-drying capabilities. Since it's lightweight with extreme breathability, it's great for everything from practice or the gym to hanging out.
Lululemon Metal Vent Tech Short Sleeve V 2.0
This is the perfect workout shirt designed for running and training. With seamless construction, you'll never feel any irritation against your skin when you're logging major miles. It's also made with a super lightweight mesh material that will never slow you down.
Rhone Reign Tech Short Sleeve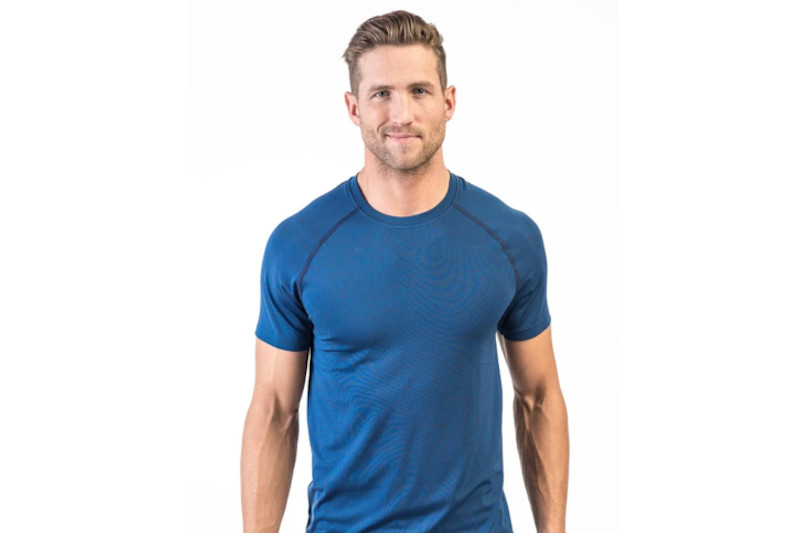 This sleek and comfortable short-sleeved shirt might become your new favorite workout shirt. It's seamless and breathable and is made with anti-odor technology that helps keep odors at bay.
Editors' Recommendations