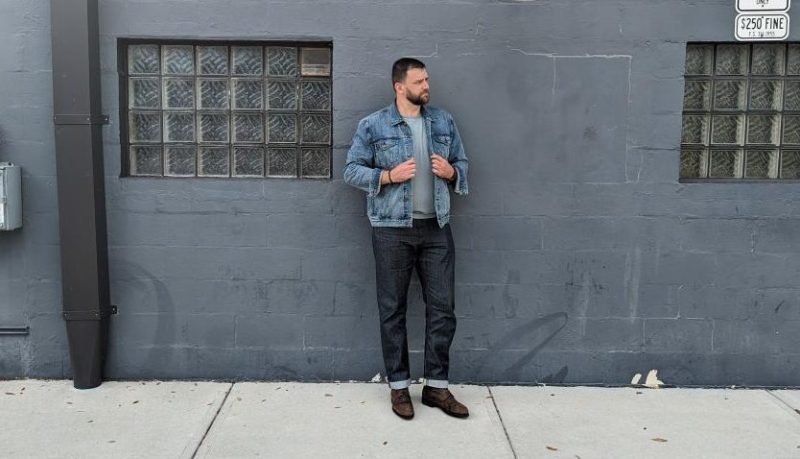 Every man needs a good pair of jeans. And since most of us are creatures of habit, we find a brand, we find a fit, and we don't deviate from that. Once we find our comfort zone and become accustomed to a specific style, fit, and brand, it can be difficult to convince us to move. While there are dozens of denim brands to choose from, everything from the prohibitively expensive designer brands to the flash-in-the-pan "value" jeans, one brand is fighting its way to the top: Devil Dog Dungarees.
Beginning in 1948, Louis Rosenstock dubbed his products Devil Dog Dungarees because they were "Tough as Marines." Drawing on his own military service, he endeavored to build a company that reflected his ideals. His grandson, Jeff Rosenstock, now behind the wheel of Devil Dog Dungarees, told us, "In 1948, World War II had just ended, and he was feeling extremely patriotic. He wanted to launch a brand of jeans that really kind of stood for Americana, for durability, and strength."
In 2019, Devil Dog Dungarees rebranded into a lifestyle brand, doing more than just jeans, adding shirts, jackets, and other comfortable products while endeavoring to maintain the ideals of its legacy. What resulted is a brand of jeans and jackets that not only competes with the other brands on the market but makes them start racing for second place.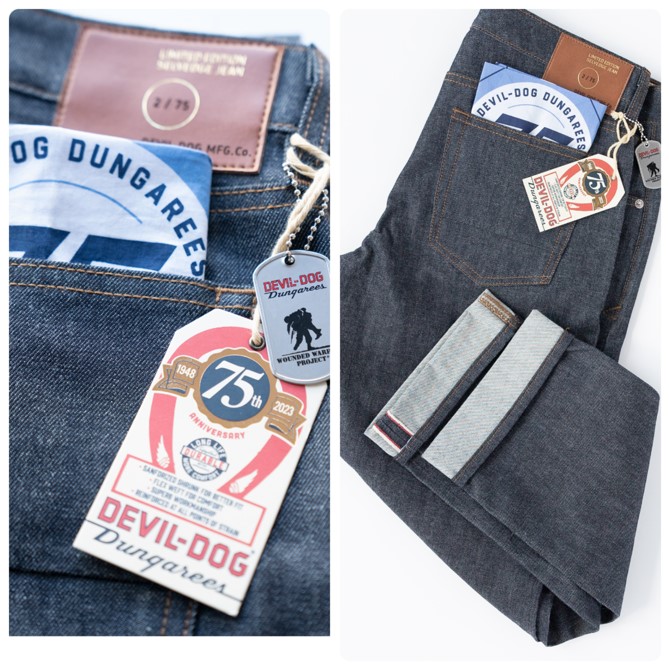 75th-anniversary selvedge
These are some of the most beautiful jeans I've ever worn; so beautiful that it is almost a shame to wear them. Almost. The 75th anniversary of Devil Dog Dungarees is celebrated with selvedge jeans created using denim woven in the U.S. on American drapers, which were looms used when they initially launched in 1948.
There's no better way to celebrate your history than to create selvedge denim. The selvedge refers to a self-edge or self-finished fabric, typically seen on the underside of the cuff. It's an old-fashioned way of creating jeans on old looms not often used anymore.
These 75th-anniversary Devil Dog jeans feel rugged and tough. Like a pair of boots right out of the box, you will have to break them in, but once they form to you, there won't be any other jeans that you will want more. There were only 75 of these created, so if you're lucky enough to get your hands on them, wear them proudly. If not, write the company and tell them that 76 years seems like a good time to celebrate with more of these striking jeans.
Black Mountain in slim fit
If you're building a jeans wardrobe, one of the deeper cuts that you need to consider grabbing is excellent black denim. Whether you are a fan of the blackout look (black jeans, black top, black shoes), or if you want to pair them with bright colors to let the colors pop, black will be one of your staples.
The slim jeans from Devil Dog Dungarees have a few things beyond the color that make them the perfect addition to your wardrobe. The first is enough stretch to allow you to move around freely. In some ways, you forget you are wearing denim, as they can sometimes feel softer than chinos. Alongside the stretch you get, you can enjoy their ability to retain their shape. That means that no matter how often you wear these jeans, they will look and feel the same on the 100th wear as they did on the first.
A bonus is that Devil Dog understands how to do black denim. While most of the black denim you buy on the shelf will start to drift into the gray arena, but these are a true black and all indications show they will stay that way.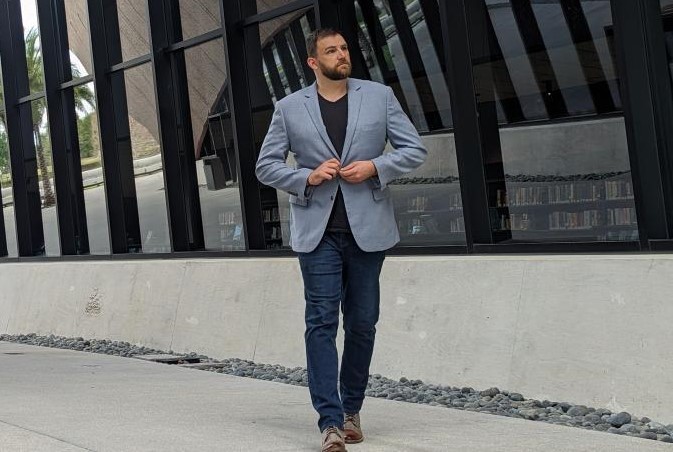 Dark-dress denim — slim tapered Gibbs
There's nothing more important for your jeans wardrobe than a pair of dark-dress denim. Of course, as jeans, you can wear them casually with a polo shirt or a T-shirt. But you can also wear them with a sport coat to dress up in a casual situation. The dark-dress denim straddles the line between casual and dress. They also are what some people call smart casual — a more elevated casual look.
The Gibbs jeans are the perfect dark-dress denim for any man. While some jeans can have too wide of a leg and feel too casual for a sport coat, the slim tapered line of this dark-dress denim keeps these the perfect silhouette for all your smart casual needs. The Gibbs also stretch for you (you may want that comfort while your top half is in a stuffy sport coat), and they retain their shape (that way, you can wear them for your kid's elementary school graduation and their medical school graduation).
Military chambray shirt
Devil Dog Dungarees moved beyond just jeans when it rebranded in 2019. One of the ways it branched out is by developing denim shirts. This military chambray shirt is the perfect casual everyday addition to your casual wardrobe. While you may be cautioned about wearing denim on denim, this pairs well with wheat-colored jeans.
One of the best features of this shirt is the small eyelets under the armpits to allow ventilation. This feature keeps you cool and fresh even on the hottest days and under the harshest conditions.
CPO Elmwood shacket
The changing seasons are one of the most challenging times of the year to prepare for the weather. It can be cold in the morning, hot in the afternoon, and rainy in the evening. Layering is the best way to prepare for that time. And there's no better layering tool than the shacket. It's light enough to keep you cool in the afternoon and heavy enough to keep you warm in the morning.
Sizing up on this shacket allows you to wear it over other garments like button-ups, henleys, and sweaters.
Denim trucker jacket
Nothing screams cool Americana like a denim jacket. From James Dean capturing the essence of angsty youth in Rebel Without a Cause to Bruce Springsteen showing what Americana is all about while singing Born in the USA, the denim jacket is one of the staples of American style.
Devil Dog Dungarees developed the picture of denim Americana with this vintage trucker jacket. There will be no more versatile and beloved item in your closet than this jacket. Put it over a henley or polo in the summer or a hoodie in the winter. It is right at home in the Appalachia mountains or California's beaches.
Devil Dog Dungarees isn't just a name; it is a legacy born out of service and one that continues to honor those who gave the ultimate price for their friends, family, and country. One of the first things you will notice when you get these jeans is a dog tag branded with the Wounded Warrior Project. Their commitment to the men and women who have served goes beyond the name — to date, they donated $125,000 to the charity.
"We really went out there, and we were looking for a charity to get with," Jeff Rosenstock said when asked why they partnered with Wounded Warrior Project. "We thought it was an incredible cause they were supporting, not just the troops, but the troops that were wounded in action. Not just physically, but mentally as well. We were excited to be part of such a great organization. We weren't sure they were going to accept us, but in the same way, when they heard our story, they wanted to be a part of it as well. And we feel it is an incredible match, and they are doing some incredible things out there."
Sure, if you are a veteran, the history and the philanthropic work will speak to you and inspire you to get on board. But even if you aren't, and all you are looking for is a pair of tough, long-lasting, and stylish jeans, Devil Dog Dungarees has an entire inventory of the last ones you'll ever need.
Editors' Recommendations