You heard it here first. Last summer, we told you that tailored clothing was going to be the next big thing for 2020. The style's straight-laced, formal vibe offers more complement than competition to streetwear's comfortable aesthetic. OK, so industry forecasters like WGSN predicted the trend a bit earlier than we did, pointing out that the "sporty" suit would be important. They were also into more fashion-forward items like the shorts suit, the double-breasted blazer, and pleated pants that we're going to take a pass on for now.
Still, the current tailored style trend is not the corporate uniform that your father wore to the office every day, whether he liked it or not. Today's tailored clothing incorporates all the comfort and performance that we've come to love from our favorite athleisure brands. Here's our guide for putting together your tailored look.
Keep It Slim and Trim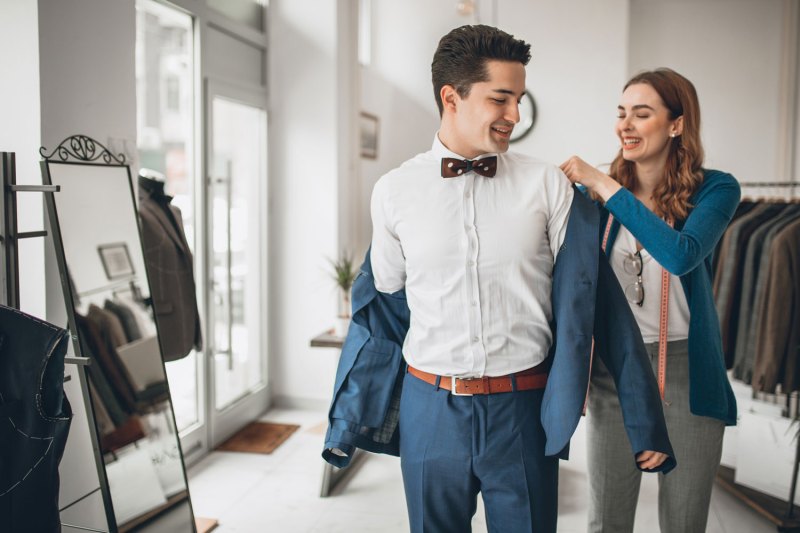 Gary Flynn of Charleston, South Carolina's leading men's clothier, M. Dumas & Sons, says that he's selling more suits now than he was a year ago. "Younger guys are looking at tailored clothing in a trim fit, but it has to be comfortable. A lot of men like a great statement sport coat that can easily be worn with an open collar shirt and jeans or trim-fit pants. A lot of guys drop in here when they're on vacation and start checking out our casual clothes. They wander over to our tailored clothing selection and once they see how comfortable today's suits can be, they start asking about updating their entire wardrobes."
Jackets and trousers are both also being worn a bit shorter this season. The bottom of the coat may rest more "on" your butt, rather than covering it. Trim-fit pants will show off a bit of ankle. Trust your tailor to advise you on what's customary in your city or profession.
Stretch It Out
Max Perez is the CEO of xSuit, a company he founded in 2017. "I studied fashion design but worked in special events for a nightclub in Shanghai. I had to wear suits every day on the job but wasn't happy with the comfort level. I designed a suit that uses stretch fabrics and sits right on that line between classic and edgy. We partnered with a company that creates finishes for the U.S. Army, so our suits are water-resistant." (Or resistant to wine, or tears, or whatever comprises your liquid situation).
The suits are made from a polyester and viscose blend with a bit of stretch — not too different from the materials used to make your favorite clothes for the gym, lounging around on weekends, or lounging around your casual office. One jacket even features a zip-off hoodie so you can maintain that streetwear edge, even though you're technically wearing a suit.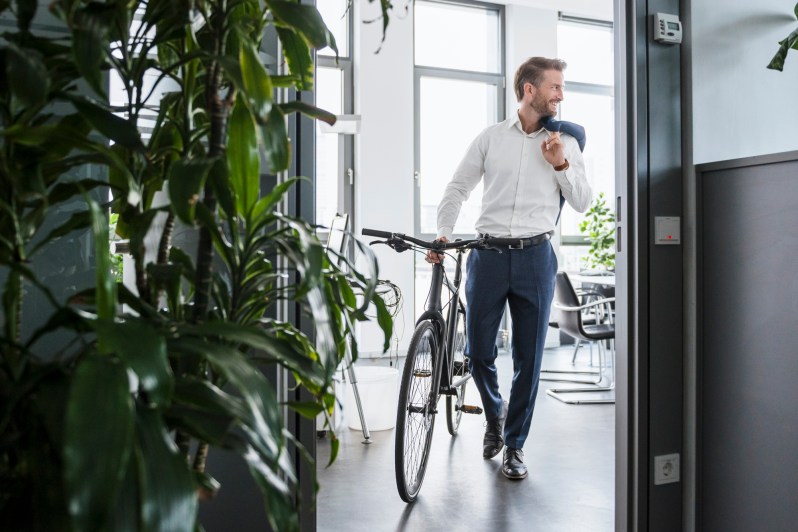 Another plus? Today's suits offer so much more movement they can easily be worn for a morning bicycle or scooter commute, and will even make the squeeze onto crowded public transportation a bit more comfortable.
Event Horizons
"[Charleston is] a wedding destination city, so a lot of guys come here to get a nice suit for a wedding, and realize it's time to clean up and update their look," adds M. Dumas' Flynn. We think that's a great approach. If you don't "have to" wear a suit to work every day, take advantage of a wedding or any other more formal occasion to grab a great sport coat or suit, then mix it into your everyday wardrobe to look more polished and professional. Flynn likes the Paul Betenly brand as a "starter" suit, selling for about $500 to $600.
Suiting Rules
Make a statement: Make an investment in one great jacket to wear with multiple pants or jeans. We also like suit separates where the jacket has been designed to stand on its own.
Search for slim fit: Although designer collections are showing a return to 1980s-style volume, tailored clothing is still best worn close to the body.
Insist on stretch: Because the fit is slim, you'll want stretch so you can move easily.
Work with a good tailor: He'll make sure that jackets and suits fit your body perfectly, so you always look your best.
Get the Look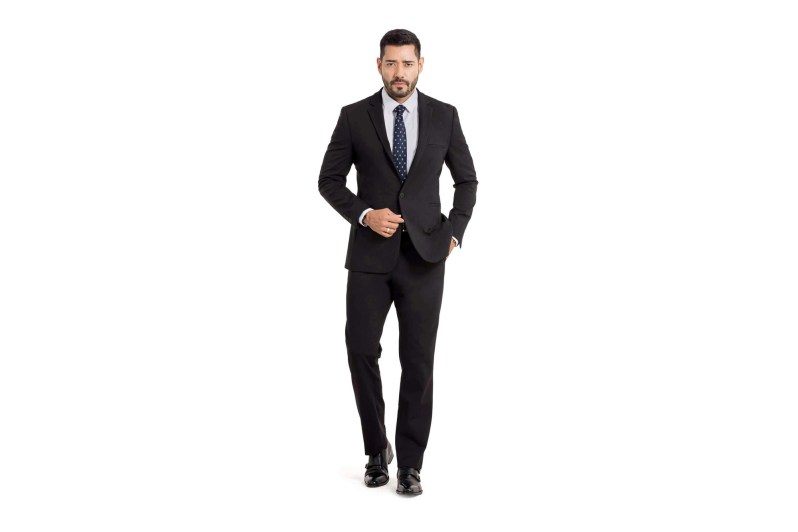 As we mentioned, Perez's xSuit includes stretch and water-resistance. It's also stain-repellent, as well as odor- and wrinkle-resistance. The classic silhouette is modernized with zipper closures. One note of caution: make sure your dry cleaner knows to use only an oil-based solvent. Old-fashioned "perc" cleaners will harm your investment.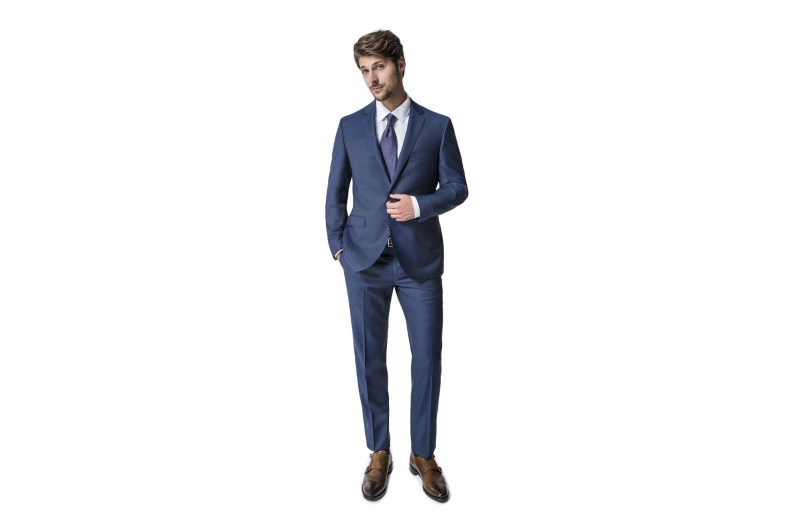 The Betenly suit features an updated classic silhouette, in a specially treated wool fabric that is water- and stain-resistant, but features natural stretch. The single-button, peak lapel is a perfect place to start building your suit wardrobe, even when making that statement. Hold off on peak lapels or double-breasted styles until adding your second or third sport coat or suit.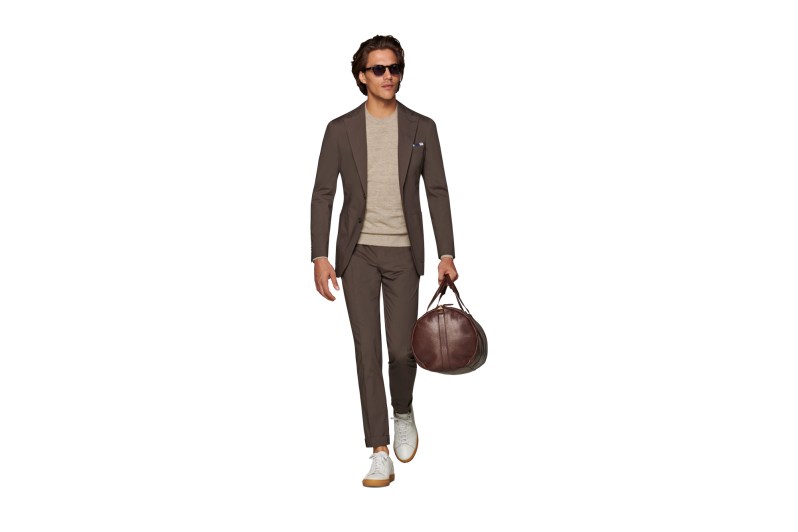 As temps start to warm up for spring, this cotton stretch suit is unconstructed so it's almost as light as wearing a second shirt. It's a great start to a more casual, summery look; but can easily be dressed up with a woven shirt and tie. We like the seasonless taupe hue that takes nicely to tonal dressing, but also provides a neutral canvas for more colorful looks.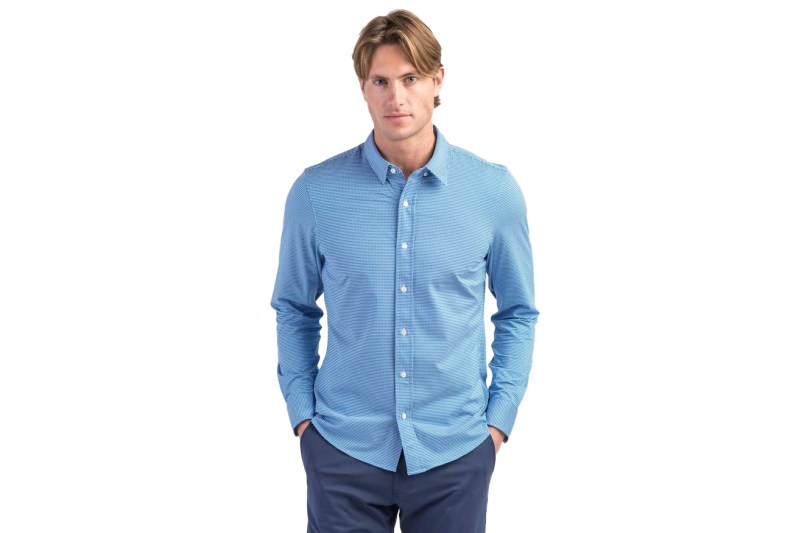 Since Rhone got its start with a perfect workout short, we trust them to create a dress shirt that offers the same level of comfort and technology. The Commuter is machine washable with natural wrinkle release, offers four-way stretch in a lightweight Italian fabric, and is moisture-wicking. It's a perfect complement to today's suits, offering the option to dress it up, but allowing for easy movement and flexibility.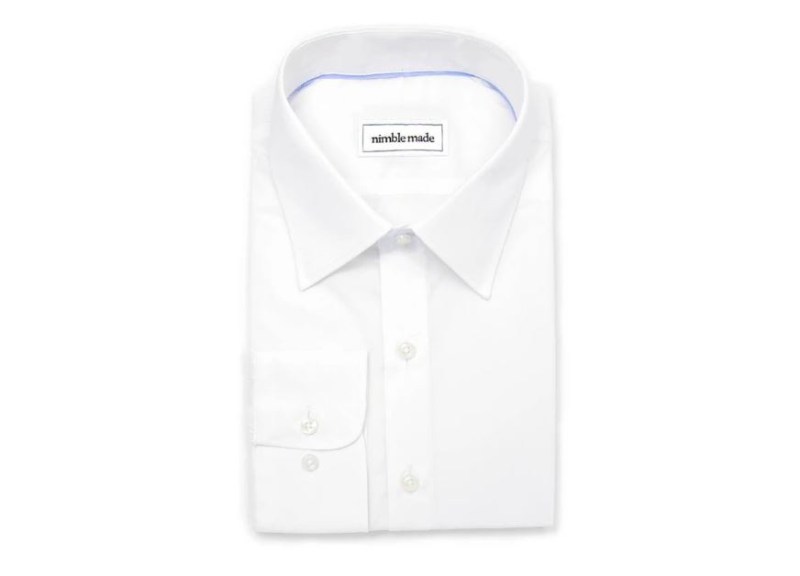 Nimble Made is a new entry into the dress shirt market, offering a fit that is comparable to custom-made but at a fraction of the price. These 100% cotton shirts rely on the brand's online calculator, an algorithm to match your body to one of six unique sizes. Customers are invited to enter their height and weight to find the Nimble Made model that's best for them. The brand was originally inspired by guys with slim body frames that may have had trouble finding shirts from a "classic" American build.
Further Reading
Editors' Recommendations