The fashion trade papers are lamenting the passing of the streetwear trend while feting a return to good old-fashioned tailored clothing. Early peeks at Spring and Summer 2020 collections show classic suiting silhouettes trending in a big way, too, with edgy designers like David Hart and Timo Weiland updating the look with great colors and fabrics worth a second look.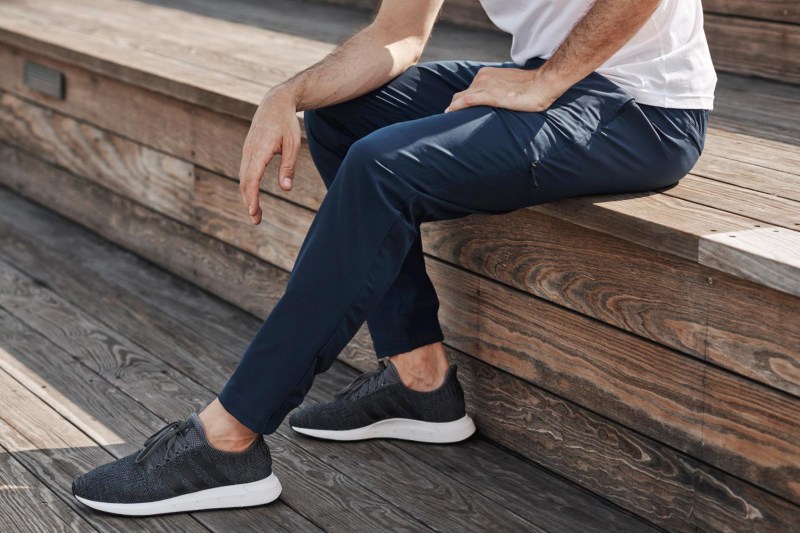 The counterbalance to that swing of the fashion pendulum is that big money companies like Goldman Sachs and JP Morgan have also been relaxing their dress codes — not 1990s wearing golf shirts and khakis to work, but rather allowing that most workplaces these days are on the casual side. Employees are encouraged to use their judgment, dressing in accordance with client expectations. They did not provide any specifics about what clothes were considered appropriate … or inappropriate.
So what the hell does that mean? Zuckerberg's gray T-shirts or Obama's gray or navy suits? Here's our thought: Choose a few well-made tailored basics, but take advantage of the fact that modern tailored clothing has learned a lot from athletic apparel brands. They incorporate a lot of the same fiber and fabric innovations that make your workout and your workday cooler (or warmer, depending), drier and more comfortable. Here's a list of some great options that will see you in good stead from that appointment with the software startup all the way through the meeting with the bankers' executive committee.
Ministry of Supply Velocity Suit Jacket
The Velocity combines the classic good looks we love in a jacket but has some hidden characteristics that seal the deal. Four-way stretch means it's as comfortable as your favorite workout T-shirt, yet also soft to the touch. Travel for work? You'll be sure to show up wrinkle-free and, best of all, if you run into a little problem in the hospitality suite, the jacket is machine washable. It's a modern, slightly trimmer fit and comes in four colors (though we're partial to the gray for a little summer lightness). Pair it with the Velocity dress pant for another $185 and you've got a great look that is about as formal or informal as you'll need to be for most modern work environments.
North & Mark Union Stretch Blazer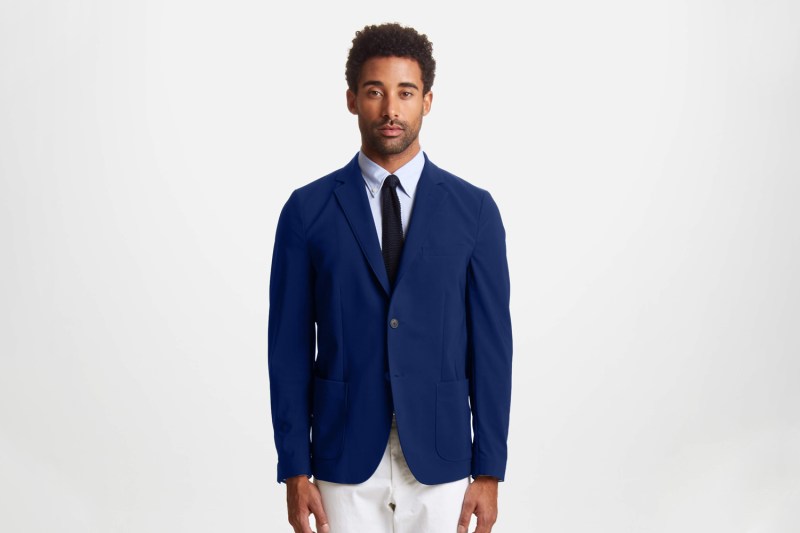 Dress it up with a pair of dress trousers, or keep it casual with jeans, but either way, this North & Mark blazer is sure to become the workhorse of your work wardrobe. There's a lot going on here, including water and stain resistance (perfect if you're caught in a storm or when morning coffee has a mind of its own), four-way stretch fabric (handy for reaching the top of the corporate ladder), and zippered internal pockets (keep that passport close and safe when traveling). But the updated silhouette also just looks great: We can't decide between black, khaki, or midnight — any of them works as a great foundation.
Banana Republic Smart-Weight Performance Suit Jacket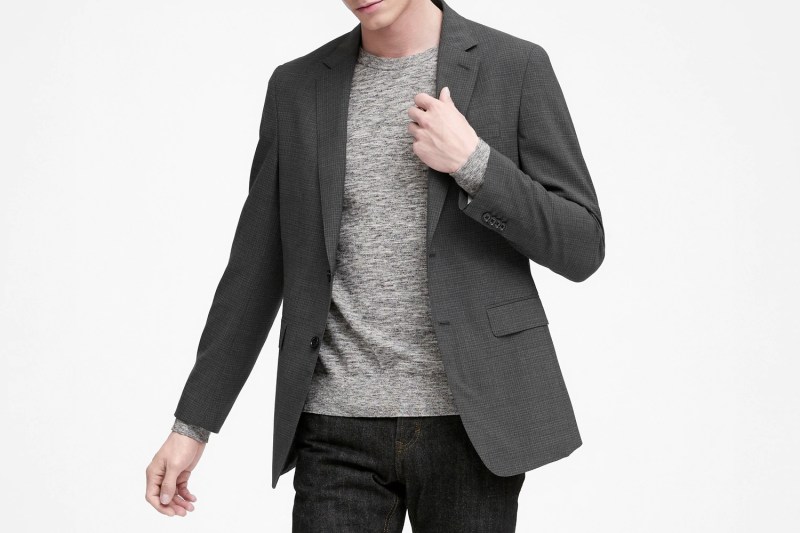 This slim-cut, unstructured, and partially lined jacket is already easy to wear, but it's further accentuated with Banana Republic's "Smart Weight" wool that's lightweight, durable, breathable, and wrinkle-resistant. The fabric even incorporates quick-dry fibers that help keep you calm, cool, and collected, even when in those high-stakes meetings. Something to watch out for: Because of the silhouette, not all suit jackets are easily paired with other pants like jeans or khakis. This one is, though, offering some real wardrobe elasticity.
Land's End Tailored Fit Comfort First Shirt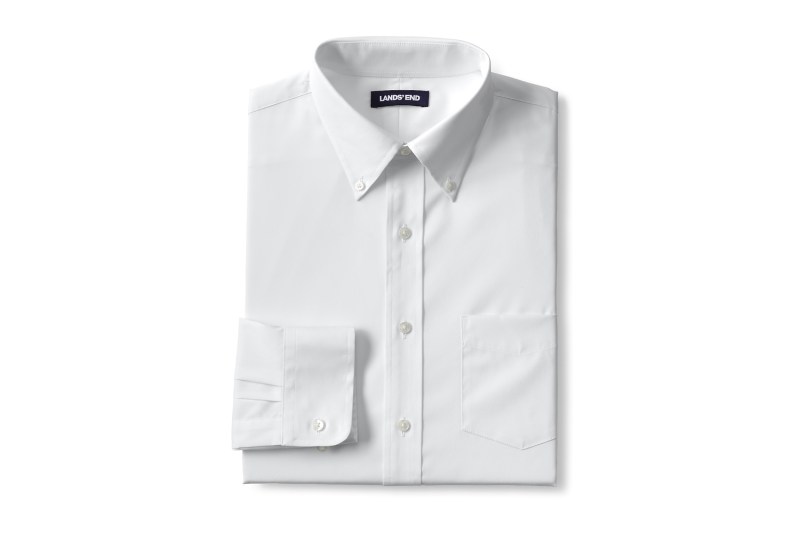 Reinterpreting a classic, Land's End takes the button-down shirt and revs it up with CoolMax fabric to keep you cool and dry. The button-down collar keeps a nice, neat look for those days when you're not wearing a tie or even a jacket, the easy-care finish means you won't have to worry about wrinkles, and the flex collar is super comfortable even if you're buttoned all the way up. Classic white always works for us, but the shirt is also available in other hues, as well as one classic plaid.
Descente UV Protection Button-Down Collar Shirt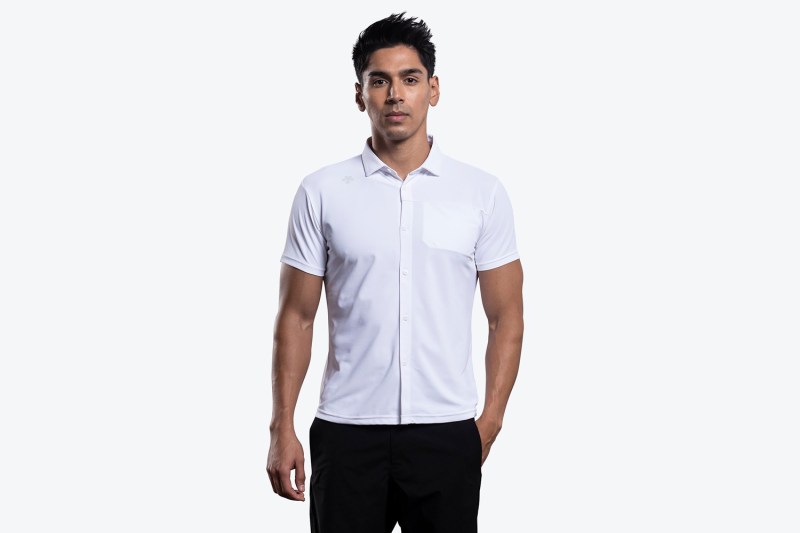 A sportier, short-sleeved version of the classic dress shirt, Descente's model is a lightweight knit, comfy as your favorite polo. The shirt still lends an air of formality, especially in white, layered under a jacket. But on the off chance that you score that outdoor lunch meeting — or end up with rooftop cocktails somewhere — this shirt also offers up to SPF 15 sun protection. Quick-drying, wicking fibers help wick away moisture, too.
Mack Weldon Radius Pant
Dressing seriously for work doesn't mean you have to give up dressing comfortably, not to mention incorporating function if you like an active walking or cycling commute. Mack Weldon's pant offers a clean, dressy silhouette, but feels like you're wearing sweatpants: the high-tech fabric resists rain, wind, and stains. It's got stretch to keep you mobile, as well as wicking and those quick-dry properties. Hidden zip pockets mean you won't lose keys, wallet, or valuables while swerving to avoid taxis … or dead-end assignments.
Arizona Original Flex Chinos
Cotton may be the original performance fabric, keeping things cool and comfortable; but add a little stretch for comfort and we're sold. These slim-fit chinos are the perfect alternative to dress pants and look great with a blazer or a simple classic zip-front sweater. At $42 (and its JCPenney, so watch for a deal), you can get 'em in both black and khaki to multiply options.
Alfani Varick Alfatech Oxfords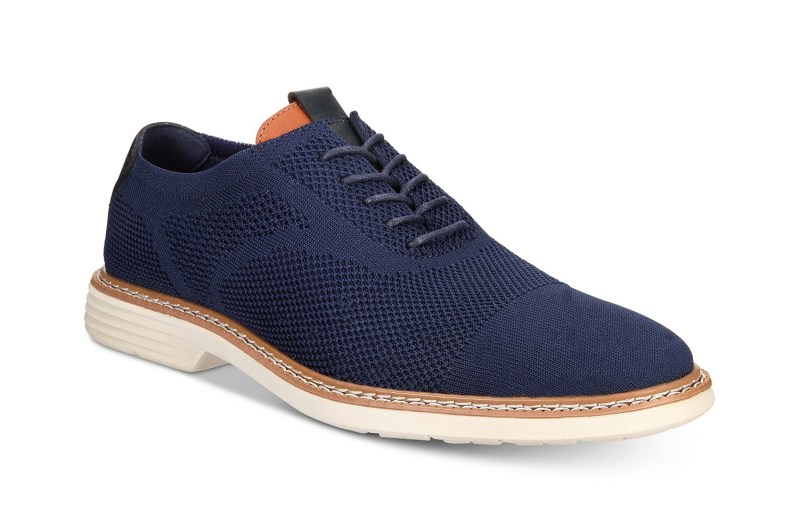 Don't let your feet miss out on all the fun! Alfani created these updated oxfords with all the panache of a classic dress shoe, but with the modern styling and comfort of your favorite trainers. The knit pattern evokes a classic cap-toe, while "ComfortFLX" technology provides flexibility, moisture-wicking, and light weight. They're a perfect finish to those chinos, modern dress pants, or a pair of white jeans.
Charles Tyrwhitt Stain-Resistant Necktie
Not that you may ever be required to wear a tie again in the modern workplace, but just in case that super formal meeting comes up — or you just want to look a little more awesome than everybody else — grab one of these hand-finished numbers from Charles Tyrwhitt. It will not only look great with today's suits and blazers, but it's also stain-resistant, so you don't have to freak out over morning mishaps or cocktail-hour calamities.
Need to accessorize with the clothes above? Don't forget to pick up a nice watch or a pair of shades.
Editors' Recommendations