As Greta Gerwig's much-anticipated Barbie film comes out, the trend has taken the fashion scene by storm, celebrating Barbie's signature hot pink aesthetic in all its glory. Beyond its vibrant hues and sparkling details, Barbiecore transcends traditional gender norms, encouraging men to fearlessly embrace pink in their wardrobes. Who says real men can't wear pink?
From the 2022 Valentino Fall runway to the viral sensation on TikTok, Barbiecore has become a fashion movement and it won't be going away just because the popcorn goes stale and the movie posters start falling down. Pink has shown up on the Acne Studios Fall 2023 runway and the Rick Owens Spring 2023 show, all with varying degrees of styles that can be worn every day. And, if that hasn't convinced you, then Ryan Gosling embracing the vivid color for all the Barbie movie premieres probably will.
So how can men wear pink? If you're unsure how to add this hue into your personal style, we've got a few tips for you.
1. Start small: Subtle touches of pink
Start out simple with delicate pink accents to dip your toes into the vivid world of Barbiecore. With fashionable pink accessories like ties, stockings, and pocket squares, you can give your ensembles a charming spin. These irresistible details subtly add a dash of swagger and color to your outfit without overpowering the rest of your appearance.
These modest pink accents express confidence and uniqueness whether it's a casual day out or a formal occasion. Embrace the opportunity to play around with pink since it goes well with a variety of attire and fashion trends. Take the first step into the world of Barbiecore with these stylish yet simple-to-wear accessories, and let the carefree nature of pink easily improve your sense of style.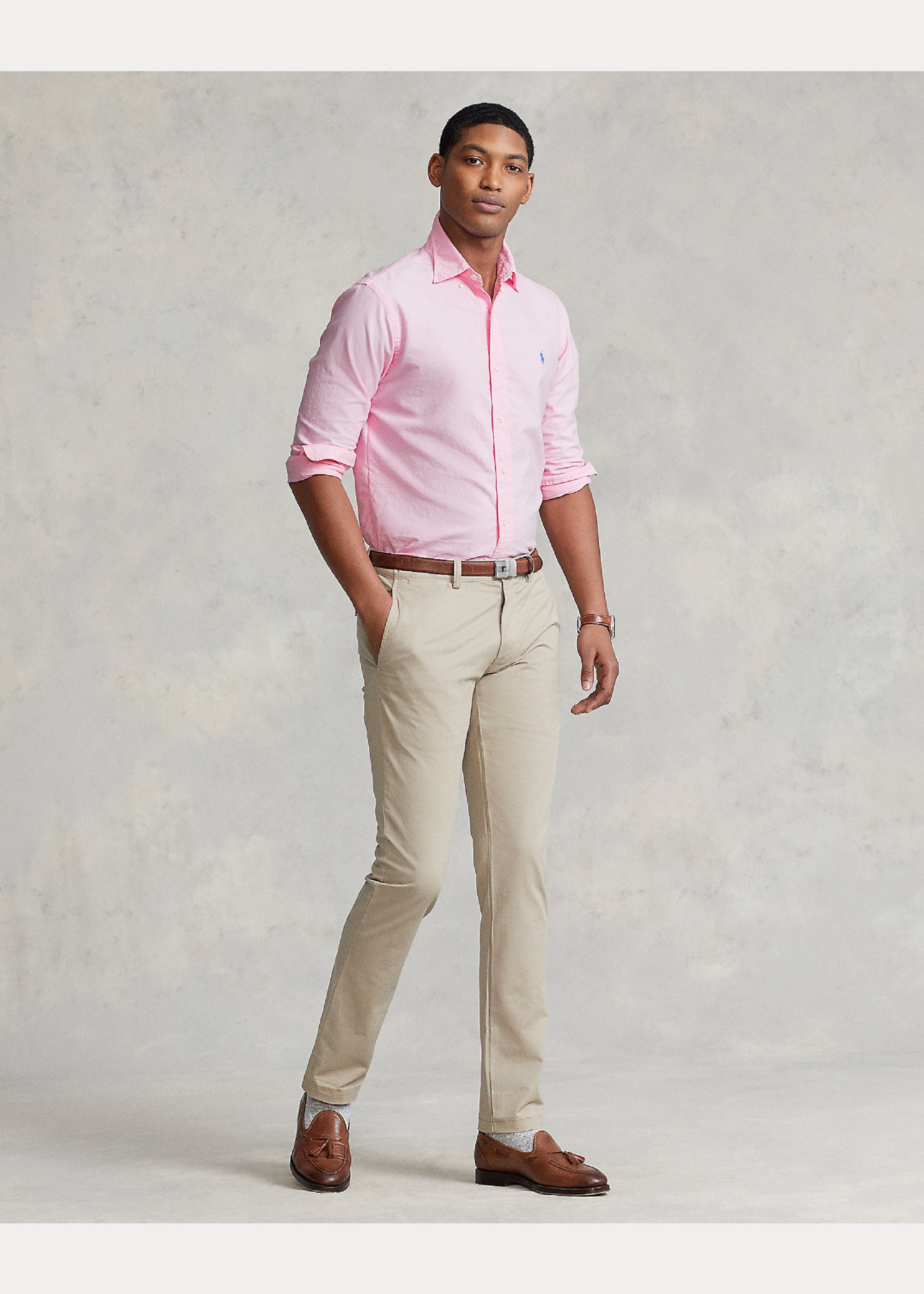 2. Go bold with pink shirts and tops
Pink apparel for men is no longer just a daring choice in today's wardrobe; it also makes a statement about style and confidence. Pink is incredibly versatile and fits a wide range of settings and occasions with ease. This color can be dressed up with tailored trousers for formal occasions or worn down with denim for a laid-back vibe, whether you choose a chic pink Oxford shirt or a casual and cool pink tee. For a more sophisticated style, combine it with deeper blues and browns, or go big for summer by pairing pink with white. Take advantage of the chance to wear vivid pink shirts and tops, and make each wardrobe choice show off your impeccable sense of style.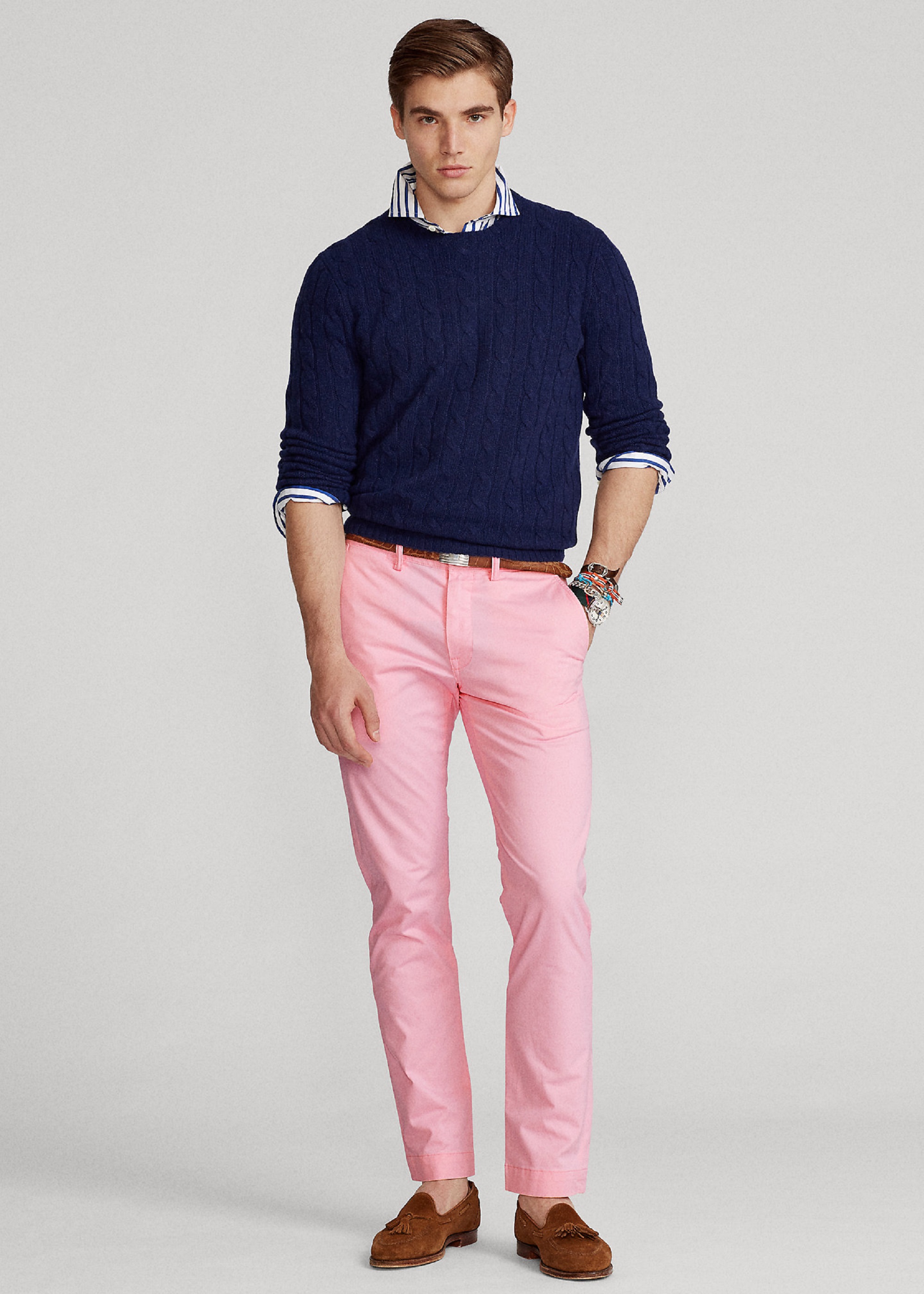 3. Pretty in pink: Bottoms edition
Ready to inject some playful charm into your wardrobe with a bit of Barbiecore pink? Discover the lively world of pink pants, chinos, and shorts to instantly add a splash of color to your look and grab attention at the club or a weekend golf tournament. The range of colors allows you to express your sense of style in a fun and daring way, from rose-colored tones to brilliant magentas. Imagine yourself rocking a pair of pink shorts for a carefree summer attitude or a pair of pink chinos to exude casual cool.
4. Blazing blazers and beyond
Barbie pink blazers are the hottest fashion right now, so get ready to turn heads when wearing one. These pink powerhouses aren't only for women; guys can embrace their inner Ken Doll and rule the world of Barbiecore as well. Accept the elegance and sophistication of pink blazers, which effortlessly transform any look into one suitable for the red carpet a la Ryan Gosling.
At a formal function, are you trying to make a statement? Stylish black slacks and a fresh white shirt go well with your jacket. Want to give your casual outfit a quirky twist? Throw it over a graphic tee and jeans for a look that even Barbie would lust over. Throw off the constraints of minimalism and dive into the colorful, campy world of Barbiecore.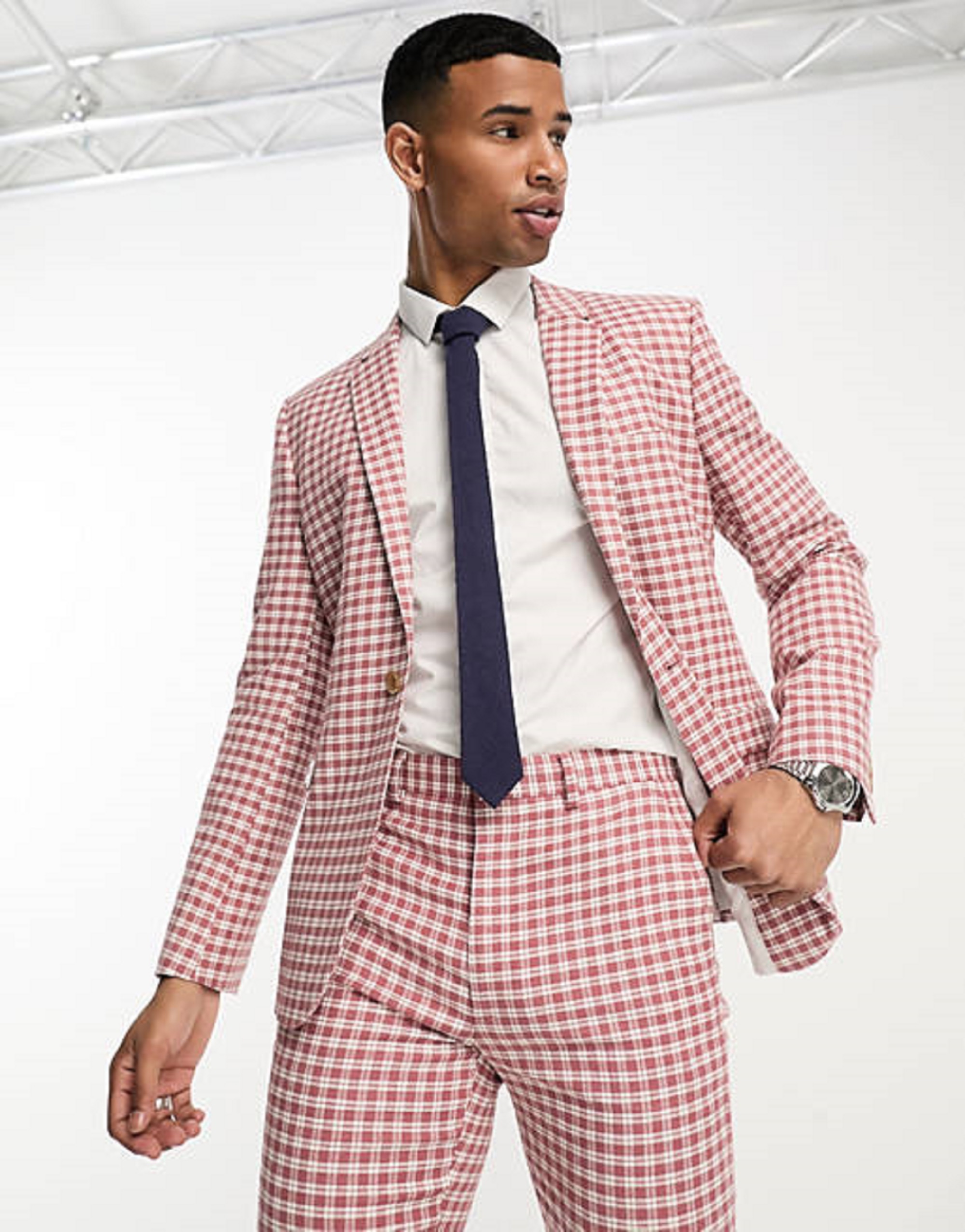 5. Mixing and matching: Patterns and prints
Dive into the Barbiecore aesthetic and try combining pink with edgy designs. Bold patterns heighten the pink effect like no other, from polka dots that dance like confetti to bold stripes that make a statement to even cartoon characters that lend a hint of nostalgia. Accept your playful side and bravely combine pink garments with these striking designs to make outfits that are brimming with character. You'll be walking around in pink chinos and a polka dot shirt, radiating charm and confidence like Ken himself. The more patterns you use, the better; don't be scared to go all out.
6. Accessorize with pizzazz
The secret to bringing your bright pink ensemble together is accessorizing. Consider pink hats that lend a dash of stylish mystery, belts that confidently squeeze your waist, and timepieces that make a statement with each beat. With these fabulously pink accessories, your Barbiecore ensemble will go from spectacular to downright legendary. Ryan Gosling was recently seen on the red carpet (or pink carpet?) for the Barbie movie premiere rocking the TAG Heuer Carrera Date watch in pink, meaning even pink jewelry is going to be incredibly trendy this summer.
In a world where fashion has no boundaries, embrace the Barbiecore trend's essence while giving homage to the lady herself. These accessories are the ideal final touch to show off your fashion prowess. In Barbie's world, it's all about celebrating your individual style and flair.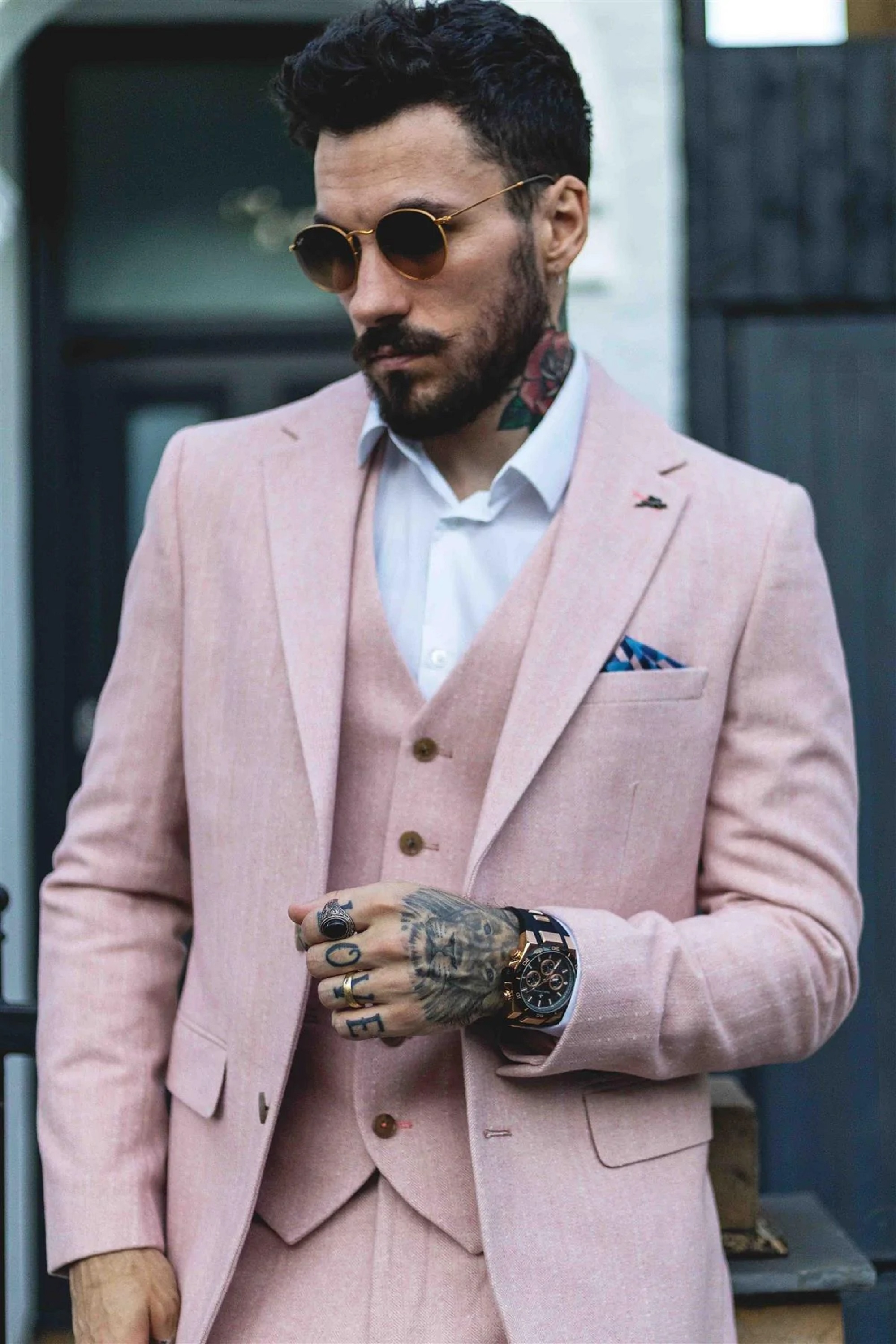 7. Blending traditions: Incorporating pink into formal attire
Break the rules of fashion and add a vibrant pop of pink flair to your formal wardrobe; no more boring black or blue choices. Let's embrace the idea that pink is not just for casual clothing but also a potent statement of refinement and originality by fusing traditions and shattering presumptions.
Embrace the versatility of pink by using your formal attire as a canvas; throw on a flawless pink suit or tuxedo that oozes unabashed elegance. When worn with confidence, pink can help you stand out as a trailblazer in the world of high-end clothing. For a classic and fashionable style, choose the color that best suits your skin tone and wear it with deeper blues and browns.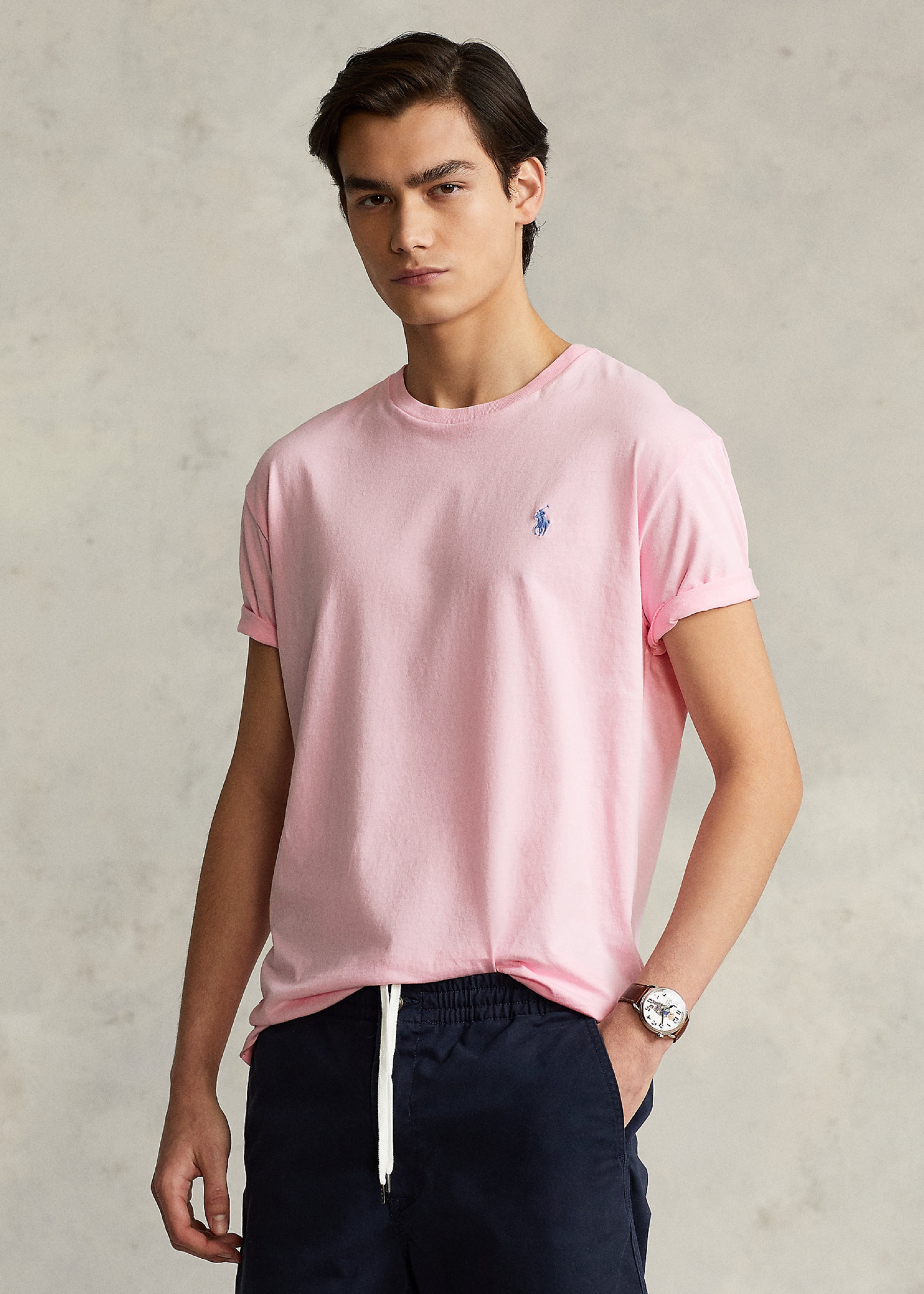 8. Barbiecore casual: Pink t-shirt
Start with a casual and comfy pink t-shirt, the epitome of laid-back coolness. This adaptable piece lays the groundwork for a look that oozes comfort without sacrificing style. But we're not stopping there, because comfort should never be traded off for style, including a pair of clean, white shoes. You may easily transition from wearing these shoes for a city stroll to dancing at your favorite rooftop party. Add a stylish cap to complete the look as the finishing touch; it elevates the entire ensemble. You'll go around with an athletic appeal that seamlessly combines fashion and comfort.
If you're someone who loves the Vineyard Vines aesthetic, then you've long known that pink is a color for every gender. But if you've ever asked the question "Can men wear pink?" Ryan Gosling has definitively answered, "Yes." Whether you prefer a loud, hot pink splash or subtle pastel pink accents, there's a way to incorporate this timeless color into your wardrobe.
Editors' Recommendations