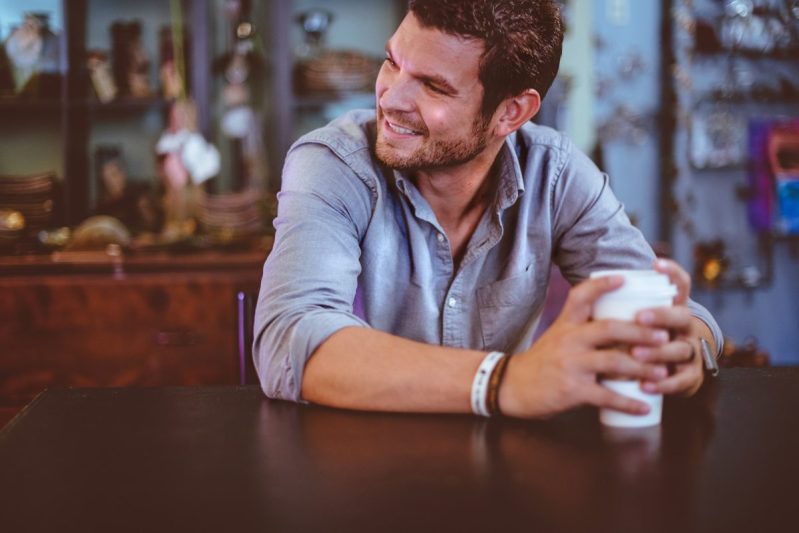 We have all been in that unenviable situation where we open the closet in the morning and see a clutter of shirts, pants, jackets, and sweaters and simultaneously feel like we have nothing to wear. There is a very good reason for this — it is called analysis paralysis.
Basically, when you have too many options, it feels almost impossible to pick one. It's easy to get overwhelmed and not know what you want to wear, making the first choice you pick in the morning stressful and hardwiring your whole day for that stress. If this resonates with you, the answer may be a capsule wardrobe.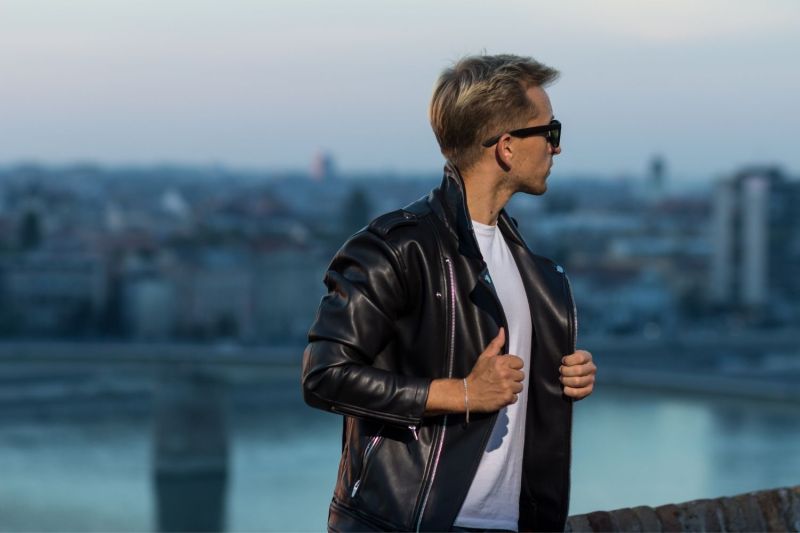 What is a capsule wardrobe?
A capsule wardrobe is the best way to strip away the bloated aspects of your clothing collection and zero in on the most basic and versatile items. A minimalist wardrobe selects only the most classic silhouettes and luxurious fabrics to ensure that everything you wear is of the highest quality and will last you a long time, keeping yourself perpetually in style among the masses.
Here are a few things to keep in mind when it comes to a minimalist wardrobe for men. The first is that you will need to make some sacrifices. We know you love that Hawaiian shirt you sported in Maui, but since you haven't worn it since stepping back into the intercontinental U.S., it's time to move on. The second is that there is a lot of thought that has to go into building a capsule wardrobe so you get rid of what you don't need and also so you never go without. Finding that delicate balance comes down to picking up the right items.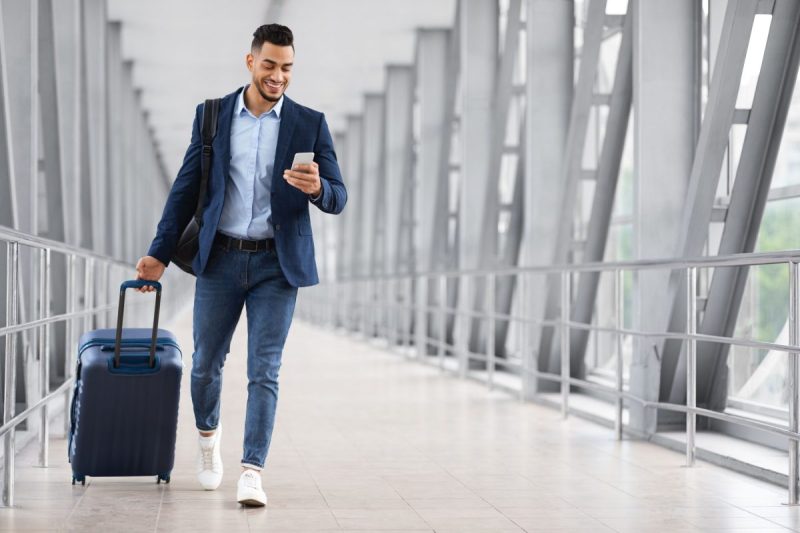 Capsule wardrobe checklist
When putting together a capsule wardrobe for men, it's essential to consider what a man needs in his closet to reach for whenever he is set to go somewhere important. First things first, your focus is on quality. Every item you buy should be at the high end of your budget. That doesn't mean you have to mortgage your home or sell your car to acquire the most expensive items in fashion. It simply means don't skimp. When you start narrowing down your options, choose the ones with the highest quality. Not having many items of clothing means what you do have, you will wear more often.
Colors and patterns are also critical. When you're working with only a few items, you want to stick as close to basic solids as possible because the flashier an item is, the less you can wear it because people will remember it. As far as colors go, you only have 25 items in this list to choose from, which means you want to maximize the different combinations. The best way to do that is to select a color palette that consists of neutrals. The two most common choices are grayscale (basically items that are black, white, or somewhere in between) or blues and browns (which will still see a fair amount of white and gray).
The contents of a capsule wardrobe break down your collection into 25 items. Five tops, five pants, five third-layer pieces (more on that later), five shoes, and five base layer items. We will put together items in the blue and brown color palette, giving you a minimalist wardrobe that still has a little color. One last note — this list is for the big garments. Your socks, underwear, and accessories aren't on this list. Those will come next time.
5 tops
White dress shirt – No matter who you are or what your lifestyle is, every man needs a white dress shirt. It works in the office, weddings, funerals, and even casual events. And as an added bonus, it goes with literally everything on this list.
Blue dress shirt – As a complement to the white dress shirt, you want to pick up a blue dress shirt as well to wear on the off days when you give your white shirt a rest. It will be the best office shirt you have.
Solid luxury sweater – Nothing beats a good sweater. There are dozens of options to choose from, but you want to make sure that this sweater is solid and of high quality. In this color palette, a dark navy would work wonders when paired with the above two dress shirts.
Sport shirt – You can't always be in a dress shirt when a collared shirt is required or desired. Enter the casual sport shirt. This shirt differentiates from the dress shirt with the button-down collar and it's often a thicker cotton fabric.
Polo – You also don't want to always have to wear a long-sleeved shirt. So putting on the best polo you can find will keep you cool in the summer months and also give a welcome change from the long-sleeved button-ups you have collected.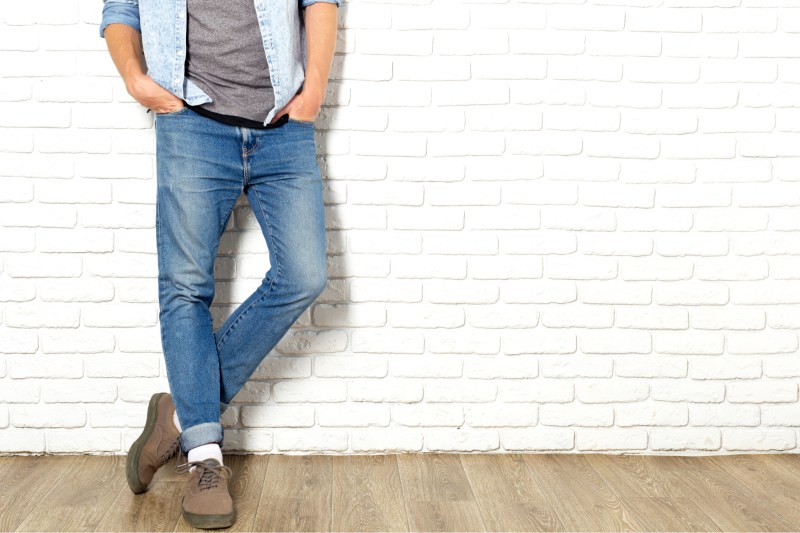 5 pants
Dark dress denim – All men need a pair of jeans that go well with a sport coat and dress up a smart casual event. And they are perfect for Casual Fridays at the office.
Tan chinos – Speaking of the office, if you work in a place that has a business casual dress code, these will be your most worn pair of pants. So make sure they are high quality so they can take the beating.
Light wash jeans – Just like you need a pair of dark denim, you should have a contrasting light wash for the summer months and the ultra casual events.
Gray dress pants – You can't wear your chinos every day, and therefore you need another set of pants to wear in their stead. Light gray goes with virtually everything, making them the perfect option for versatility.
Joggers – You won't always be dressed up. Sometimes you need to feel comfortable in your wardrobe, and a great pair of joggers is the best way to elevate your casual wear while still feeling ultra comfortable.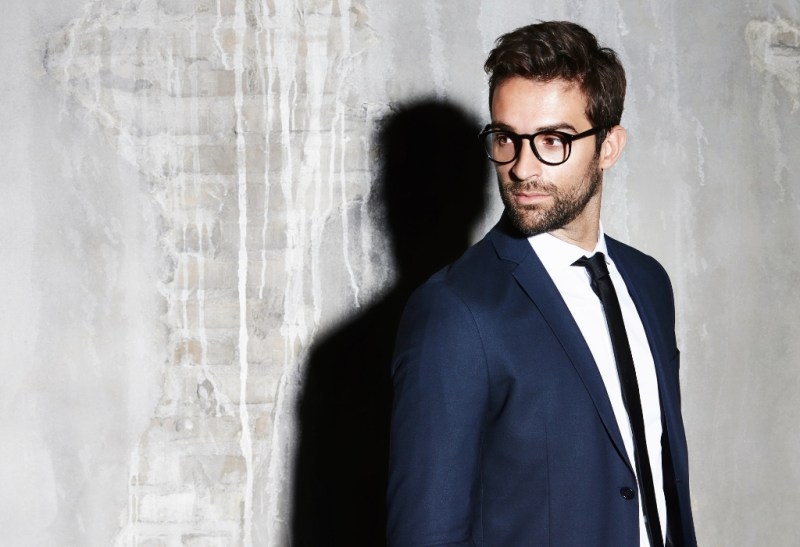 5 third-layer pieces
Blue suit – I know that if you follow the four-legged stool mindset, the blue suit is the second suit you should pick up after the charcoal suit. But for this minimalist wardrobe, a blue suit will go better with everything that is on this list. When you want to switch it up, the jacket will work just as well with the gray dress pants, chinos, and dark dress denim.
Tan or gray sport coat – Just like the denim, you want to diversify your options in your tailored coats, and therefore, you need to pick up a sport coat. A tan or gray will work best to complement what you already have and contrast with the blue suit.
Gray cardigan – One of the items every man needs is a gray cardigan. Sometimes you want to stay warm and still be comfortable and stylish. This piece will go over everything and bring an aura of class and sophistication.
Leather jacket – Of course, we can't talk about a third layer and not bring up a leather jacket. When wearing your casual wardrobe, you want to add a layer of coolness in the way of Steve McQueen, Indiana Jones, or even Wolverine.
Wool overcoat – You can't wear a leather jacket over your tailored wardrobe, so a luxurious overcoat like a Chesterfield or a peacoat is a must to keep you warm on the way to the office.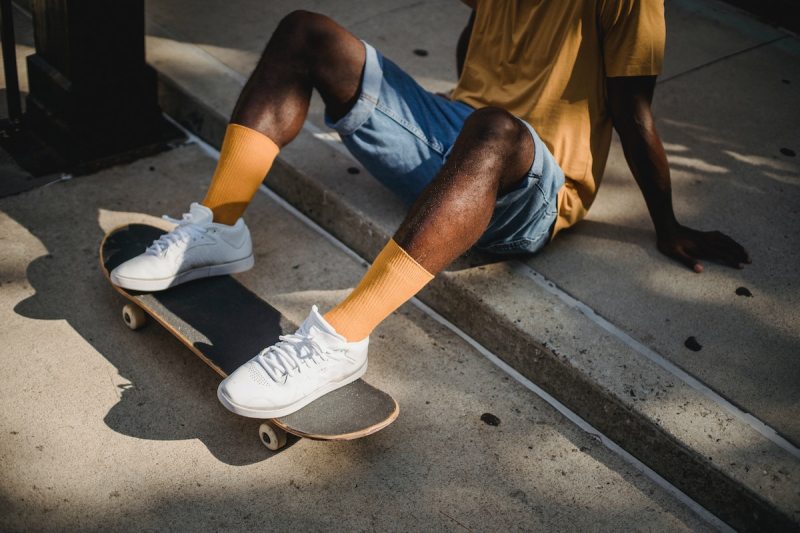 5 shoes
Tan dress shoes – If you are going with the grayscale, then these would be black shoes. But with the blue suit, chinos, gray dress pants, and even the dress denim, tan oxford shoes will be the most striking footwear in your closet.
Rugged boots – On the flipside of the tan dress shoes are the brown rugged boots. Whether you are wearing them on the street with the leather jacket or getting lost in the lumberjack woods, these are must-haves for your capsule wardrobe.
White sneakers – Sometimes, you need to find a mid-point between dress shoes and rugged outdoor boots, and a clean pair of white sneakers will be your best friend.
Trainers – You need to stay fit and healthy if you want to stick around for a while. And let's face it, a minimalist wardrobe is meant to last, so you want your pieces to fit as long as possible. Since you can't work out in your rugged boots and want to keep your white sneakers clean, get yourself a good pair of trainers.
Chelsea boots – If you want something in between dress shoes and rugged boots but you don't want to have stark white sneakers, invest in a pair of Chelsea boots. These can elevate any casual outfit just enough to keep you the most stylish in your group.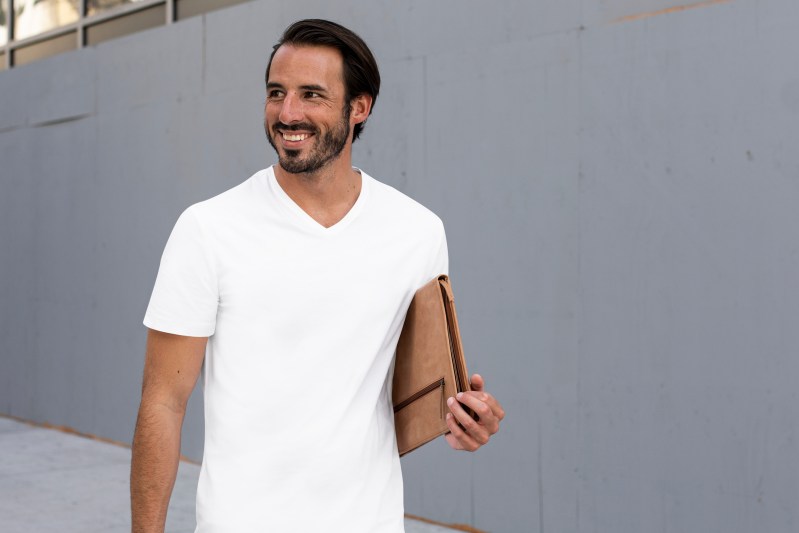 5 base layers items
White T-shirt – From James Dean to Marlon Brando, this is one of the most classic pieces for a man's wardrobe. Made popular as a fashion piece in the 50s, the rebellious nature of just wearing a white tee still carries with it a level of freedom that your capsule wardrobe will enjoy. If you want to elevate this look, pair this with the dress denim, white sneakers, and a blue suit jacket.
Blue T-shirt – Sure, a white tee is a classic, but when you need to go casual and the day doesn't call for your rebellious nature, go for another color to add some depth. In your blue and brown wardrobe, a navy tee will look fantastic with your light wash jeans and chinos.
Long-sleeved henley – These are some of the most essential items you will have in your wardrobe. Whether you wear this long-sleeved basic on its own or under the sport shirt, it will give you a warmer version of the tee that will keep you stylish in the cooler months.
Training shorts – Just like the sneakers, you need something to work out in, and a pair of trainers (preferably with a liner so they can double as a swimsuit) will be a versatile and functional addition to the wardrobe. Depending on the joggers you get, they may be able to work at the gym, but you can't swim in them.
Sweatshirt or hoodie – Warmth, comfort, and style. That is what you need a hooded sweatshirt for. The ultimate in casual wear, throwing this on over your tee and denim, or wearing it on a run in your trainers, will keep you warm and still stylish. This will also likely be your favorite thing to bum around the house in, so make sure it is high end and comfortable.
Substitutions and cons of a capsule wardrobe
There are a lot of different events that you have to attend, and every one of them will necessitate something specific. While there will inevitably be something you have to attend that will force you to buy something special, the point of a minimalist wardrobe is to limit the pieces you have while simultaneously covering as much ground as possible.
For instance, if you go with the blue and brown wardrobe, you will likely have to buy an additional charcoal suit for weddings, funerals, or something more formal. If you elect the grayscale, where everywhere this list has blue and brown is replaced with charcoal and black, then you will likely need to purchase a blue suit and shoes for the office. The point of a capsule wardrobe is not to limit yourself to these 25 items but instead to be used as a baseline to build out from. Once you have your 25 items, then you can focus on adding the things you need and want and only get luxury pieces that fit in with what you have.
If you want to go a different route than the two color palettes listed, then your options are to swap out some key pieces. If you like green, then you can swap out the navy and blue items with different shades of emerald, forest, or pastel greens. Whatever color you want to use, the capsule wardrobe can work for you. Sure, it's meant to make your life easier, but half the fun is getting creative to make a little bit work in a lot of ways. If you are ever feeling like you have piles of clothes and nothing to wear, consider starting over with some simple but luxurious items and putting together the perfect capsule wardrobe for yourself.
Editors' Recommendations