Jewelry has long been a difficult thing for many men to master simply because so much of it is considered too feminine. While a man in silver and gold can feel too gaudy and be seen as trying too hard, too much leather can make a man look like he's attempting to recreate the look of his favorite rock star, making him look immature. Therefore, many men stick to their favorite watches and try not to overdo it when looking for the best men's jewelry.
We're here to tell you that times are changing. You don't need to shy away from your favorite metals, even if going with something slim and simple is the alternative to going thick and eye catching. You can wear leathers, but like most things, less is more. The idea is not to overdo it. Jewelry is an accessory, and like any good accessory, it is meant to complement your look, not take it over.
From necklaces and rings to bracelets and earrings, here are the best jewelry items for you to wear this year.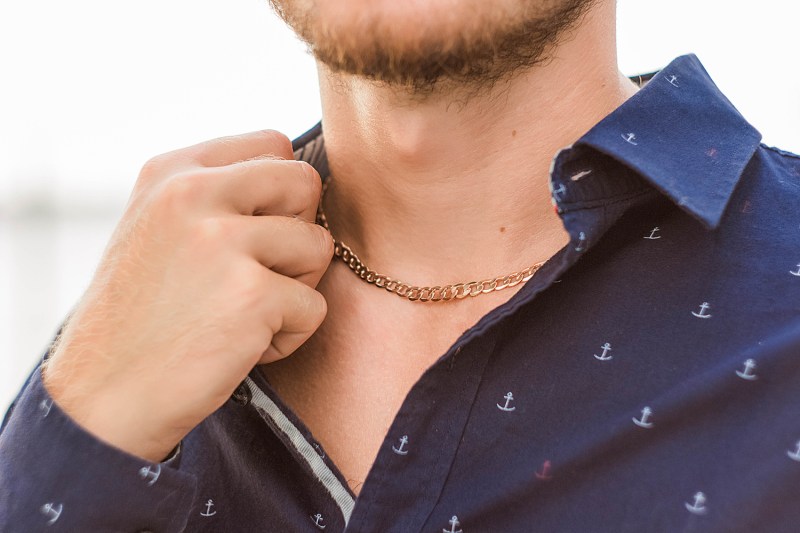 The best necklaces for men
While men have been wearing necklaces for centuries, the way in which we do so continues to evolve. If you are looking to punch up an outfit, the necklace can be a bold way to add a finishing touch, but there are certain things to keep in mind.
How do men wear necklaces?
First and foremost, there are a few major differences between the way men wear necklaces versus the way women do. For one thing, big jewelry is more for women. While a woman's ensemble can be anchored by a big centerpiece, a necklace that becomes a conversation starter, for men it's the other way around. This is an accessory that should finish an outfit, not define it. From religious pieces like the crucifix to solid chains, anyone can wear a necklace, as long as they remember to keep it an accessory. The second thing, less is more. Smaller is better. Thick chains and massive dollar signs went out with the '90s, if they were ever truly in to begin with.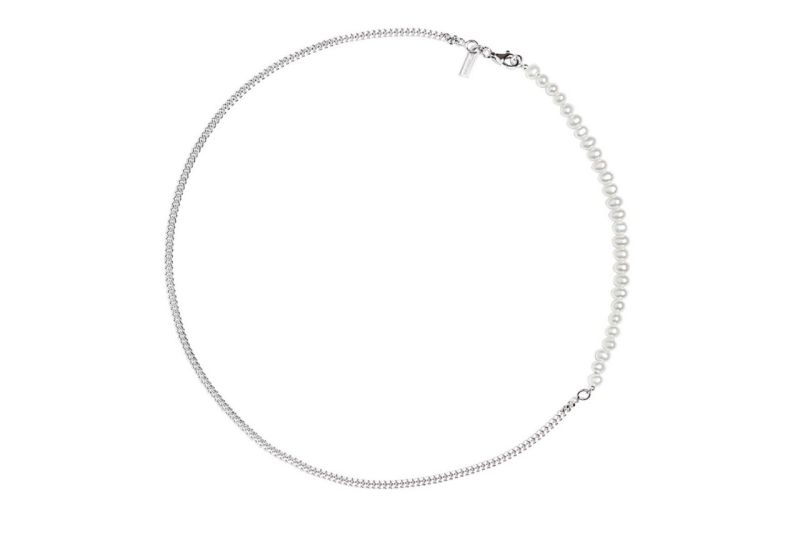 Pattaraphan Valen Pearl Necklace
Pearls have made a shift to a more gender-fluid jewelry trend thanks to celebrities like Timothee Chalamet and ASAP Rocky. While this look will have a high-fashion or a K-Pop vibe, pearls are no longer just for the ladies.
David Yurman Circle Amulet
Speaking of subtle, this necklace by David Yurman will give you the perfect finishing touch to your outfit. The sterling silver circle pendant and the black wax rope play off each other in the perfect contrast to give you something subtle, manly, and stylish.
MVMT Monolith Necklace
MVMT may be known for its quality watches, but it is proving that it's ready to give you all the accessories you need with this monolithic piece. Inspired by Californian minimalistic design, it sits perfectly on your sternum as a subtle addition to your look.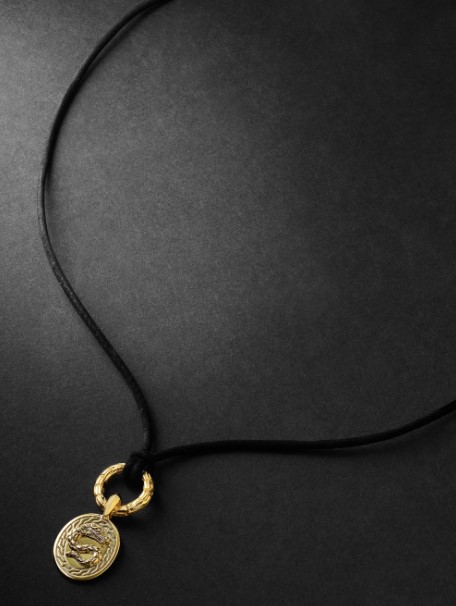 John Hardy Legends Naga Gold and Leather
The Legends line from John Hardy pulls inspiration from the artisans of Bali, who perfected their craftsmanship and bring you this stunning piece featuring a leather rope holding a gold pendant. The pendant is adorned with a dragon head to give it a little more punch, making this one of the coolest and most unique necklaces in your collection.
Bulgari Save the Children
Any time you can elevate your wardrobe and give someone hope, it's a win-win situation for everyone. In 2009, Bulgari partnered with Save the Children, a philanthropic organization dedicated to helping children make their dreams come true through education. This simple pendant will not only look great with virtually any outfit you wear, but it will help disadvantaged children all over the world. Bonus perk, slide the pendant off, and you have a simple yet elegant chain. Two necklaces in one.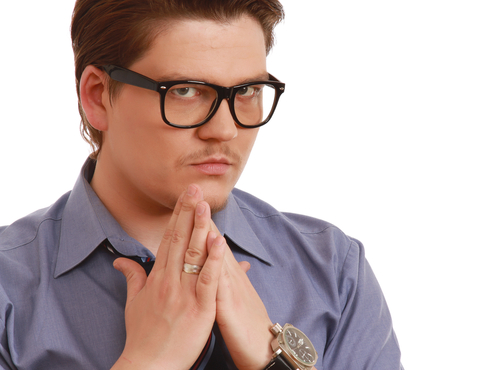 The best rings for men
Rings have meaning. They can signify a commitment to another in the form of a promise ring or a wedding ring. They can signify belonging to an organization or a club. But they are more than that, they are fashionable as well. Forget what you think about rings and embrace them as a fashionable way to express yourself.
How should a man wear rings?
There are all kinds of ways that you can wear rings and messages you can send with them. The wedding ring on the ring finger signifies commitment, the ring on the pinky finger suggests intelligence and is a personal statement, and so on. But in the case of fashion, the best rule of thumb is that you want to be sparing with your rings. Too many rings on a hand look garish and over the top. Keep it simple and spaced out, balance your rings between both hands, and never put rings on side-by-side fingers. Less is more.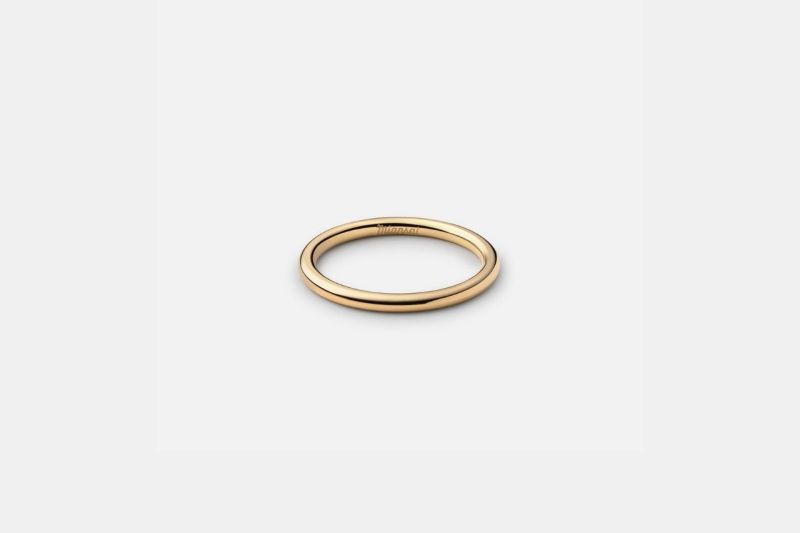 Miansai Cirque Ring
Simplicity at its finest, designed for everyday wear — this ring adds a subtle yet noticeable personality to the hand. While it looks tailor-made as a wedding ring (did everyone else's father wear a simple gold ring like this growing up?), it will also work perfectly on the pinky finger as well. Small ring for the small finger.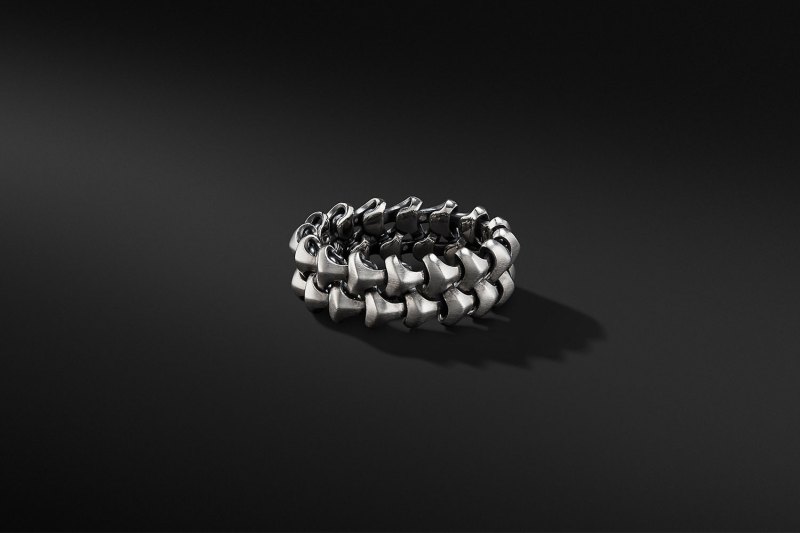 David Yurman Amory Band in Sterling Silver
Inspired by medieval chains, symbols, and armor, this bold and timeless ring is the perfect addition to any man's closet. You don't have to save it for the Renaissance Fair, but know that when you wear this ring, you may experience the pull to pillage.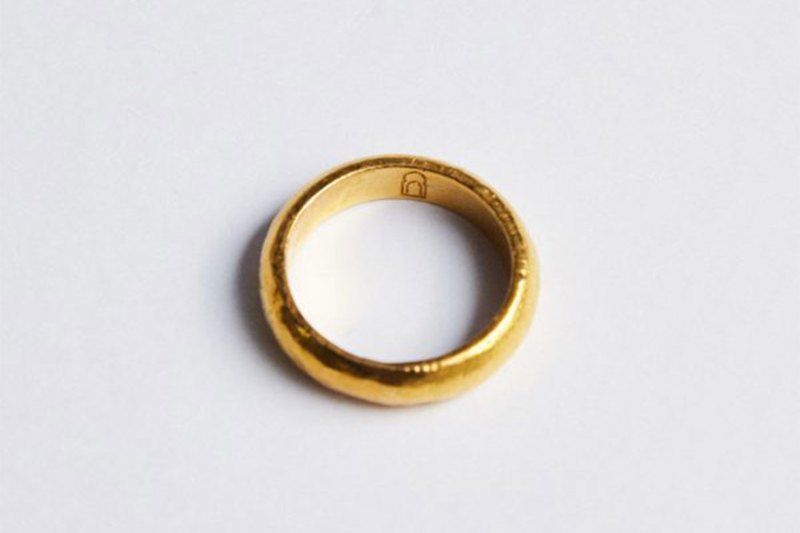 Dear Letterman the Ayman Ring
A great option for those looking for stackable rings, this gold ring is sure to complement every outfit. If you elect a simple gold ring like this, be sure you have a gold watch and belt with a gold buckle. Your metals need to match or you will look all out of sorts.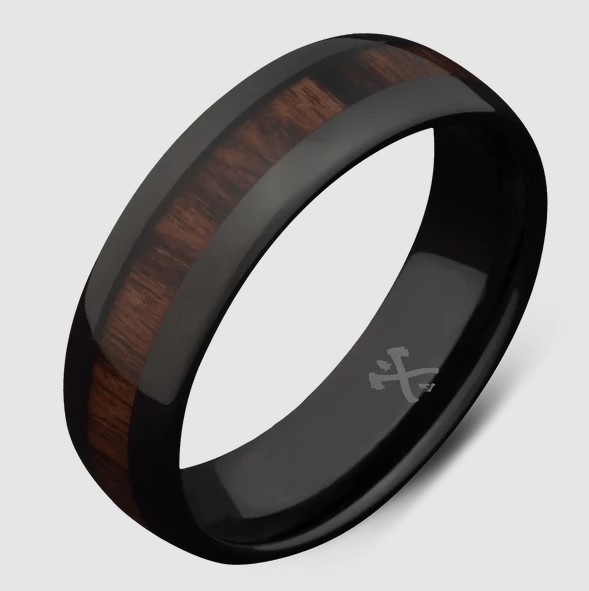 Manly Bands the Cowboy Ring
Few other male representatives exude manliness like the cowboy, and Manly Bands pulled as much inspiration as it could to create this ring inspired by them. With a tungsten outer layer and an inlay of Koa wood from Hawaii, this bad boy will make you feel rugged the moment you put it on. As a bonus, every box sent from Manly Bands also includes a free silicone band as well. For work or play.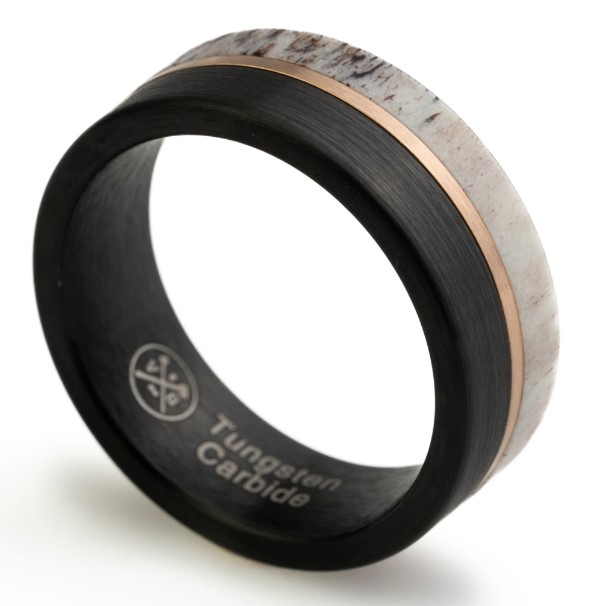 Vintage Gentleman Frontiersman Ring
Vintage Gentleman is about providing high-quality products that will help you live out your best and most unique human experience. One of the ways for us to live that way is to surround ourselves with things that speak to us. This Frontiersman ring is made of tungsten, brass, and dear antler, giving you one of the most eye-catching and compliment-inducing pieces of jewelry you will ever get your hands on, or rather get on your hands.
The best bracelets for men
Remember the slap bracelets from elementary school? How about Lance Armstrong's Livestrong, bright yellow around every wrist in the immediate vicinity? Bracelets have always been around, and they definitely aren't going anywhere soon. The bracelet is one of the best men's jewelry items because it can make or break your entire look more than any other accessory. If you have bracelets that fit incorrectly or if they are stacked up to your elbow, they can take the focus away from you. But when done right, the subtle masculinity is unmatched.
How should men wear bracelets?
If this is starting to sound like a broken record, good. It means we are getting through. Simple is always better. Sure, you have seen Johnny Depp wearing stacks and stacks of bracelets. And you have seen plenty of musicians sport whole armbands of them. But the truth of the matter is, they have so much going on that one scarcely cares about their wrist game. For you, simple and subtle pieces give your arm some heft, and mixing and matching metals with leather or beads is a good way to keep your look balanced and masculine.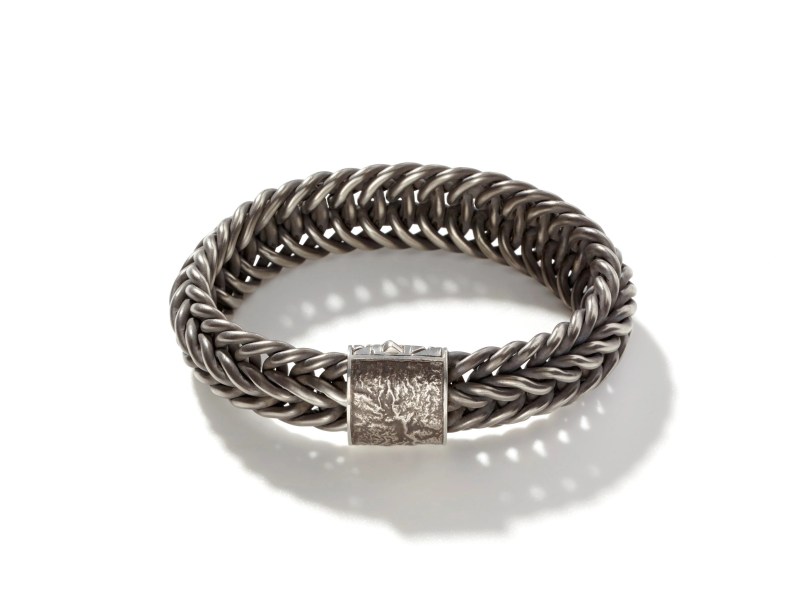 John Hardy Kami Chain Reticulated Bracelet
This elegant 15mm-gauge bracelet features a flame-sculpted, sterling silver composition, a matte black rhodium finish, and a pusher clasp. Combined, these features give it a natural woven appearance, accentuated by its nested chevron design. It's beautiful and luxurious, and it embodies the ultimate height of fashion.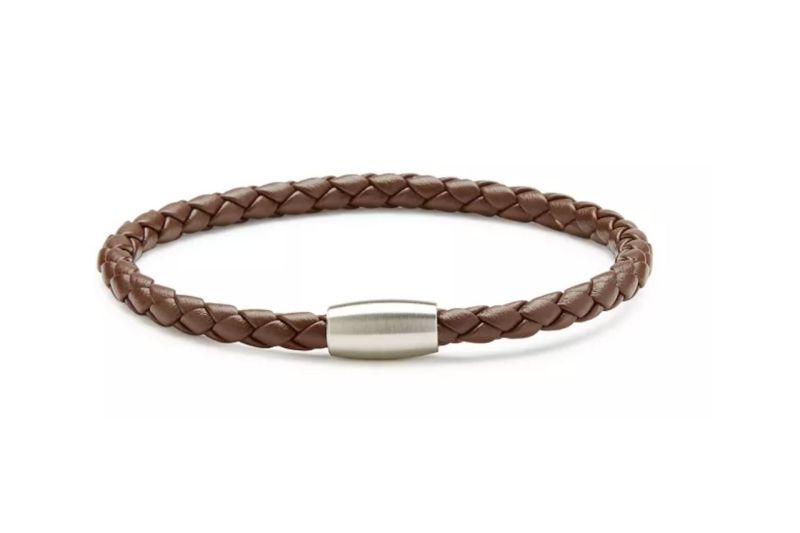 LINK UP Braided Leather Cord Bracelet
This braided leather bracelet is great to add texture to the wrist. Put this one simple bracelet either on your wrist with your watch, or double it up with a metal bracelet, and you will have the best-looking wrists at the party. Just what you always wanted, no?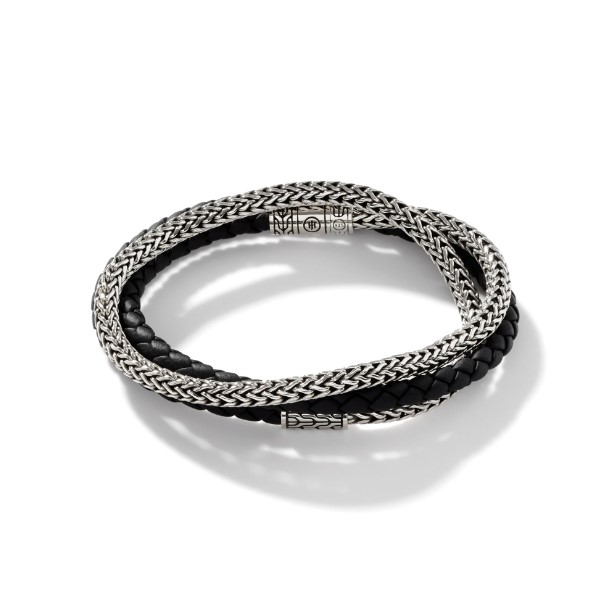 John Hardy Leather Hybrid Triple Wrap
Remember that one time when we said to mix and match the metal and the leather? Good times. Here is a great solution to start if you are only looking for one bracelet but still want that mixed look of leather and metal. Simply wrap it around your wrist and let the contrasting materials make you look like a pro.
Movado Beaded Bracelet
In a lot of ways, the new bead bracelet trend is a replacement for the gaudy gold bracelets of the '80s and '90s. While they are simple and subtle, the masculine look of black onyx beads will make you feel like nothing can stop you. For a really flashy look, pair these with both a leather and a metal bracelet to create a bridge between the two. But make sure they are all on the smaller side. Subtlety is key.
The best earrings for men
Many men fear this look. It takes a certain kind of man to pull off earrings. Confident, rebellious, and ready to take on anything that gets in his way. The earring is the perfect way to show the world that you go your own way.
How should men wear earrings?
Remember that whole message about which ear you wear an earring told the world that you were either homosexual or heterosexual? Forget about that. Not enough people remember what it was for you to care about it. Instead, focus on the size, color, and texture so you can always look your best. We probably don't need to say it again, but just in case, less is more. Ditch the dangly earrings (unless you are singing lead for AC/DC in 1983, then roll with it) and the wide hoops. Stick to studs or small hoops to keep yourself looking as manly as you dare.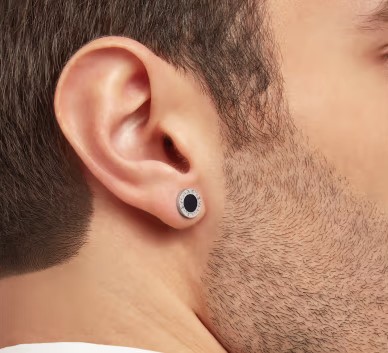 Bulgari Single Stud
This is the perfect marriage between the simple stud and the flashy attention grabber. The black onyx center is a subtle but striking look when coupled with the Bulgari ring around the edge. One ear or two, this look goes with virtually anything.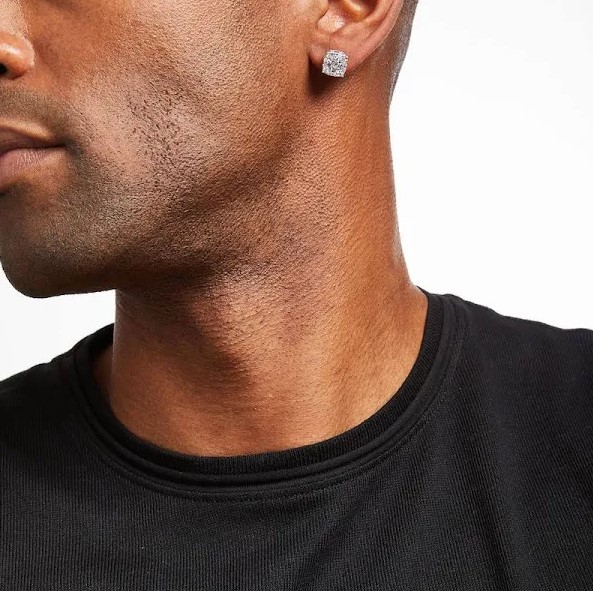 Kay Diamond Stud
Now for something that does go with everything, the diamond stud is a must for any man looking to make a statement with his accessories. Of course, there is a bit of a risk as anytime you wear diamonds, you will grab the attention of both the good and the bad, but the number of compliments and positive feedback you will get will severely outweigh the fear of someone relieving you of the gems.
Esquire Spinel Black and Gold Hoops
Silver and black may go with everything, but if you really want to make a statement, swap them out for these gold and black numbers from Esquire. They will look stellar with your browns, or elevate your formal attire with something much more elegant.
There you have it, 17 ways to express who you are without overdoing the accessories. Of course, you shouldn't wear all of them at once, but play around with your favorite combinations, and next thing you know, you will be a jewelry man with style, taste, and masculinity.
Editors' Recommendations