Every man needs a handful of suits in his life. However, some of us need a wardrobe of men's suits because we must wear them daily. Whether you're in finance, sales, law, or other professional industries, suits are your number-one way to make the best first impression you can. If you have to wear a suit daily, though, how many suits do you need to keep them fresh, sharp, and in good condition?
This answer to that question can vary depending on many factors. First, if you are outside often and exposed to the elements, you may need more suits because they'll get sweaty, wet, or collect much more dirt and grime than normal and require more frequent cleaning. Second, if you're someone who sits in an office all day, you may be able to get by with fewer suits. Of course, there are some tricks you can try along the way, and we'll let you in on some of the best in the business.
Here's how many suits you need for daily wear and how to go about building the wardrobe.
Getting started
If you're just starting out, there's a great rule to follow when you begin to build a suit wardrobe. Check out this article on the four-legged stool to get a more in-depth look at what you need to start with. For a quick and dirty version, here are the four items to grab:
Charcoal suit: A versatile suit that can be worn as an office suit when dressed professionally or as a replacement for a black suit when worn with black leathers.
Blue suit: The business suit, when paired with browns, will be the most classic look for the office on a daily basis.
Light gray suit: A blank slate for you to wear with virtually any shirt and tie combination and nearly all leathers.
Navy sport coat: Perfect for the less-than-professional, business-casual environments.
Before we get into the next step of building a suit wardrobe, we should mention that to wear these suits properly, you need the proper collection of shirts, ties, and shoe/belt combinations. When starting off, the base colors of dress shirts are white (you'll need at least three, but you can never have too many), light blue (sometimes called robin's egg; you'll need at least two), and ecru (an off-white or cream color; you'll need one or two). Once you have these, you can start branching out. One piece of advice: Every time you shop for more shirts, if there's a buy-one, get-one sale, or if you're getting more than one, it isn't a terrible idea to pick up another white. Again, you can never have too many.
As for ties, reds, blues, and yellows are all perfect for the office. Here is a guide on which ties you should get based on the message you want to send.
Year-round suits
OK, now that we've got that out of the way, it's time to really look into your suit wardrobe and see how we can expand it to something that will last you for years, even if you wear a suit every day. Ideally, you want these next suit choices to be suits you can wear year-round. No summer weights, no winter weights — all of these should be wool and of medium weight.
Start with the middle ground. You already have charcoal and light gray. Now start filling in with medium grays. The gray section should look like a gradient, like an artist shading in a shadow on a charcoal drawing. Follow the same with the blues, from a bright navy to a dark navy, and create a gradient there as well. If you're feeling creative, mix in some double-breasted suits to allow yourself some depth.
Of course, you don't want to look like a robot, so branch out a little on patterns and textures. You can grab a pinstripe, a window pane, a micro-check, glenn check, and a bird's eye. If you want the best variety of suit wardrobe, grab one of each for each color. That gives you 15 suits, enough to wear for three work weeks without a repeat. That's a great start, but we're not finished.
Seasonal additions
Now you have a base: 15 great suits that make you look sharp and put together no matter what your work day throws at you. But you aren't done quite yet. Now we need to dive into the seasonal weights that you need to survive the weather and the fashion police.
The best way to break these up is the warmer months of spring and summer, meaning March through August for most of the country. This means five summer weights, preferably two cotton suits, two linen suits, and one seersucker if you're feeling confident. The colder months of fall and winter (September through February, generally speaking) will be better served with heavier weights like cashmere, tweed, herringbone, and flannel.
You will want five suits for each season to complete your 20 days of suit-wearing. You have a suit for every day of the month at the office. Another piece of shopping advice: When you buy a suit, you should get a shirt and tie to go with it, preferably two of each. So when you have all 25 suits, you should have picked up in the ballpark of 50 shirts and 50 ties. If that seems like a lot, you'll be glad you did it when you get to the end of the month. Trust us.
But why so many? Isn't the four-legged stool meant to be versatile?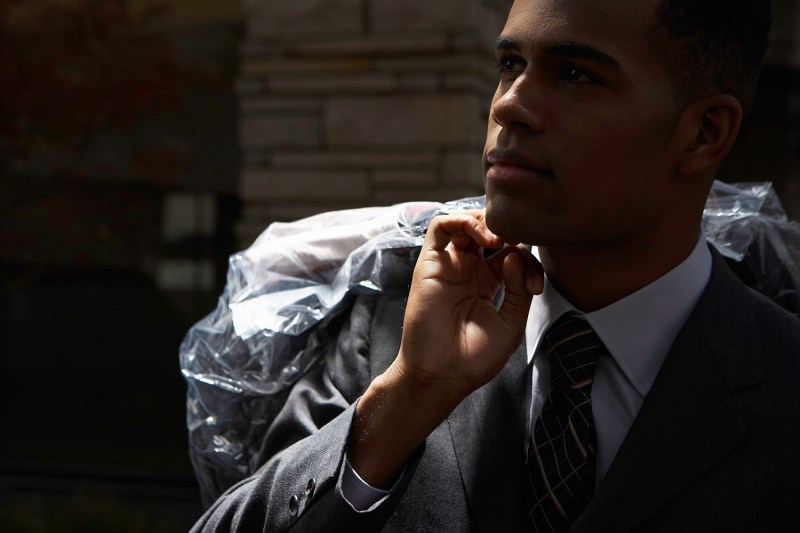 Cleaning and care
The simple answer is that you need to be able to wear a suit often enough that you get use out of it, but not so much that it needs to be cleaned too often. Ideally, you only want to clean a suit at a dry cleaner every fourth wear or so. If you're wearing each suit once a month, that means you're wearing it three times a year for the year-round suits and only once or twice for the seasonal suits.
Twenty-five suits is a lot to take on for anyone, and we don't suggest running out and buying 25 suits today unless you're ready to try on (and pay for) 25 pants and jackets for a tailor. That sounds like a long day, though. You should invest in suits over time, building toward that final number. Just remember that the longer you take to build this wardrobe, the more suits in the wardrobe get worn out faster.
Consider that if you only have five suits, you would be wearing them once a week, skyrocketing that number of cleanings to 12 a year. Since dry cleaning can break down the fibers when it's overdone, your suits will last you a lot less time. When you are buying your first suits, consider buying an extra pair of pants for your suit; you will likely have to order them unless you are doing bespoke or suit separates. An extra pair will go a long way toward extending the life of the suits while you save for your ultimate suit wardrobe.
So bottom line: How many suits should a man own? Ideally, 25 suits in various colors, fabrics, and patterns.
Editors' Recommendations