There couldn't be a more exciting time to get suited up — and we're not just referring to the end of Zoom calls and sweatpants. Even before the "once-in-a-lifetime pandemic" hit suit sales hard, the idea of what constitutes appropriate or proper suiting had already begun to shift.
As the cultural discourse around what clothes we wear and how we wear them endures, the impact on fashion is, as always, inevitable. And in menswear, nowhere is this more visible than in the constructions and styles we see in suits.
That's not to say that a perfectly cut classic or traditional suit will soon be out of fashion — in fact, we'd argue that's ultimately unlikely to happen entirely. It just means that having the freedom to wear a suit how you please is becoming more acceptable and, like other choices around sartorial preferences, should be celebrated. Ultimately, we'd still defend the suit as a great wardrobe staple, but we agree that it's time to throw out ideas that strict rules and regulations should govern the way they are worn.
Yet, for those out there who would appreciate some guidance to ensure their suit fits properly in the more conventional sense, take note of these key areas and details:
How the suit fits at your shoulders and chest (buttoned and unbuttoned)
Sleeve and cuff length when your arms are at your side
Pants length, which nowadays depends mostly on personal taste
Naturally, shopping for a suit in person is almost always going to yield the best results. And yes, a tailor is still your best friend.
Now, if the idea of getting back into a suit for the first time in months is still freaking you out, fret not. Below is our selection of suits for any and all kinds of occasions — and more importantly, for every kind of person.
Related Guides
Best All-Round Suit
Ted Baker Slim-Fit Plain Suit Jacket and Trousers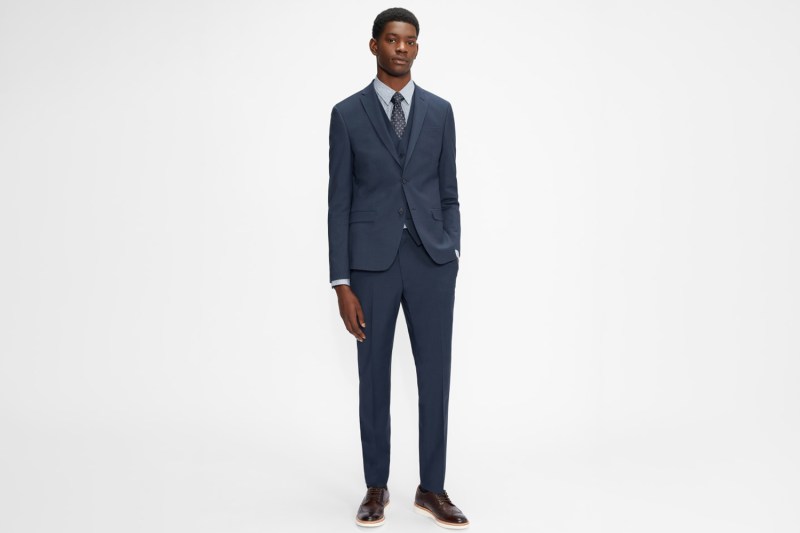 As its name suggests, this suit by the British luxury brand may be simple, but that's exactly what makes it so stylish. It's fit for a range of suit-wearing affairs, including business meetings and cocktail parties. Pair it either with your sharpest dress shirt and tie for more formal events, or take the mood down a notch by opting for a plain T-shirt underneath the jacket. The slim-fit and navy color guarantee that you're bound to get plenty of mileage out of it.
Suit Jacket:
Suit Trouser:
Best Tuxedo
Polo Ralph Lauren Polo Wool Peak-Lapel Tuxedo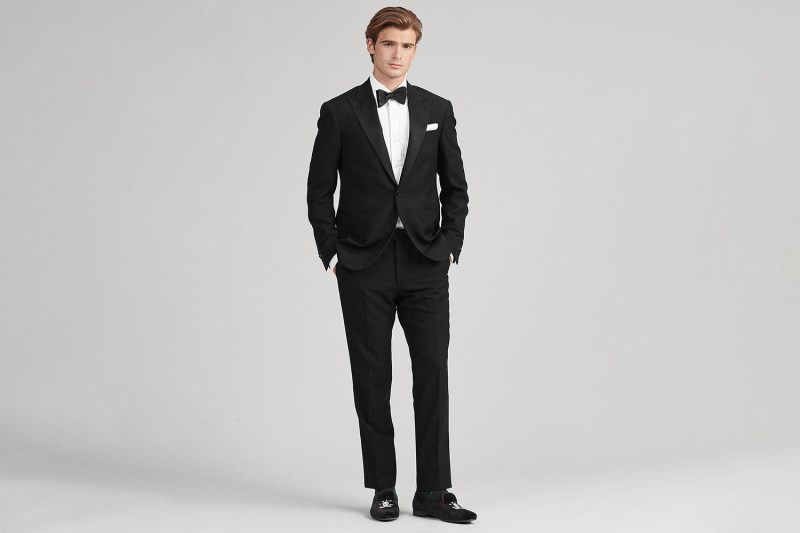 There are major milestones in life that may call for a strict black-tie dress code. Translation: Get out the tux. To create this masterpiece, the eponymous American fashion legend combined powers with the always-well-dressed Italians for their impeccable craftsmanship. The half-canvass jacket in a one-button silhouette features satin peak lapels and soft hand-sewn shoulders, with the flat-front trousers including satin stripes down each leg. This tux is as traditional as it is elegant, once again proving that Mr. Lauren knows exactly what he's doing.
Best Two-Button Suit
Brooks Brothers Milano Fit Two-Button 1818 Suit
Being the oldest clothing retailer in the U.S. means that Brooks Brothers knows suits. Period. The name of this two-button navy piece with flat-front trousers is made of 100% wool and it cutely references the year the company was founded, as well as the fit of the suit — Milano being their slimmest offering. Though a classic-looking ensemble through and through, making it ideal for more formal outings, the suit's hand-sewn armholes allow for ease of movement without skimping on comfort. We love the attention to detail.
Best Double-Breasted Suit
Boss Double-Breasted Extra-Slim-Fit Suit in Checked Cloth
The German luxury fashion house has become synonymous with creating suits for the ever-evolving modern man that are as precisely cut as they are beautiful. Just a quick peek at this stunner in houndstooth check makes this statement a no-brainer. This contemporary upgrade of the timeless double-breasted suit, which includes a much slimmer fit, demonstrates that the DB isn't just for Wall Street types. If anything, it's as simple as styling this suit with a casual T-shirt to flip that whole notion on its head. This suit, when worn with freedom and confidence, is made for some good rule-breaking fashion moments.
Best Fashion-Forward Suit
Gucci GG Wool Suit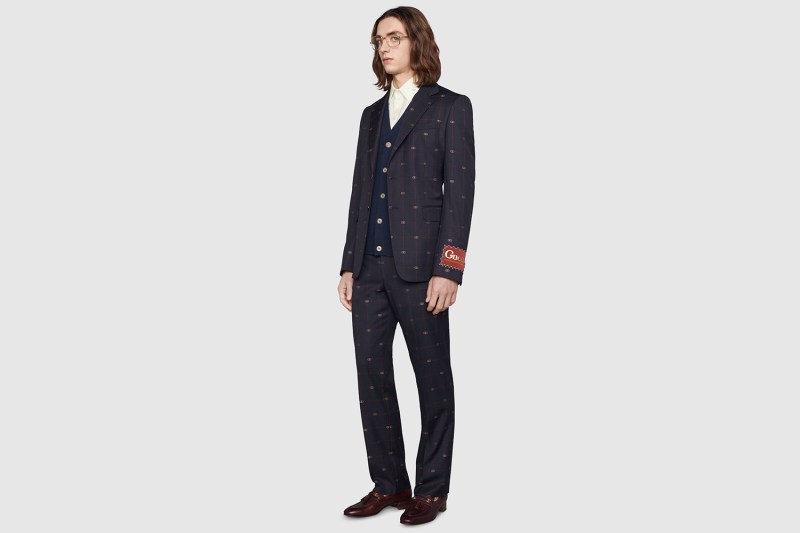 Although creative director Alessandro Michele began his tenure at Gucci nearly seven years ago, the designer from Rome still continues to rock the fashion world with his creations. Case in point: This blue wool suit features fine red lines that are covered throughout in the Italian luxury house's iconic interlocking GG motif. In true Michele style — where excess reigns supreme — the designer's signature touch is highlighted on the embellished cuff, where a motto in French reads "Gucci whatever the season." Take heed of this advice and you'll be investing in a superior menswear piece that couldn't be recreated elsewhere.
Best Basic Suit
H&M Slim-Fit Blazer and Slim-Fit Suit Pants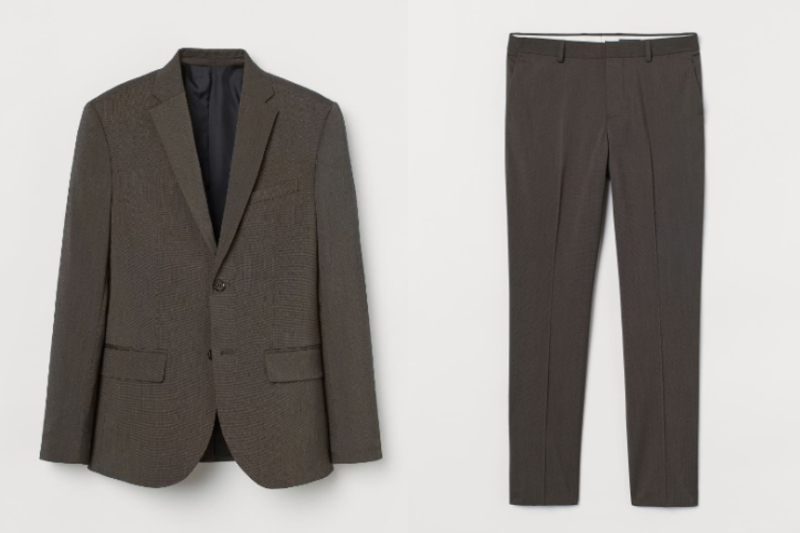 The Swedish retailer is a go-to for many of your best wardrobe basics and there's no reason that shouldn't include the addition of a suit. But surely not a brown-colored suit, you say? Yes, we say. This isn't your grandpa's suit from years long past. This slim-fit suit in a woven stretch fabric has all the makings of modern tailoring: The blazer is tapered at the chest and waist with the sleeves cut a bit narrower, while the pants sit slightly closer at the thighs, knees, and ankles. All-in-all, it's a fine suit in a trim silhouette — and at an affordable price, too.
Blazer:
Suit Pants:
Best Modern Suit
COS Collarless Blazer and Relaxed-Fit Wide-Leg Pants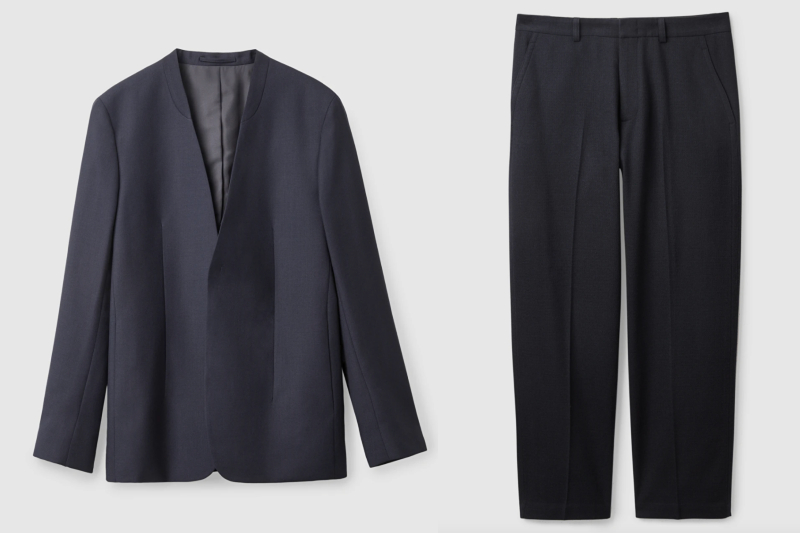 If you're looking for a company that's taking a stab at redefining what it means to wear a suit today, Swedish-owned fashion retailer COS hits the spot. It doesn't get any more unconventional than this navy cashmere-wool mix collarless blazer, which, thanks to its simple, clean, and restrained cut, keeps it super smart. Pair this top with the brand's tailored wide-leg trousers (made from ethically sourced wool) designed in a relaxed fit, and this suit is whatever you want it to be.
Blazer:
Pants:
Best Casual Suit
Todd Snyder Italian Wool Traveler Suit in Olive

Before we even get into the details behind this suiting marvel, the olive hue alone makes it a standout item to own. Not only does the color wonderfully encapsulate the slightly more casual mood you'd project in this, but it's also a still-safe step away from the usual grays, navies, and blacks that have come to dominate suiting. Made of Italian wool, the jacket's soft shoulders and butterfly lining make sliding into and out of it an easy feat. Ditto the matching trousers that are designed purposefully as a mishmash of a tailored jogger (we love the comfort of the concealable drawcord) and dress pants that include a more classic cuff opening. The jacket and trousers are specifically designed to wear as separates, too. Bravo, Todd Snyder.
Best Travel Suit
Paul Smith 'A Suit to Travel In' Men's Cherry Red Wool Suit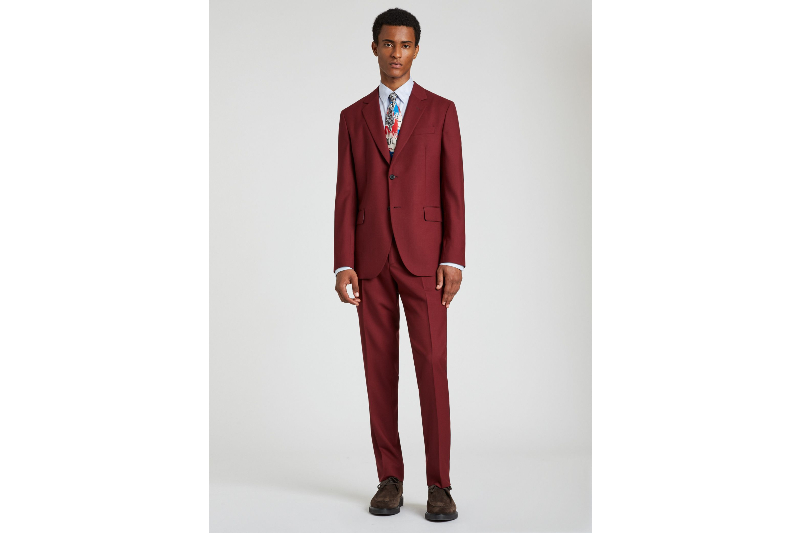 British fashion designer Paul Smith first introduced his aptly titled "A Suit to Travel In" collection back in 2015. To prove the strength of the high-twist 100% wool yarns used in these suits, Smith let an Olympic medal-winning gymnast perform his routines in the gear. The outcome? The suit kept its shape and remained crease-free due to the material's powerful properties. The results speak for themselves, especially if your biggest concern is sitting too long on a commute. Cut in a slim-fit with a soft shoulder, there's some extra room for movement in the chest area. As for the cherry red hue? Great for days when you're tired of blending in and want to live a little.
Best Unstructured Suit
J.Crew Ludlow Slim-Fit Unstructured Suit Jacket and Pants in Irish Cotton-Linen
American apparel brand J.Crew prides itself on transforming suiting as we know it when in 2008 it launched the Ludlow. Arguably one of the most universal suits out there — seen on every street, in boardrooms all across America, and at every imaginable occasion — the Ludlow finally made well-fitted and affordable suits a reality. Then, in 2017, it birthed the unstructured (that is, a suit with minimal canvas and lining) version of its icon. Constructed from cotton and linen, this unpadded number will get you comfortably back in a suit and out of the house after months of lounging. Lightweight and breathable, it's also the perfect summer suit.
Suit Jacket:
Suit Pants:
Editors' Recommendations