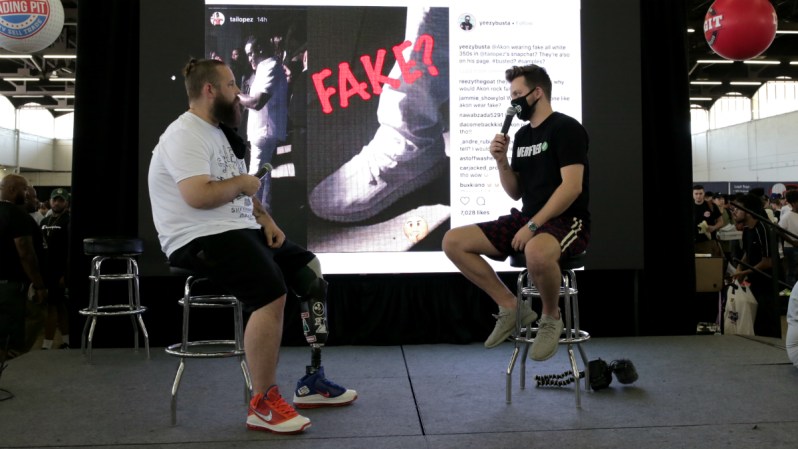 If you're a sneakerhead, you understand just how important authentication is when it comes to buying an expensive pair of shoes you haven't seen in person yet. That's why Sneaker Con was created: to give sneaker enthusiasts of all ages, sexes, shapes, sizes, and cultures a safe hub for buying and selling some of the rarest shoes on the planet.
Founded in 2009 by Alan Vinogradov, Barris Vinogradov, and Yu-Ming Wu, Sneaker Con's goal is to unite a growing network of young entrepreneurs, influencers, and consumers who are connected through a passion for rare, authentic, and extremely cool kicks. In 2016, the company hosted 13 public conventions that attracted over 70,000 people combined in cities such as Los Angeles, London, Melbourne, Toronto, and Atlanta.
By implementing an extremely rigorous authentication program (that can even include weighing each individual shoe), the con provides the utmost confidence for attendees on any purchases or sales transactions they make. The veritable service is near-field communication (NFC) capable and offers interactive "Legit Tags," which supply the full specs of each pair. This safe haven for shoe collectors was something the sneaker world was definitely missing.
The world's premier traveling sneaker gathering is also going digital. Soon, Sneaker Con will launch an app that gives sneakerheads and kick geeks an easy and secure marketplace for finding sought-after favorites for your feet. The app includes everything from a content feed to keep users up-to-date on upcoming drops from big-name brands like Jordan, Nike, Adidas, and more; reviews on products; and other news surrounding sneaker culture. Sellers are provided with all of the tools necessary for managing their inventory and the opportunity to turn passion into a successful business venture.
If you're interested in attending an actual Sneaker Con meetup, we've provided 2018 schedule below. Find ticket information online ($25-$45 for the event in LA) then connect with like-minded people to buy and sell your sneakers in a secure space.
2018 Sneaker Con Dates and Locations
Another option for sourcing legit fashions other than attending Sneaker Con is Stadium Goods' app, which you can find here.
Editors' Recommendations