A good pair of sneakers can elevate any outfit, from the best men's suits to your outdoor adventures. We've rounded up a few favorites in crucial categories and even included an extra pick or two for your perusing pleasure. Sneakers are meant for everyday wear, so you should pick something comfortable, stylish, and made of quality material.
Sneakers are an ideal combination of comfort, style, and function that every man needs in their shoe lineup, which is why you should know and understand the best sneakers to snag. Although sneakers are considered men's athletic shoes, they have become much more stylish and essential. Well-established workout brands like Adidas, Nike, and Under Armor constantly partner with heritage and fashion-centric labels to produce contemporary everyday iterations of the footwear staple. In doing so, they bring a variety of trends from vintage, Y2K throwback, and minimal crossover styles.
Finding the perfect kicks can be overwhelming with plenty of great options and limited-edition releases on the market. That's why we scoured the selections from our favorite trendy clothing brands and shoe stores and curated the best sneakers for men. Our roundup includes various sneaker options, including gym-ready trainers and luxury white kicks that add an extra flair to any casual fit.
New Balance Made in U.S. 990v5
New Balance has become famous for producing what we lovingly call "dad shoes," distinguished by their ultra-thick, plush silhouettes that prioritize comfort over style. These days, New Balance has found a way to produce a product that is just as fashionable as it is practical.
New Balance Made in U.S. 990v5
Vans Old Skool
You can't go wrong with a classic, particularly Vans' versatile skate shoes that pair perfectly with almost any outfit. These are the ultimate in casual wear that can pair wonderfully with jeans or chinos, and are comfortable enough to wear all day.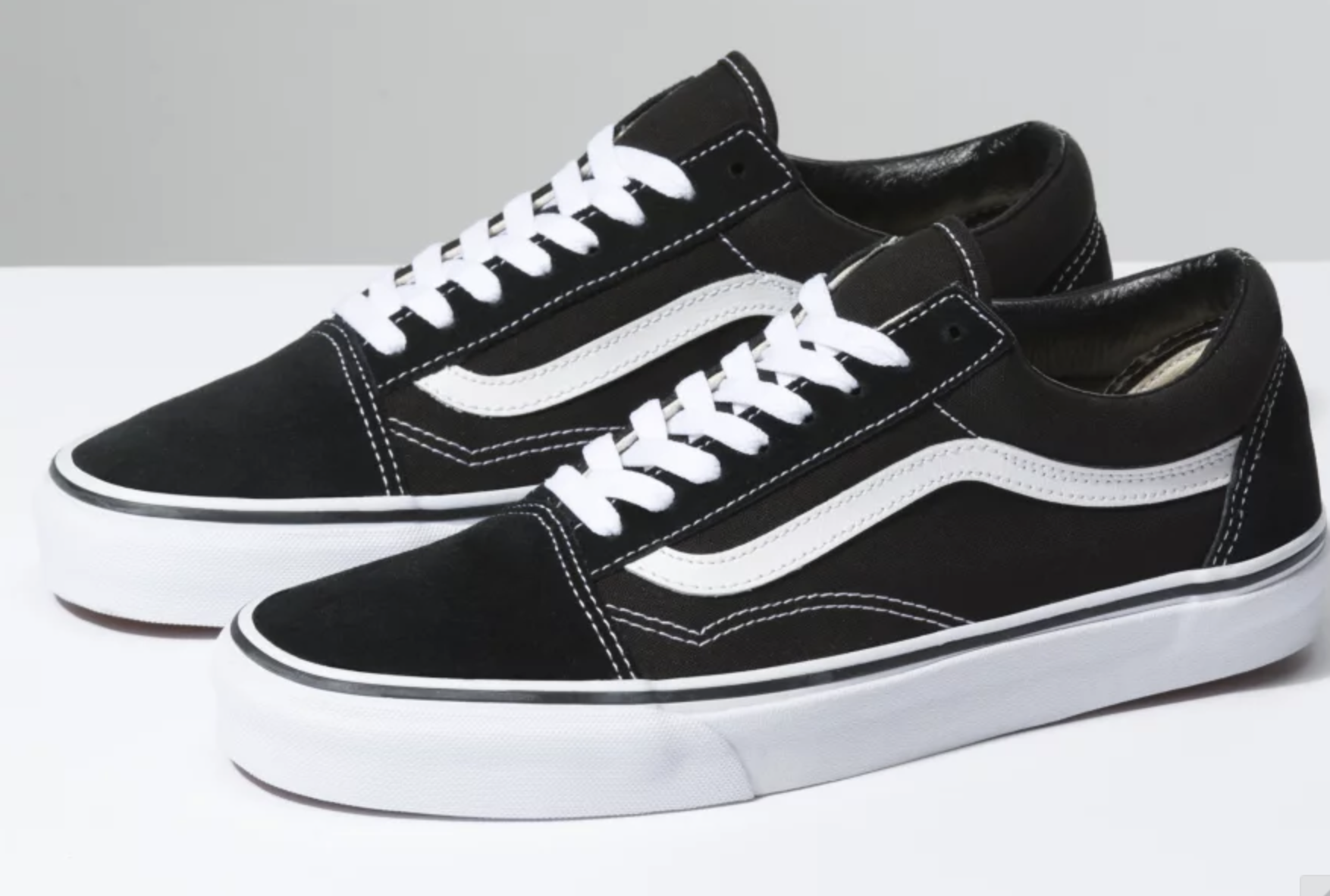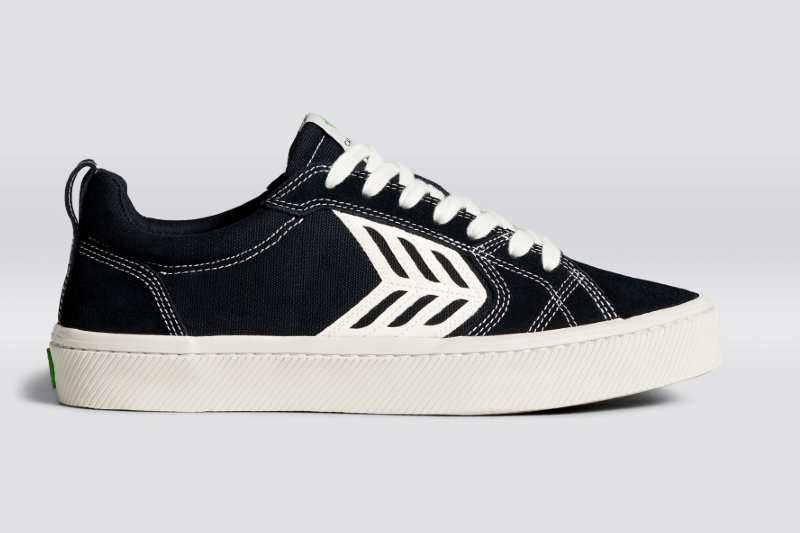 Cariuma Catiba Pro
Cariuma makes a variety of highly sustainable, durable, and cool-as-can-be sneakers, including this skate-inspired pair. Wear them with slim black jeans for a complete look that will make you the focus of any group.
Common Projects Original Achilles Full-Grain Leather Sneakers
Not every professional situation is ideal for a hard-soled dress shoe. Whether you are walking a factory floor as a supervisor or on your feet in other ways while you dress professionally, consider swapping your less comfortable dress shoe for Common Projects dress sneakers, which have a sneaker-style sole combined with an upgraded leather dress top. The perfect marriage between comfort and elevation.
Common Projects Original Achilles Full-Grain Leather Sneakers
KOIO Capri Sneakers in White Leather
KOIO specializes in luxury footwear at prices that won't break the bank, at least compared to luxury brands like Common Projects. Think of them as the perfect brand to shop for if you want relatively affordable, premium leather sneakers.
KOIO Capri Sneakers in White Leather
GORUCK Ballistic Trainers
Huckberry is known for some of the best outdoor gear for men, so when we say that these Goruck trainers are light, comfortable, and can protect you from the elements, you can believe us.
GORUCK Ballistic Trainers
SeaVees Mammoth Boots
Part boot, part sneaker, and as rugged as your favorite pair of jeans, a classic henley, and a waxed trucker jacket. Come to think of it that sounds like a perfect ensemble to wear to a cabin getaway with these water-resistant lace-up sneaker boots on your feet. They'll only get better with age, thanks to the oiled leather.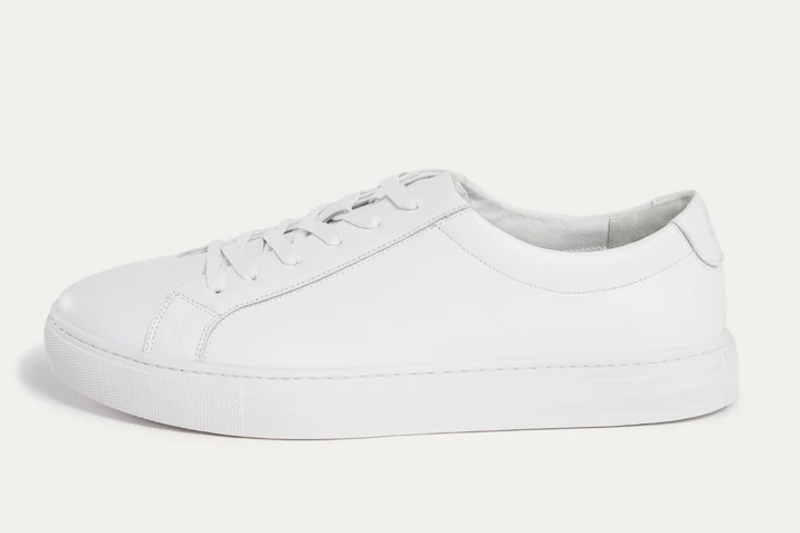 New Republic Kurt Leather Sneakers
There is a reason the Menlo Club chose New Republic as their shoe brand; there is no comparison to their quality. Clean and classic is the name of the game with these super crisp, super sharp, and super affordable white leather sneakers. Dress 'em up or dress 'em down as you please.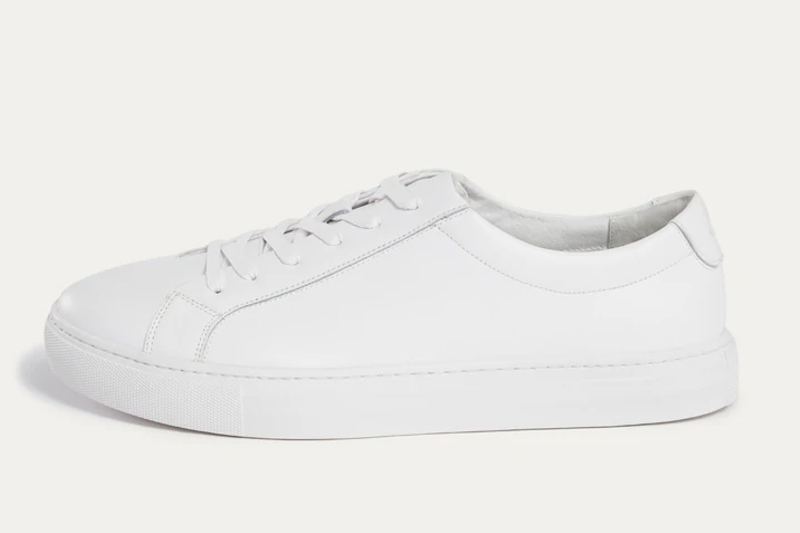 New Republic Kurt Leather Sneakers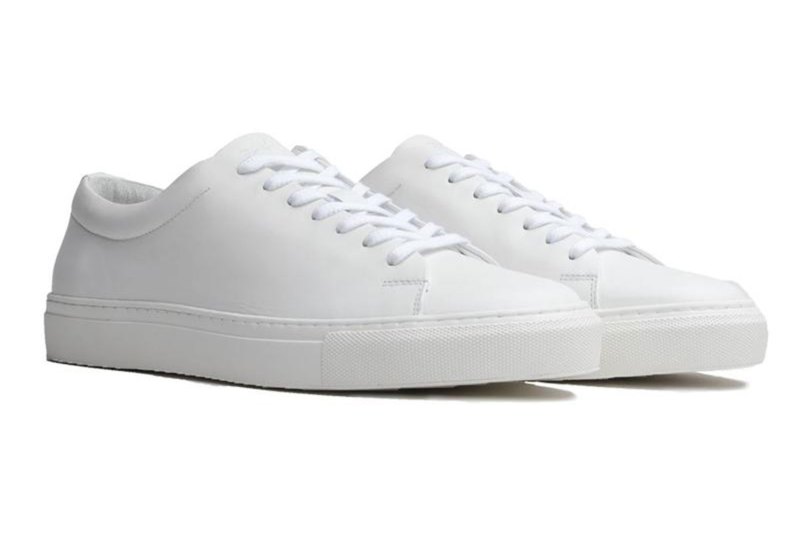 Wolf and Shepherd Glider Sneaker
Yes, cleaning your sneakers is a pain, but we'd argue that every man should own at least one pair of white sneakers. We recommend these fresh kicks from Wolf and Shepherd, a Florida upstart specializing in Italian leather footwear sold at a more affordable price than other legacy brands. Plus, these pearly whites will hold up for years to come if properly maintained.
Wolf and Shepherd Glider Sneaker
Rothy's RS01 Sneakers
Rothy's has been a celebrity favorite for years, and its men's shoes are about as popular as its much-loved women's line. These lightweight white sneakers are stylish, supremely comfortable, and highly versatile.
Converse Run Star Hike
A futuristic twist to your classic Chucks, these high-tops are sure to be the statement no matter where you are. Why be basic and just like everyone else? Stand out, and stand taller with these unique and fun sneakers that will change your entire wardrobe.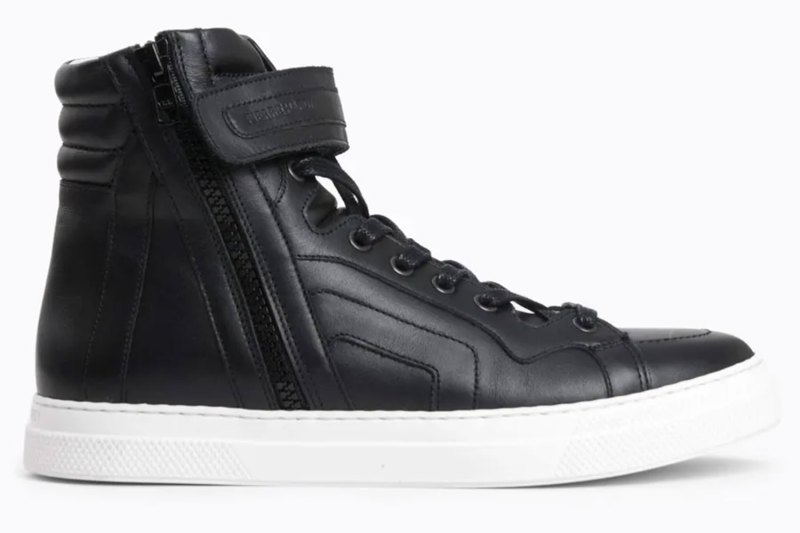 Pierre Hardy 112 High Top Sneakers
These iconic sneakers are staples in the French fashion designer footwear collections. They are both trendy and timeless and are known for completing any outfit. If you want to dress down any outfit with jeans and a sportcoat, replace your dress shoes or chelsea boots with these for a sharp and comfortable look.
Pierre Hardy 112 High Top Sneakers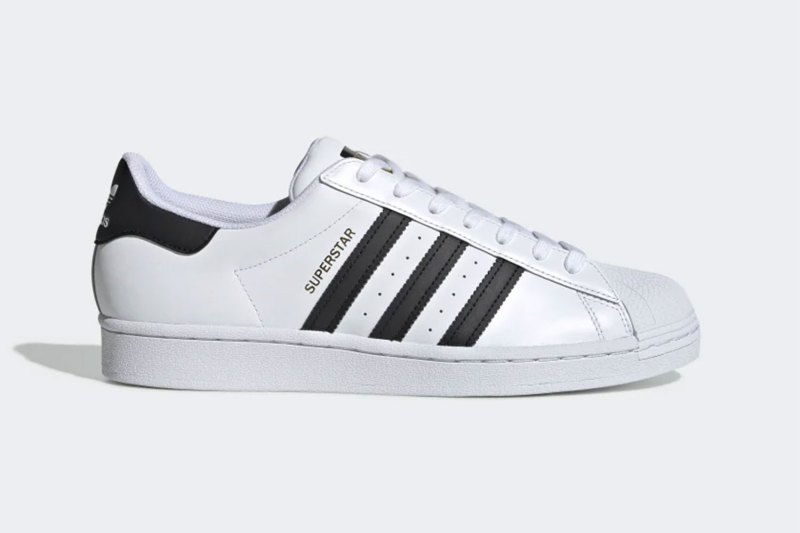 Adidas Superstar Shoes
Pay homage to hip-hop's early days with these sneakers that helped shape the genre of music beloved by many and helped form sneaker culture as we know it. These sneakers are famous for coming in nearly every color to help you make a statement.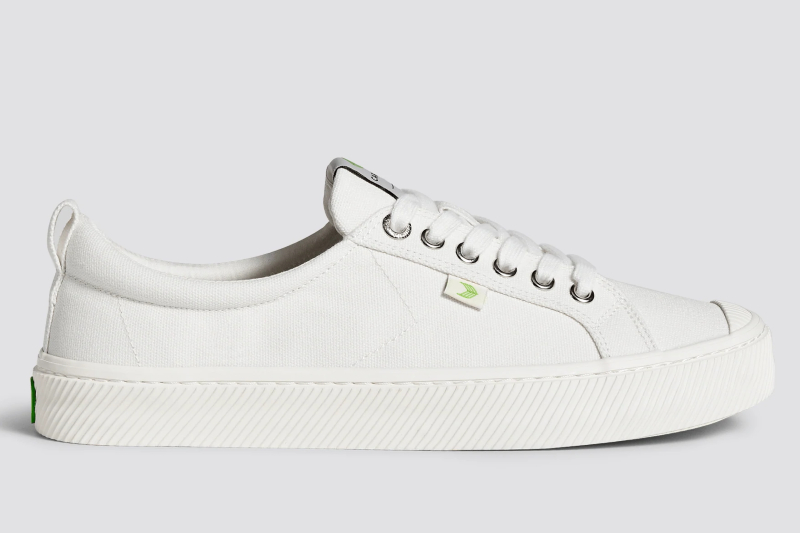 Cariuma OCA Low Canvas Sneakers
From its sustainable packaging to its focus on using the most eco-conscious materials on the market, Cariuma is changing how sneakers are designed and made. You'd do yourself and the environment a favor when you get at least one pair.
Cariuma OCA Low Canvas Sneakers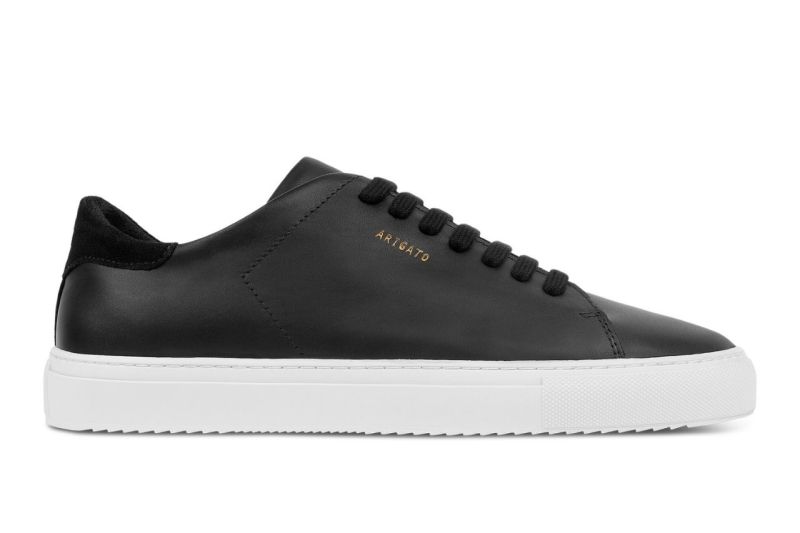 Axel Arigato Clean 90 Sneakers
Minimal design with a vintage twist makes these sneakers the perfect on-trend sneaker of the season.
Axel Arigato Clean 90 Sneakers
Clae Ellington Sneakers
Clae pays attention to every detail to provide comfortable footwear with a timeless silhouette. If you are a short king, ditch the clunky sneakers that make you look smaller and opt for these slimmer profiles.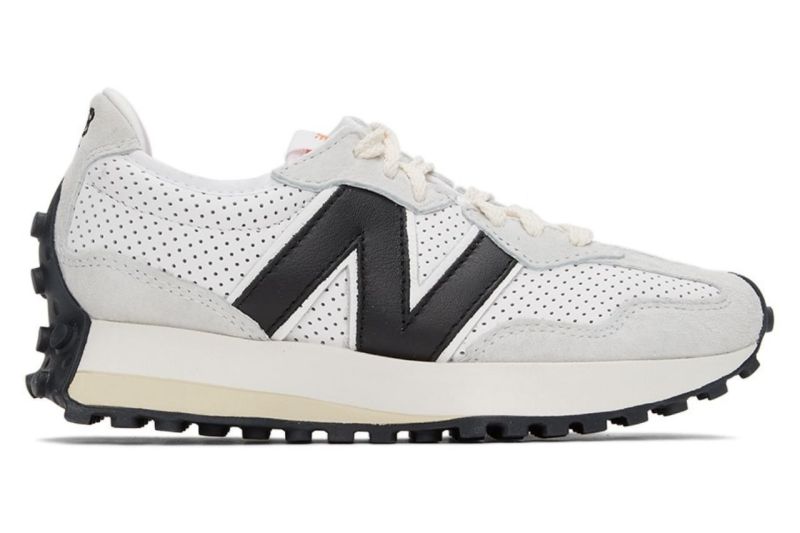 New Balance White & Black Casablanca Edition 327 Sneakers
If you're looking for a sportier look, New Balance introduces a sneaker with fashion brand Casablanca that'll be sure to catch attention on the streets.
New Balance White & Black Casablanca Edition 327 Sneakers
Loewe Ballet Runner Sneakers
Back by popular demand, Loewe reintroduced the Loewe Ballet Runner sneaker in its SS21 collection.
Loewe Ballet Runner Sneakers
Your sneakers will likely be the most comfortable shoe in your wardrobe, but that doesn't mean you have to sacrifice style, elegance, and personality. Whether you are high-fashion, a streetwear connoisseur, or a fan of the outdoor adventure, there are multiple selections on this list perfect for your sneaker life.
Editors' Recommendations