Every office has its own dress code, usually the dreadfully vague business casual dress code. While that can be a very specific portion of your closet dedicated to chinos, polos, and button-ups, it doesn't always crossover to other areas of your wardrobe. That is where Ben Sherman comes in.
I wore an outfit from the 60-year-old, London-based brand and discovered the joy of going from the office to the trailhead with zero effort. Of course, you wouldn't usually feel the need to leave your cubicle behind for a trek into the wild unknown, but with Ben Sherman, you don't need to buy a new pair of pants, shirt, or jacket for either.
Utility Jacket – Airforce
While you may be thinking, who would ever need to go from the office to the woods right away (clearly, you've never lived in the Pacific Northwest), there is one person who did it all the time, Indiana Jones. The Indiana Jones Style Archetype is known for ditching the classroom for adventure and putting together a wardrobe fit for both.
This Ben Sherman jacket is perfect to pair over your business casual outfit on the light and breezy days, or for shielding you from the rain when you thirst for adventure. Its 60/40 cotton/nylon makeup keeps it light and waterproof, while the five-button front allows for fastened security or open casual looks.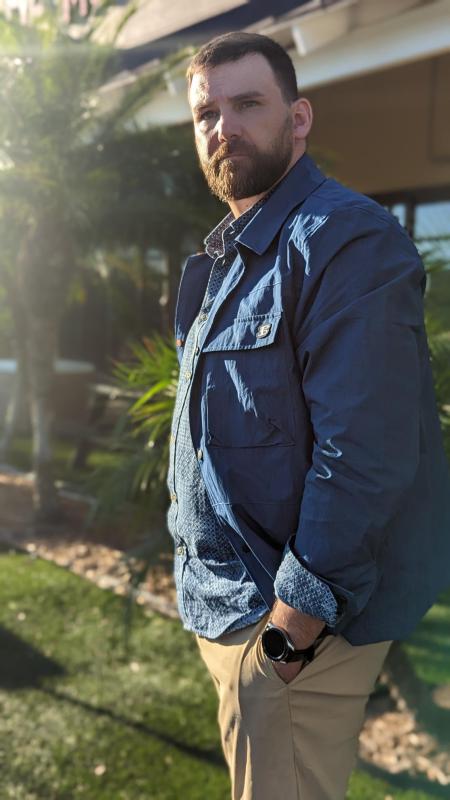 24/7 Motion Stretch Slim Chinos
Pants are the unsung heroes of your wardrobe. Many times, they are simply seen as an afterthought, a base layer to the shirt, which gets all the attention. Ben Sherman's 24/7 Motion Stretch Chinos will change that, getting you attention both in the office and on the trail.
Available in olive, blue, and gray, in addition to the sand, the mix of nylon and spandex is quick-dry and waterproof. The best feature of the pants is the stretch. Not just any stretch, but up to 2 inches of give. So whether you are sitting and standing all day in the office or climbing embankments and working through trees and caves, you have a lot of movement in your pants to keep you comfortable while you climb mountains, literally in the wilderness and metaphorically in the office.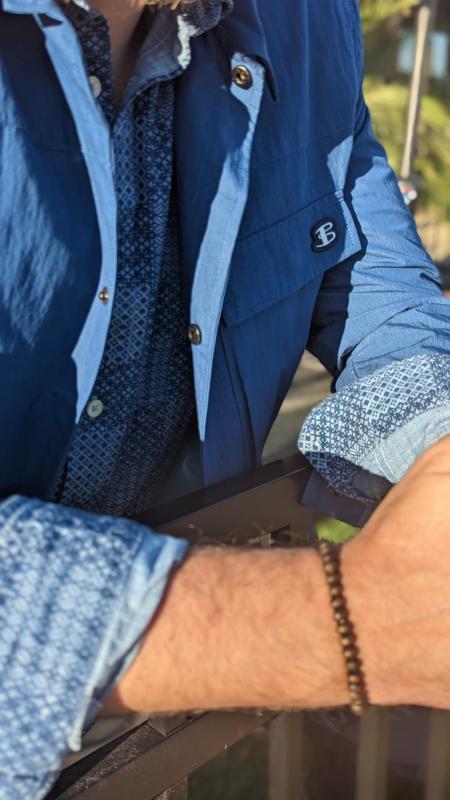 Chambray Patchwork Geo Print Long-Sleeve Shirt
Like I said before, the shirt always steals the attention, and the Chambray Patchwork Geo Print Long-Sleeve Shirt is going to be one of your biggest offenders of this. Sure, it is a striking blue color, but the subtle and somehow simultaneously eye-catching pattern looks just as good under a sport coat as it does with dark dress denim when you meet your friends for a drink.
Of course, this is the one item in the outfit that won't translate as well to deep woods hiking; you'll want to keep this one nice. However, it fits in every other casual situation you can think of, be it dinner and drinks, catching a movie, or a backyard barbecue.
There is a lot to love about Ben Sherman shirts, but one of the coolest features offered is the custom option. Want a unique pattern with a specific fit or feature? Hit up its custom shirts and get precisely what you want. In addition, whatever you are perusing on the website, scroll to the bottom for inspiration on how to wear it. Indiana Jones may have made going from the classroom to the field cool, but you and Ben Sherman will be perfect it together.
Editors' Recommendations