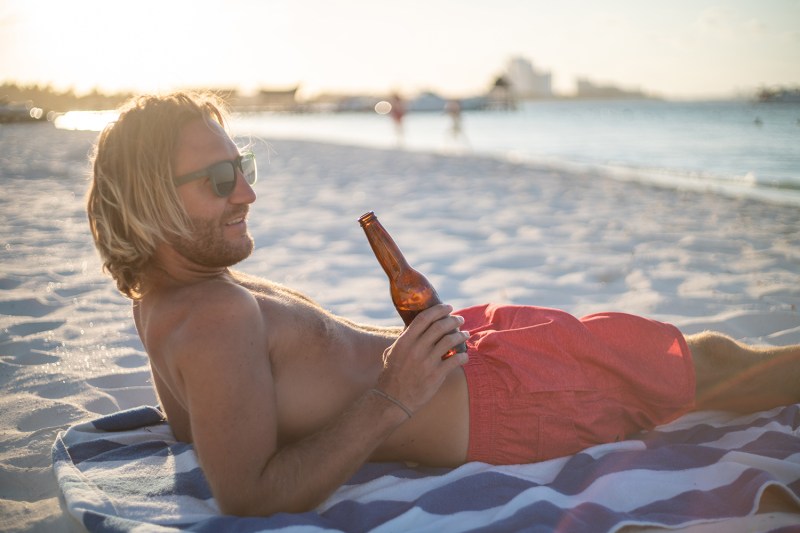 Now that you have your beach gear ready, you're probably wondering where you're going to go to cool off. Whether it's the lake, beach, or swimming pool, you need a proper beach towel. Beach towels are not the same as your everyday bath towel — or at least they shouldn't be.
While it's perfectly normal to devote the lion's share of your attention to beach necessities like trunks, sunglasses, and sunscreen, we urge you not to sleep on the selection of your beach towel. Toss that faded college-era beach towel left over from your childhood bedroom, and invest in one of these high-quality towels. All of our selections are broad and sturdy enough to take on sun, sand, and saltwater, yet offer the subdued style that makes a statement on a poolside lounge, cabana, or even in the bathroom.
Related Guides:
Breakwater Bay Cotton Beach Towel Set
These plush two-piece towels are crafted from 100% cotton with two-ply yarn, which makes them ultra-absorbent. The best part about these towels is that one side is soft velour able to repel water and sand and the reverse is absorbent to keep you cozy and warm. These large checkered striped beach towels are ideal for laying poolside all day long.
Breakwater Bay Chrissie Rope Textured Cotton Beach Towel Set
The Rope Oversized Beach Towel Set is a plush and luxurious towel crafted from Cotton with two-ply yarn. These towels are ultra-absorbent and soft. The double-sided towel is absorbent on one side and anti-moisture and anti-sand on the other.
Onsen Bath Towel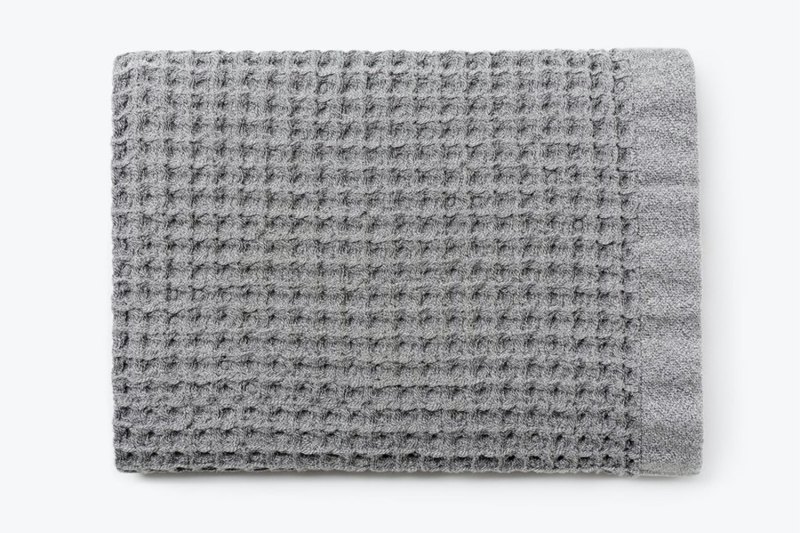 For those who have mastered the art of adulting, Onsen makes the classiest towel we've ever seen. The Japanese design philosophy shines through the simplicity and quality of the Supima cotton fibers and super-thirsty waffle weave. That being said, the classiest towel is also the cuddliest. (On the down-low, we'd happily sub this towel in for a bedtime blankie.) If your schedule pivots around cold water plunges or visits to a five-star spa, this is the towel you want to bring.
Coyuchi Mediterranean Organic Towels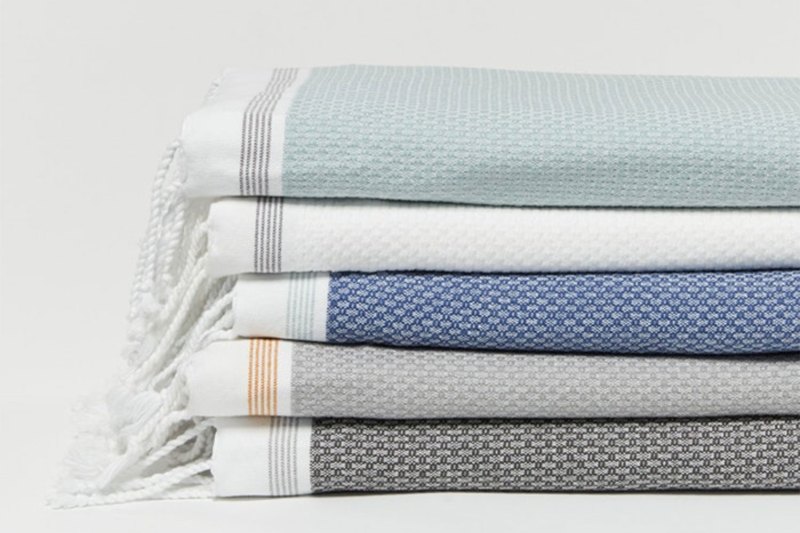 If sustainability is a main consideration for you (and in 2021 it probably should be), look no further than Coyuchi. Their Mediterranean Organic Bath Towel is not only made from 100% organic cotton, but it also combines all the best features of both traditional and Turkish towels into one seemingly endless bath sheet. The thin and lightweight towel is buffed up by a tight waffle weave that offers extra absorbency. The neutral color plays great in both beach and bathroom — truly a towel for all seasons.
The Loomia Iris Beach Towels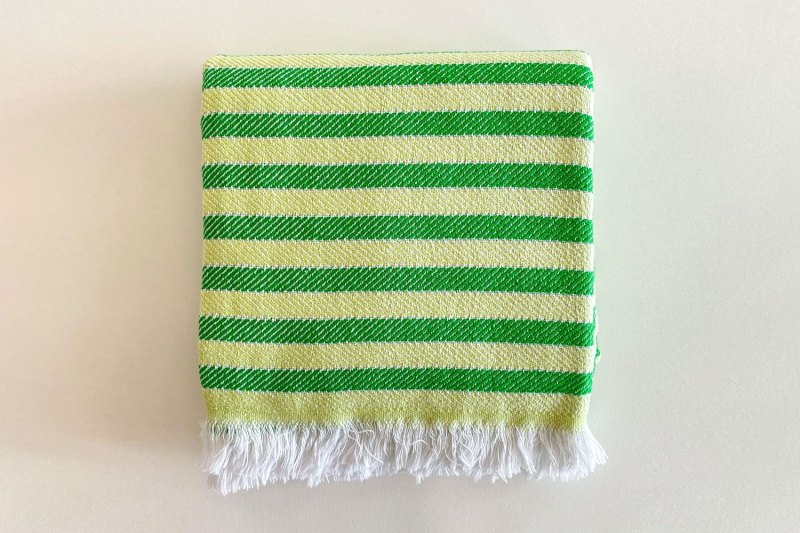 After a long day in the sweltering sun, the last thing you want is to smother yourself in a thick, fluffy towel. Hence, this calls for the ultimate minimalist towel, i.e., a Turkish towel from The Loomia. The brand's Iris model is our personal fave. It boasts a little extra heft than you usually find in a Turkish towel, plus a special reflection effect weave that sets off the striking stripe design. Better get two — your girlfriend will definitely steal one.
Tesalate Into the Wild Towel for Two
Sure, this towel is a little expensive, but you're getting a lot of bang for your buck as it's built for upwards of three people. Great for families or friend groups who want to lay claim to a ton of shoreline space, the Tesalate Towel for Two is not only huge, but it's sand-free, ultra-absorbent, and quick-drying. Sounds like a win, win, win.
Beach Towel versus Bath Towel
Did you know that there is a difference between a beach towel and a bath towel? The beach towel is larger than the bath towel and is used as a blanket or towel combo. The blanket portion keeps the sand off you (hopefully) and will also give you more coverage. Thin, lightweight, and anti-microbial beach towels are typically made with a linen material to absorb and dry much faster.
A bath towel is smaller, thicker, and usually made of cotton. It absorbs moisture but because of its thickness, it takes longer to dry and is prone to mildew smells just after a couple of uses. Bath towels are bulky and the material is prone to attract dirt, sand, and stains. The towel will become coarse after a certain amount of time and usage.
What to Look for in a Beach Towel
We touched on the subject of beach towels in the last section but let's dive a bit deeper. We've put together the top five things to consider when purchasing a beach towel.
It has to absorb water. Your beach towel should absorb water quickly and then dry not too long after using it. Of course, drying time is going to vary depending on your usage, the sun, and the thickness of the towel.
Pick the right size. Even though beach towels are larger than bath towels, they are available in different sizes. Pick a towel that "fits" you. You want the towel to be roughly the same length as you. Nothing is worse than being taller than the towel is longer and then either your head or feet will be in the sand.
Make sure it isn't too thick. The purpose of the beach towel is to protect you from sand and to dry you quickly. If the beach towel is too thick, it won't dry as fast and the fibers could allow sand and dirt to stick to it making drying off a little uncomfortable.
Choose a quality beach towel. If you choose a less expensive beach towel, you are sacrificing quality. It won't last long and it won't be comfortable. You wouldn't think comfortability would be a thing for a towel, but they can be scratchy and that's not good if you are spending an afternoon laying on it.
Appearance and color. Choose a beach towel that appeals to your personality. There are a lot of different textures, colors, and patterns from which to choose. Keep in mind that the lighter the color, the more stains will be noticeable. The darker the color, the more heat the towel will absorb and may be too hot to touch.
The Best Luxury Beach Towels
Luxury beach towels are measured in grams per square meter, or GSM.
Any beach towel that is under 350 GSM is considered a lightweight towel. These towels may be easy to carry around but they are not going to absorb a lot of water and will feel like a wet paper towel after its use.
A medium-weight beach towel will weigh anywhere between 400 and 600 GSM and will be just about as moisture absorbent as its heavy weighted counterpart yet remain light enough to carry around with ease.
The heavier weighted beach towel will be about 600 to 950 GSM. It will be the most absorbent towel there is, but it will be bulky and the drying time will be the longest.
It seems the sweet spot for beach towels is the medium-weight towel. Most of your luxury beach towels will fall into this category.
Some of the best luxury beach towels are made from Egyptian cotton, Turkish cotton, Supima cotton, and synthetic fabrics. While synthetic fabrics are popular because of their price range and they stand up against wear and tear. Egyptian and Turkish cotton are known for their long fibers and thick moisture absorbing qualities but the one to keep an eye on is the Supima cotton.
Supima cotton makes up less than 1% of the cotton market around the world but its superior quality offers the maximum softness, strength, and color retention there is. If you pick a beach towel made from Supima cotton, you will have a quality product that will offer comfort, durability, and will last a lot longer than without breaking the bank.
A Word About the Turkish Towel
The Turkish towel is a matter of some controversy. People love it or loathe it for the same reasons: It's thin, extremely lightweight, and has no loops or "nap" to the fabric. This, in our opinion, is what makes it a perfect beach towel. Without the fabric loops, Turkish towels dry within seconds of absorbing moisture, making them easy to use and reuse after multiple dips in the water. They also don't hold sand, guaranteeing a soft, clean dry-off. Plus, their light, thin profile lets them easily double as a beach blanket or even a scarf when the night turns cool.
Now that you've got your beach towel situation all settled, it's time to start thinking about what book to read while lying on it.
Editors' Recommendations