Tactical watches were initially designed to be task-specific and created specifically for flying, diving, or even trench warfare. Other men's watches might be stylish, but can they, as the Timex saying goes, take a lickin'? It could be said that the very first wristwatches for men, designed for soldiers in World War I, were, technically speaking, tactical watches. Today — although specialty watches may incorporate specific features for everything from space flight to deep-sea diving — they are mostly known for a rugged aesthetic, with big faces and large, easy-to-read digits.
They're usually accompanied by a fabric or NATO strap that is very secure and dries quickly; silicone or braided paracord is also popular. Their chunky nature may be a bit too casual to wear with a suit, but it makes them the perfect accessory to wear with today's everyday wardrobe, rounding out a rugged cotton or flannel shirt with khakis or jeans, and, of course, boots. We also like them with tweedy sport coats and textured heavier-weight suiting materials. What's best is that the style seems to come across a wide range of price points, so you can pick one up on a whim to build your timepiece collection or make an investment purchase that can become a family heirloom. Here are a few of our favorites.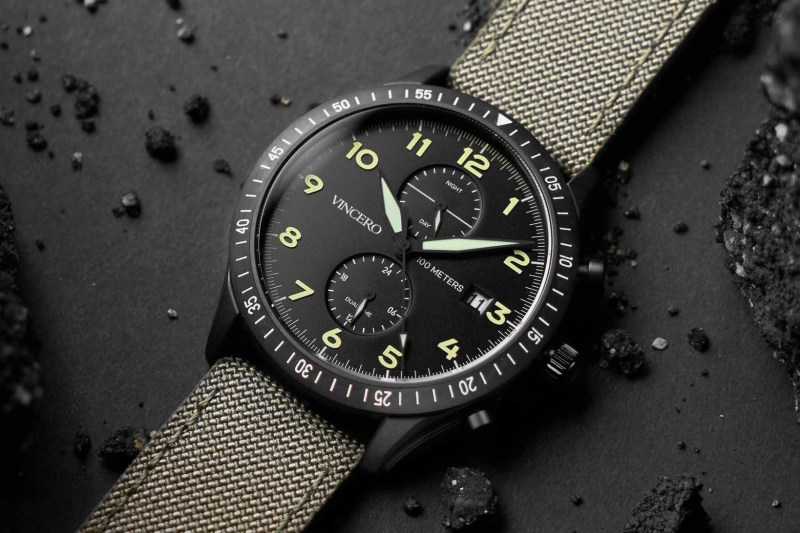 Vincero The Altitude
As the name implies, the Altitude is based on a classic pilot watch model with a ruggedly handsome and modern look. It's available in ten different colors and band combinations, but we like the subtly retro appeal of this graphite case and khaki Cordura nylon strap. This model features a quartz movement and glow-in-the-dark hands and numbers, perfect for those late-night flights into battle...or seeing Top Gun for the 100th time.
Amazfit GTR3 Pro
The modern equivalent of the tactical watch is, of course, the smartwatch. Whether tracking your health, your fitness, or even your global location, a smartwatch is the definition of functional timekeeping. We think the styling of this one from Amazfit fits the bill, especially with its round face and textured band. The touchscreen face features tempered glass and an anti-fingerprint coating. It also has GPS capabilities and works with Alexa.
Shinola Birdy
Pilot's watches originally had extra long straps to be strapped onto the outside of their shearling jackets. Now they look extra cool wrapped around our wrists. This one from Shinola features clean black, white, and silver styling with an Argonite 705 quartz movement, a coin-edge bezel, and a sapphire crystal. We also love that it's made in Detroit, Michigan, a genuine American tactical watch.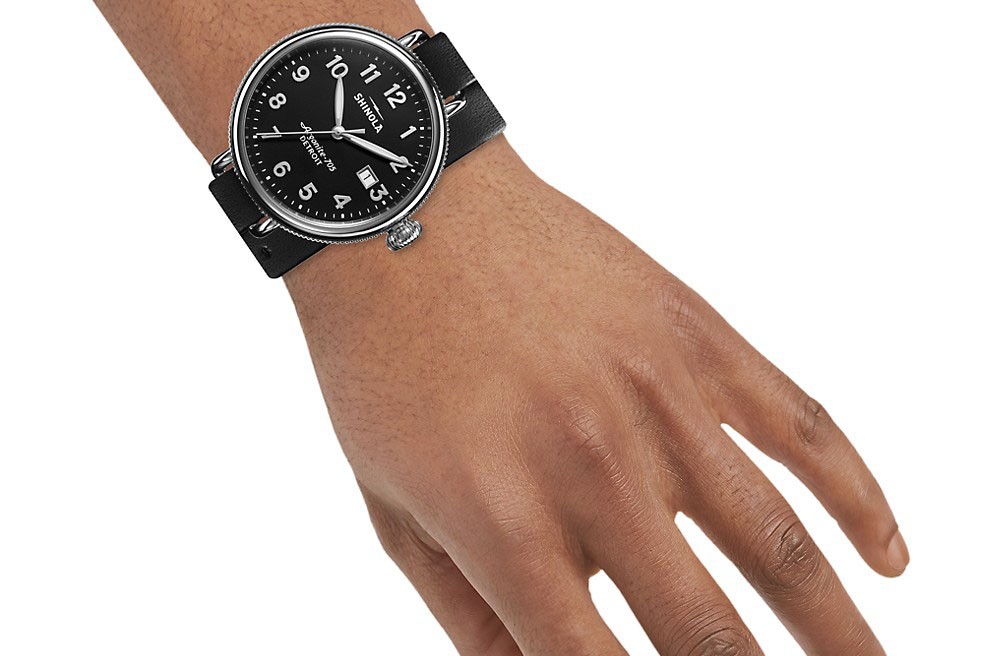 Traser Type 6
For authentic aviation heritage, we went straight to the source, Cockpit USA. Known for their historically accurate collection of leather jackets and apparel, the flight crew's expertise extends to timepieces, too. For just under $500, it's built like a tank, featuring double case construction, a bi-directional rotating PVD-plated bezel, a K1 mineral crystal, and a Swiss quartz movement, not to mention that signature NATO strap. There is nothing like connecting to the past through genuine throwback gear.
Seiko Prospex "Arnie" Tactical Watch
What can we say? We love a good action movie-inspired watch. There are fewer action movies more impactful to the 80s than Predator, and no one was bigger than Arnie himself. This Seiko is not only an updated throwback to the very watch the former bodybuilder wore to take down the alien hunter, but it is solar-powered and has a six-month power reserve. So even if you only take it out occasionally, it will be ready when you are.
Seiko Prospex "Arnie" Tactical Watch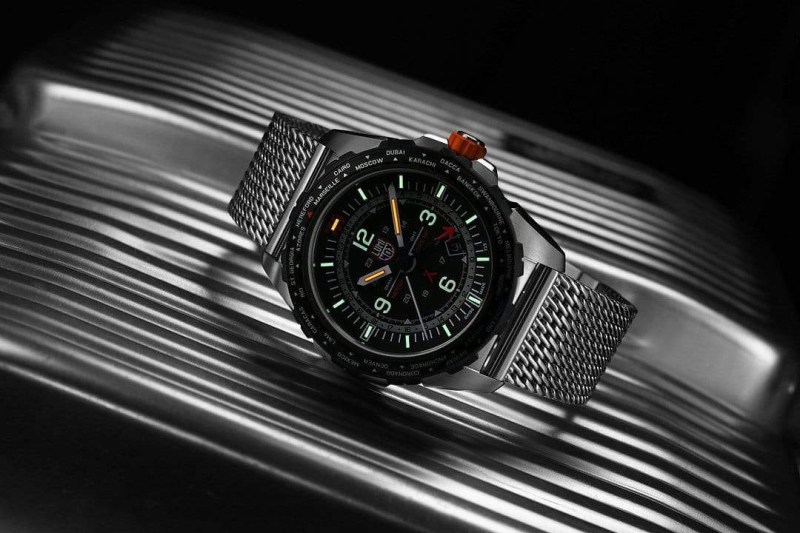 Luminox Bear Grylls
Luminox's collaboration with explorer, adventurer, and all-around tough guy Edward Michael "Bear" Grylls started in 2020 and has now grown to 11 different models. As tough as their namesake, each features a multi-functional design and state-of-the-art materials. We chose this one for its all-steel construction. We particularly like the "GMT" bezel, initially developed in the 1950s for PanAm's transatlantic pilots to keep track of both local and Greenwich Mean Time. If you are preparing for the worst, snag the watch built by the man who has seen the worst.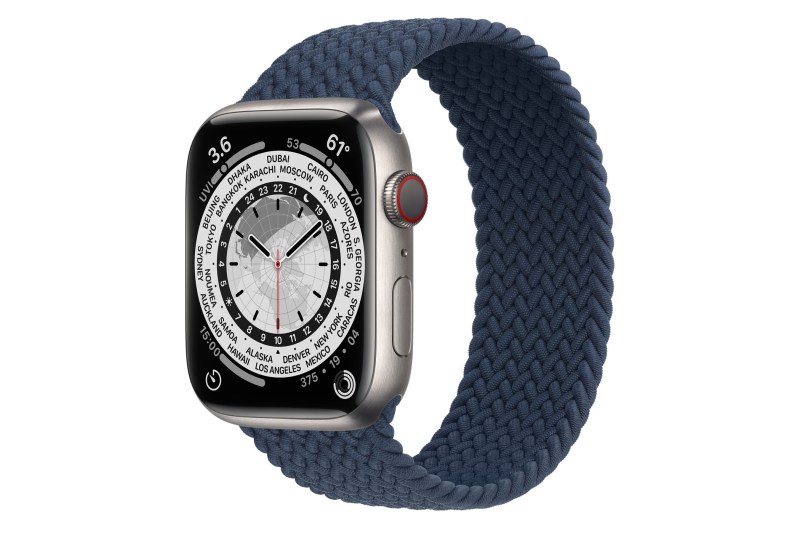 Apple Watch
As mentioned above, the modern equivalent of the tactical watch is the smartwatch. So we had to add one more version. This tough-as-nails titanium version from Apple with a tactically-inspired braided band (made from recycled yarn and silicone threads for comfort and stretch, no clasps or buckles necessary) is the perfect fit for this list. The newest Apple watches feature even larger displays, a swimmable, crack-proof crystal, and the ability to measure your ECG and blood oxygen level. Geez, can it cook, too?
MTM Black Cobra 44 Special Ops
When you want a tactical watch, you plan to, or are prepared for, the harshest environments you could face. You expect there to be weather, blunt force, and varying degrees of abuse laid upon the timepiece, and you need one that can stand up to the beating. That is where MTM comes in; created by an ex-military man that knows what a watch needs to save your life. These watches are featured in movies and TV shows and on men like Dwayne Johnson, Chris Pratt, and Jason Statham. But they aren't just the choice of fictional badasses; Tim Kennedy, a real life special forces soldier, is also a fan. Oh, and if it is good enough for Jack Bauer, it is good enough for us.
MTM Black Cobra 44 Special Ops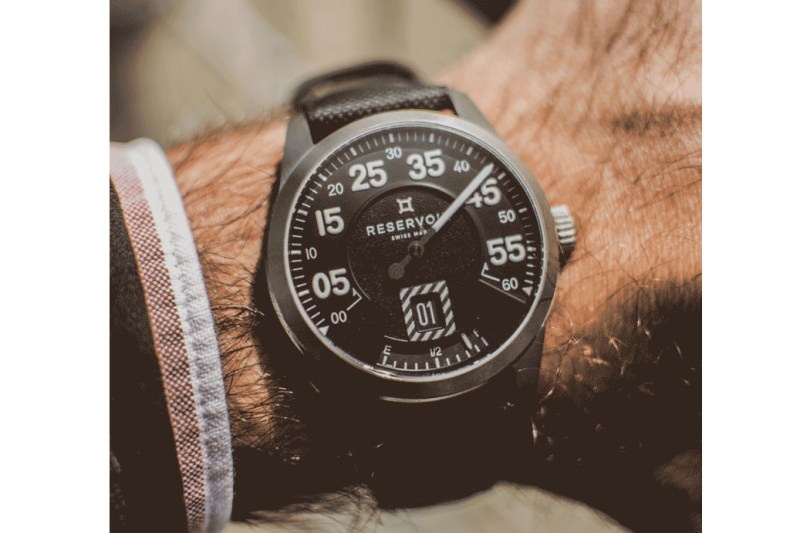 AIRFIGHT TITANE
At first glance, you may not even be sure you're looking at a watch since an airplane's instrument panel inspires the Titane's face. Minutes are counted across the top of the watch, from 0 to 60, then bouncing back to the beginning; the hour is displayed in a window in the middle. A "fuel gauge" shows how much power is left in this self-winding watch. Its price is on the atmospheric side but is worth it in conversational value alone. This truly unique design is worth every penny and won't let you down on functionality, either.
Montblanc 1858 Monopusher Chronograph
Another timepiece that lands squarely in the investment category, this automatic Montblanc is inspired by a series of watches designed for mountain climbing back in the Roaring 1920s and 30s. It features a bronze case, a vintage-inspired face design, and a beige fabric strap. While staying true to the sporty nature of a tactical watch, this chronograph has a formal quality that would look great with a suit or even a tuxedo.
Montblanc 1858 Monopusher Chronograph
Whether you are surviving in the wilderness like Bear Grylls, defending our freedom like Tim Kennedy, or flexing your massive biceps to intimidate an alien like Arnold Schwarzenegger, a tactical watch can be your best friend. They have bells and whistles, they have features, but most of all, they have durability and style that will keep you on your feet.
Choose from one of these ten watches above, and we guarantee you will be ready for your next adventure before it's even on your wrist.
Editors' Recommendations