Traveling solo is one of the best things you can do for yourself. Exploring a destination alone lets you fully immerse yourself in the culture and energy of a place, and you have no one to please but yourself, so your itinerary can be as stacked or as free as you want it to be. One of the very best places to explore by your lonesome is Tokyo. The city is sensory overload in the best way. At every step, you're surrounded by history mixed with the most advanced technology in the world. You can visit serene temples and lush parks by day, taste some of the best food you'll ever eat, and watch the city boom into the late night hours. It's one of our favorite places to shop and certainly one of the best cities to bar hop. You can choose your own adventure by dining alone, or finding a friendly place to strike up a conversation. Whichever way you choose to do it, this is how to spend a weekend in Tokyo solo.
Things To Do
Senso-ji
This is the city's oldest Buddhist temple, and it's located in Asakusa, which used to be Tokyo's leading entertainment district. Although Asakusa is quieter now, it's still a neighborhood worth seeing, especially to visit Senso-ji. The temple is approached by Nakamise, which is a shopping street that's lined with vendors selling sweets, snacks, clothing, and other souvenirs. Within the temple itself, and spread throughout different places on the surrounding grounds, are o-mikuji stalls. For a 100-yen donation (about $1), visitors can consult the oracle with a question and receive an answer. But not to worry if you receive a negative fortune — simply tie the piece of paper to a nearby structure and leave it behind.
Yoyogi Park
Yoyogi Park is one of Tokyo's largest, and it's a stunning place to walk around and explore after a big meal. If you're there during cherry blossom season, it's a wonderful place to check out the flowers and people watch as they picnic underneath the pink trees. Yoyogi Park is also home to the Meiji Shrine, which was built in 1920 and is dedicated to the spirits of Emperor Meiji and Empress Shoken. After walking through the large torii gate that marks the entrance to the Shinto shrine, the sounds of busy Tokyo disappear as you're surrounded by the 100,000 trees that make up the surrounding Meiji Jingu forest.
Kappabashi Street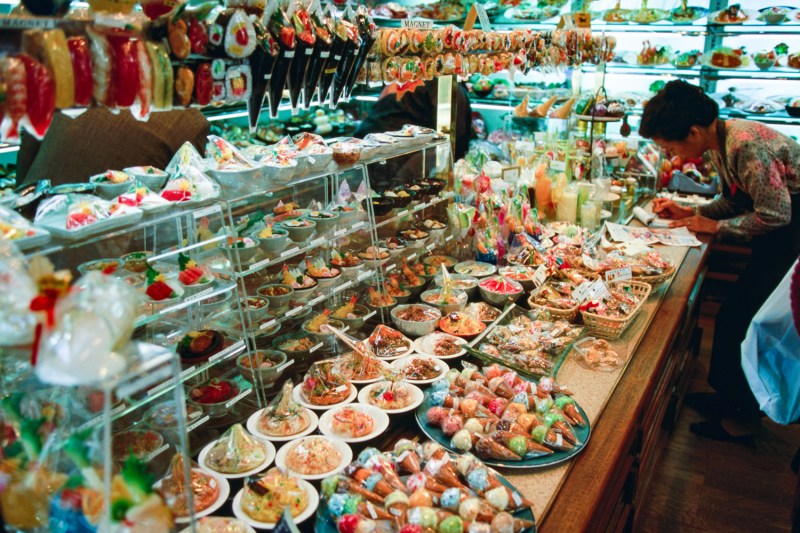 Located in between Tokyo's Asakusa and Ueno neighborhoods, Kappabashi Street is a sight to see. It's lined with several dozen stores that all cater to people in the restaurant industry. As you explore the area, you'll find retailers selling everything from ceramics to cookware to top-of-the-line Japanese knives. But one of the best reasons to walk down Kappabashi is to visit the vendors selling the incredibly lifelike plastic food replicas you see displayed in restaurant windows. In particular, check out Ganso Shokuhin Sample-ya, which carries the true-to-size samples as well as miniatures and magnets that make great souvenirs.

Shopping
Kiddy Land
No matter how old you are, Kiddy Land is bound to bring joy from the moment you step inside. The 60-year-old retailer is filled wall-to-wall with all of your favorite memorabilia, whether it's from Star Wars, Super Mario Brothers, Sanrio, Marvel, or Snoopy. We love the Harajuku location because it's stacked with five stories of good, clean fun.
Oriental Bazaar
If you're looking for traditional Japanese goods like ceramics, clothing, or decor, Oriental Bazaar is the perfect place to stock up on souvenirs. Throughout the store's three floors, you'll find everything from antiques and furniture to stationary, books, yukatas, and T-shirts. Its wide range of prices makes it an affordable place to shop, no matter your budget.
Tokyu Plaza Omotesando Harajuku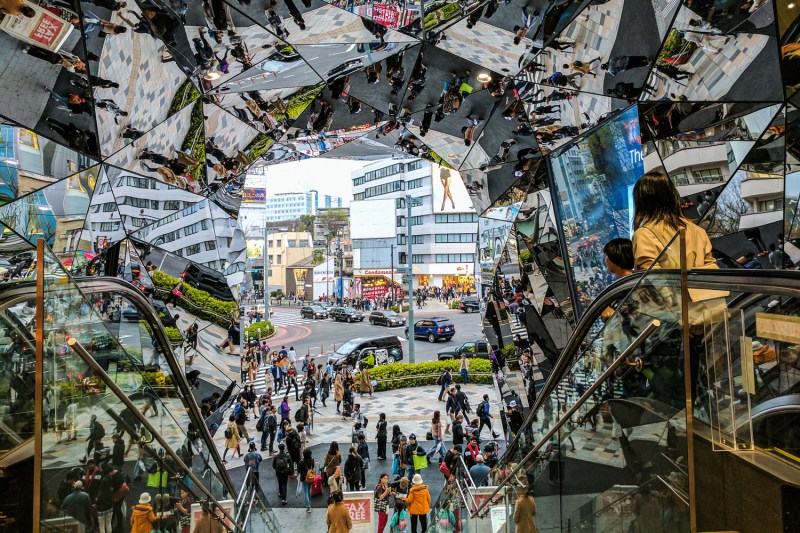 This "fashion theme park" is a must-see, even if you only make it up and down the entrance's trippy, mirror-flanked escalators. Tokyu Plaza Omotesando Harajuku was designed by architect Hiroshi Nakamura and features seven floors of shopping with a couple dining options toward the top. Don't miss the lush sixth-floor terrace that offers a perfect view of the bustling neighborhood down below.
Laforet Harajuku
If you're looking to shop Japanese designers and more eccentric fashion, Laforet Harajuku is practically paradise. The complex is comprised of 13 floors housing independent boutiques, so you can find everything from rare sneakers and local streetwear to interesting accessories. Laforet is also a hub for Harajuku fashion, which is fun to window shop even if you're not buying it.
Uniqlo Ginza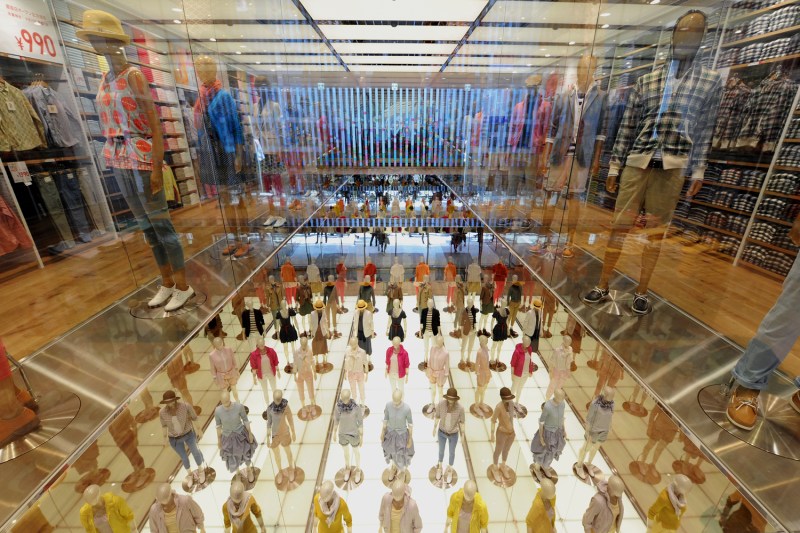 Even if you already live near a Uniqlo, the retailer's massive Ginza store is worth a visit. As Japan's flagship, it's the largest location in the world and boasts 12 floors of clothing and accessories for men, women, and children. The top two floors feature limited edition items and special artist collaborations, so make sure to stock up before heading home.
Chicago Harajuku Omotesando
If you're looking for affordable vintage clothing, Chicago is your best bet. Skip the crowded Takeshita street store and check out the Chicago Omotesando location instead. Inside you'll find rows upon rows of secondhand treasures like vintage band tees, sports jerseys, army fatigues, denim, souvenir jackets, and kimonos.
Daikanyama T-Site
Tucked into a serene corner of Tokyo's chic Daikanyama neighborhood, T-site is a book-lovers dream. The architecturally stunning store is broken up into three separate buildings that are surrounded by greenery and connected via an outdoor walkway. It's the perfect place to quietly indulge in a solo afternoon, whether you're winding in and out of the store's many shelves or resting your legs at the café.
Shibuya Loft
Shibuya Loft is another excellent place to buy souvenirs, whether you're looking for kitchenware, jewelry, leather goods, grooming items, or just about anything else you can imagine. It's easy to spend hours in this store as small sections of goods guide you in a maze-like route throughout the retailer's seven floors. It's also the perfect place to find beautiful, inexpensive gifts, so definitely make a stop here if people back home are expecting Tokyo trinkets.

Restaurants and Bars
Funky Chicken Bar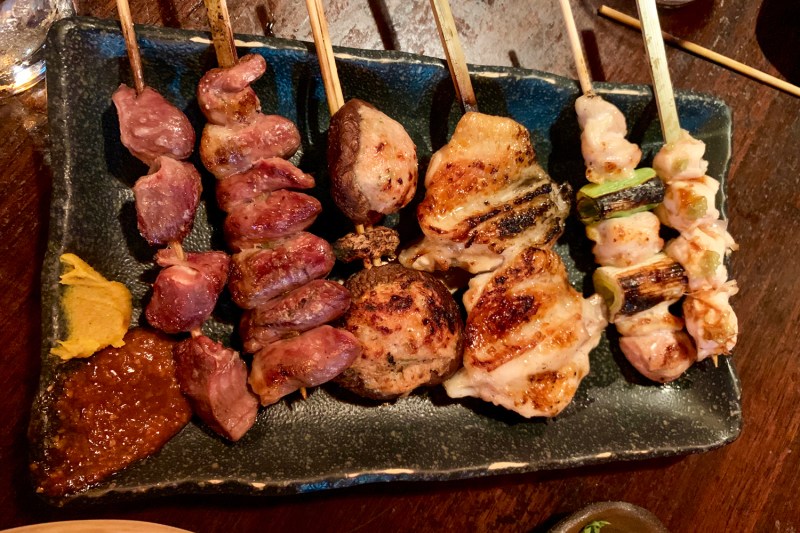 Yakitori and soul are on the menu at this Shibuya listening bar. Gen-shan has been running Funky Chicken Bar for 17 years, and he both curates its selection of vinyl and cooks delicious Japanese soul food. Come hungry for hearty skewers filled with things like chicken wings and tomato bacon rolls, along with bites like Japanese rice balls and fried eggplant served over rice. There's a long list of spirits, cocktails, beer, shochu, and sake to wash it all down. The staff is friendly and there's an English menu available, so don't be shy about asking for it upon arrival.
Afuri Ramen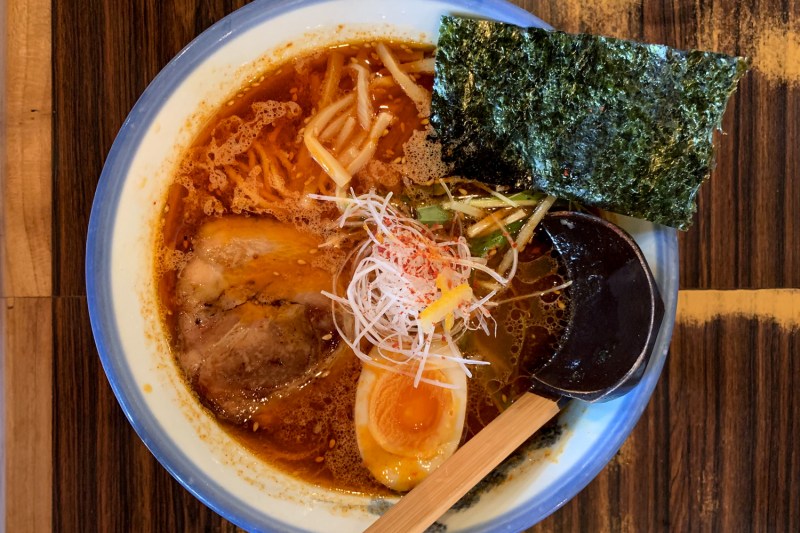 Ramen is the ultimate solo dining experience because you typically sit at a counter, commonly surrounded by other unaccompanied diners slurping their noodles. Afuri is currently one of our favorite places to grab ramen in Tokyo, and it has multiple convenient locations around the city. Their signature is a Yuzu Shio Ramen, which is made with chicken and dashi-based broth that's infused with yuzu. We're big fans of the Yuzu Ratanmen, a spicy version of their house bowl, and they even have a colorful vegan bowl for anyone who doesn't eat meat.
Sushi Kyubey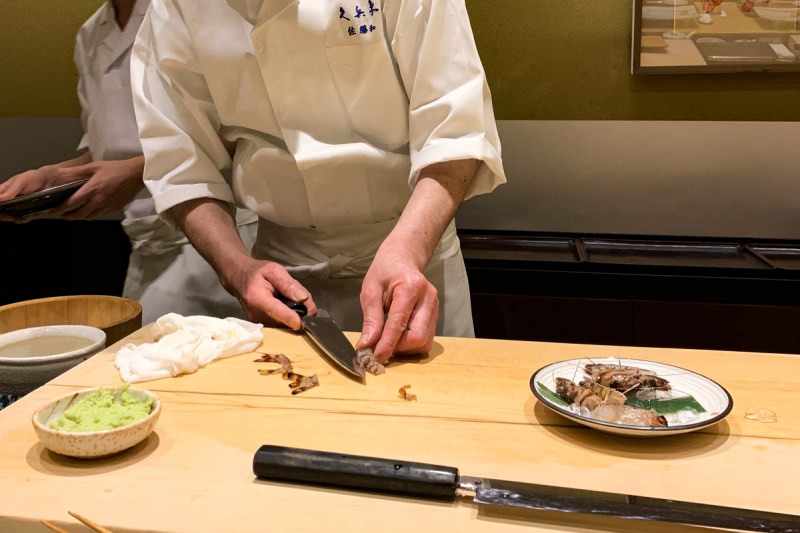 Treating yourself to high-end sushi is a must in Tokyo, especially if you're dining solo because it really lets you focus on the food without any distractions. While dinners at these restaurants can cost you between $200-$300 a person, some sushi dens offer affordable lunchtime omakases that provide the same choice experience but with fewer courses. One of our favorite places is Sushi Kyubey, which was founded in 1935 and is still serving Tokyo locals and tourists alike in its relaxed Ginza restaurant. There is an 11:30 lunch seating, and we suggest springing for the hi-quality course, which will cost you about $87. Our itamae, or chef, spoke some English and explained every dish he prepared. We feasted on tuna belly, squid, uni, and sweet shrimp that was so fresh, it was alive seconds before the chef plated the dish. After about seven nigiri courses, the chef presented a plate of tamago and rolls filled with tuna, pickles, and squash. We left stuffed and satisfied. The easiest way to make a reservation is through JPNEAZY.
New York Bar at Park Hyatt Tokyo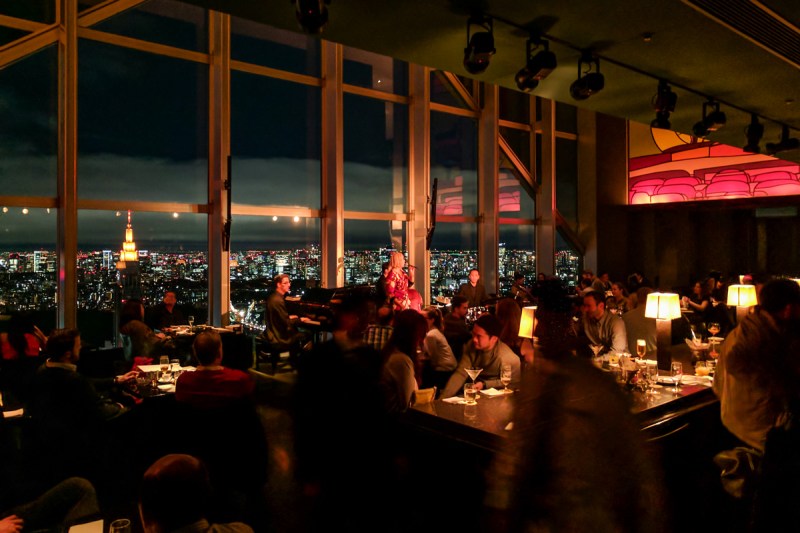 You can't visit Tokyo without spending an evening at the iconic New York Bar in the Park Hyatt hotel. You might recognize the space from Lost In Translation where Bill Murray famously sips Suntory alongside Scarlett Johansson during his bouts of incurable jetlag. But silver screen appearance aside, New York Bar is a star in its own right. Every evening, the space features live jazz perched against the backdrop of Tokyo's glittering lights, suspended 52 stories above the ground. The energy in the room is palpable. Lively conversation mingles with the music as people sip on champagne, martinis, and Japanese whisky flights. The bites are excellent, too. The Pork Rib Tortilla is one of our favorite dishes in the city, and super hungry diners should order the Wagyu Bacon Cheeseburger. In the New York Bar, hours fly by like minutes, and you'll leave feeling filled with the spirit of the city. Be sure to make a reservation as it's quite a popular destination.
Inc Cocktails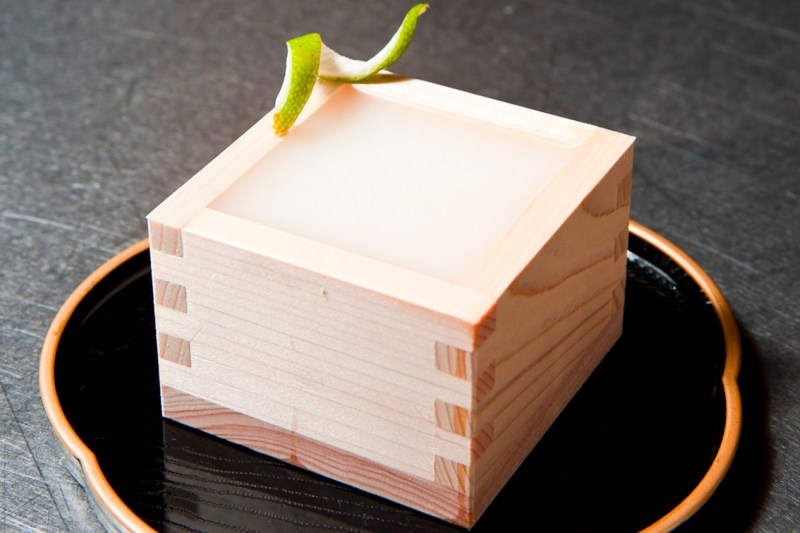 One of our favorite bars in Osaka, Inc & Sons, recently opened a Tokyo outpost, and it's the place to go for expertly made drinks, friendly service, and great music. Inc Cocktails is tucked away on a quiet Shibuya street, and like its Osaka sister, the bar features a rotating roster of DJs that spin vinyl on an impressive house sound system. Cocktails change with the seasons and feature both classics and signature creations—like a refreshing Cranberry Sour we enjoyed on our most recent visit. Inc Cocktails also blends their own whisky, so be sure to sit at the bar and sample a dram with one of the friendly and talented bartenders.
Roppongi Basecamp
Roppongi is known for its nightlife, and Basecamp is one of the coolest places you can go in the neighborhood for some late night fun. It's tucked away on a side street away from the main drag that's lined with club promoters trying to get you inside, so it has a cool, underground vibe. There's always something new to discover with Basecamp's talented lineup of rotating musicians and DJs, and a mix of Tokyo natives and international expats means you're sure to meet a new friend on the dance floor.

Where to Stay
Conrad Tokyo
After a long day of sightseeing in Tokyo, there's no better place to rest your head than the Conrad. Located in the city's Shimbashi business district, Conrad Tokyo is a gorgeously modern hotel that offers impeccable service from the moment you walk through the door. The property occupies floors 28 through 37 of the Shiodome skyscraper, so guests can enjoy views of Tokyo Bar and the Hamarikyu Gardens. All 291 guest rooms are outfitted with a sleek Japanese design and luxurious amenities to make you feel at home. A plush bed will ease you into slumber, and a spacious work area is there for the hours you need to be productive. The bathroom is one of the best we've ever seen and probably our favorite part of the room. A glass partition with an automatic shade separates it from the sleeping area, and it features double white marble sinks, separate toilet and shower rooms, and a freestanding tub that is beckoning for a soak with pink Himalayan bath salts. Turndown service and an excellent 24-hour housekeeping staff mean the room is always in tip-top shape.
Conrad houses four on-site restaurants, so guests don't have to venture far for a great meal. You can enjoy Japanese, Chinese, and French cuisine, along with a killer breakfast at Cerise that features local delicacies along with American and European morning favorites. TwentyEight is one of the best hotel bars in the city, and its floor-to-ceiling windows provide sweeping views of the skyline below. Come and enjoy a cocktail at happy hour, or indulge in the bar's popular afternoon tea. Conrad Tokyo has a large fitness center and indoor pool, and they even offer Pilates, yoga, and ballet classes in the aerobic studio. Mizuki Spa has a diverse menu of facials, massages, and other body treatments if you really want to treat yourself. Conrad Tokyo's staff and concierge are some of the best we've ever experienced, so they'll be able to assist with your every need during a stay.
Editors' Recommendations