Tokyo is an electric place. In no other metropolis in the world will you find such a stark contrast between the city's ancient history and its modern, buzzing nightlife. Sightseeing at temples by day turns into singing your heart out in karaoke parlors by night. As dusk settles, buttoned-up salary men and women loosen their ties and throw back a few cold ones at bustling izakayas. The conversations on the subway become progressively louder and more candid. It's impossible not to get caught up in Tokyo's hustle and bustle, especially if you're only visiting for a few precious days.

To make the most of your time in Japan's largest city, we've outlined the best places to play, shop, eat, drink, and rest your head at the end of it all. Take it in and get ready for the urban adventure of a lifetime with our ultimate Tokyo travel guide.
Play
Going to the Robot Restaurant show is possibly the most touristy thing you can do in Tokyo. It's also the most fun, eye-popping, and ridiculous live show on earth, and you absolutely have to see it for yourself. You're first escorted into a gilded, mirrored lounge where you can order drinks (we recommend a bottle of bubbly on ice) before descending floors beneath the city into the theater. The loose story-line when we were there was about an evil dictator trying to destroy a forest and all its inhabitants so she could take it for herself. There was live drumming, neon costumes, technicolor wigs, laser light shows, pyrotechnics, choreography, and, of course, robots — hugely impressive machines remote controlled by the staff to move, light up, and breathe fire.
Go after lunch or dinner (the food there is sub-par, eat before) for one of the best times you'll have on vacation.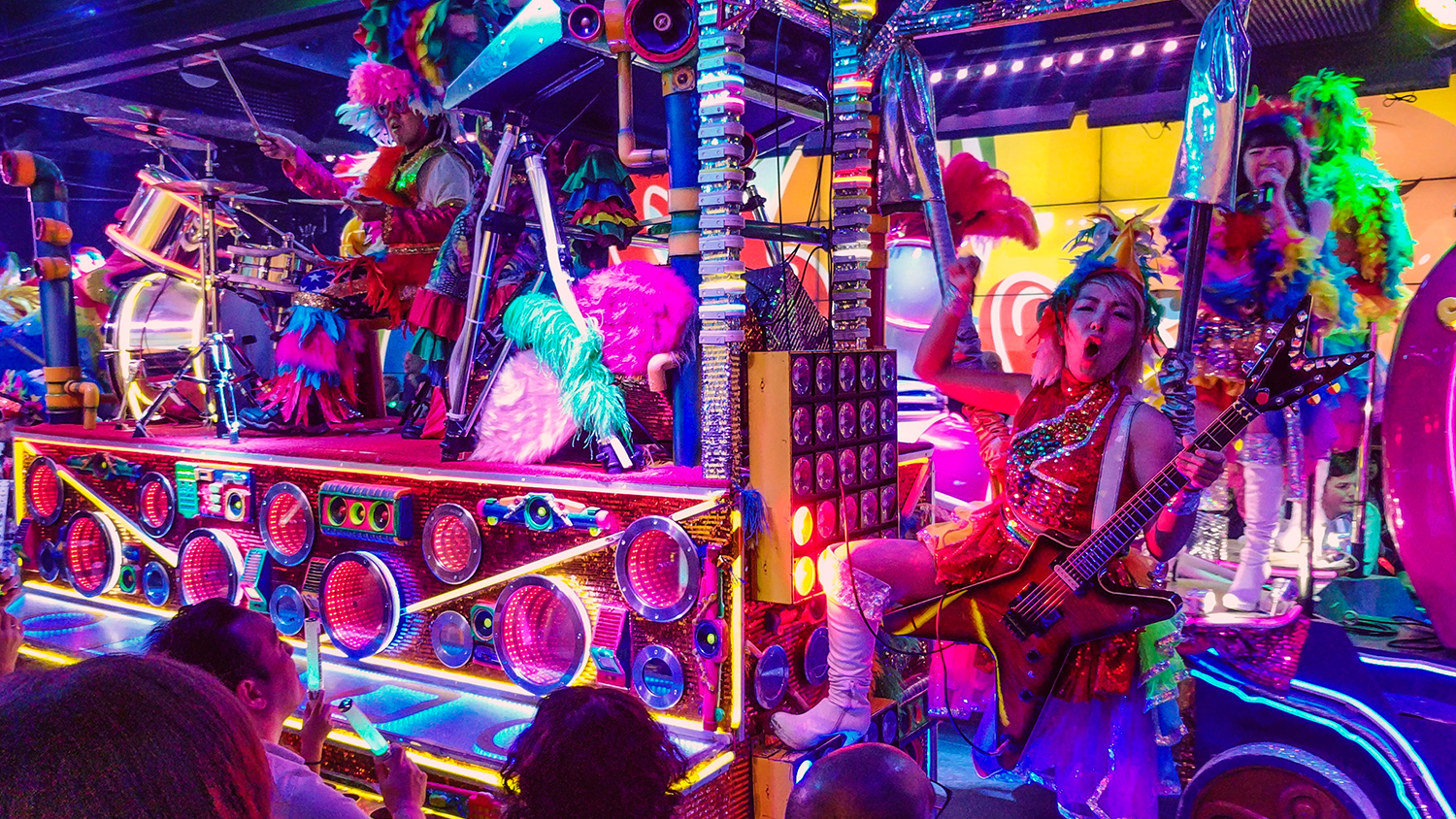 Yoyogi Park
If you happen to be in Tokyo during the peak of sakura season (end of March through early April), Yoyogi Park is a great spot to view the bright pink cherry blossoms. If you're really lucky, you'll see thousands of people sitting under the trees on plastic tarps, eating, drinking, and celebrating the full bloom — also known as hanami, or "flower viewing." Take a walk in the expansive urban park or go there to check out the Meiji Shrine.
Ueno Park
Opened in 1873, this green public space was one of Japan's first Western-style parks. It's home to many of the city's museums, like the Tokyo National Museum and the Tokyo Metropolitan Art Museum, as well as the Ueno Zoo. It's also another fantastic place to catch the cherry blossoms in full bloom; the park's central pathway is lined with more than 1,000 cherry trees. If you find yourself here in the chillier months, look for vendors serving hot bowls of oden, a one-pot wonder made with things like sausage, fish cakes, boiled eggs, daikon, and konjac in a soy dashi broth.
Akihabara
An afternoon spent in this eclectic neighborhood will make you feel like a kid again. It's always been a hub for electronics stores and, in more recent years, it has become a destination for anime, manga, figurines, and other collectibles. If you're interested in going to a maid cafe, this is where you'll find a majority of the good ones, though locals told us that they were pretty overpriced. Don't leave the neighborhood without visiting Taito Arcade, a six-floor gaming center we're you'll find everything from crane games to Dance Dance Revolution. Our favorite stop was Akihabara Gachapon Kaikon, a small shop filled with rows of pod machines holding tiny collectible figurines. It was the perfect place to find little gifts and souvenirs that ranged from Gudetama action figures to scantily clad female characters.
Sumida Aquarium
Located on the fifth and sixth floors of Tokyo's Skytree Town, a large shopping complex connected to Oshiage Station, Sumida Aquarium is a great activity for families and those who are fascinated with marine life. Here, you can observe aquarium staff working in the Aqua Lab and see the growth stages of jellyfish from infancy to adulthood. The best part is the large open tank where you can watch penguins and fur seals playing up close.

Shop
Tokyu Plaza Omotesando Harajuku
This bustling shopping center, which aims to be a "fashion theme park," is more than just a place to drop some cash. Besides a collection of stores that sell clothing and home wares, Tokyu Plaza Omotesando Harajuku boasts a rooftop cafe and garden that features a craft beer program in the warmer months. Even if you don't have time to shop, check out the mall for its entrance alone, which features a cave of mind-bending kaleidoscopic mirrors that are meant to reflect shoppers and the ever-changing scene of the neighborhood.
Daikanyama
If you're in the mood for high-end shopping, stylish cafes, and very fun people-watching, spend an afternoon in central Tokyo's Daikanyama neighborhood. Some people say it reminds them of Brooklyn — for us, it conjured thoughts of sunny Abbot Kinney Boulevard in Venice, California. The unique neighborhood stands out from other areas of Tokyo, firstly because of how shiny, new, and modern the buildings look. Also, you'll find more western-style cafes with people dining on veggie-forward sandwiches and salads al fresco rather than slurping bowls of noodles. We ate burgers at Blacows before popping into retailers like mega bookstore T-site, indigo specialty store Okura, and menswear shop High! Standard.
B.C. Stock
With locations all over the country, it's easy to pop into one of B.C. Stock's menswear stores, but we're partial to the Shimokitazawa outpost. An equal mix of tailoring and streetwear, they have their own private label, but tout brands like Carhartt WIP and Journal Standard as well.
Village Vanguard
We stumbled upon this oddball bookstore after a day of shopping in Tokyo's Shimokitazawa neighborhood, and it's a must-visit if you're looking to lose yourself in an amalgam of random — some useful, others … not so much — stuff. Yes, they have vintage manga, modern cookbooks, and plenty of cool magazines, but you'll also find backpacks, action figures, candy, lava lamps, and other knick knacks you can't live without. There is even a small music section where we discovered D.A.N., and now we can't stop listening.
Tokyu Hands
This Japanese department store sells anything you could possibly want or need. We're talking everything from luggage and rucksacks to kitchen wares to grooming products galore. Think of it like a Japanese Target. Go here a day or two before you leave to shop for last-minute souvenirs.
Eat
Udon Shin
Udon Shin is hands down one of the best meals you'll have in Tokyo, and maybe all of Japan. There may be a small line queued up outside when you arrive, but don't let that discourage you — it moves quickly and you can watch the masters making fresh noodles through the window while you wait. The butter pepper udon is completely dreamy, served with hot soy sauce and a soft boiled egg. We also loved the cold udon noodles with a shrimp and veggie tempura pancake, topped with chopped plum and dried bonito. Go with at least one friend so you can taste multiple bowls.
Negishi
This Japanese chain specializes in tender, juicy beef tongue that's downright addictive. Go at lunch and choose from set meals that include the charcoal-grilled meat, rice, pickles, oxtail soup, and tororo, which is yamato yams that have been cooked down into a soupy, sticky texture (it takes getting used to, but is full of nutrients). We stopped by the Harajuku location after an afternoon of shopping and sightseeing in Yoyogi Park.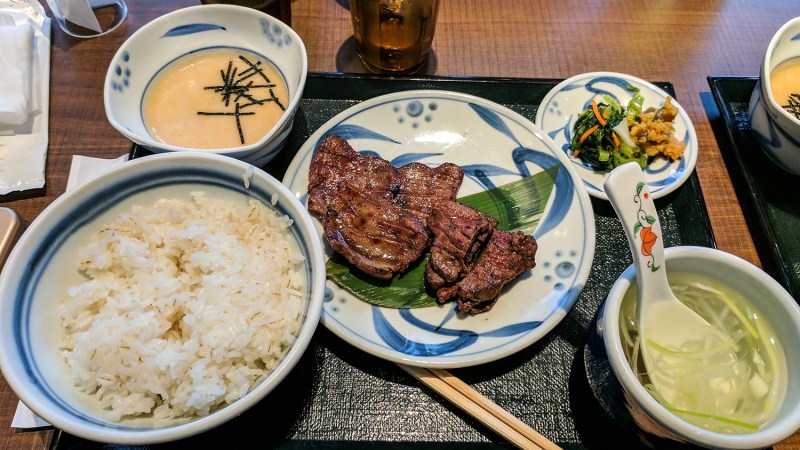 Mitsukoshi Ginza Food Hall
Some of the best food in Tokyo can be found in depachika, aka the subterranean food halls located on the bottom-most floors of the city's ubiquitous department stores. Almost every train station has one of these attached, or in close vicinity, but our favorite one to grab a bite is Mitsukoshi in Ginza. What is there not to eat at this sprawling food court, where you'll find everything from elaborate salads topped with rainbow sashimi displays, Chinese takeout, yakitori, fresh juices, Italian food, and pretty much anything else you can dream up? Take your food to the rooftop garden before descending back down for round two. Don't miss the newest Tokyo outpost of Dominique Ansel, where you'll find gorgeous location-specific pastries and a vending machine that doles out the prettiest chocolates we've ever seen.
Nagi Ramen
This ramen chain is for fish lovers only. Nagi's ramen broth is infused with dried baby sardines, so it's bursting with an umami-rich flavor that — fair warning — might be too fishy for some to handle. But if you're a fan of little fishes, Nagi is a true treat and definitely different from any other ramen you're going to stumble upon in Tokyo.
Tsukiji Fish Market
As one of Tokyo's principal culinary staples, Tsukiji Fish Market is an absolute must-see for anyone who wants to explore the heart and soul of sushi. If you're jet lagged and find yourself restless at 3 am, definitely look into witnessing the famed tuna auction. Tsukiji is just as fascinating if you go at a more decent morning hour. Come hungry and sample as much of the day's catch as you can while you weave between the small alleyways formed by a network of stalls. Taste uni right from the shell and take a seat at one of the many counters for an omakase breakfast. If you see ankimo (monkfish liver) on the menu, order immediately — it was one of the best things we ate in Japan.
Blacows
If you're looking for a perfect lunch spot while shopping in upscale Daikanyama, Blacows is a neighborhood staple that serves one of the best burgers in Tokyo. They use 100-percent Black Wagyu beef and their buns are made in collaboration with Parisian bakery Maison Kayser. You really can't go wrong with your order, but we suggest sinking your teeth into a bacon cheeseburger with all the fixin's and a side of their perfectly crispy zucchini fritters.
Torimasa
This upscale yakitori restaurant specializes in chickenserved in many forms as a multi-course meal. They started us out with a delicious block of tofu in a cold, salty sauce before we sampled preparations like lean, skinless breast; a fatty, succulent meatball that reminded us of kofta; and perfectly cooked liver. Charred leeks accompanied another skewer, which was a nice texture change after consuming so much flesh. It's a small spot, so have your hotel call and make a reservation.
Gyukatsu Motomura
You may be familiar with tonkatsu, a deep fried pork cutlet that's often served with a healthy helping of curry and rice. But if you haven't had gyukatsu, its deep-fried beef cousin, you're in for a real treat. Gyukatsu Motomura does it the best; they bread and deep fry one or two beef cutlets (depending on your hunger level) so it's crispy on the outside but still rare in the middle. Then, they light a small tealight-fueled griddle in front of each guest so you can grill the strips of beef to sizzled perfection. Each meal set is served with a heaping mound of cabbage, rice, potato salad, pickles, wasabi, rock salt, and multiple sauces. Everything in Japan was one of the best things we've ever eaten, and gyukatsu was very high atop that list.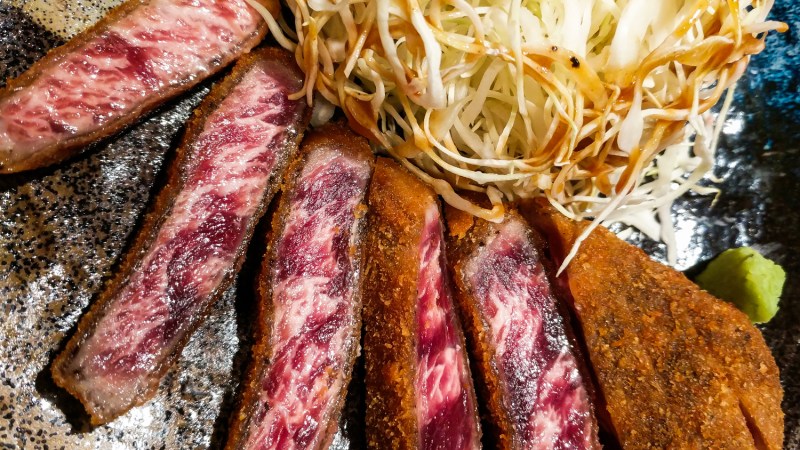 Maruhachi
Maruhachi specializes in Okinawan food, but any homesick American will feel a little at home here. Because there's a large United States military base in Okinawa, twists on favorites like taco rice and canned foods like Spam have become popular in the area. The food here is fun and delicious. Order a glass of native awamori, a spirit distilled from rice that tastes similar to shochu, and a bowl of sea grapes, an edible seaweed that's extremely high in nutrients and has a satisfying "pop" texture like caviar. Next, move onto a plate of traditional taco rice (a mountain-esque omelet topped with bonito) and fish cakes that are stuffed with cheese, wrapped in bacon, and topped with crushed Doritos. If you're feeling lucky, play a game of sushi roulette and pray you don't get the piece that's stuffed with wasabi.
Ichiryuu
This quick, casual restaurant is nearby the infamous Shibuya crossing, so you can get some grub as a reward for braving the crowds. Order at the machine, hand your tickets to an employee, and grab a seat. They serve up everything from rich ramen and udon to succulent fried chicken and satisfying fried rice, and you can wash it all down with an ice-cold whiskey highball. There are about 12 condiments to choose from when dressing up your bowl, so be adventurous and taste as many as possible.

Drink
New York Bar at The Park Hyatt
New York Bar, situated on the 52nd floor of Shinjuku's Park Hyatt Hotel, is an icon. Sure, it was made famous by Bill Murray and Scarlett Johansson in Lost in Translation, but that's not the only thing that gives the lounge its magnetic allure. We paid the bar a visit on a particularly dreary evening after it had rained all day, so the entire city was shrouded in fog. As we settled into our plush booth and the jazz band started to play, slowly but surely, the fog lifted to reveal the twinkling Tokyo lights all around us.
We suggest following in Murray's footsteps by sipping Hibiki 17, but the extensive cocktail and wine list (boasting the largest selection of California wines in Japan) is on hand to please the cravings of any palate. If you come hungry, there are plenty of American-style nibbles to satiate all appetites. The cheese plate is top notch, which is a rarity in much of the country, as are the duck fat fries and Wagyu burger topped with creamy taleggio and crispy bacon. Our favorite dish is the barbecue pork rib tortilla, so succulent and tender you barely need a knife to cut it.
Ben Fiddich
Nowhere will you see cocktail making done with such precision and deftness as you will at Ben Fiddich. Tucked away on the ninth floor of a drab high rise in Shinjuku, swinging open the heavy wooden door of this clandestine den feels like something magical is about to happen. We suggest taking a seat at the long wooden bar — the seats are overstuffed armchairs — so you can see the cocktail action up close. The acclaimed owner Hiroyasu Kayama wasn't there the night we went, but bartender Takeshi, who took care of us, was a master in his own right. Watching him work was truly mesmerizing because every pour and stir was deliberate and meticulous — truly Japanese bartending at its finest. We started with two drinks made with the fresh fruit piled behind the bar, one with kiwi and the other with mango. When contemplating a second cocktail, he asked me if we liked Bloody Marys, which was enthusiastically confirmed. What followed was the best iteration of the cocktail we've ever had, made with pureed red pepper, the perfect amount of spice and garnished with a slice of torched tomato.
Mandarin Bar at Mandarin Oriental
The Mandarin Bar is, in our opinion, the most gorgeous place to drink in Tokyo. If it's available, request the best seat in the house, which sits right in the middle of a small pool and requires you to cross a bridge to reach it without getting your toes wet. As you settle into your secluded table, order one of the expertly crafted libations from award-winning bar manager Yukiyo Kurihara. In addition to the bar's permanent drink list, each season brings a limited-edition menu that celebrates different spirits and regions of Japan. As we were traveling during April's cherry blossom season, we experienced the Sakura cocktail menu, featuring Mancino Vermouth. But you can't go wrong with one of the Mandarin Bar's classics like the Decade, made with sake, sakura liqueur, Japanese black syrup, yuzu zest, Okinawa black sugar, and wasabi salt.
Bar Trench
This back alley bar is located on a quiet street near Ebisu station and is the perfect respite from the boisterous, bustling nightlife of the neighboring scene. Absinthe is the specialty — there's always a section dedicated to the spirit on their ever-changing cocktail menu — and they boast the largest collection of bitters in Japan. Owner Rogerio Igarashi Vaz is usually behind the bar whipping up some of the most expertly-made drinks you'll find in the city. Bar Trench is the type of place where time flies, and we easily spent three hours there trying a large majority of his creations. The menu changes seasonally and features classics like the Bloody Mary and Old Pal, along with signatures like the Shunga Cocktail made with shochu, ruby grapefruit juice, cucumber basil shrub, and absinthe. And then there's the Jet-Black Bird, a whiskey and sloe gin cocktail that's infused with activated charcoal and served with a side of theatrics.
Eau de Vie
There's something mysteriously David Lynch about this cozy hotel lounge. When you step inside, the long bar has a single back-lit ledge for the bottles, a look that could easily place it on the set of Twin Peaks. The menu of classics is thorough, and most of them are served up in cocktail glasses that are actually true to size — no teetering 12-ounce Martinis here. Whether you're staying at the Hyatt Regency or just want a quiet spot to drink in Shinjuku, this is the place.
Albatross
In the 1980s, the Yakuza set fire to much of Tokyo's old city to make way for new developments, but Golden Gai was spared because its supporters took turns guarding the area at night. This place is a sight to see. The network of six cramped alleyways is home to more than 200 bars, some of which only have enough space for a handful of people. You have to spend an evening here, but go knowing that the area is very touristy. Some bars only cater to locals, others are welcoming to foreigners, and our favorite of the lot is Albatross. The three-story (each floor fits about six people) bar is decorated with chandeliers, disco balls, ornate mirrors, and taxidermy, all cast under a warm, red light. Order a highball with their homemade plum-infused tequila.
Yona Yona Beer Works
There are five of these craft breweries and restaurants spread throughout Tokyo, so you're bound to stumble upon at least one during your visit. They have a healthy selection of namesake beers that you can try solo or sample in a flight, and non-beer drinkers can enjoy shochu, wine, and whisky. Hungry patrons can munch on everything, from coriander dumplings to house-made sausages, which include unique recipes like yuzu pepper, maitake and truffles, and spicy squid ink. End your visit on a sweet note with Yona Yona's beer tiramisu.
JBS
Kobayashi-san, the owner of JBS (Jazz, Blues, Soul), knows his music. What may seem like an overwhelming amount of records to some — about 10,000 albums lining the walls in total — is simply an organized collection for him as he chooses the next song to spin on the dual turntables behind the bar. With more space reserved for vinyl than alcohol, simple drinks are the name of the game, but a whisky highball is all you'll want and need as you settle into the oft crowded room to drink with friends and enjoy the music.
Beat Cafe
Hanging out at Beat Cafe is like going to an old friend's house who plays really good music and serves you strong highballs and heavy whisky pours. The atmosphere is fun, lively, and perfectly divey, reminiscent of New York's Lower East Side in its heyday before the money moved in and the cool kids moved out. You'll find a mix of locals, expats, and visitors, all there to relax, have a good time, and dance the night away.
Music Bar RPM
When you step into RPM, you'll likely see the owner pouring drinks for regulars and spinning vinyl on double turntables behind the bar. He makes great classic cocktails and will give you a nice selection of drinking snacks to munch on while you sip. But he'll absolutely overcharge you as a foreigner, so go with a local if you don't want to spend the extra yen.
Sleep
Hyatt Regency
Located in Tokyo's bustling Shinjuku neighborhood, the Hyatt Regency has everything you need for a pleasant stay. Their standard accommodations are comfortable and include a king or twin beds depending on your sleeping preference. Every room has a desk, a nicely sized bathroom, and bathrobes and nightwear — which is a common amenity in most Japanese hotels. The rooms are great, but it's really the hotel's facilities that make it so special.
Help cure your jet lag by hitting the fitness center, which includes a gym, lap pool, hot tub, sauna, and full-service spa. The property boasts nine restaurants and bars, so you can get a good meal on-site if you're feeling weary when you first arrive. We recommend springing for the daily breakfast buffet, which includes a smorgasbord of Western and Eastern favorites, from an omelet station and salad bar to miso soup and a large selection of homemade pickles. After exploring Tokyo's vibrant nightlife scene, have a nightcap at the hotel's Eau de Vie bar, a dimly lit cocktail den slinging expertly mixed classics.
The Hyatt Regency staff is wonderful —everything from check-in to bag storage was a breeze, and the concierge is happy to make restaurant reservations or set you up with a sumo wrestling practice viewing. But perhaps our favorite part of the hotel was the convenience. Not only does it sit directly above Tokyo's Oedo train line, there is a 7-Eleven right on the premises, which was very convenient for midnight snacks and buying umbrellas during spontaneous storms.
Shiba Park Hotel
This Minato neighborhood hotel recently underwent a major renovation, so the guest rooms are as plush as ever. Spring for one of the brand-new comfort rooms, which include ample space for both socializing and sleep, as well as a roomy bathroom and separate toilet room. Whether you're in Tokyo for business or pleasure, amenities like a laundry room, three on-premise restaurants, and a hotel bar make your stay at Shiba Park extra convenient.
The location is also prime as it's walking distance to multiple train lines, great places to eat and grab coffee, and has multiple convenient stores within arms reach. What makes Shiba Park Hotel truly unique is its Japanese Culture Salon SAKURA. Open every day, they offer a variety of programming so guests can experience elements of Japanese lifestyle and entertainment from the hotel's friendly staff. Choose from activities like calligraphy, origami, furoshiki, and tea ceremony. We were lucky enough to experience Shiba's Manekineko class, where we got to learn all about the history and lore behind the money cat and paint our our mini versions to bring good luck and fortune into our own homes.
Original video and photography shot by Max Schwartz. Hotel photo courtesy of Hyatt Regency.
Editor's Note: This article is part of The Manual's larger Journey to Japan travel guide. Over the course of a month, our writers had the pleasure of experiencing Japan in its many forms, from high-rise bars in Tokyo to traditional tea-ceremonies in Kyoto. We hope this series of articles will not only inform, but inspire you to take your own trip to the Land of the Rising Sun.
Editors' Recommendations