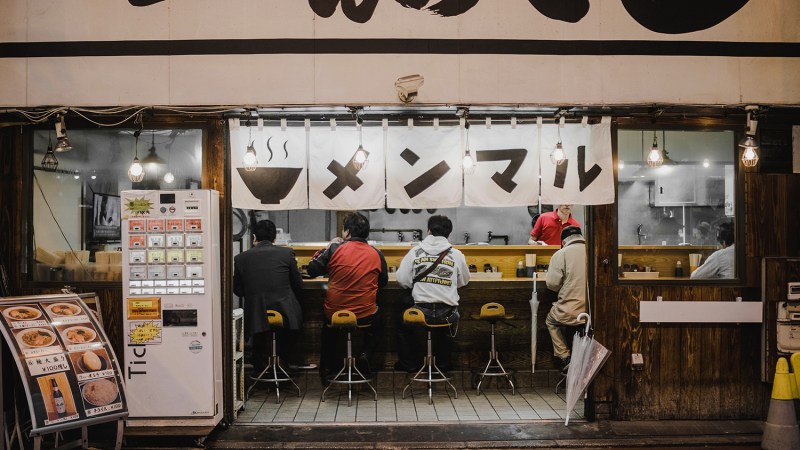 Ramen, glorious ramen: The food that sees us through the good, the bad, the lean times, the lazy times… When in Japan, indulge in as much ramen as you can because it's a truly spectacular meal when done right. But leave some room; there's a secret dish, still somewhat unknown outside of Japan, that all food lovers must try: tsukemen. And there's only place to go to get it: the basement of the Tokyo train station.
Like all great things, ramen's origins are a bit mysterious, but according to Hiroshi Osaki, a man with perhaps the greatest job title ever — "Ramen Expert" —the first truly specialized ramen shop opened in 1910. It wasn't until 1958 that we got instant ramen noodles and college kids everywhere were saved from starvation.
Turns out the 1950s were a big decade for ramen. Kazuo Yamagishi invented tsukemen at 17 while apprenticing at a ramen restaurant in Tokyo in 1951. The story goes that Yamagishi saw a man dipping some noodles into a cup of soup and a culinary event was sparked. By 1961, Yamagishi added his new dish to his menu but called it "special morisoba," which consisted of a bowl of cold soba noodles and a bowl of hot soup to dip them in. Tsukemen differs from traditional ramen in two big ways: the noodles and soup are served separately, and the broth for tsukemen is thicker to better coat the noodles dipped in it. Yamagishi's creation was a massive hit.
At first some ramen purists balked, but tsukemen has only grown in popularity, in no small part thanks to Ryosei Mita, who studied under Yamagishi. Mita opened Rokurinsha in 2005 and it wasn't long before he was dealing with lines wrapping around his tiny shop, patiently waiting their turn for a bowl of thick, savory soup and a bowl of either warm or cold noodles. Eventually, Rokurinsha needed to move to accommodate its legion of hungry fans and ended up in Ramen Street in the Tokyo Station basement.
This little 12-seat restaurant is smack in the middle of a massive concourse of ramen options and still it has a line for the food. You'll be able to use that time to choose your meal so you're ready to tap it into the automated ticket machine at the entrance. Do you want hot or cold noodles (hot noodles help keep the soup warm as you dip, but it's personal preference), want a normal serving or the extra large (normal is fairly substantial), and what toppings do you want — a boiled egg or shredded pork? You really can't go wrong, even if you get to the machine that's completely in Japanese and panic, glancing at the snaking line waiting behind you. Push any one of the pictures of tsukemen on the machine and you'll be in gastro-heaven. Conveniently enough, you can use your subway card to pay.
Rokurinsha's tsukemen broth is simmered for 13 long hours, using a secret recipe that includes things like pork, chicken bones, fish, like dried mackerel, and veggies. It blends together to form a thick, flavor-packed liquid designed to perfectly coat the plump, chewy noodles. In addition to any toppings you might've ordered, you'll get a bamboo shoot and, floating delicately on top, a piece of seaweed holding powdered fish. Maybe some of these ingredients sound unusual or you're not sure how it'll all come together, but boy does it. It's been described as umami and that's the closest word.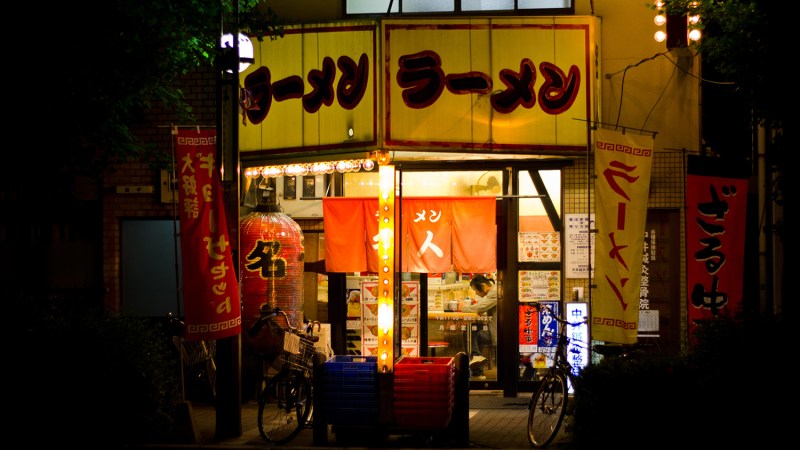 The noodles are specially designed for tsukemen and are heaven in their own right. They have to be, since they're essentially the main event in this dish; the broth is more of a dipping sauce to compliment the Chinese-style noodle. They have their own rich, sweet, delicious flavor, so try a few sans broth.
There is some etiquette to enjoying tsukemen. At Rokurinsha, you'll place your order and pay at the automated station, then will be shown to a seat. A glass of water will appear, a bib (you will definitely need it), and moments later, your two bowls: broth and noodles. Slurp — and slurp loudly — as you eat, though try your damnedest not to spray the people around you. Slurping is a compliment to the chef. In between bites, however, don't stick your chopsticks into your noodles in lieu of using the holder; this resembles a funeral ritual involving rice. Once you've finished your noodles, if you have any broth left, you can ask for soup-wari, which a lighter broth used to dilute the concentrated broth so you can eat every craveable bite. Don't linger; as soon as you've finished, head on out so the next person in line can finally eat.
Rokurinsha is far from the only place in Japan to get tsukemen, but it's unequivocally some of the best in the country. They have other locations now, like in Tokyo Skytree, but there's something about enjoying a world-class dish from a world-class restaurant in the bottom of a busy train station. Only in Japan…
Editor's Note: This article is part of The Manual's larger Journey to Japan travel guide. Over the course of a month, our writers had the pleasure of experiencing Japan in all its forms, from high-rise bars in Tokyo to traditional tea ceremonies in Kyoto. We hope this series will not only inform, but inspire you to take your own trip to the Land of the Rising Sun.