Activated charcoal has found its way into your bathroom, food, and now your favorite cocktails. The same substance that can help whiten your teeth can easily turn your drinks into deep black elixirs, but these potions can be just as dangerous as they look. Don't panic; you can still make your own charcoal cocktails and survive every drop.
Before you start rummaging through your grill's ashes, know that activated charcoal is a little harder to make. The usual powders or capsules are often made from wood or coconut husks that are exposed to gases at high temperatures, thus developing microscopic pores. Known for its aggressive absorption of toxins, charcoal is readily found in skincare products, but has also made a name for itself in detox juices or as a powerful food dye.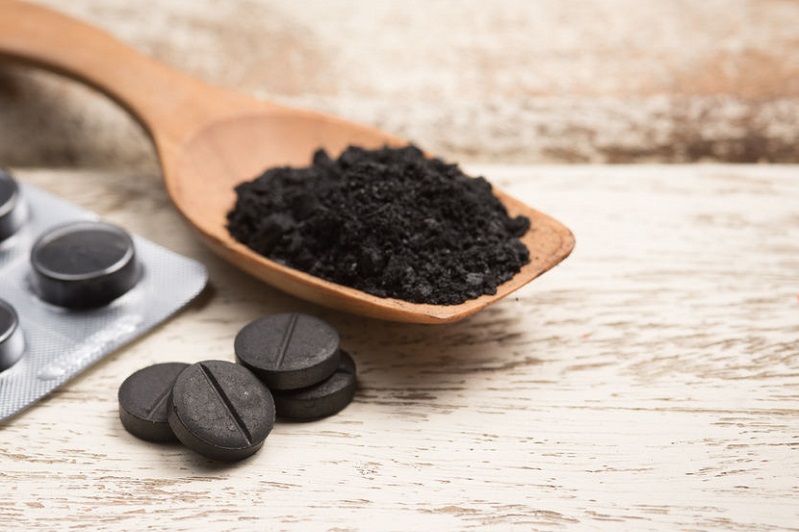 People tend to gloss over how powerful charcoal's absorption is when ingested. Rather than singling out toxins, it will draw anything you drank or ate towards it. This black hole characteristic makes charcoal bad news for people taking medications because it nixes their effectiveness. Make sure to run this by your friends when you start shaking up charcoal cocktails.
The good news? You only need a little bit of powder to get your charcoal cocktails to a show-stopping black. Too much will alter the texture of the drink, but you can always correct this by straining the mix. Plus, the charcoal itself doesn't really have a flavor, so you can take some of your favorite cocktails to the dark side with a small amount of effort. For the more adventurous drinkers out there, here are some charcoal cocktails guaranteed to (temporarily) turn your tongue black.
Perla Negra
(Created by Jim Kearn, Slowly Shirley, New York City)
2 oz Santa Teresa 1796

2 oz sorrel

1 oz kalamansi juice*

1 oz arrack

1 oz orange juice

½ oz honey

½ oz ginger

½ tbsp activated charcoal
Method: Add activated charcoal to shaker. Add the rest of the ingredients, except the sorrel. Shake with about three large ice cubes. Strain over crushed ice into a vessel (preferably a glass skull). Pack a lit votive candle into the crushed ice on top of the cocktail. Measure and pour the sorrel around the candle.
*Kalamansi juice: In a pitcher, combine 1 cup freshly squeezed kalamansi, 2 cups water, and 3/4 cup simple syrup. Stir to combine. Store in fridge until chilled.
June Gloom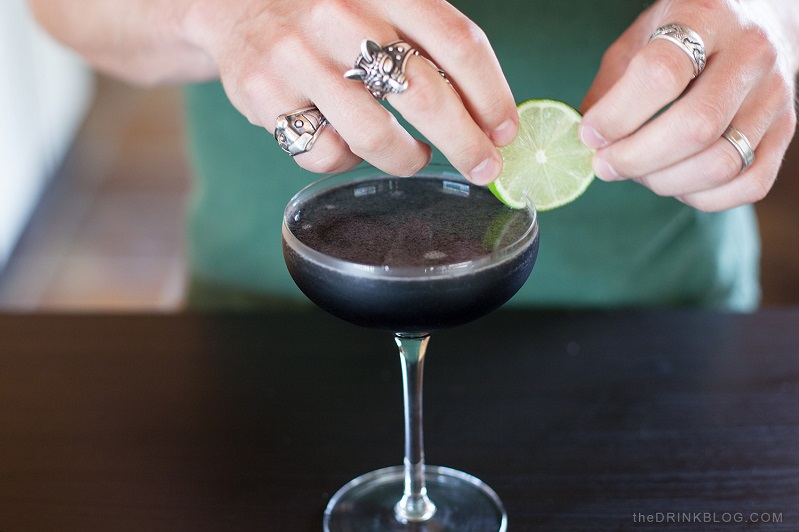 (Created by Morgan Greenhalgh, The Drink Blog)
3 oz tequila
1 oz Grand Marnier
1½ oz lime juice
1 oz lemon simple syrup*
Dash of orange bitters
¼ tsp activated charcoal powder
Lime round
Method: Add tequila, Grand Marnier, lime juice (fresh), lemon simple syrup, orange bitters and activated charcoal to your shaker with ice. Shake and pour into coupe glass using a Hawthorne strainer. Garnish with lime round.
*Lemon simple syrup: Combine 1 cup water and 1 cup sugar in a saucepan until it comes to a boil. Let the mixture cool to room temperature before adding 1 1/2 cups of lemon juice, preferably fresh-squeezed.
Death Before Dinner
(Created by Matt Allred, Zentan, Washington D.C.)
1 ¼ oz Flor de Cana 4 Year Old Rum

¾ oz grapefruit juice

½ oz lime juice

¼ oz orgeat

¼ oz Maraschino liqueur

Pinch of

activated charcoal powder

Grapefruit twist
Method: Dry shake all ingredients. Strain into coupe glass and garnish with grapefruit twist.
Black Friday Detox
(Created by Colleen Jeffers, Sugar and Cloth)
1 ½ oz vodka

1 oz beet juice

½ oz lime juice

½ oz honey ginger syrup

1 dose (generally 520 mg or the contents of

two capsules

) activated charcoal powder

1 pinch salt
Method: Combine all ingredients in cocktail shaker with ice. Shake and pour into coupe glass over one large ice cube. Garnish with lime curls or candied ginger.
Black Tie White Noise
(Created by Beauty & Essex, New York City)
1½ oz Gentlemen Jack

½ oz Yellow Chartreuse

¾ oz lemon juice

½ oz simple syrup

2 dashes Angostura bitters

1 capsule activated charcoal
Method: Shake all ingredients with ice. Strain into chilled coupe glass.