Vietnam emerged from its war-torn past to become a contender for the most popular destination in Southeast Asia, increasingly giving Thailand a run for its money. With its gorgeously diverse landscapes, friendly, welcoming people, abundance of rich cultural experiences, low costs, and what I think just might be the best food in the world, it's no wonder that the country has garnered so much attention in recent years.
Among its many draws is its growing reputation for offering an outstanding wellness scene, with spa retreats, meditation retreats, and other wellness resorts and retreats launching all across the country. Tranquil settings and a frequently laid-back vibe lend themselves to spa travel and other wellness endeavors. Increasingly, Hoi An, Vietnam, is gaining notoriety as one of the top wellness destinations in the country.
Hoi An is the perfect place to go for a few days in the middle of a trip through Vietnam to chill and focus on your physical and mental health. With this in mind, here's something of an itinerary for how to spend three days and $1,000 to relax in Hoi An.
Where to stay in Hoi An
Vietnam is an extremely affordable place to visit if you earn dollars, pounds, or euros, so it might seem like $1,000 is a high price tag for one city. It is, but you won't be staying in one of the abundant cheap hotels and Airbnbs common across the country. You'll be staying at Anantara, where you're paying for a supreme level of serenity.
Located directly in the center of town right along one of the canals, Anantara is within walking distance of pretty much everything. Its rooms are comfortable, clean, and elegantly appointed — all the characteristics of a quality hotel, in other words.
Where Anantara really excels, however, is its overall peaceful vibe. While Hoi An can get pretty hectic with tourist crowds, the hotel is a calm oasis amidst it all. It offers a superb spa experience — the couple's massage and soak is as relaxing as it is romantic. It also has onsite yoga in a natural setting as well as a small but adequate gym.
Prices start at $200, so assuming you're staying for three nights, that represents most of your budget. The bulk of your remaining funds will be spent on tailored clothes, handicrafts, and souvenirs. You're going to eat a lot of incredible food, but it won't cost much at all.
Where to eat in Hoi An
Hoi An has plenty of tasty food options, and in fact, it's hard to go wrong. If you're looking to eat healthy, Vietnamese food delivers in general. This is particularly true in the Hoi An region, where they lean heavily into fish and seafood. An especially good health food spot is Am Vegetarian Hideaway.
Pho is about as tasty and healthy as food can get, and while it's abundant pretty much everywhere in Vietnam and Hoi An, Pho Dung is a delicious spot on the edge of town. For something that leans less toward physical health but is certainly healthy for the soul, go to Bale Well Restaurant, where the thing to get is Banh Xeo — a meal of grilled pork, rice pancakes, and fresh herbs and greens that's so wonderful, it's got to cure something.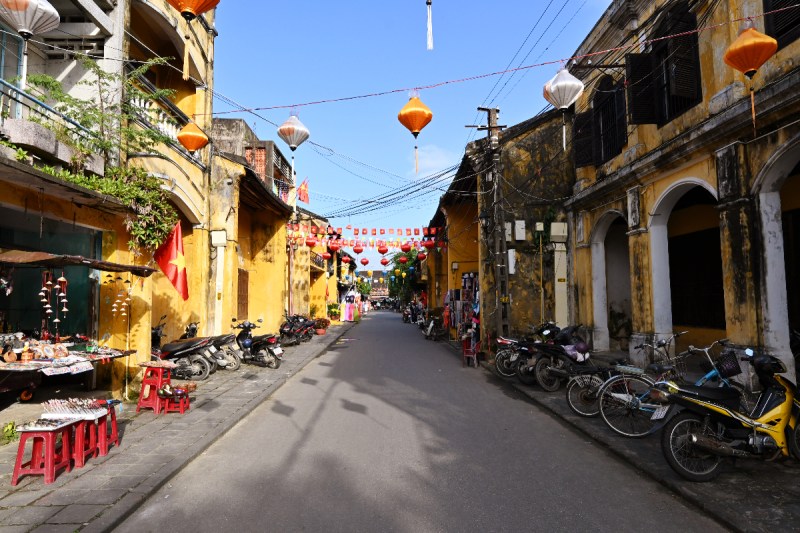 What to do in Hoi An
More than anything, you'll simply spend your time walking the markets, alleys, and canals, taking in the unique Hoi An aesthetic and shopping for random mementos. You should also be prepared to hit up the many, many tailors, each of which is affordable, offers a vast selection of styles and options, and can custom fit any piece of clothing, shoe, or leather goods within 24 hours, and often much faster than that.
If you're looking for suits, evening dresses, or shirts, check out Sisters Tailor. They do great work that looks more upscale than most other options. They also sell a fantastic, locally made chili sauce.
In terms of wellness opportunities, there are many to be had. Anantara's private yoga classes are a great place to start. There are several much-loved yoga and meditation centers and instructors scattered around, such as Ancient Om Yoga and Lua Wellness Travel.
If you're feeling the urge for physical activity, I suggest the many hiking trail options to be had in the proximity. Rent a scooter or motorbike from Hoi An Motorbike Rental — by far the best quality bikes and service in town. Then buzz to either the Marble Mountains about 20 minutes north, or go another 20 minutes further north, just past Danang, to the forests around Monkey Mountain. Here you'll find a series of lush jungle trails replete with, as the name suggests, monkeys. There's also the stunning, looming, 10-story-tall Lady Buddha statue.
Beyond that, there are beaches lining the coast, many of which offer plenty of sun and swimming. An Bang is the most popular and convenient beach, located 10 minutes north of Hoi An.
If you're on the search for some herbal wellness (if you know what I'm saying), hit up Rastaman Bar. It's got a cool vibe, the owner is super friendly, and (if the name and pot leaf projected on the pool table didn't give it away) doobage is to be had. The bartender will hook it up, no worries.
Editors' Recommendations