Clocking in at 10.7 million residents, Bangkok, Thailand, is an incredible, massive undertaking of a city. A seemingly endless sprawl of low-rise buildings punctuated by massive skyscrapers and tranquil temples, delicious food and bustling bars everywhere, there is an endless range of ways one could spend their days exploring what BKK has to offer. Sadly, most Thailand tourism consists of travelers who are only stopping by Bangkok for a couple of days on their way into or out of the country. So what is one to do when they only have 48 hours in Bangkok?
I've spent a lot of time in Bangkok, so I know its ins-and-outs well. One of the main challenges to experiencing the city in a short burst involves the sheer size of the place and the traffic that tends to inundate it, which makes it difficult to get anywhere fast unless it happens to be along a Sky Train route (more on that below). Thailand travel has decreased substantially since the pandemic, though, and this has noticeably diminished the traffic and crowds. In any case, it's important to factor getting around into your plans. To that end, here's a solid two-day itinerary.
Where to stay in Bangkok
If you're planning to visit Thailand and want to stop by Bangkok, most tourists find a hotel or Airbnb in the Khao San Road or Rattanakosin region at the center of the city. Most of the key attractions and temples are here, as are several streets offering thriving nightlife opportunities, so that's a fine option if you're looking to be in the middle of the bustle.
However, I suggest staying in the Bang Rak section of Sathorn, an upscale district just to the south of the tourist zones. It's both directly on the Sky Train route known as the BTS and on the river at a ferry dock. Between these, you can reach all of the following recommendations within 20–45 minutes via public transport.
Visit Wat Arun and the Grand Palace
These stunning temples (or "wats") are absolute Bangkok essentials. They are both stunning works of vibrant architecture that I would stack alongside any of the wonders of the world.
Seeing both complexes in their entirety can be time consuming, but luckily, they're essentially right next to each other. If you're staying in Bang Rak, a 20-minute ferry ride will take you to Wat Arun for 20 baht (about $0.60). From there, you just take another boat directly across the river to the Grand Palace at your leisure.
It will be hot, so after Arun, I urge you to take an ice cream break at Pricilla Ice Cream. By the time you're done at the palace, you'll have been walking around for several hours, so you'll probably be hungry. It's time to head just south to Chinatown. There you'll find a dizzying array of tasty street food options. My suggestion: Eat small portions from a bunch of different carts.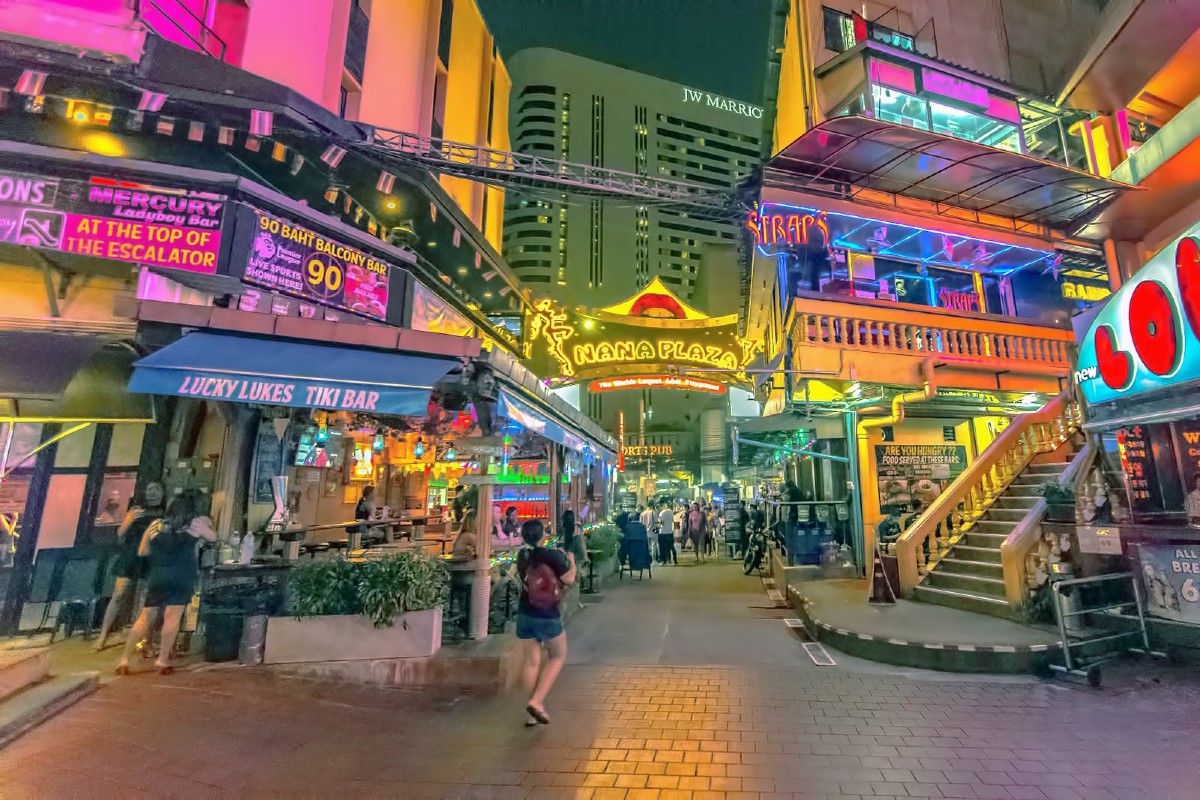 Bar hop through Watthana (and maybe Nana)
Watthana is a hip, up-and-coming district in the eastern part of the city near the Thong Lor Sky Train stop. There are plenty of cool bars and clubs out there. I recommend Thaipioka for drinks before heading over to 12 x 12 to see who's DJing.
If you're feeling risqué, hit up Nana Plaza late at night. Essentially, it's a red light district under one roof. Originally a mall, today it houses go-go clubs, bars that double as brothels, and three hotels offering hourly rates.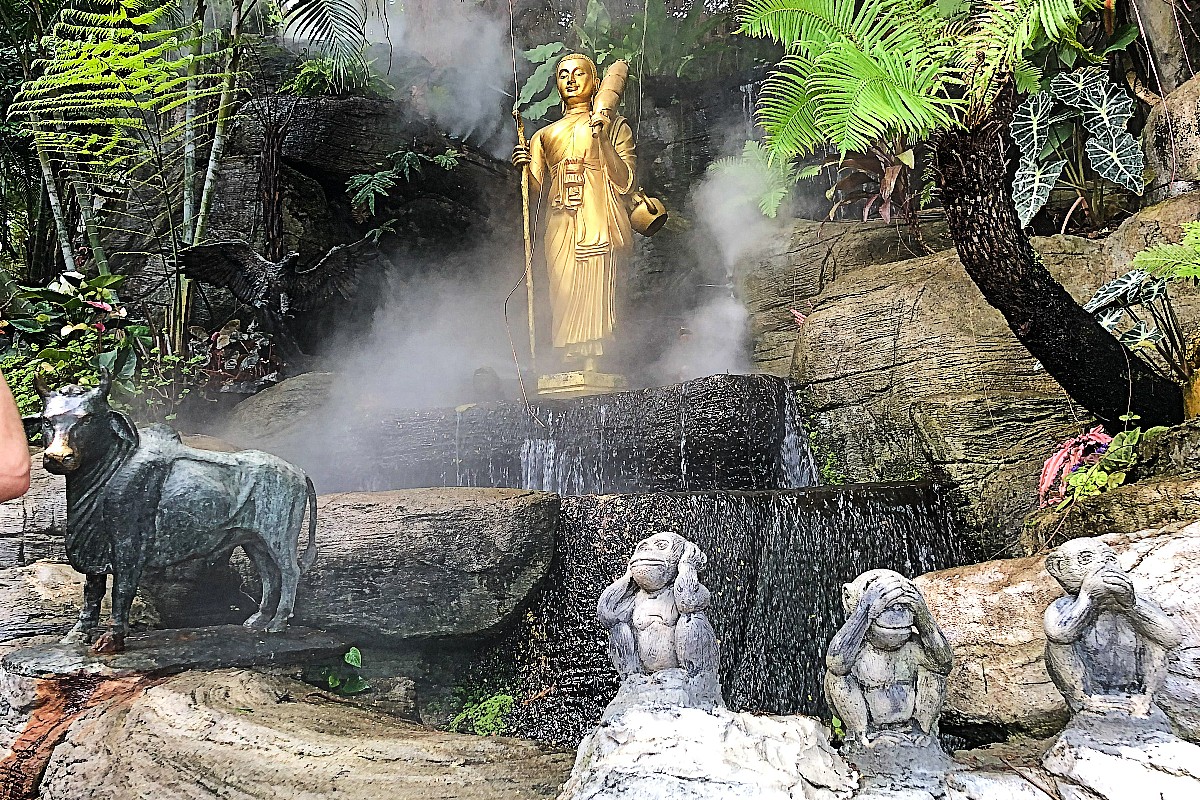 Relax at the Golden Mount
You might be feeling a little worse for wear today, so you need start off with a solid breakfast. The Thai breakfast at the Bang Rak café (Not Just) Another Cup is one of the best breakfasts I've had in several months spanning six countries.
You can spend a pleasant afternoon upon the Golden Mount, a hill at the center of the city that's topped by the Wat Saket temple. The path here is flanked by an array of smaller temples, art, and statues. It's a laid-back, peaceful place to sweat out whatever you did at Nana. The surrounding neighborhood makes for quality explorations as well.
Head back home to freshen up, then eat at the Bang Rak Food Center, a collection of food stalls tucked behind the Robinson department store. There's something to suit everyone here. Alternatively, walk down Charoen Krung Road right in front of the department store and sample offerings from the various food carts and stands scattered along the way.
Shop and eat at Asiatique, then bar hop along the Rattanakosin riverfront
Around sunset, head one ferry stop south for an evening of shopping and tasty food options at Asiatique on the Riverfront. Presided over by a Ferris wheel and an old-school sailing schooner, this trendy market offers an extremely wide range of goods and houses a few dozen widely varying restaurants.
Wrap up the night by heading north (via ferry if it's early, taxi if not) to the Rattanakosin riverfront, where you'll find a slew of bars offering a gorgeous view of Wat Arun, which is illuminated at night. Drinks tend to be a bit overpriced along this stretch, but you're paying for the view. And besides — you're on vacation.
Editors' Recommendations