You're probably familiar with backpacking, and you're almost certainly familiar with biking. But have you ever tried bikepacking? As you might guess, it combines the best of hiking, biking, and backpacking into a unique outdoor type of adventure. That means it's all the fun of a traditional overnight backpacking trip but with the added convenience and fun of having a bike in tow.
For packing purposes, the list of essential bikepacking gear is similar to what you'd bring on a typical extended backpacking trip. That means you'll want a good camping tent and an outdoor sleeping system, plus a backpack, bikepacking bags, or both (depending on your packing preference), for starters. If you're familiar with camping and hiking, you probably have a handle on the outdoor gear you need to bring.
But bikepacking is unique, and if you're planning an extended trip, it's good to be well-prepared without overpacking. That's why we chatted with the bikepacking experts at Trek Bikes to get the low-down on how and what to pack for your first overnight on two wheels.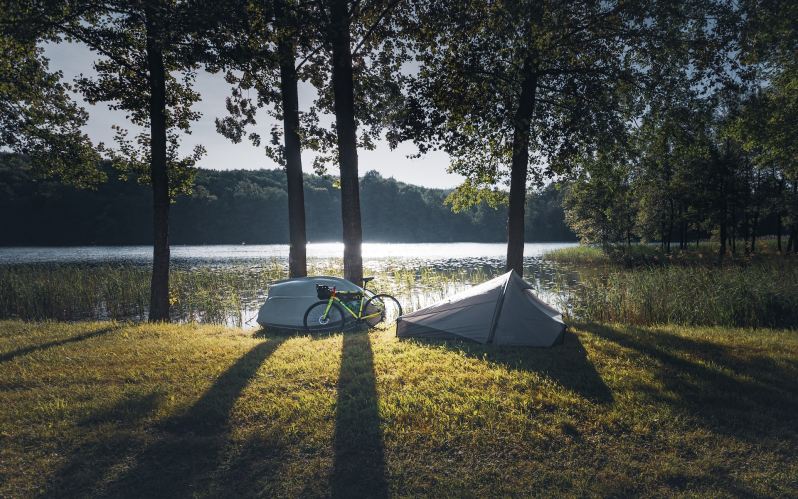 Finding the right gear for bikepacking
Bike
Bikepacking trips, especially over long distances, usually involve a lot of time in the saddle. That means you want to think carefully about which bikepacking bike is right for you. Whitney Beadle, Trek's Road + Gravel Marketing Manager, tells us, "A great bikepacking-friendly bike starts with a comfortable bike geometry." Geometry refers to a bike's overall "vibe" — a combination of how it looks, feels, and rides. "Typically, you will want to look for something pretty relaxed and a bit more upright that's made for big, epic days in the saddle, and you'll want to opt for a durable yet lightweight build."
Beadle also emphasizes the importance of tires. It might seem obvious, but it's something that many first-time (and even veteran) riders overlook. "Tire size is going to be key as well, so look for a bike with enough tire clearance to fit the larger tires you need for the adventure! Bigger tires also allow you to drop the tire pressure for more comfort. Bikepacking routes will vary, so the exact amount of tire clearance and pressure needed may depend on your route."
Lastly, storage on your bikepacking bike is paramount. It's not just how much storage but how well it's mounted to your ride to optimize weight distribution. "Opt for a model with plenty of mounts for the gear and hydration you need to bring. These can include mounts for water bottles, top tube bag mounts, potentially fork mounts, rack mounts, and more," says Beadle.
While there's no one perfect bike for every rider, Trek's own Checkpoint ALR 5 Driftless is a solid all-around gravel bike that's lightweight, well-built, and a little pricey (but still reasonable for anyone looking to seriously get into bikepacking).
Bikepacking sleep system
As with camping and backpacking, having the right sleep system — including a good sleeping bag and a camping mat — is critical. "This is essential for a good night's sleep so you can hit the road rested and ready the next morning. Make sure it packs down tight enough to pack away yet is warm and comfortable enough to get you a full night of rest," Beadle said. If you already have a sleeping bag and camping mat you're happy with, they'll likely work just fine for an overnight bikepacking trip.
If you're looking to buy a new sleeping bag, in particular, we recommend shopping for the best model you can reasonably afford — one that packs down small and with a temperature rating that works with your destination(s) of choice. We like Nemo's Forte Endless Promise Synthetic Sleeping Bag. The 35°F version is good for three-season bikepacking, while the hardier 20°F option works for most winter trips. The best part? It's 100% recyclable and very reasonably priced at around $200.
Bikepacking tent
Alex Applegate, Aftermarket Marketing Manager at Trek, tells us, "There are lots of options when it comes to your shelter, so make sure yours works for you!"
We couldn't agree more. You can opt for an ultra-minimalist camping tarp or "splurge" on a legit tent. The main difference with a bikepacking tent (compared to a traditional backpacking tent) is that you want to ensure it will fit in your bike's storage bag. Many bikepacking tents are built with shorter pole structures for that very reason.
We like Sierra Designs' High Side Side 1-Person Tent. It's exactly as big as it needs to be for one person, making it ideal for both bikepacking and fastpacking (or ultra-light backpacking). We especially love that it's lightweight (with a minimum weight of just over two pounds), and the 12-inch pole sections are perfectly sized for stashing between handlebars or bike frames.
Storage
One of the best parts about bikepacking (versus backpacking) is being able to use your two-wheeler for storage. While you'll still need to push everything you've packed down the road, most or all of it won't be physically on your back. Applegate tells us, "Ideally, you are able to keep the bulk of your gear off of your body and on the bike. The ride will be more comfortable and more enjoyable, and there are great gear options to make it easy to carry all of the essentials on your bike."
There are storage bags that attach to every single part of a bike's frame, allowing you to perfectly distribute your personal bikepacking load. "How you attach the gear to your bike can depend on what your goals are. Sleek adventure bikepacking bags designed to attach directly to the bike offer the most stable, secure attachment and are ideal for rugged terrain and the rigors of off-pavement riding. Racks and panniers offer more storage space and can be a little easier to pack up and access your gear. They are ideal for smoother routes and awesome for carrying anything you'd want – from your overnight gear when bikepacking to groceries around town," says Applegate.
Make sure to leave plenty of room in your storage setup for tons of water and snacks. You'll want everything to be super accessible, too. Applegate continues, "Frame bags or top tube bags make easy access to snacks and gear while riding or taking a snack break. Pair these with side-loading options for water bottle cages and water bottles that hold up to 34 ounces, and you can carry a lot of water and make it easy to access even when carrying other bags on the bike."
As with packing for any outdoor adventure, how you choose to stow and stash your gear is entirely up to you. But, packing only what you need — that means leaving the "just in case" gear at home — is always the best way to go. Remember: There will probably be stores where you're headed, and if you absolutely need something you didn't pack, you can buy it along the way.
Ortlieb is a great place to start to outfit your two-wheeler with the right storage for a bikepacking trip.
Helmet
Shopping for safety gear isn't usually fun, but it is essential. That's doubly true for bike helmets. You want a model that is lightweight, breathable, reasonably affordable, and built with a Mips safety system for maximum dome protection. We also recommend choosing a bold, high-visibility color, especially if you'll be riding anywhere with vehicle traffic.
Clothing
Comfortable, lightweight, and quick-wicking fabrics are your best bet for bikepacking. That's especially true for a good pair of bike shorts. Applegate says, "Nothing beats a good chamois in dedicated bike shorts for longer rides."
Make sure to pack for both fair and foul weather. Because, if it rains, there's a good chance you'll be riding straight through it. That means at least "a good rain jacket when the weather turns south. Think about what you may need to stay comfortable if the sun is harsh, the temperature drops, or rain clouds roll in."
If you want one piece to kickstart your bikepacking apparel kit, we recommend a premium pair of Pearl Izumi Pro Shorts.
Lights
When we asked Applegate to name one piece of gear that most people — especially bikepacking newbies — might not think to pack, he told us, "Lights! You want to be seen when out on the road, and you will want to be able to see when the sun goes down."
We like the Commuter Pro RT, which increases your on-road visibility but also works as a portable battery bank to top up your smartphone or GPS along the way.
Toolkit
If you're new to bikepacking, it's worth brushing up on essential bike maintenance and repair before heading out. Beadle advises that "some basic mechanical skills can go a long way. Knowing how to change a flat tire, fix a snapped chain, and more can come in handy when you're traveling off the beaten path. We offer several bike maintenance options from flat tire kits to multi-tools which can be tucked away in a bag just in case."
Lastly, if you're an avid backpacker, hiker, or outdoor adventurer, you probably already have most of the gear you need to start bikepacking today. Don't overthink it! There will always be a newer, flashier, lighter, fancier, and more expensive piece of gear tempting you to buy it. Even if you don't have the latest and greatest or you're not an expert bike mechanic, don't let that stop you.
Often, the best way to learn is simply to do. Beadle says to get out there and "roll with it! Every trip will have the unexpected, which is one of the things that makes it awesome. Keep an open mind and have fun when the plan changes. Bikepacking is all about the experience."
Editors' Recommendations