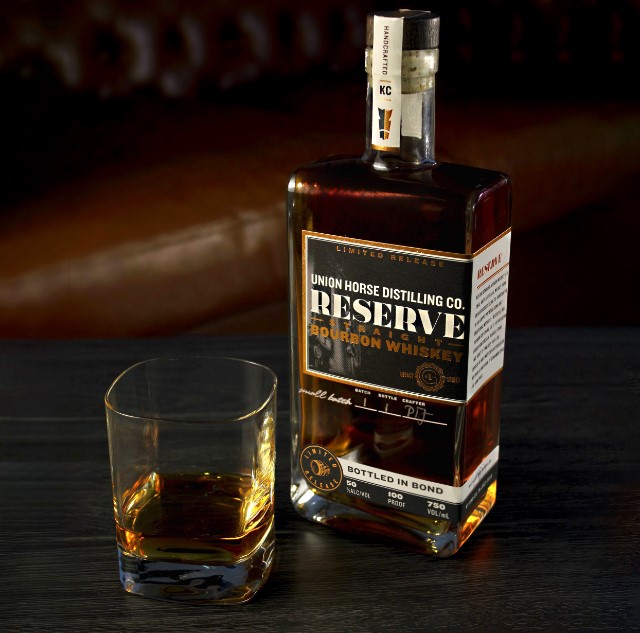 If you're a fan of bourbon whiskey, there's a good chance you've seen the phrase "bottled-in-bond" written on the label and you might not know exactly what that means. Well, it has nothing to do with a fictional British secret agent. In fact, bourbons (and other whiskeys) that are designated as bottled-in-bond have to follow a set of rules and regulations. To get this title, the whiskey must be matured for a minimum of your years, bottled at exactly 100-proof, produced by one distiller in a single season, and finally matured in a federally bonded warehouse.
In recent years, you've probably seen this phrase more and more, as the style of bourbon has become increasingly popular with brands releasing new bottles all the time. Union Horse Distilling Co. in Lenexa, Kansas is getting in on this trend with its soon-to-be-released Union Horse Bottled-in-Bond Bourbon.
What is this small-batch bourbon?
Distilled in 2018, this small-batch, bottled-in-bond expression will be released this week and will be a new seasonal, limited release of only 2,000 bottles. Now that's what we call limited.
The bourbon is made with a sour mash recipe from only corn and rye and distilled in the brand's 500-gallon column, a pot still that they refer to as "Chester Copperpot" (a reference to The Goonies). This small-batch bourbon is produced using traditional distilling methods before being aged in charred oak barrels in Union Horse's bonded warehouse.
"Creating our Union Horse Bottled-in-Bond has been a testament to an age-old tradition. With this category increasing in popularity over the years, we were excited to take a chance and the end result is something you won't want to miss," Master Distiller and Co-Founder, Patrick Garcia said in a press release. "Created by utilizing our base Reserve Straight Bourbon Whiskey and following all Bottled-in-Bond standards, Union Horse Bottled-in-Bond flavors deliver layered notes you'll taste in every sip."
The flavors Garcia is referring to are those of toasted vanilla beans, cinnamon candy, dried fruits, and butterscotch. All with a potent 50% alcohol by volume. It's the kind of whiskey you'll want to sip neat on a cold night and maybe even add a few drops of water to open up all the flavors.
Sadly, you can't just go to your local liquor store or peruse your favorite online retailers to grab a bottle of this limited-edition bourbon. Union Horse will be celebrating the release of Union Horse Bottled-in-Bond Straight Bourbon Whiskey at the brand's distillery social on October 19 from 5 to 10 p.m. at the Union Horse distillery in Lenexa, Kansas. On top of this whiskey release, it'll be offering autumnal cocktails, whiskey flights, and tasty food. They'll even be celebrating Halloween a little early with a costume contest.
If you can't make it to Kansas, you can still get your hands on a bottle of this exclusive bottle-in-bond expression, as it will also be available at select retailers in Missouri, Nebraska, Oklahoma, Georgia, and New York. Remember, they're only releasing 2,000 bottles. If you want one, you better be proactive in finding it.
Editors' Recommendations